On This Day - 29 OCTOBER 2018
These Auto Stocks Are Getting Ready to Give Big Long-Term Returns


Editor's Note: In this time of turbulent markets, Tanushree Banerjee, our safe stock guru shines the spotlight on one sector that should not be missed. Read on to find the best opportunities to enter the auto sector right now...
---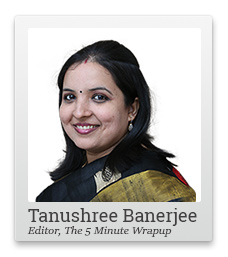 Demonetisation derailed the hopes of most Indian businesses in November 2016. Demand froze. India's consumption story came to a standstill.
Auto sales nosedived in the first quarter of 2017. In fact, the cash dependent rural markets took the sector's sales to a 16-year low.
Even as dealers began to clear inventory by March, the new emission norms kicked in (BS-III). The unsold stocks began affecting working capital for auto businesses.
Naturally, the gloom surrounding auto stocks kept most investors wary.
But what happens in the stock markets is often not in sync with the business realities.
The year following demonetisation turned out to be amongst the best the auto sector has ever seen. Not one or two...but as many as 25 stocks from the auto and auto ancillary sectors doubled between December 2016 and 2017.
Stocks of smaller companies were far nimbler than that of their bluechip peers. Companies selling auto seats, springs, axles, and suspensions saw their stocks soar between three to six times within months.
But business realities had to catch up with the stock prices sooner than later. In less than a year, the sentiments have dramatically changed for auto and auto ancillary stocks.
--- Advertisement ---


7 Stocks To Profit From This Market Crash

What if we tell you that you could potentially make double, triple or four digit gains without taking a lot of risk.

Sounds unreal, right?

But it's TRUE, we have found 7 stocks which could potentially help you buy your dream home, support your children's education or build a retirement nest-egg.

Click here for full details on these stocks.
------------------------------
To begin with, there is of no dearth of bad news for the sector.
The Kerala floods, higher insurance premiums for two-wheelers, steep fuel prices, high lead and rubber prices, potentially higher taxes on luxury cars, rising interest rates and falling rupee have all taken the wind out of the auto sector's tails.
Second, the bluechip companies in the sector are facing headwinds that they did not encounter for many years.
Even as they begin to roll out new variants from their assembly lines, they're not sure of exercising raising prices.
You aren't alone if you have begun doubting the long-term potential of auto stocks. But that reminds me of Warren Buffett's comparison of auto stocks and horses...
At one stage, there were more than 2,000 separate auto manufacturers in the US. Even if you had bought shares in all of them, you would have lost money. It was virtually impossible to know which would fail and which would succeed. However, it was very easy to see who would definitely lose out - horses. The best investment strategy would therefore have been to go short on horses. There were 20 million horses in the US in 1900. Today, there are just 4 million.
Not all auto companies will make money over time. They never did.
Some of the oldest auto companies in the world, like General Motors, have been colossal failures.
But if you are ignoring auto stocks altogether today, the only reason I could think of is that you expect people to ride horses again!
On a serious note, many of the auto stocks, particularly the smallcap ones that went to stratospheric levels in 2017, could languish.
--- Advertisement ---


FREE Access To Our Most Popular Stock Recommendation Service (Plus 7 Stocks To Profit From Now)

Here's your chance to claim FREE access to our most popular stock recommendation service, StockSelect.

Click here for details.

What's more, Tanushree Banerjee has also put together an exclusive report containing details on the Top 7 Stocks To Profit From This Market Crash.

And you get a copy of this report, absolutely FREE!

Click here to get the full details on them now!
------------------------------
Some of the auto and auto ancillary companies will gain from the shift to electric vehicles. Some won't.
But there are businesses in the sector that you cannot ignore. And I am talking about some solid bluechips here.
Like Buffett said...
Fears regarding the long-term prosperity of the nation's many sound companies make no sense. These businesses will indeed suffer earnings hiccups, as they always have. But most major companies will be setting new profit records five, 10 and 20 years from now.
One out of every three household in India is a buyer of their products. They own some of the cult brands in Indian automobile space. They have formidable R&D teams. They have been through several economic cycles over decades. Few have even visited near-bankruptcy in the past and come out successful.
Yet, some of the biggest passenger car, commercial vehicle, and two-wheeler companies in India have seen a huge dent in valuations in recent times.
This could be the opportunity long term investors were waiting for.
Bluechip Auto Are Stocks Way Off Their Valuation Peaks
Warm regards,



Tanushree Banerjee (Research Analyst)
Editor, The 5 Minute WrapUp
PS: Tanushree Banerjee is Equitymaster's co-head of research and editor of StockSelect She has a long and illustrious track record of picking safe stocks. For over 16 years, StockSelect subscribers have received safe stock recommendations that delivered double and triple digit gains. You can receive Tanushree's safe stock recommendations by signing up here.
Copyright © Equitymaster Agora Research Private Limited. All rights reserved.
Any act of copying, reproducing or distributing this newsletter whether wholly or in part, for any purpose without the permission of Equitymaster is strictly prohibited and shall be deemed to be copyright infringement
Disclosure & Disclaimer:
Equitymaster Agora Research Private Limited (Research Analyst) bearing Registration No. INH000000537 (hereinafter referred as 'Equitymaster') is an independent equity research Company. The Author does not hold any shares in the company/ies discussed in this document. Equitymaster may hold shares in the company/ies discussed in this document under any of its other services.
This document is confidential and is supplied to you for information purposes only. It should not (directly or indirectly) be reproduced, further distributed to any person or published, in whole or in part, for any purpose whatsoever, without the consent of Equitymaster.
This document is not directed to, or intended for display, downloading, printing, reproducing or for distribution to or use by, any person or entity, who is a citizen or resident or located in any locality, state, country or other jurisdiction, where such distribution, publication, reproduction, availability or use would be contrary to law or regulation or what would subject Equitymaster or its affiliates to any registration or licensing requirement within such jurisdiction. If this document is sent or has reached any individual in such country, especially, USA, Canada or the European Union countries, the same may be ignored.
This document does not constitute a personal recommendation or take into account the particular investment objectives, financial situations, or needs of individual subscribers. Our research recommendations are general in nature and available electronically to all kind of subscribers irrespective of subscribers' investment objectives and financial situation/risk profile. Before acting on any recommendation in this document, subscribers should consider whether it is suitable for their particular circumstances and, if necessary, seek professional advice. The price and value of the securities referred to in this material and the income from them may go down as well as up, and subscribers may realize losses on any investments. Past performance is not a guide for future performance, future returns are not guaranteed and a loss of original capital may occur. Information herein is believed to be reliable but Equitymaster and its affiliates do not warrant its completeness or accuracy. The views/opinions expressed are our current opinions as of the date appearing in the material and may be subject to change from time to time without notice. This document should not be construed as an offer to sell or solicitation of an offer to buy any security or asset in any jurisdiction. Equitymaster and its affiliates, its directors, analyst and employees will not be responsible for any loss or liability incurred to any person as a consequence of his or any other person on his behalf taking any decisions based on this document.
As a condition to accessing Equitymaster content and website, you agree to our
Terms and Conditions of Use
, available here. The performance data quoted represents past performance and does not guarantee future results.
SEBI (Research Analysts) Regulations 2014, Registration No. INH000000537.

Equitymaster Agora Research Private Limited (Research Analyst) 103, Regent Chambers, Above Status Restaurant, Nariman Point, Mumbai - 400 021. India.
Telephone: +91-22-61434055. Fax: +91-22-22028550. Email: info@equitymaster.com. Website: www.equitymaster.com. CIN:U74999MH2007PTC175407