On This Day - 21 NOVEMBER 2018
The Markets Are Going to Go Up! And Here's Why...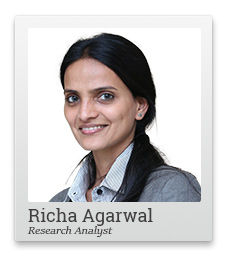 Have a close look at the chart below of the BSE Small Cap Index since 2003...
What stands out the most?
For me, two things are clear:
Over the last 15 long years, the index has kept seeing massive fluctuations.
Despite these large fluctuations every now and then - the overall trend of the index has been upwards.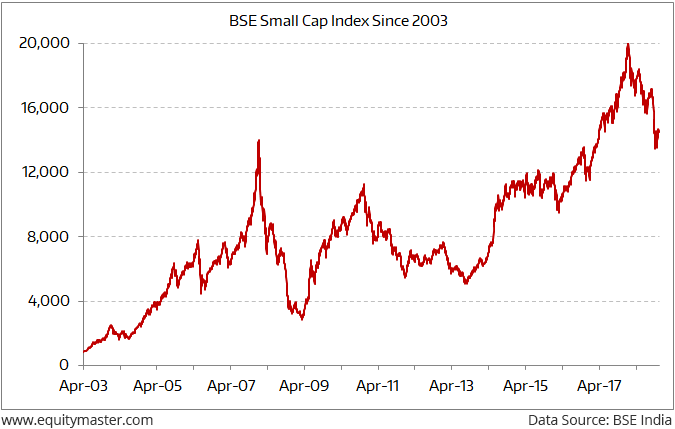 Beginning from when the small cap index was calculated i.e. April 2003 to now, it has appreciated over 17 times over these 15 years.
That's a percentage return of 1,636%.
And a compounded annual return of 20%.
--- Advertisement ---


Pay Less Than 2%…Only If You Act Before 11:59 PM Tonight!

At 11:59 PM tonight, we will close one of the best offers we have designed for you to try our ONLY Guru-Based stock recommendation service – Smart Money Secrets.

An offer where you just have to pay Less Than 2% of the normal annual membership fee to get INSTANT and UNRESTRICTED 30-Day Access to the service…

Plus, you will also get Instant Access to 2 Special Guides worth Rs 950 each…

But you can get these benefits ONLY if you act before 11:59 PM Tonight.

So, if you're looking for actionable investing ideas that are backed by India's Top Investing Gurus… you shouldn't miss out on this rare opportunity!

Click Here Before 11:59 PM Tonight For Full Details.
------------------------------
That's an amazing return by any standards. This underlying upwards bias of the index stocks has meant that even if you just passively bought the index stocks over this period and just forgot about all the ups and downs that happened in the interim - including the fall this year - you'd still be sitting today on a very lucrative result.
Further, if you'd picked the right fundamentally strong small caps - you'd likely be sitting on an even better result.
So why has the market's overall trend been upwards? Wil this continue?
For the uninitiated, the movement in the BSE Small Cap Index is nothing but the movement of the market value of all stocks that make up the index put together.
And it shows, in as clear a fashion as possible, the growth in the market value of Indian companies over time. It exemplifies that as the Indian economy has grown in size, this combined market capitalisation has moved up.
Why?
Well, it's pretty simple. Growth in the economy is nothing but growth in consumption by the people. As Indians consume more goods and services over time - corporate India is going to sell more to them over time.
And as their business volume increases, so will their profits. And with rising profits come higher market valuations.
Thus, as the chart shows, this trend of rapidly increasing market values of Indian companies that has been happening since 2003 will only continue in the years to come.
--- Advertisement ---


Smart Money Alert: Last Chance to Get Our Latest Guru Based Stock Pick At Just Rs 99

(Invitation Expires at 11:59 PM tonight)

Till 11:59 PM Tonight, you have a rare opportunity to claim 30-Day Unrestricted Access to our ONLY Guru-Based Premium Stock Recommendation Service – Smart Money Secrets – By paying Just Rs 99.

And for less than Rs 100, you will get:


| | |
| --- | --- |
| 1) | Instant Access to a detailed report on our latest Guru Based Stock Pick…plus all the Guru-Based stocks we have recommended in the past…(Over 10 of them are a BUY as per our last report!) |
| 2) | Instant Access to a Special Guide – The Complete Investing Strategies of Warren Buffett – Worth Rs 950 |
| 3) | Instant Access to a Special Guide – Smart Money Secrets: A Quick Start Guide – Worth Rs 950 |

…plus there's a lot more!

But, the ONLY restriction is that this invitation will expire at 11:59 PM Tonight.

So, if you miss it now, you could miss it altogether!!

Click Here before 11:59 PM Tonight for full Details.
------------------------------
Yes, there will be ups and downs in the short run... in the near future...
But over the long term, it is headed only up.
Only if Indians ever stop aspiring to live better lives, or if our system in India changes on a very fundamental level that prevents people from doing so - is the only way in which this process will stop.
And we don't see any reason whatsoever for that to happen.
That's precisely why the Indian markets - and along with that small cap stocks - can go in only one direction over the long term: Up.
Nothing else - not panics, market crashes, economic crisis', recessions or anything else in between - can change that.
Regards,



Richa Agarwal (Research Analyst)
Editor, Hidden Treasure
PS: Small cap stocks pose an enormous opportunity for wealth-building. Especially now, when the stocks are so much cheaper than they were just a few months ago. Invest in these stocks now - before it starts rising. Be ahead of the curve - sign up to get the top small cap recommendations of all time.
Copyright © Equitymaster Agora Research Private Limited. All rights reserved.
Any act of copying, reproducing or distributing this newsletter whether wholly or in part, for any purpose without the permission of Equitymaster is strictly prohibited and shall be deemed to be copyright infringement
Disclosure & Disclaimer:
Equitymaster Agora Research Private Limited (Research Analyst) bearing Registration No. INH000000537 (hereinafter referred as 'Equitymaster') is an independent equity research Company. The Author does not hold any shares in the company/ies discussed in this document. Equitymaster may hold shares in the company/ies discussed in this document under any of its other services.
This document is confidential and is supplied to you for information purposes only. It should not (directly or indirectly) be reproduced, further distributed to any person or published, in whole or in part, for any purpose whatsoever, without the consent of Equitymaster.
This document is not directed to, or intended for display, downloading, printing, reproducing or for distribution to or use by, any person or entity, who is a citizen or resident or located in any locality, state, country or other jurisdiction, where such distribution, publication, reproduction, availability or use would be contrary to law or regulation or what would subject Equitymaster or its affiliates to any registration or licensing requirement within such jurisdiction. If this document is sent or has reached any individual in such country, especially, USA, Canada or the European Union countries, the same may be ignored.
This document does not constitute a personal recommendation or take into account the particular investment objectives, financial situations, or needs of individual subscribers. Our research recommendations are general in nature and available electronically to all kind of subscribers irrespective of subscribers' investment objectives and financial situation/risk profile. Before acting on any recommendation in this document, subscribers should consider whether it is suitable for their particular circumstances and, if necessary, seek professional advice. The price and value of the securities referred to in this material and the income from them may go down as well as up, and subscribers may realize losses on any investments. Past performance is not a guide for future performance, future returns are not guaranteed and a loss of original capital may occur. Information herein is believed to be reliable but Equitymaster and its affiliates do not warrant its completeness or accuracy. The views/opinions expressed are our current opinions as of the date appearing in the material and may be subject to change from time to time without notice. This document should not be construed as an offer to sell or solicitation of an offer to buy any security or asset in any jurisdiction. Equitymaster and its affiliates, its directors, analyst and employees will not be responsible for any loss or liability incurred to any person as a consequence of his or any other person on his behalf taking any decisions based on this document.
As a condition to accessing Equitymaster content and website, you agree to our
Terms and Conditions of Use
, available here. The performance data quoted represents past performance and does not guarantee future results.
SEBI (Research Analysts) Regulations 2014, Registration No. INH000000537.

Equitymaster Agora Research Private Limited (Research Analyst) 103, Regent Chambers, Above Status Restaurant, Nariman Point, Mumbai - 400 021. India.
Telephone: +91-22-61434055. Fax: +91-22-22028550. Email: info@equitymaster.com. Website: www.equitymaster.com. CIN:U74999MH2007PTC175407