On This Day - 26 NOVEMBER 2019
Live @ 5pm: Profitable Trading Ideas for You from India's Best Trader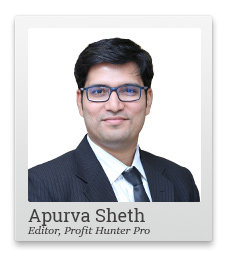 If you had to give an award to India's best trader, who would you pick?
I would certainly nominate Vijay Bhambwani for this award.
Vijay entered the markets when teenagers of his age were busy fooling around. He made his first trade in gold when he was 14 and earned up to 25% in a few months.
He's been active in the markets since then. Vijay has witnessed 3 major bear markets - the Sensex crash during Harshad Mehta scam of 1992, the Ketan Parekh scam of 2000, and the global subprime meltdown of 2008.
Vijay has seen big wealth created and destroyed over the years. If you talk to him for a few minutes you would realise he eats, sleeps, and breaths trading. The insights you get from him about trading, are the kind you won't find anywhere - not on Google or on social media chat rooms.
But that isn't why I believe Vijay is India's best trader.
These are my 4 reasons...
Most traders don't survive more than 1-2 years

Most new traders enter the field of trading with pomp and vigor. But their excitement dies down soon and they leave trading in 1-2 years. Vijay has not only survived nut thrived as a trader for more than 30 years! That's much longer than an average trader and a very big achievement.
88% of traders lose money

Over the years Vijay has prospered as a professional trader. It has been his bread and butter for over three decades. The best measure of a trader's success is if he can pay his bills from trading. Vijay has been doing it for ages.

Many people have a dream to quit their 9 to 5 jobs and trade for a living. Vijay is living that dream life.
Most traders don't have a method

Many traders fail because they don't have a method or a plan while trading. Most trade out of their whims and fancies or on tips from brokers. This does more harm than good. With Vijay, it is very different.

He has a unique method where he combines geo-politics, technicals and behavioral analysis, and the snap quote window, to pick out profitable trades. His has refined his process which has stood the test of time.
Trade entries are easy but exits are very difficult

Anyone can enter a trade whether long or short but few can exit perfectly. Even fewer can hold on to a losing trade and then exit it at profit. I met Vijay back in 2013. He described how he made a profitable exit on a long trade in potato where others lost money. He averaged his positions after knowing the futures prices were trading far lower than spot market rates.

So the only way for the prices to go was up. It takes real skill and conviction in your idea to add on to a losing position. Vijay has both.
This is why I believe Vijay is the best trader in India.
Today, you will soon get a once in a lifetime opportunity to gain insights from Vijay at his Weekly Cash Summit.
Don't miss it.
The summit goes live TODAY at 5 pm sharp.
More than 28,000 have registered for it! Please tune in at least 5 minutes ahead of time to avoid the last-minute rush on the site.
If you haven't signed up for the Weekly Cash Summit yet then this is your LAST Chance.
Warm regards,

Apurva Sheth
Editor, Profit Hunter Pro
Equitymaster Agora Research Private Limited (Research Analyst)
PS: Today @ 5pm sharp, India's #1 trader - Vijay Bhambwani - will be live at the Weekly Cash Summit. More than 28,000 people have registered for it! Vijay will share his best trading ideas as well as his very own trading strategy for fast profits. Don't miss it. You can register for Weekly Cash Summit here.
Copyright © Equitymaster Agora Research Private Limited. All rights reserved.
Any act of copying, reproducing or distributing this newsletter whether wholly or in part, for any purpose without the permission of Equitymaster is strictly prohibited and shall be deemed to be copyright infringement
Disclosure & Disclaimer:
Equitymaster Agora Research Private Limited (Research Analyst) bearing Registration No. INH000000537 (hereinafter referred as 'Equitymaster') is an independent equity research Company. The Author does not hold any shares in the company/ies discussed in this document. Equitymaster may hold shares in the company/ies discussed in this document under any of its other services.
This document is confidential and is supplied to you for information purposes only. It should not (directly or indirectly) be reproduced, further distributed to any person or published, in whole or in part, for any purpose whatsoever, without the consent of Equitymaster.
This document is not directed to, or intended for display, downloading, printing, reproducing or for distribution to or use by, any person or entity, who is a citizen or resident or located in any locality, state, country or other jurisdiction, where such distribution, publication, reproduction, availability or use would be contrary to law or regulation or what would subject Equitymaster or its affiliates to any registration or licensing requirement within such jurisdiction. If this document is sent or has reached any individual in such country, especially, USA, Canada or the European Union countries, the same may be ignored.
This document does not constitute a personal recommendation or take into account the particular investment objectives, financial situations, or needs of individual subscribers. Our research recommendations are general in nature and available electronically to all kind of subscribers irrespective of subscribers' investment objectives and financial situation/risk profile. Before acting on any recommendation in this document, subscribers should consider whether it is suitable for their particular circumstances and, if necessary, seek professional advice. The price and value of the securities referred to in this material and the income from them may go down as well as up, and subscribers may realize losses on any investments. Past performance is not a guide for future performance, future returns are not guaranteed and a loss of original capital may occur. Information herein is believed to be reliable but Equitymaster and its affiliates do not warrant its completeness or accuracy. The views/opinions expressed are our current opinions as of the date appearing in the material and may be subject to change from time to time without notice. This document should not be construed as an offer to sell or solicitation of an offer to buy any security or asset in any jurisdiction. Equitymaster and its affiliates, its directors, analyst and employees will not be responsible for any loss or liability incurred to any person as a consequence of his or any other person on his behalf taking any decisions based on this document.
As a condition to accessing Equitymaster content and website, you agree to our
Terms and Conditions of Use
, available here. The performance data quoted represents past performance and does not guarantee future results.
SEBI (Research Analysts) Regulations 2014, Registration No. INH000000537.

Equitymaster Agora Research Private Limited (Research Analyst) 103, Regent Chambers, Above Status Restaurant, Nariman Point, Mumbai - 400 021. India.
Telephone: +91-22-61434055. Fax: +91-22-22028550. Email: info@equitymaster.com. Website: www.equitymaster.com. CIN:U74999MH2007PTC175407