On This Day - 25 DECEMBER 2018
How to Find the Best 10X Stocks? Reject the Other 96.5% that are Not...

When two multi-billionaires agree on the exact same reason behind what makes people successful, one better take notes.
And if these billionaires answer to the name of Bill Gates and Warren Buffett, even go a step further and pin the notes on your message board.
But what exactly is this reason that plays a key role in the lives of most of the successful people out there according to Gates and Buffett?
FOCUS.
Indeed.
Focusing on what matters and ignoring everything else is perhaps the most powerful ability in a world where we are constantly bombarded with distracting ideas, information and opinion.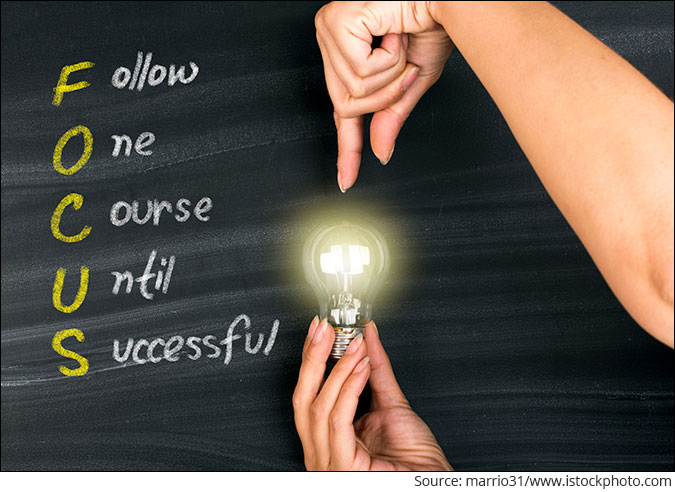 In fact, Buffett and Gates are not alone in understanding the wonders that focus can work on achieving success.
One of the stories goes that when Mark Parker was appointed as the CEO of Nike, he called up Steve Jobs to take a leadership tip or two from the legend himself.
Jobs was his forthright self as usual.
'Nike makes some of the best products in the world', Jobs replied. 'Products that you lust after. But you also make a lot of crap', Jobs added further. 'Just get rid of the crappy stuff and focus on the good stuff'.
The cat got Parker's tongue at the time. All he could do was chuckle. But deep down he knew Jobs was right. Nike had to focus on cutting down on the crappy stuff.
Jobs put it most eloquently.
People think focus means saying yes to the thing you've got to focus on. But that's not what it means at all. It means saying no to the hundred other good ideas that there are. You have to pick carefully. I'm actually as proud of the things we haven't done as the things I have done. Innovation is saying 'no' to 1,000 things.
Guess where in Equitymaster we are taking this idea seriously?
Well, in my very own 10X Project.
At any point in time, there are more than 1,500 - 2,000 penny stocks that are vying for our attention.
And if you don't know how to say no to more than 90% of them, you can certainly end with a lot of crappy stuff.
Which is why my S.O.L.I.D. framework is such a boon.
In no time, it eliminates most of the crappy penny stocks out there and lets through only the most fundamentally strong and the most attractively valued penny stocks.
The beauty of the framework therefore lies in not only allowing us to look at the most potentially rewarding penny stocks out there but also rejecting tens of hundreds of junk stocks that could have been nothing more than a distraction.
So, what exactly is this S.O.L.I.D. framework? What are its different components and where to look for them in a company's financial statements?
Well, I am going to answer all of these questions and more in an exclusive online session called The 10X Project.
Join me tomorrow at 5 PM to know exactly how I put my S.O.L.I.D. framework to use to pick potentially 10X stocks.
If you have claimed your spot already - make sure you haven't missed my most-recent letter on the 10X project. You can find them here.
Good Investing,



Rahul Shah (Research Analyst)
Editor, Profit Hunter
Copyright © Equitymaster Agora Research Private Limited. All rights reserved.
Any act of copying, reproducing or distributing this newsletter whether wholly or in part, for any purpose without the permission of Equitymaster is strictly prohibited and shall be deemed to be copyright infringement
Disclosure & Disclaimer:
Equitymaster Agora Research Private Limited (Research Analyst) bearing Registration No. INH000000537 (hereinafter referred as 'Equitymaster') is an independent equity research Company. The Author does not hold any shares in the company/ies discussed in this document. Equitymaster may hold shares in the company/ies discussed in this document under any of its other services.
This document is confidential and is supplied to you for information purposes only. It should not (directly or indirectly) be reproduced, further distributed to any person or published, in whole or in part, for any purpose whatsoever, without the consent of Equitymaster.
This document is not directed to, or intended for display, downloading, printing, reproducing or for distribution to or use by, any person or entity, who is a citizen or resident or located in any locality, state, country or other jurisdiction, where such distribution, publication, reproduction, availability or use would be contrary to law or regulation or what would subject Equitymaster or its affiliates to any registration or licensing requirement within such jurisdiction. If this document is sent or has reached any individual in such country, especially, USA, Canada or the European Union countries, the same may be ignored.
This document does not constitute a personal recommendation or take into account the particular investment objectives, financial situations, or needs of individual subscribers. Our research recommendations are general in nature and available electronically to all kind of subscribers irrespective of subscribers' investment objectives and financial situation/risk profile. Before acting on any recommendation in this document, subscribers should consider whether it is suitable for their particular circumstances and, if necessary, seek professional advice. The price and value of the securities referred to in this material and the income from them may go down as well as up, and subscribers may realize losses on any investments. Past performance is not a guide for future performance, future returns are not guaranteed and a loss of original capital may occur. Information herein is believed to be reliable but Equitymaster and its affiliates do not warrant its completeness or accuracy. The views/opinions expressed are our current opinions as of the date appearing in the material and may be subject to change from time to time without notice. This document should not be construed as an offer to sell or solicitation of an offer to buy any security or asset in any jurisdiction. Equitymaster and its affiliates, its directors, analyst and employees will not be responsible for any loss or liability incurred to any person as a consequence of his or any other person on his behalf taking any decisions based on this document.
As a condition to accessing Equitymaster content and website, you agree to our
Terms and Conditions of Use
, available here. The performance data quoted represents past performance and does not guarantee future results.
SEBI (Research Analysts) Regulations 2014, Registration No. INH000000537.

Equitymaster Agora Research Private Limited (Research Analyst) 103, Regent Chambers, Above Status Restaurant, Nariman Point, Mumbai - 400 021. India.
Telephone: +91-22-61434055. Fax: +91-22-22028550. Email: info@equitymaster.com. Website: www.equitymaster.com. CIN:U74999MH2007PTC175407