Profit Velocity
Profit Velocity is a momentum investing service that recommends mid and small cap stocks that have had the best returns over the last one year, and have the potential to generate strong returns over 2 to 3 years.
Profit Velocity is based on Newton's first law of motion. It is inspired from a proven approach where stocks with high past returns tend to have high future returns.
Rahul Shah, Editor of Profit Velocity, builds smart systems that can earn market crushing returns.
To assess the investment-worthiness of stocks, he uses a system that looks at both momentum and fundamental parameters. For momentum, he looks at the strength in a company's stock price vis-a-vis its peers; and for fundamentals, he looks at companies of a certain revenue size and a minimum average liquidity over the last one year.
Only those stocks that pass through the above filters are recommended in the Profit Velocity service.
---
What is the goal of Profit Velocity?
The service recommends stocks that score high on both momentum and fundamental parameters and are poised to potentially generate strong returns over 2 to 3 years.
---
What does Profit Velocity offer?
Profit Velocity will include stock recommendations and give subscribers suggestions on how best to use the flexibility of increasing or reducing exposure to equities based on the overall market conditions.
---
Who is the editor of Profit Velocity?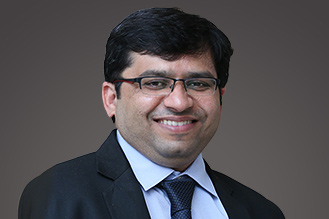 Rahul Shah, the Editor of Profit Velocity, is also editor of our most popular free eletter, the Profit Hunter. A research analyst and Co-Head of the Equitymaster research team, Rahul has developed some of Equitymaster's most stringent and rewarding research processes, and recommended some of the biggest winners in Equitymaster history. He firmly believes that to be successful at investing, you have to reign in your emotions, and use smart systems that give market-crushing returns.
---
What is the frequency of the reports and what is the minimum number of reports expected annually?
The Profit Velocity reports will be published and mailed out twice every month, on the 10th and the 25th. So, you will receive a minimum of 24 reports a year. On the Profit Velocity page of our website, you will find the status of all our recommended stocks that are currently in open position.
---
Will stocks with low liquidity be recommended?
Given the nature of the product, we cannot rule out stocks with low liquidity. There is always the possibility that these stocks may shoot up in price in no time, even at the time of our recommendation. We try and alleviate the problem of stocks going up at the time of our recommendation by way of two fail-safes:
One, we ensure that the stocks we recommend are above a certain liquidity threshold so that there is enough liquidity to absorb the buying pressure. This helps lessen the effect of the buying pressure on the stock price on that day.
Second, since we are aiming to make 35 to 40 recommendations every year, we recommend that our subscribers not chase prices, and consider now buying a stock once it has gone 5-10% higher than our recommended price. There will be enough recommendations in a year so that the pain of missing out on a few is eased considerably.
---
How often will stocks be recommended and what will be the rate of replacement?
We will recommend a group of 20 stocks at the start of every three-month period with the intention of holding on to them for a minimum of three months. At the end of three months, their momentum will be assessed afresh. Those that still make the cut will remain, and the rest will be recommended a SELL.
Churning could be to the extent of 7-8 stocks every three months, on average. In other words, out of 20 stocks, we expect 7 to 8 stocks to get replaced at the time of rebalancing.
---
How long should one hold on to a stock?
All stocks will be recommended to be held for a minimum of three months. Their momentum will be assessed afresh at the end of three months. If they continued to be on the list of our top momentum stocks after three months, we will recommend subscribers hold on to them. If not, we recommend a SELL and recommend new stocks as replacements.
In all, we expect one's holding period for an individual stock to vary between a minimum of three months and a maximum of over one year. Please note this is the average and there could be some stocks which could be outliers.
---
Does the service have any capital protection measure in place? How will idle cash be managed?
Yes. In order to stay protected from deep corrections in the markets, we undertake a quarterly survey of the stock market. If the survey tells us that the broader market is expensive and in a downtrend, we recommend subscribers exiting out of most stock positions and keeping only 25% in stocks and remaining in cash.
In situations such as the above, we will be moving the idle cash to safe short term fixed deposit.
We will aim at providing correct guidance in this regard in the reports.
---
Will there be stop losses in place for individual stocks?
There will be no stop loss rule. Once a stock is recommended, it will be persisted with right till the end of the three-month period. However, we will use the stop loss at our discretion whenever we feel there's a strong case for it. This discretionary stop loss will not be triggered unless the stock is down 30%-35% from its recommended price.
---
How often are the recommendations reviewed and when are the updates expected?
The recommendations are reviewed and results of the open positions are surveyed every three months. This aspect will be conveyed during the rebalancing date in the fortnightly Profit Velocity report.
---
How will we know when to Sell the stocks?
Through our reports, we will explicitly mention when subscribers could consider selling a stock.
---
What are the expected returns?
The goal of the service is to outperform the returns delivered by the BSE Sensex over a 3 to 5 year period.
---
How do we measure the performance of our recommendations?
The performance of the service should be measured in terms of how well it does vis-a-vis the benchmark index of Sensex over a period as long as 3 to 5 years. Since the stocks recommended in this service will mostly be mid and small caps, we would also compare our performance with the returns given by the BSE Mid Cap index and the BSE Small Cap index.
---
Would every report have fresh recommendations?
No. Every report may not have a recommendation on a new stock. The frequency of recommendations made in this service would mostly be three months, when we assess the momentum of existing stocks and decide whether they need to be replaced with new ones. Having said that, there is a good chance that the number of recommendations made every year can range from 35 to 40 stocks and may be even more.
---
When should one act on the recommendation?
One is encouraged to only act on the recommendations as per the prescriptions given in the reports. As mentioned earlier, this could include recommendations to buy/sell at the time of the reports, as well as between reports as per the buying prices prescribed for each stock. We will aim at providing correct guidance in this regard in the reports.
---
Will all the stocks under this service be different from that of other Equitymaster services?
We believe that earning good returns from stocks is all about following a well-defined process. In line with this, each of our product teams, be it the Hidden Treasure team, or the Profit Velocity team, has its own unique screen and checklist for selecting and recommending stocks. In rare cases, where there is a compelling proposition to recommend a stock in more than one service simultaneously, there could be an overlap in stocks.
For example, the Profit Velocity team has a pre-defined SELL criterion based on the concept of weakening of momentum. On the other hand, the same stock could be recommended under another service where according to the parameters of that particular service, the stock is expected to grow at a certain rate over a certain number of years. If it is seen that the prospects of that may not materialize, there may be a sell recommended. Thus, there could be recommendations that overlap with those in Equitymaster's other services. This aspect also leaves the door open for possibly contradictory recommendations.
---
Are all the recommendations expected to perform well?
No. Given the nature of the service, some may very well fall below our recommended price. However, this is all part of the game. The strategy makes allowance for such losers. We expect that in the overall scheme of things, the gains will more than make up for the losses.
---
What is the maximum a subscriber can buy into each stock?
According to us, in a scenario of ideal allocation of funds, Profit Velocity stocks could be considered to comprise not more than 5-10% of a subscriber's total allocation to equities. Further, we believe that a single Profit Velocity stock should ideally not form more than 5% of the total funds set aside for Profit Velocity.
However, please note that this allocation will vary from person to person. For something that works best for you, we recommend you talk to your investment advisor.
---
Are Equitymaster analysts allowed to invest in the recommended stocks?
Equitymaster is an honest, completely transparent and a professionally run organization. We have a strict compliance system, internal policies and Share Trading Guidelines in place. Please note all securities trading of our employees are tracked and monitored to ensure that our subscriber gets the first right to our paid research. We follow the SEBI (Research Analysts) Regulations and give full disclosures with respect to each recommendation. We further request our subscribers to go through our Share Trading Guidelines.
---
How should one contact the customer service team in case of a query?
You can write to us with all your queries and we will be delighted to assist you. Alternatively, you can call us on +91-22-61434055 between 10 am to 6 pm from Monday to Friday.
---
What Profit Velocity does not offer?
Profit Velocity is a generalized recommendation service. We do not offer customized opinions for any particular subscriber or class of subscribers. We are not qualified financial advisors nor Investment Advisors and we strongly recommend our subscribers seek professional advice before taking any decisions for their investments.
---
Where does Profit Velocity fit in?
Momentum stocks are inherently riskier compared to other conservative investment strategies. On the brighter side, they present a huge growth potential. It is not unusual for a good momentum stock to turn a multi bagger in a matter of months. But on the flipside, there is a high risk attached. Subscribers should note that not all Profit Velocity stocks tend to be outperformers. In fact, we have seen momentum stocks plunging 80-90% when things turn sour.
While we have an asset allocation system to minimize losses, stocks recommended in Profit Velocity are not recommendable to those having a low risk profile.
According to us, in a scenario of ideal allocation of funds, Profit Velocity stocks could be considered to comprise of not more than 5-10% of one's total allocation to equities. Further, we believe that a single profit velocity stock should ideally not form more than 5% of the total funds set aside for Profit Velocity. However, please note that this allocation will vary from person to person. For something that works best for you, we recommend you talk to your investment advisor