Dear Reader,
I'm sitting in the Crystal Ball room of The Taj Mahal Palace Hotel in Mumbai…
With a perfect view of the Arabian Sea and The Gateway of India…
Sharing a cup of chai with a man who owns a thriving diamond business in Mumbai…a retired Air India employee…a portfolio manager…a contractual manufacturer…and a young female trader.
Now, all these people may have never met or even seen each other before. But all of them have one thing in common…
They're all members of what I call, "The Bombay Investing Society".
A little-known society that's been in existence for 16 years…
And guided thousands of members towards a better financial future.
Yes! It's not the kind of 'society' that holds weekly meetings.
In fact, members in this 'society' could potentially multiply their wealth with its guidance regardless of whether or not they stay in Mumbai.
Let me tell all about this 'society' and how you too could become a part of it…
The #1 Money Mistake Most People Make
And How You Can Avoid The Same…
You see, there's a good reason why this "society" was launched many years ago.
The thing is, many amateur investors aren't able to generate as much wealth as they hope to in the stock markets.
They generally make a few investments, turn a small profit here and there if they are lucky, but never benefit as much as they really could.
And you don't just have to take my word for it…
As per one study by Quantitative Analysis of Investor Behaviour (QAIB)….
The average investor in a blend of equities and fixed-income mutual funds has garnered only a 2.6% net annualized rate of return for the 10-year time period ending December 31, 2013.
And this falls even lower over a longer period of time.
Yes! The 20-year annualized return comes in at 2.5%, while the 30-year annualized rate is just 1.9%.
In other words, had someone started out with an investment of Rs 10,000 30 years ago, and followed conventional investing wisdom, they'd be sitting on a pathetic profit of just Rs 7,588… and when adjusted for inflation, they'd have actually LOST money over that period.
Why does this happen? Where are these people going wrong?
Let me explain…
If 'Hot Stocks' Made Money Fast
and Without Fail Every Single Time,
Everybody Would be Wealthy!
You see, most people in the stock markets follow friends' advice or tips from brokers to make their investments.
They simply keep investing in the next 'Hot Stock', hoping to make a quick buck.
But if just investing in 'hot stocks' was all it took to get rich in the stock market, then everyone would be wealthy.
In fact, many so called "hot stocks" have actually gone nowhere in the last 10 years or so....
Take Bharti Airtel for example.
When this mammoth company went ahead and listed its shares on the stock market in 2002, everyone from the talking heads on TV to the financial "gurus" expected it to perform exceptionally.
While Bharti Airtel's shares surged initially, they fell just as quickly…
And the company point to point has made shareholders almost nothing for the last 10 years.
Take a look…
Cellular Giant's Lost Decade
Past performance does not guarantee future results.
Then there is TATA Steel Ltd…
After 80 years of being listed on the stock exchange, the company seems to have lost its shine…
If one would have invested in TATA Steel and held on for the last 10 years, they would be sitting on a 2.1% loss!…
TATA Steel Loses Its Shine

Past performance does not guarantee future results.
Maybe you were one of the many people who got burnt by investing in hot stocks, I don't know..
But the good thing is that this is just one side of the story.
Then there is the other side that The Bombay Investing Society is on…
You see, the Bombay Investing Society was created as an alternative source of research and information for those who were serious about taking control of their financial future.
Members of The Bombay Investing Society have had the chance at some spectacular returns… like 575% in a little under 5 years, and even 1,821% in 6 years and a few months.
Over the last 16 years, it has a success rate of 74.4% on all its closed positions.
Which means, out of 10 stocks recommended by The Bombay Investing Society, more than 7 hit their targets.
How Members of The Bombay Investing Society had a chance to Turn Rs 30,000 Into Rs 600,500 In about 8 Years
With 3 Simple Moves
Every month, members of The Bombay Investing Society receive at least one stock recommendation …
And just 3 such stock recommendations could have enabled one to make a Rs 600,500 fortune over a period a period of time.
Take a look…
One stock shared amongst the Bombay Investing Society members could have turned…
Rs 10,000 into Rs 67,500 in JUST 5 years!
Past performance does not guarantee future results.
Investing Rs 10,000 in Bajaj Auto in 2008 (when members of the Bombay Investing Society came across this opportunity) could have given Rs 67,500 in 2013.
That's a 575% return…
Almost 6x of what was invested, in a little under 5 years!
And this was while many investors saw their money go nowhere over the exact same period.
Then this group came across yet another investment opportunity…
If one had followed along and invested in Mahindra & Mahindra in 2003, they could have turned…
Rs 10,000 into Rs 192,100 in 6 years & 7 months…
Past performance does not guarantee future results.
That's 1,821% or 18x your initial investment in 6 years and 7 months!
I believe you're starting to see how profitable these stocks could potentially be. In short, the opportunities shared amongst the members of The Bombay Investing Society have the potential to take anyone towards a financially secure future much faster.
For example, they also learned about L&T all the way back in 2002… that investment could have turned
Rs 10,000 into Rs 340,900 in LESS than 8 years…
Past performance does not guarantee future results.
That's 3,309% or more than 33x of the initial investment a little under 8 years!
In total, that's 3 simple moves into 3 stocks.... And a Rs 600,500 windfall! This is the potential of the investment Secret used by the Bombay Investing Society.
Such investment ideas are available exclusively to members of the Bombay Investing Society…
Now, normally it's virtually impossible to get your hands on such exclusive research.
And many  Portfolio Management Firms generally end up turning your financial future into a business by charging you certain percentages of your investable assets.
Now that's where this particular investing society stands out.
This society doesn't stand to make a single rupee even if you invest in the stocks it recommends.
What's more, where you come from or who you are doesn't matter…
Virtually anyone can join…
And today, you can join too, and start your journey towards a financially secure future.
Let me show you how to…
Join The Bombay Investing Society…
Like I already told you…
The Bombay Investing Society is open to anyone who wants to put all their financial worries to rest.
And what makes this even better is…
It accepts members from all across the globe and has had tens of thousands of members since its inception.
In a short while, I will show you how easy it is to join these people.
But first, let me introduce myself and explain why I am sharing this with you…
I am Rahul Goel, CEO of Equitymaster.
We're a financial research house based in Nariman Point, Mumbai…
Right in the centre of India's financial heart.
Our neighbours include the biggest banks and mutual funds in the country. But as I'll shortly explain, we're nothing like them…
When I started at Equitymaster in 1996, we were the only financial website in all of India.
There were only 10,000 internet users in the entire country.
And today, Equitymaster has 1,764,790 readers from 72 countries.
I'm telling you all this not to brag, but to prove to you that we have a proven track-record of spotting and profiting from huge and unstoppable trends…
That's exactly why readers from all over the globe trust us!
Here's what some of our subscribers have to say about our research…
I have been with Equitymaster for nearly 20 years - happy to have made a lot of money - Really investor friendly and independent analysis. Compliments to Research team.
- Dildar Singh, Thane
Very good unbiased recommendations. All the reports of recommendations are in depth and very good. Overall when one see the site one can easily understand the fundamentals of investing. Very useful. The main thing is Equitymaster can be trusted. Overall my experience has been very good
- Raghunathan Srinivasan, Mumbai
Over 16 years ago, we saw the need for more thorough research in the blue chip field…
So, I gave one of my research analysts, the permission to go ahead and create The Bombay Investing Society to fill the void.
Let me introduce you to the person in question…
The Mastermind Behind
The Bombay Investing Society…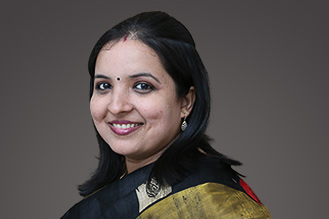 Tanushree Banerjee
If you are expecting the brains behind this secret investing society to be a hotshot pinstripe suited Dalal Street investor, then you're in for a shock.
The person behind all the massive gains you read about, is someone you would come across in a book store, buying Roald Dahl books for her daughter.
You might end up sitting next to her in a Mumbai local train…
Never being able to guess that someone who seems just like you is secretly a financial genius, followed by thousands who want to learn how to secure financial independence…
And that someone is Tanushree Banerjee, research analyst and the co-head of our research team.
Ever since she was a young woman, Tanushree has been fascinated with why some businesses succeed, and others fail.
A firm believer in the investment philosophies of Warren Buffett and Benjamin Graham, the investing greats, Tanushree joined Equitymaster right after completing her MBA in Finance from SIES Mumbai in 2004.
Over her 13 years here, she has since helped shape the systems that recommended some of the safest and most profitable stocks to our subscribers…
Systems that are the reason for a lot of subscribers getting their "happily ever afters'" …
Systems that recommend the kind of stocks that one could possibly 'bet their retirement on'.
But why did I decide to tell you about the Bombay Investing Society NOW?
Well, Tanushree believes over the next 10 years, Sensex will hit 100,000....
And becoming a member of her investing society is one of the proven ways to ride the growth wave all the way to a financially secure future!
So, what is it about Tanushree that she demands the attention of so many people,?
You see, the secret to Tanushree and her team's success, comes down to a simple stock-picking strategy she developed some 13 years ago…
This stock picking strategy has the potential to guide you create so much wealth for yourself…and your children…and your grandchildren…possibly your great grandchildren as well!
By Going After The Biggest Kid
On The playground…
Let me explain what I mean by that…
First, Tanushree starts with what are considered the biggest stocks on the market.
These companies are called 'blue chips'.
But, she doesn't like taking chances by recommending just any blue chip that's "hot" at that point in time.
No! She puts every potential investment through her own, stringent safety test.
After this, she's left with a handful of companies that seem like a safe bet.
Tanushree calls them "Safe Stocks".
How are they different from regular blue chips?
You see…
Safe Stocks are all well-established companies with stable earnings and a long track record.
They are well-managed companies that have consistently performed across business cycles and have the  resources to not only weather the downturns and disturbances, but also emerge stronger from them…
But of course, finding Safe Stocks is only the first step.
There's a little more to recommending multibaggers…
And this is where the second step comes in…
The "GRIP" Strategy for Finding Stocks One Can Hold, and Profit from, for Life…
Years of trial and error have led Tanushree to the perfect stock selection strategy…
The same strategy that is behind all the massive gains you just saw.
She likes to call it the GRIP strategy
GRIP consists of all the key fundamentals she looks for in a blue chip before recommending it to her subscribers… 
G

rowth Potential

When a company catches Tansuhree's eye, she first assesses it's ability to increase its revenue by introducing new products, and by growing its customer base and market share.
R

einvests profits

She then analyses how and where the companyuses the returns it makes; companies that reinvest profits to grow their business further, could hold the potential to turn into a 10 bagger!
Resist
I

ndustrial norms:

Managements of 'well performing companies' often end up playing it safe and either mindlessly imitating what everyone in the industry is doing, or replaying its past processes or both. But that is what holds these 'well performing companies' back from becoming 10 baggers. Companies that can resist such behaviour and do things differently can create and preserve long term wealth.

Which brings us to the last criteria…
P

ricing power

One of a company's biggest virtues is the brand's ability to command prices at will ie not dictated by the market. Companies with formidable pricing power meet Tanushree's 4th and final criterion.

If a stock meets ALL 4 requirements of Tanushree's stock selection process…

The second part comes into play.
The "Profit Catalyst" That Turns Boring Blue Chips into BIG Winners…
There's a strong belief that blue chips are virtually immune to any and all kinds of problems.
But that's not always the case!
The truth is that even large cap stocks go through hardships from time to time.
The reasons could be anything from:
A change in the company's top management,
Some new initiatives started by the company that turn out to be failures,
Fall in demand for the company's product in the market,
Bad economy,
… or anything else for that matter,
Point is, even great companies can see their share price fall, despite the fact they're still an incredible business…
And the truth is, this is great news!
Because that means, people like the members of the Bombay Investing Society have the chance to buy some of India's best companies at a huge discount.
In short, Tanushree is a bargain hunter.
When the bad news passes, or the company re-discovers its course…the company's shares begin to climb back to where they fell from…and much farther beyond.
So, these downturns actually act like "profit catalysts" …
That's why, grabbing good safe blue chips for cheap, makes doubling or tripling money within a few years all the more easier.
Make sense?
There is another part of becoming a member of The Bombay Investing Society that I haven't told you about yet…
One Important Thing
Everybody Needs To Understand
About The Bombay Investing Society…
Like I said, joining the Bombay Investing Society is easy.
Virtually anyone, from anywhere in the world can become a member…
Except there is one condition…
You see, even though the stocks recommended to The Bombay Investing Society are some of the safest in the market…
But there will always be a certain degree of risk involved with investing in something as volatile as the stock market.
Which is why, only people who are very serious about growing their wealth and taking their charge of their financial future…and are comfortable with a certain degree of risk…should consider joining.
Our existing members come from all walks of life, some could be busy executives, some could be self-employed business men and others might have already retired…
Presenting The BackBone
Of The Bombay Investing Society:
StockSelect
You see the thread that binds all the members together is Tanushree's financial research service called StockSelect.
A service that we launched in 2002…
Back then, nothing like StockSelect existed, and it was virtually impossible for the individual investor to get elite-level stock research without paying a lot of money or handing their life savings over to an investment manager…
That's why we created StockSelect…
And over the last 16 years of StockSelect…
We have seen MORE than 7out of 10 StockSelect recommendation hit their targets.
It is the quality of research that we base our recommendations on, that has led to thousands of members trusting us…
I have been using Equitymaster for more than 10 years and I believe they are an excellent source of clear information needed to invest savings safely in this time of high inflation. As they have repeatedly said investing is an art takes a lot of passion to get it right while maintaining a dispassionate view on the investments. They have superb research which is not always correct in their forecast but provide the data that helps individuals make decisions. I believe Equitymaster has not yet reached its true worth in the marketplace.
- Carl Saldanha, Mumbai
I like your analysis, guidance and suggestions which you provide on a very regular basis. Subscription to your services is worth much more and if someone follows the advice, he/she is sure to create wealth. All the analyses are backed up with intensive studies. Great Job!"
- Vijay Chopra, Lucknow
Today, it is your turn to embark on the same journey, all you have to do is subscribe to StockSelect (become a member of The Bombay Investing Society) …
And we will handle the rest.
Tanushree will inform her subscribers about any stock that catches her eye and passes all five parameters of her proven stock selection process.
You just have for her monthly recommendation report…
And it Works Faster Than You Might Think…
You see, though most of our recommendations are made with an investment horizon of 3-4 years…
In some situations, the markets move quickly, and bump up the stock price sooner than even Tanushree expected.
Just look at these:
Rapid Profit Play #1: Tanushree recommended Hindalco in February 2016 after it gave green flags on all her stock selection parameters…
And within just 4 and a half months, it was up by 118%!
Triple Digit Returns in LESS Than 5 Months
Past performance does not guarantee future results.
If one would have invested Rs 10,000 on receiving this recommendation…
They could have turned it into Rs 21,800 in LESS than 5 months.
In 2011,  Tanushree recommended The Indian Hotels to The Bombay Investing Society  (her  StockSelect subscribers) …
If one would have invested in The India Hotels, he could have generated 79% returns in a little over 8 months.
Past performance does not guarantee future results.
With this recommendation…
One could have turned Rs 10,000 into Rs 17,900 within 8 months.
You have already seen the unbelievable returns that StockSelect has generated in the past…
It doesn't matter if you're a seasoned investor, or an amateur…
Anyone could see gains like this possibly secure all their financial dreams with StockSelect.
All you have to do is subscribe to StockSelect and read Tanushree's research, which is extremely easy to follow, then decide for yourself if you want to follow her recommendation or not!
But don't just take my word for it, hear it from her StockSelect subscribers, or as we like to call them, The Bombay Investing Society members…
StockSelect Subscribers Speak Out!
I am a subscriber of StockSelect - premium paid service. I find the research reports very extensive and helpful in analyzing my investment decisions in equitymarket. The reports are well presented and easy to understand. I thank, Equity master team in giving the best efforts in finding the right picture of the company by researching it thoroughly! Thanks Equitymaster for their best efforts in guiding me to make my investment decisions!"
- Atul Lalwani, Bhopal
StockSelect is a good service… I have had a good experience with few stocks I invested in, such as Ambuja cement, Tata Chemicals, Hindalco, Voltas and many more. Although some of the stocks didn't meet the expectation, but that's how stock market works.
To sum it up, I am a happy with all the services Equitymaster provides, including their oldest service Stock Select which was launched in 2002.
- Suresh Gujarati, Thane
But Before You Subscribe to StockSelect…
There Is Something You Must Know
Like I mentioned before, over the last 16 years, more than 7out of 10 of our safe blue chip recommendations made under StockSelect have generated solid returns.
But there are still 3 stocks out of every 10 that do not perform as expected.
Now, there's no doubt that we recommend a stock only when it meets all the required parameters.
But sometimes… despite having all those valid reasons for recommending the stocks… there might be a few losses.
Like these StockSelect recommendations…
| | | |
| --- | --- | --- |
| Oriental Bank of Commerce | 1 Year 7 months | -14% |
| Essel Propack | 1 year 6 months | -26% |
*Prices adjusted for bonus and stock splits.
So, what I want to say is, despite making all the efforts to be as accurate as possible, there will always be factors that we can't control.
But as you know, all the recommendations are based on Tanushree's stock selection system and have an accuracy rate of 74.4% for all the closed positions between 2002-2017.
That's a phenomenal win rate.
Still with me?
Now…
Like I mentioned before, once you subscribe to StockSelect, you can sit back and relax…
Every month, Tanushree will send you a recommendation report with in-depth details about a solid blue chip from her list of stocks that have passed her strict filtering system
Which means that in a year, you will get 12 opportunities to turn your financial dreams into reality!
Each of these recommendations will be thoroughly checked against her fool proof stock recommendation system that has been perfected over the last 15 years.
So, this enables you to acquire those large cap stocks for cheap, and potentially grow your wealth in just a few years.
But, Tanushree does not believe in recommending a stock and then just forgetting about it.
So…
Once You Subscribe to StockSelect
You Get Access to…
Monthly Issues

And through the time it takes to meet its target, we publish monthly and quarterly performance of stocks in open position, so you'll always know exactly what's happening with the StockSelect stocks at all times with our Monthly Performance Review…

This report will cover all the stocks which we have recommended under StockSelect but haven't reached their target yet… i.e. Stocks we have an Open Position in.

It gets published every month, and provides details on how the stock has been performing since it was recommended…the target price we are moving towards, and whether we maintain our initial view on the stock.

This report is extremely vital for our subscribers it helps them understand the reason behind Tanushree's decision to recommend a hold or sell on a certain stock and gives them an update on how the stocks have been performing....

Special Alerts

Tanushree does not believe in recommending a stock and then just forgetting about it. Every recommendation made under StockSelect is tracked continuously till Tanushree thinks it's time to sell and take profits.

If there is anything crucial about the stock that the you need to know, Tanushree will send out Special Alerts directly to your inbox.

StockSelect's Archives:

Once you subscribe to StockSelect, you will get access to all issues and recommendations of StockSelect shared in the past…

24/7 Access to a Members Only Website

Any time, any day, you can log onto the website… read every report, every newsletter issue, review all the recommendations , or report a concern about your membership..

Equitymaster… On the Go!

Now, you can access Equitymaster on your smartphone through our Mobile Apps as well.

Through the app, you can access the latest research reports, stock updates, all our Free e-newsletters, all other subscriber features…on the go!

A Dedicated Customer Service Team

If you ever have questions about your membership, simply send our customer service team an email. They will get back to you at the earliest and walk you through whatever you need.
But that's not it…
If you subscribe to StockSelect right away, you also get access to…
Tanushree's Latest Special Report:


The Top 5 Safe Stocks in this Market Crash


(worth Rs 1,950)
The recent drop in the stock markets have given rise to rumors of an upcoming market crash.
But while everyone else is being fearful, we at Equitymaster see it as an opportunity.
How?
Well, Market corrections like this one, give you a great opportunity to accumulate high-quality stocks at sensible prices.
And after thorough evaluation and research, Tanushree has narrowed it down to 5 Safe Stocks that you could consider buying right away to cushion your fall in the upcoming market crash.
This special report is priced at Rs 1,950…
But once you subscribe to StockSelect today…You will get it for absolutely FREE!
And As Soon As You Subscribe to StockSelect, You Will Also Unlock Gifts Worth Rs 66,080
Gift #1

Free Access to Equitymaster's Secrets Online Training Course (Worth Rs 5,000 per annum):

This is our online e-learning course on Value Investing.

Reveals some of the biggest investing secrets we learnt in our entire journey in an easy-to-view audio-video recording format. This course is written completely by our own research team and will be available to you 24X7 on our website.

In fact, you can even download all the lectures and excel models to analyse businesses yourself…and more importantly you'll also have an opportunity to interact with other students on a dedicated discussion forum.

The Equitymaster Secrets Course is normally priced at Rs 5,000 per year, but if you join StockSelect today, you'll get unlimited access for FREE! (as long as you stay subscribed)
Gift #2

Free Access to Equitymaster's Intelligent Portfolio Tracker (Worth Rs 330 per annum):

The Equitymaster Portfolio Tracker is an online tool that will allow you to not just track your portfolio, but also make smarter decisions through numerous intelligent reports. Reports like:
Is your portfolio construction ideal?
Stocks nearing their 52-week high/low.
All these reports are available online 24X7, at the click of a button.
Please Note: Equitymaster's Portfolio Tracker is an online stock and mutual fund tracking tool. It is NEITHER a Portfolio Management Service NOR does if offer any personalized opinions whatsoever. Additionally, all the user data is strictly private and in no way used for making recommendations. Equitymaster does not offer portfolio management service and is not registered as a portfolio manager or investment advisor.
Gift #3

Equitymaster's Private Briefing, never miss a single thing we publish (Worth Rs 60,000 per annum):

Private Briefing is direct line of communication between our premium members, and Rahul Goel, CEO, Equitymaster

It gives you a roundup of our best research published during the week, in just one concise email.

However, the Private Briefing isn't just about compiling everything in one place…

We believe that an informed investor always manages to grow his wealth better than an uninformed investor. That's why we are using the Private Briefing as a medium to educate you, our subscribers, on what's happening in the broader markets and other assets like gold, commodities, etc. too.

This helps you fine-tune your strategy in line with the economic climate at that time.

Then if we've met any companies lately, or if there's some interesting discussion going on within our research team with regard to some company, we also tell you about it in the Private Briefing.

Private Briefing is generally valued at Rs 60,000 a year…

But if once you become a StockSelect subscriber…

You get it for FREE! As long as you stay subscribed…
Gift #4

Equitymaster Stock Market Yearbook
(Worth Rs 750 per annum):
The Equitymaster Yearbook offers accurate, unbiased and detailed data on leading companies, sectors and economy… all in one place!
You can use this information to conduct an in-depth analysis of a company, find information on historical trends, or anything else you want.
When you become a member of StockSelect you will be among the first to receive the Yearbook every year.
Sounds great, right?
And while the Yearbook costs Rs 750 per year normally, you get it for FREE in a PDF format.
That's gifts worth Rs 66,080—yours for FREE when you join Stock Select today!
Okay, so you may be wondering how much all of this will cost you? I think you'll be surprised that you can…
"Turn Your Fortune Around" …
For the Cost Of A Family Dinner!
One year of access to StockSelect is generally priced at Rs 6,000…
These days, that's how much a family dinner would cost!
And if I am being honest…
It is peanuts compared to the value your financial dreams hold.
Not having to work till the age of 60…
Not having to worry about how to pay for your children's' college…
Buying your dream car without having to cut corners…
FINALLY taking that dream vacation you kept putting off—I'm sure Rs 6,000 is nothing in front of this.
But when Tanushree and I decided to invite you to join StockSelect…
She insisted on giving readers like you a special discount of MORE than 50%!
Why? Simply because Tanushree wants to guide as many people as possible towards the financial freedom they desire and deserve…
So, if you subscribe to StockSelect right away…
You don't have to pay the full Rs 6,000 for one year's access…
All you have to pay is Rs 2,950 (That's more than HALF OFF!)
You get to enjoy this discount of MORE than 50% for as long as you wish to stay subscribed to StockSelect!
It doesn't get any better than this…
Which is why you shouldn't waste another moment, since this opportunity is open for a limited period of time…
And since this offer is covered under our Standing Instructions Facility…
You don't have to worry renewing your subscription and potentially missing out on a moneymaking recommendation.
We will automatically charge your credit card with Rs 2,950 every year.
Which means that your subscription will get automatically renewed every year, making sure you continue to get uninterrupted access to all of Tanushree's blue chip research…
Don't worry, we will send you a reminder before we charge your card with a single rupee…
And if you choose not to stay subscribed to StockSelect, just let us know and we will not charge you for the next year.
It doesn't get any better than this. You have total control and total peace of mind.
Now, I understand if you are still on the fence about joining StockSelect and nearly tens of thousands of other members…
Which is why, you can go ahead and…
Try StockSelect 100% Risk-Free


With Our 30-Day, FULL Refund Policy!
Because your financial independence is so important to us, we want to give you a strong reason to put all your hesitations aside and sign up now.
So, this invitation comes with a 30-day, 100% refund policy.
Which means that if any time before the 31st day you feel that this service is not for you, just get in touch with us and we'll refund the complete amount…
Right to the last rupee… No questions asked!
And you can keep everything you download during these 30 days, as a Thank You Gift from our end, for trying our service.
Sound good?
This is one of the most lucrative opportunities we have!
And with the 50% discount that you get for life, the benefits could keep coming year-after-after.
Fair enough?
Then let me quickly recap this invitation, and then I'll tell you how to join StockSelect.
A Shot At Financial Freedom…
For
Just Rs 2,950

Per Year!

When you subscribe to StockSelect, you'll get:
One year access to StockSelect at a discounted price of JUST Rs 2,950 (normally priced at Rs 6,000 per year) …
A rate of Rs 2,950 a year locked in for as long as you remain a subscriber…
Access to some of our BEST ideas as per the current market conditions.
Absolutely Free PDF of Tanushree's Latest Special Report: The Top 5 Safe Stocks in this Market Crash, Worth Rs 1,950
30-day, 100% money back guarantee.
Equitymaster Secrets Course, worth Rs 5,000
And Private briefing
There's no lifetime commitment. You can cancel at any time if our research isn't right for you…
Just to reiterate…as soon as you become a member of the StockSelect, you will get immediate access to all our Blue Chip research.
This invitation is valid ONLY if you subscribe right away.
So, this is your chance to lock in your financial freedom and make all your dreams come true… that too at a dramatically reduced price compared to what others pay!
Such a low price won't be available once you exit this page.
With that in mind, I strongly recommend you join right now…
Just click on the 'Subscribe' button below and all this is yours!
To your wealth,


Rahul Goel,
CEO, Equitymaster
PS – If you have any queries, do not hesitate to write to us. We will be delighted to assist you.