Dear Reader,
Bluechips, or Safe Stocks as they are often called, are primarily known for providing stability and consistent returns.
Big gains are not something people usually associate with bluechips.
But look at this...
| Company Name | Returns (%) |
| --- | --- |
| Asian Paints | 777% in 6 years 6 months |
| BHEL | 546% in 3 years in 2 months |
| Hindalco | 118% in 6 months |
| Bajaj Auto | 575% in 4 years 11 months |
Past performance does not guarantee future results.
These are just some of the returns that members of a very privileged group have made - and continue to make - from some of the market's safest stocks.
In fact, of all the stocks that were recommended for purchase to this group from 2002 to 2018, 74% of all our recommendations hit their mark.
In other words, 7 out of every 10 recommendations hit their mark.
I know your initial reaction is probably that this number is too good to be true. And to tell you the truth, I felt exactly the same way when I saw the report on the track record.
In fact, I even got it cross checked by an independent auditor. And as it turned out, it's absolutely true.
I will shortly share with you complete details about the track record, including the stock picks that did not work out.
But before that, there's something else you need to know…
You've Been Lied To...
7 Stocks To Profit From This Market Crash
As you already know, the stock market has corrected. And this has made some extremely good bluechip stocks available for dirt cheap to investors.
We have now identified 7 such high potential stocks, and provided full details about them in our special report titled, "7 Stocks To Profit From This Market Crash"
To find out how you can get the report virtually FREE, just keep reading…
You see, if you're like most other investors out there, you too have been made to believe that there are basically only two kinds of stocks:
1) Safe low-return stocks
2) Risky high-return stocks
If you wanted bigger returns, you were told that there's no other option but to invest in stocks that involve at least some amount of risk.
Or else, just settle for the dividends and small returns that the safe stocks gave you.
But what if I told you now that Safe Stocks could potentially make one sizeable returns too?
Yes, it's true!
And How Big Could These Returns
Possibly Get?
Well, let me give you 3 examples…
Equitymasterrecommended M&M to a privileged group of subscribers on 7th April 2003 when it was selling at Rs 26.5 per share. It went on to make 1,821% till November 2009.
Past performance does not guarantee future results.
Similarly, Voltas too, which Equitymaster recommended to the same group on 30th June, 2003 returned 2,740% until August 2010.
Past performance does not guarantee future results.
Then Equitymaster also recommended L&T on 5th November, 2002 when it was selling at Rs 31.68*. And this also rose 3,309% till March 2010.
Past performance does not guarantee future results.
That's same as converting Rs 1 lac into Rs 19 lacs or Rs 28 lacs or Rs 34 lacs over a 7-8 year period.(* Recommendation prices have been adjusted for bonuses and stock splits over the years)
You might say - Such big returns don't happen every time.
Agreed! What you saw above can be taken as some of the rare cases.
But We Believe One Could Potentially Generate
Substantial Solid Gains From Bluechips…
You already saw 4 stocks before that generated 100% or more returns in about 3-5 years.
Apart from those…
Company Name
Returns (%)
Ultratech Cement
162% in 1 year
Titan
268% in 2 years 2 months
Novartis
gave 102% in 2 years 2 months
Past performance does not guarantee future results.
And there are many, MANY more stocks like these.
So why settle for just tiny returns and dividends, when one could potentially make such solid returns from SAFE bluechip stocks?
All one needs to do is hold the stocks for 2-3 years…
Oh and, also do one other thing that most investors won't…
Invest In Companies
Everybody Else Is Avoiding…
Don't get me wrong - I'm not telling you to invest in bad stocks. People are obviously avoiding them for a reason.
But sometimes, even perfectly good stocks get ignored due to some misconceptions. And those are exactly the companies I'm telling you to go after.
Let me explain…
See, when we want to narrow down to "stable" stocks, we all know there are no better companies than the bluechips.
Bluechips are all well-established companies with stable earnings and no extensive liabilities,
They are well-managed and have consistently performed across business cycles,
They have the resources to not only weather the downturns and disturbances, but also emerge stronger from them,
Long-term prospects for bluechips are outstanding
So the risk associated with bluechips is generally very low, and you can be almost certain of steady returns and dividends from them year after year.
However, there are some myths about bluechips too. . .
There's a strong belief among investors that bluechips are virtually immune to any and all kinds of problems. But that's not really the case!
The truth is that…
Even Bluechip Stocks Go Through Hardships
From Time To Time
The reasons could be anything from:
Change in the company's top management,
Some new initiatives started by the company turning out to be failures,
Fall in demand for the company's product in the market,
Bad economy,
… or anything else for that matter,
When things like that happen, the demand for the bluechip stock falls temporarily… bringing its price down and making it available to you at a discount!
This is when you need to act fast and grab the stock.
When you grab good companies for cheap, doubling or tripling your money becomes all the more easy.
Don't Believe Me?
Just See These 2 Examples…
1) Hindalco
Past performance does not guarantee future results.
Hindalco is the largest integrated Aluminum producer in India. A behemoth with annual sales of US$ 15 billion and employing around 20,000 people.
Nobody would expect a big company like this to suffer a temporary setback that would lead to a drop in its stock price.
But that's exactly what happened.
We recommended Hindalco in February 2016, when the stock was trading at its 10-year low Price to Book value.
You see, commodities are ruled by uncertainty, fear and the demand-supply scenario. But we believe that investors who do their homework well can take advantage of these cycles and earn handsome profits in the process.
That's exactly what our subscribers had an opportunity to do with Hindalco.
We believed the stock's under performance at the time was largely due to the downturn in the commodity prices. And the global aluminum prices had also showed signs of bottoming out at the time of our recommendation.
So we recommended Hindalco to our subscribers and it returned 118% in 6 months. the 17% dividend yield on the stock turned out to be the icing on the cake.
2) HDFC Bank
Past performance does not guarantee future results.
HDFC Bank, as you may know, is the largest private sector bank in India.
It has over 85,000 permanent employees and also has a presence in countries like Bahrain, Hong Kong and UAE.
But like I said, every company – no matter how big it is – goes through some temporary ups and downs that regular investors can take advantage of.
The year 2013 presented one such opportunity to our subscribers.
As you may know, 2013 was the year when the Indian economy was on the verge of an economic crisis and capital was fleeing the country at a rapid pace. And the banking sector too was going through its own set of challenges with slow credit growth.
But in the years gone by, HDFC Bank had already proved that plain vanilla banking can be a safe, profitable and a value-creating business model.
The bank had given an average return on equity of 18.4%, and an average dividend payout of 19.5% over 10 years.
So, we believed that it could battle the economic downturn well and improve these ratios over the next 5 years. And we were right.
We recommended HDFC Bank in September 2013. And it has risen 228% so far and is still going strong.
The Real Reason Why People Avoid Bluechips
We believe the main reason why people avoid bluechips is because they aren't aware of this unique, time-tested and highly effective way of making BIG returns from bluechip stocks.
Of course, others with vested interests (you know who) also force investors to believe that bluechips cannot generate big returns.
But whatever their reason for avoiding bluechips, it gives YOU an excellent opportunity to multiply your money safely.
Since you're investing in solid bluechip stocks using this approach, you need not feel that you're taking on too much risk.
Agreed that no investment is perfectly safe. Not even bluechips!
But with the big companies, you can be confident that they will not disappear overnight and take your entire investment with them.
Moreover, this approach is based on the time-tested investing principle of being greedy when others are fearful, and fearful when others are greedy.
So if done correctly, it is certain to produce profitable results… as has been proved already in the examples presented to you.
But that said, not every bluechip company will be a good buy. And this is where we come in…
Presenting our Safe Stocks
Recommendation Service, StockSelect
Hi, this is Sarit Panackal, Managing Editor here at Equitymaster.
Look, bluechips are dime a dozen out there.
But you need to know exactly which big companies are likely to recover faster and make bigger returns for you… and of course, when is the right time to buy them.
That's where Tanushree Banerjee's premium research service StockSelect comes into the picture.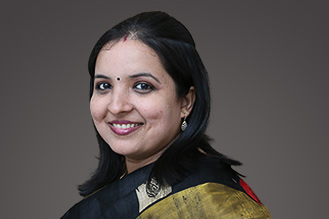 Tanushree Banerjee
Now it's likely you already know Tanushree Banerjee…
She is one of our most skilled research analysts and also the distinguished Co-Head of Research here at Equitymaster.
Tanushree started her career at Equitymaster covering the banking and financial sector stocks along with scrutinizing the RBI policies. And over the last decade, worked on developing Equitymaster's research processes that have helped pick out various multibaggers, across all sectors.
Tanushree has founded a number of Equitymaster's bestselling services, and helped shape the systems that recommended some of the safest and most profitable stocks in Equitymaster's history.
She is a firm believer of "safety first" when it comes to investing and closely follows the investing philosophies of Warren Buffett, Seth Klarman and Joel Greenblatt.
It is this thinking that has helped Tanushree and her team zero in on bluechip companies that generated solid double and triple-digit returns with minimal risk.
Tanushree recommended Asian Paints in February 2005 when the markets were recovering from a roller coaster year and the tsunami, and Asian Paints' competitors had outpaced it for several quarters. The stock went on to become a 7-bagger over the next 5 years.
Tanushree recommended UTI Bank (or Axis Bank as it is called now) in July 2006 when the private sector banks in India on the whole were having a tough time competing with their PSU peers and UTI Bank was considered the dark horse among private banks at the time. This stock too went on to become a 6-bagger by 2014.
Tanushree recommended not just one but 6 Indian Pharma companies between October 2012 and August 2013 when the sector was going through some big regulatory changes regarding patent rights and Big MNC Pharma companies were trying their best to put an end to India's generics story. And each of the 6 stocks exceeded their respective target prices in less than three years.
…and there are many more such examples!
In a nutshell, over the last 16 years, 7 out of every 10 stocks recommended to StockSelect subscribers have hit their target.
Yes! Over the last 16 years, 7 out of every 10 stocks recommended to StockSelect subscribers have hit their target.
And here's what one more subscriber had to say about our bluechip research…
"Equitymaster does great job at selecting Large cap stocks which can grow 5x to 10x in 5-10 years. Some of the wins have been HDFC Bank, HDFC, Bajaj Auto, Hero Honda, Maruti etc."
- Deepak Malik, Pune
Simply stated…
StockSelect tells you which bluechip companies are a "must-have" in a person's portfolio… and more importantly, it notifies subscribers as and when they're available at attractive valuations.
It works on a simple principle - buying great companies at bargain prices and making staggering returns on them when the company grows rapidly in a few years.
So with StockSelect, you not only earn consistent dividends but also big returns from the bluechip stocks we recommend. Take the case of REC Ltd…
Past performance does not guarantee future results.
A Navratna Company Rural Electrification Corporation of India (REC) had been around for nearly half a century. If not for REC, most villages in the country would still be sunk in darkness.
And REC had a commendable track record in sustaining healthy financials too.
Can a company as big as this and as good as this suffer a temporary setback too?
Yes! Thanks to investor pessimism, the stock price of REC had fallen greatly in September 2016.
But that wasn't the only reason for investing in this company…
You see, it is rare to find a stock that makes a strong investment case for dividends.
There are not enough stocks that show a long track record of paying out healthy dividends. And growing companies prefer to hoard cash rather than pay out to shareholders.
But REC presented one such opportunity.
The sharp market correction in 2016 had brought the valuations of REC to levels where its dividend yield (over 5%) was double the average yield of Indian corporates.
Giving our subscribers not one but two good reasons to invest in this company.
So we recommended the stock in September 2016, giving our subscribers an opportunity to make 71% in 8 months after that.
Please understand that we make all our predictions with a 2-3 year period in mind.
However, in some situations, the markets get into action and bump up the stock price sooner than expected.
In other cases, a market crash leads to the stock price falling rapidly.
So we recommend that you ignore the near-term variations and focus only on what you could potentially make in 2-3 years time.
Great companies always recover when the storm passes.
See what one of our subscribers has to say…
"I Like the effort put in by Equitymaster to raise the profile of stock investing for more people. Keep up the Good Work.
As you always say Long Term is the Way to go - Stocks are NOT a Sprint, they are a marathon"
– Rohan Lawrence D'souza, Bangalore
Why You Can Trust Us To Deliver
We've been in this industry for a LONG time. In fact, we were the first Indian entity in the finance domain to venture onto the Internet.
And now, we have completed more than 22 years in the online space.
We have over 1,764,790 registered users from 72 countries worldwide!
But at the same time, we're not stock brokers. And we don't gain anything even if you buy the stocks we recommend.
However, it's vital to us that the stocks we recommend make you money.
Because if you don't make money from our recommendations, you simply wouldn't renew your subscriptions. Furthermore, you'll also tell your friends not to sign up for our services.
For this reason, we take extreme care while finalizing the stocks to recommend.
All our recommendations are supported by thorough research - we list out the reasons to buy and also the investment concerns that we foresee
We travel far and wide to meet companies before we put out reports on them
For each stock, we clearly state the target price and also the time horizon for achieving the same
That's exactly why over 1,764,790 readers in over 72 countries trust us!
Here's what one subscriber had to say about our research…
"I like your analysis, guidance and suggestions which you provide on a very regular basis. Subscription to your services is worth much more and if someone follows the advice, he/she is sure to create wealth. All the analyses are backed up with intensive studies. Great Job!"
– Vijay Chopra, Lucknow
Another Big Reason Why Our Research Tends To Be Accurate More Often Than Not…
You see, most investors (and even stock research firms) take the return on stock investment as the main criteria while deciding whether or not to buy a stock.
But legendary investors like Benjamin Graham and Warren Buffett have always maintained that 'evaluation of risks' is as important as 'estimation of returns'.
It is in this direction that our research team has developed the Equitymaster Risk Matrix® or ERM® which helps quantify the risk attached to a stock.
Look, you probably understand that no two companies have the same degree of risk associated with them. Even if they operate in the same sector, their business dynamics, managements and valuations are different.
That's why it is important to evaluate the risk involved in each case separately… and the ERM® is designed just for that!
And the ERM® is designed just for that!
The ERM® is a matrix designed to evaluate the key risks attached to a business, its financial history and its management. It ranks not just the company but also the sector in which it operates based on its relative risk profile.
It is an integral part of our StockSelect research process.
Again, it is the same ERM® that we rely on to quantify the risks we believe subscribers need to be cautioned about while recommending a 'Sell'.
And given the complex operating environment that Indian business are aspiring to be a part of, we believe the ERM® can offer immense value to investors seeking to identify good long-term return opportunities which do not involve too much risk.
"Equitymaster helps you to be an educated investor. With the uncertainties in the economy in India and Globally we get the indicators through Equitymaster. I am sure there are many who would be getting benefited by it. I am one of them. Also it is good to improvise on regular basis, which in my opinion Equitymaster is doing."
– Sunil Gondhali, Pune
"Have been reading Equitymaster since early 2000. They have grown a lot and I have seen maturity in their analysis.
To understand Equitymaster's real approach towards wealth generation one has be give them at least 3 years.
If possible Subscribe to all of their services and become a real investor….it takes time…there is no short cut in equity market."
– Vipin Chauhan, Delhi
But that said, there's something you need to understand…
Sometimes We Make Mistakes Too
Like I said before, StockSelect has an accuracy rate of 74%.
That means for every 10 bluechip stocks we recommend through StockSelect, 7 hit their target.
So there are around 3 recommendations out of every 10 that do not perform as expected.
Now, there's no doubt that we recommend a stock only when it meets all the required parameters.
But sometimes… despite having all those valid reasons for recommending the stocks… the assumptions we make turn out to be incorrect.
For eg: We recommended Oriental Bank of Commerce and Essel Propack in 2011, when the stocks seemed to be offering tremendous value given that the valuations were at a substantial discount to their peers and there was a strong possibility of turnaround in the businesses.
However, despite visible efforts by the managements to turn around the businesses, the fundamentals faltered after a brief period of promising performance. As a result their stock prices too showed no signs of strengthening and in fact corrected further from the recommended levels.
Eventually investors lost interest in these stocks. Plus, the lack of any significant growth in earnings kept the stocks from being re-rated. When the performance of the companies failed to get any closer to our estimates, we recommended investors to Sell the stocks in our StockSelect Performance review.
And by that time, these stocks had already lost 14% and 26% respectively.
So what I want to say is, despite our best efforts and extensive research, there will always be factors that we can't control.
But all said and done, you can rest assured that when you receive a research note from us, it will be our honest opinion about the stock - based on certain time-tested criteria and assumptions.
And this is your opportunity to sign up for StockSelect and benefit from high-potential safe stocks effortlessly too.
Here's Everything You Get By
Subscribing To Stockselect Today…
Special Premium Report:
7 Stocks To Profit From this Market Crash
(Worth Rs 1,950)
The recent drop in the stock markets has given rise to fear of an upcoming market crash.
But while everyone else is being fearful, we at Equitymaster see it as an opportunity.
How?
Well, market corrections like this one, create a great opportunity to accumulate high-quality stocks at sensible prices.
And after thorough evaluation and research, Tanushree has narrowed it down to 7 Safe Stocks that you could consider buying right away, details of which are included in our special report – "7 Stocks to Profit From This Market Crash".
Yes! These are no ordinary stocks and below is a sneak peek into their credentials.
Stock# 1 – Its sturdy balance sheet, steady profitability and excellent return ratios (average of 90% over past ten years), make the company one of the safest plays in the oil and gas sector.
Stock# 2 – A systemically important company, its strong financial ratios and consistent dividend payout are the icing on the cake.
Stock# 3 – A business that has withstood many headwinds over decades is now a stock that even Benjamin Graham would have recommended buying.
Stock# 4 – A towering performer in a rather difficult sector, this company not only has marginal debt but also cash and bank balance of over Rs 20 billion in its books.
Stock# 5 – Partnerships and joint ventures with leading global tech providers has not only helped this company retain its domestic market leadership but also foray into 30 overseas markets.
These are just 5 of the 7 high-potential stocks you will find in this report.
And all these stocks have the potential to go up 1.5 to 2 times in the next 3 to 4 years.
That's right! This special report is priced at Rs 1,950, but when you subscribe to StockSelect today, you will get it for absolutely FREE!
And we're only just getting started…
12 StockSelect Issues In A Year
The fact is that we research hundreds of bluechip stocks through StockSelect throughout the year.
But at any point in time, only a handful of them will be BUY opportunities.
And among these again, some opportunities will be more attractive than the others.
So every month through StockSelect, we will send you a report discussing in detail the best bluechip Buy opportunity at that time.
This will be the stock we feel is most likely to grow at that point and we strongly recommend investing in it right away.
In case a company is really good but the stock price is not right yet, we will tell you the price at which to buy the stock later.
Our StockSelect report will provide you detailed and extensive analysis of this bluechip company, along with our expert opinion on it.
In addition to this, it will also contain the Top 5 bluechips you could consider buying at that point…
And also provide the updates on all our open StockSelect recommendations from earlier.
See, even though bluechip companies are a dime a dozen, it's still important to know which stocks are the right stocks, and what is the right price and time to buy these stocks.
StockSelect tells you just that!
Consider the case of Bharat Forge…
Past performance does not guarantee future results.
Bharat Forge is one of India's largest and technologically most advanced manufacturers of Forged & Machined components.
But in April 2009 when we recommended the company, it was facing serious issue on a balance sheet loaded with debt.
However, we believed the company would soon get a return on the expansion it made using this debt.
And we also felt the company's domestic operations and its foray into other segments would help minimize the impact from lower exports on its overall business.
Once again, we were proved right.
This stock too gave 251% in 1 year 8 months.
By subscribing to StockSelect, you'll be notified of our best Bluechip BUY/Buy at lower price recommendations like these every single month.
In addition to these, we also release special reports from time to time on attractive bluechip opportunities that fast action takers could benefit from.
"Equitymaster is a great site for everybody (beginners and professionals) who are in the business of stocks. I have learnt a lot from it and earned even up to 200 %. Let us be rationale and follow Equitymaster and hence Warren Buffet."
– Dr Muralidhara Y.K., Mangalore
Ongoing Research on The Companies Recommended…
We don't just recommend some companies and forget about them.
Every month in our report, we review all the recommended stocks that have yet to meet the target price or are yet to complete the recommended tenure of investment i.e. all open positions.
We provide subscribers our latest analysis on all those recommendations… and whether we maintain our views on them or have changed the same. Apart from the monthly review of all open positions, another thing that forms part of the ongoing coverage is the "Quarterly Result Analysis" that we write for all companies under coverage… wherein we also mention whether the results are in line with our estimates or not, and whether we maintain our view on the stock or not.
Given that the markets are bumpy most of the time, this kind of information can come in very handy.
Here's what one subscriber had to say about our review reports…
"I appreciate your dedication in giving periodic reviews and outlook/current recommendations. This is a stand out feature in your basket!"
– Srinivasan S, Bangalore
Equitymaster Stock Market Yearbook
(Worth Rs 750 per year)
The Equitymaster Yearbook offers accurate, unbiased and detailed data on leading companies, sectors and economy… all in one place!
You can use this information to conduct an in-depth analysis of a company, find information on historical trends, or anything else you want.
When you subscribe to StockSelect, you will be among the first to receive the Yearbook every year.
And while the Yearbook costs Rs 750 per year normally, you get it for FREE in a PDF format every year.
The Portfolio Tracker
(Worth Rs 330 per year)
The Portfolio Tracker is an online utility that helps you track all your equity and mutual fund investments in one place itself! It's online as well as it's also available on your mobile phone, 24 hrs a day.
You just have to enter the details of stocks or mutual funds owned by you ONCE… and Portfolio Tracker will show you what your entire portfolio is worth AT THAT MOMENT anytime you log into it.
Furthermore…
You can set your account to send you automatic end-of-week and end-of-month performance updates for all your portfolios.
You can set up priced based alerts for all the stocks that you own (and also the stocks that you don't own but only wish to track).
Plus, you can also track your SIPs and get NAV alerts for the mutual fund schemes with Portfolio Tracker now.
But what makes the Portfolio Tracker the indispensable tool that it is are the intelligent reports that come along with it.
In a nutshell, these intelligent reports help you answer questions like -
Should you be buying stocks from the automobile sector or the consumer products sector? Do you have too much of cement stocks in your portfolio?
Which stocks deserve your maximum attention?
Is the construction of your portfolio in line with what a smart fund manager would have?
…and so on
Here's what one long-time user had to say about Portfolio Tracker:
"I have been using the Equitymaster Portfolio Tracker since 2002 and have found it very useful to track my investments, and also to carry out meaningful analysis.
Moreover, what is equally important, I have found the team at Equitymaster extremely responsive.
This applies both to requests for the inclusion of new Mutual Fund Schemes/Scrips as also designing new reports."
– Jose Rodrigues
Please Note: Equitymaster's Portfolio Tracker is an online stock and mutual fund tracking tool. It is NEITHER a Portfolio Management Service NOR does if offer any personalized opinions whatsoever. Additionally, all the user data is strictly private and in no way used for making recommendations. Equitymaster does not offer portfolio management service and is not registered as a portfolio manager or investment advisor.
The Portfolio Tracker usually costs Rs 330 for a year. But by subscribing to StockSelect, you get it absolutely FREE.
Our Precious Asset Allocation Guide
(Worth Rs 950)
Our experience shows us that a majority of new investors fall into two main categories:
Those that primarily aim for big returns and often take unnecessarily risks to achieve the same
Those that are overly particular about safety and often forgo excellent money-making opportunities just because there's a slight bit of risk involved
The truth is… if you want to lead a RICH and HAPPY life with the money you make from your stock investments, you must learn to tread the middle path between the two.
Therefore our intention through this Guide is to guide you allocate your investments properly… to not just give you a chance of maximizing your stock market returns but also keep the risk involved to a minimum.
And worth Rs 950, this Guide too will be available to you FREE when you subscribe to StockSelect.
Equitymaster's Private Briefing
(Worth Rs 60,000 per year)
We now release a weekly email titled "Private Briefing" which gives you a roundup of our best research published during the week.
However, the Private Briefing isn't just about compiling everything in one place…
We believe that an informed investor always manages to grow his wealth better than an uninformed investor. That's why we are using the Private Briefing as a medium to educate you, our subscribers, on what's happening in the broader markets and other assets like gold, commodities, etc. too.
This helps you fine-tune your strategy in line with the economic climate at that time.
Then if we've met any companies lately, or if there's some interesting discussion going on within our research team with regard to some company, we also tell you about it in the Private Briefing.
Private Briefing is generally valued at Rs 60,000 a year.But if you subscribe to StockSelect under this special offer, you get it for free as long as you stay with us.
So you'll never have to worry about keeping track of or missing any important research from StockSelect.
You can just click on a link in your email, and get the full information whenever you want.
Get All This Today For Just
Rs 6,000 2,950…
If you're wondering that all of this would cost a lot, then you're wrong!
The price of StockSelect is normally Rs 6,000 per year, which is totally worth it for a service like this.
But if you act right now, you can subscribe to StockSelect for Rs 2,950 only.
Yes! This is less than 50% of the actual price, and comes to just about Rs 246 per month.
Rs 246 a month for research that could guide you in multiplying your money from safe stocks without taking a lot of risk.
And both you and I know that we spend more than Rs 246 on many trivial things every month.
So if I were you, I'd jump on offer right now, before it disappears.
To summarize, here's what all you get
by signing up for StockSelect…
StockSelect subscription for Rs 2,950 only… (less than 50% of actual price and equating to about Rs 246 per month)
Our Special Report titled "7 Stocks To Profit From this Market Crash"(Worth Rs 1,950)
Our best bluechip BUY/Buy at lower price recommendation every month
The Top 5 Stocks to buy at that point every month
Monthly reviews of all previous open StockSelect recommendations
Equitymaster Stock Market Yearbook (Worth Rs 750)
The 'Intelligent' Portfolio Tracker (Worth Rs 330)
Our Special Guide - "How to Plan Your Equity Portfolio" (Worth Rs 950)
Equitymaster's Private Briefing (Worth Rs 60,000)
Try Stockselect For 30 Days Without Any Risk
Look, StockSelect has got an amazing success rate of 74% from its launch in 2002 up to 2018, and you'll also be investing in stocks which in our opinion are among the market's safest by subscribing to it.
Plus, you've also got nothing to lose…
If you make use of this offer, you can subscribe to StockSelect at a highly discounted price, and try the service for 30 days without risk.
Yes! During this one month, you'll get 1 new issue of StockSelect… plus access to archives of all the previous StockSelect issues.
After going through the current and past issues, you should have a good idea of whether StockSelect is for you or not.
If you don't like what you see, just let us know before the 31st day and we will refund the entire price - No Questions Asked.
And you can also keep the special report as a way of saying thank-you from us for trying StockSelect.
So you have at least 4 good reasons to sign up for StockSelect NOW:
To invest in and potentially profit from the market's safest stocks on a continual basis
To get a year of StockSelect for just Rs 2,950 (Normal price = Rs 6,000)
To get our Special Report titled "7 Stocks To Profit From this Market Crash" (Worth Rs 1,950)
Our 30-day, full refund cover
Why delay any more?
Because, this offer will close soon!
To your wealth,


Rahul Goel,
CEO, Equitymaster
PS – If you have any queries, do not hesitate to write to us. We will be delighted to assist you.