Recent & Current IPOs - List of IPOs in India which have opened for Subscription in the last 30 days
Here's a list of IPOs in India from the last 30 days with indepth analysis. Also find out the list of upcoming IPOs.
Data Sourced from: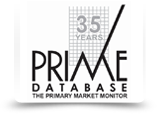 primedatabase.com is India's first and still the only database dedicated to the primary capital market. Started in 1989, Prime
continues to be the single source of comprehensive information on all capital market offerings.
IPO Desk:
Equitymaster discusses why the world over investments in IPOs have very rarely made money for investors and the alternative full form of the acronym could denote this.
A check list investors must go through before investing in an equity issue.
Equitymaster discusses why investor in IPOs should be very careful about the valuations so that they do not overpay.
Equitymaster discusses whether some unique IPOs have the potential to elicit any investor interest.
Today's Market
On Monday, Indian share markets swung between gains and losses to end flat. Benchmark indices witnessed volatile trading activity as investors kept a watch on RBI's MPC meeting.
PLEASE NOTE:
The information in the web site has been compiled from sources we believe to to be reliable, but we do not hold ourselves responsible for its completeness or accuracy. This is not an offer to sell or a solicitation to buy any securities. Investors are advised to read the offer document before making an investment decision.