'Smart Money' Enters Bitcoin. Will You?
Jan 17, 2018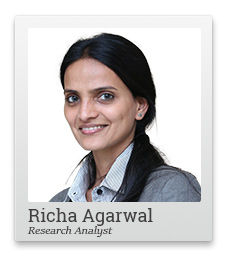 'It will all come to a bad ending. The idea that it has some intrinsic value is just a joke.'
Warren Buffett has been quite vocal about his disregard for bitcoin. He calls it a 'mirage'.
His criticism reminds me of his comments on gold.
Gold gets dug out of the ground in Africa, or someplace. Then we melt it down, dig another hole, bury it again and pay people to stand around guarding it. It has no utility. Anyone watching from Mars would be scratching their head.
Perhaps Buffett is right in his cynicism about both.
That, however, has not stopped gold from rising five times its value in last 20 years. And bitcoin achieved that feat in less than a year.
Come to think of it, gold and bitcoin do have something in common.
Gold derives its value from being a hedge against currency risk. As against the fiat money that the authorities around the world print mindlessly as per their whim (in turn eroding the value of the currency), the supply of gold is finite.
Bitcoin too is the answer to these flaws of conventional currency.
Free from the control of governments, only 21 million bitcoins can ever be created.
It's based on the solid blockchain technology that even big banks are slowly adopting.
Mining them is a complicated process, which controls the supply, and in turn preserves value.
However, that's where the similarities end.
Bitcoin is Backed by Blockchain Technology
While gold exists in a physical form and has not met with regulatory disapproval, the same cannot be said for bitcoin.
Bitcoin's legality is ambiguous.
The government of India has compared bitcoin to a ponzi scheme. A few days ago, the world of bitcoin was spooked over news that South Korea was preparing to ban it (It didn't happen).
But then, it was never created to earn the approval of regulators around the world. In fact, some believe it is an invention to take control back on currency, while preserving virtues like transferability, usability and scarcity (something that was compromised when authorities started printing money freely).
The value of bitcoin lies in the above virtues. And most importantly, in a true set of believers (just like gold). And in this regard, bitcoin seems to be getting more acceptance.
Despite all the volatility (bitcoin has corrected by over 20% in last two days), bitcoin seems to be getting more mainstream.
Japan, for example, has legalized it.
New bitcoin based funds are being announced.
Chicago Mercantile Exchange (CME) and Chicago board options exchange (CBOE) have been trading bitcoin futures since December.
And recently, the New York Stock Exchange has filed for permission to launch a few bitcoin related funds.
Despite all the concerns, some fund managers believe that the bitcoin market today has matured to the point where it is an attractive investment proposition for mainstream institutional investors.
With their fair share of skepticism, large investors are warming up to it.
Goldman Sachs is getting into bitcoin. Fidelity investments is buying it. And Morgan Stanley's CEO admits bitcoin to be 'something more than a fad'.
As huge institutional money enters bitcoin and cryptocurrencies, bitcoin believers have reason to celebrate. Not only does this trend improves bitcoin's credibility, but also suggests a possibility that the gains over the last year could just be the tip of the iceberg.
Of course, the regulatory concerns are palpable. But this is indeed a defining point for bitcoin. From here, it could turn into history's biggest busts. Or it could be a revolution in the making and some wild predictions, like bitcoin at US$ 1,500,000 in next three years, may come true.
I don't know. Nobody knows!
The thing is, if you are prepared to bet a little money that you do not mind losing, the gains could be disproportionately higher.
But before you follow the 'smart money' into bitcoin, here is a piece of advice from someone who understands bitcoin the best.
Good investing,

Richa Agarwal (Research Analyst)
Editor, Hidden Treasure
Recent Articles