The Big Opportunity in Real Estate that the Rally Hasn't Captured...
Jan 29, 2018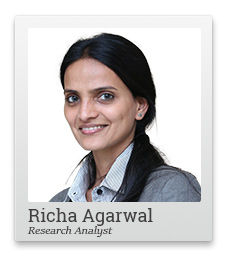 In the last year, Sensex gained 31%. The Realty index, in the meanwhile, is up 91%.
Taking advantage of this rally, a few months ago, I gave a Sell view on Kolte Patil in October 2017, thus closing the position with 201% gains.
You see, the rally in the real estate stocks has come along with regulations like RERA (the Real Estate Regulations Act) that are bringing more accountability and transparency in the sector.
But whom are these regulations really benefitting? And is this rally sustainable in the near to medium term?
Barring the companies and managements with strong execution and clean track record (which are rare), these developments are pro property buyers, and are a bitter pill for majority of players on the supply side.
In short, they have shifted the power balance in favour of buyers, at the cost of suppliers.
Indian Real Estate Sector Has a Watchdog Now
For instance, with new regulations kicking in, developers won't be able to secure cash in advance for a project, until they have approvals in place. This will make it safer for buyers to get in.
The anti-black money drive has further curbed speculative demand and led to a correction in the property prices. Already, the new launches in real estate are the lowest since 2005.
Overall, in my view, the rally in the realty index has run ahead of fundamentals. While investing in real estate stocks, you need to ensure enough safety of margin.
But it's an entirely different case for property buyers. The real estate market has never been more attractive for buyers from a regulatory standpoint.
Now, this does not mean that any property you invest in will turn out to be a gold mine.
Just like stocks, finding the right opportunities in terms of price, location and due diligence is important.
Honestly, investing in property is not my area of expertise. And I'm not going to even try to tell you where you can find the next best real estate deal.
But I know someone who can.
His name is Ashwin Ramesh.
Some of you know him as the regular speaker at Equitymaster's annual conferences for the last few years.
When he speaks, subscribers listen with rapt attention. He is the most sought-after person during the tea and lunch breaks. Our subscribers never seem to get enough of him.
And why not. He is someone with skin in the game and experience of some thirty years in real estate. During these years, he has made tons of investments, and crores of profit for himself and his clients.
For instance, in 1992, Ashwin identified the Mumbai suburb of Chandivali as a great investment opportunity. Today, it's up 20 times.
Another deal he made in early years of his career is now up 100 times.
Ashwin's acumen caught the eye of Ajit Dayal, the founder of Equitymaster and Quantum Mutual Fund.
He handpicked Ashwin to found Primary Real Estate Advisors, a fund for wealthy foreigners who want to invest in Indian real estate. Today, Ashwin and his team oversee hundreds of crores.
How does that matter to you?
You see, Ashwin has agreed to share with our readers the blueprint he uses to find real estate investment opportunities with big profit potential.
This is the first time he is sharing any of this in public. So be there to listen to his solid tips.
And as for investing in real estate stocks, just remember my rule for picking stocks - the trio of strong fundamentals, capable managements, and margin of safety in valuations.
Good investing,

Richa Agarwal (Research Analyst)
Editor, Hidden Treasure
PS: Ashwin's free real estate fortunes webinar airs tomorrow at 1 pm. This might be your last chance to sign up - make sure you do or you will miss it. Register here.
Brain Food for the Day
Cryptos for Retirement?
If you've heard anything about cryptocurrencies like bitcoin, you'd know they have wild price swings. Gains of over 20% in a day, and a similar drop in an hour, are not unheard of in the crypto world.
Considering the immense volatility, you'd think twice before setting up a retirement fund based solely on cryptos, right?
But that's exactly what's happening in Canada. The Canadian Securities Administrators (CSA) - the Canadian financial markets regulator- has given a go-ahead to a firm to set up a cryptocurrency mutual fund.
The 3iQ Global Cryptoasset Fund, founded by Toronto based 3iQ, is the first crypto mutual fund to be approved by the Canadian regulator.
The fund, which includes retirement accounts and pension funds, is open only to accredited investors.
The fund will invest directly in bitcoin, ether and litecoin, three of the leading cryptoassets.
While there are a few crypto mutual funds and trusts worldwide, this is the first one to be approved by a markets regulator.
While regulators all around the world have been up in arms against cryptocurrencies in general, the Canadian regulator's approach signals a fresh change.
The crypto fund will, no doubt, be stringently regulated, but regulatory approval for such instruments could open the floodgates for institutional money pouring into cryptoassets.
There's a lot happening in the world of cryptos. Prasheel Vartak and his guru Tama Churchouse, who have been researching cryptos for years, will keep you on top of the happenings in the crypto world. Join them here.
Recent Articles