As the Market Corrects... It's Time to Buy More
Feb 5, 2018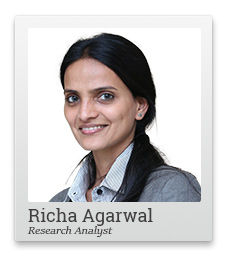 The markets gave the Finance Minister a thumbs down after the Union Budget.
The Sensex reported the second biggest fall ever after the Budget speech. Rs 4.6 trillion was wiped out of the stock market in a single day.
And this might be the beginning of a long overdue correction.
So why are we celebrating?
Two reasons...
First, the correction in small caps has been sharper. The BSE Small cap index is down 4.6%. And this has brought seven of our stocks back in the buy zone... allowing fresh investors in Hidden Treasure a chance to enter and enjoy long-term value creation. One of these stocks makes it to the list of our top buys.
The Market Correction Has Unlocked Some Opportunities
Second, the sell off has made the risk reward ratio favourable for my potential upcoming recommendation on a company I met last week.
The cash and liquid investments of this firm account for over 20% of the market cap after this market correction.
But that's not the only interesting thing.
In one of its business segments, this small company is one of the world's largest players. This segment remains a cash cow for the company, i.e. it needs little maintenance and capex, and generates free cash for the company.
The company has deployed its cash in a new segment. This segment, although young, remains a key area of focus for the government.
The company has already managed to bag the orders in this new segment. According to the management, revenues from this segment alone have the potential to grow ten times in the next couple of years.
The management of this company has been conservative about taking on debt. And it has a solid history of distributing cash to shareholders.
All in all, the business seems a great mix of stability and growth. So, keep an eye out for my recommendation next week...
And remember to rejoice in the correction, if there are stocks you have had your eye on, now is the time to make your move...
Thanks & Regards,


Richa Agarwal (Research Analyst)
Editor, Hidden Treasure
PS: Does your portfolio have the 'crash-survival' stocks? A market correction is just the time to sit up and pay attention to how your portfolio will fare. To make sure you have the right safe stocks to not just survive, but thrive in the crash, click here.
Brain Food for the Day
Bitcoin: Crisis or Opportunity?
It's not just stocks that have taken a hit.
Bitcoin has seen some wild swings of late. It's down dramatically in the last month.
For something that does not have a defined book value or earning potential, such volatility is hard to digest. At least that's what a typical value investor will believe.
But not Murray Stahl, a longtime value investor who now manages US$5.5 billion at Horizon Kinetics, a New York based investment firm.
According to an article in Barron's, Bitcoin remains for him 'an ultimate value investment'.
As someone who always prefers to stick to her circle of competence, I may not subscribe to this view. But his logic is hard to argue with:
Traditional currencies can be "debased" as central banks print more of it and spark inflation, but there will be only 21 million Bitcoins ever made.
There is always a huge premium to scarcity. It's something that traditional currencies have failed, courtesy central banks. Bitcoin has an edge here.
Not to mention, bitcoin now has both transferability and usability.
Yes, there are some regulatory concerns that have also led to a correction. But if Bitcoin is going to be as big as US$1,500,000 in the next three years, as some predict, this correction could be a great opportunity to dive in with a little money that you do not mind losing, as the gains could be disproportionately high.
If this opportunity intrigues, this free course on bitcoin might be just the thing you could use right now.
Recent Articles