A New Quest for the Stock Market's MOST Profitable Ideas...
Feb 23, 2018
This week has been really great for me.
My Sensex-beating service, Microcap Millionaires, completed four years of beating the Sensex twice over.
I mean, by any standards, those results are unbeatable. (It's probably why I can't stop smiling - and can't stop talking about it. Enough already!)
But I'm here to talk about something else today. Something newer...and better.
I see my job as gathering together the ideas that have the greatest potential for profit in the Indian markets - and I bring them to you...
In this quest I wouldn't be surprised if I had managed to bring together the single best profit hunting team in India.
Every day, in every way, these brilliant minds go out there, binoculars in hand and seek out the greatest opportunities.
And I have gathered them here to share these ideas with you.
Together, we are launching a new Profit Hunter newsletter.
Every day of the week one of us will send you a new idea... to help you seek those market-crushing returns with your investments.
The 'profit hunting' team includes...
Richa Agarwal, the adventurer, the traveller...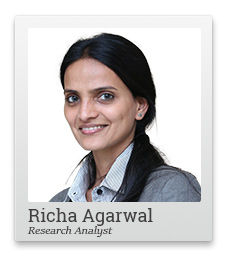 Richa is a boots-on-the-ground research analyst. She criss-crosses the country - travels the length and breadth of India - to unearth those hidden gems of companies whose managements shine with ability, whose moats stretch wide, whose products dominate... and whose numbers outnumber the average.
She is a seeker of successful small-caps - and has an uncanny knack for spotting those companies just on the verge of stellar growth. She has earned a die-hard following in my readers, and for good reason...
See for yourself some of her service Hidden Treasure's superhits are:
4,689% in 8 years and 2 months with Page Industries
2,845% in 8 years with e-Clerx Services
1,058% in 6 years and 11 months with Balkrishna industries
Tell me these numbers don't make your eyes pop a little bit. How many 'multi-baggers' is your portfolio bagging?
The service is, in fact, celebrating its 10-year anniversary next week. You'll hear more about it then... keep an eye out for it.
Now, as you know, when it comes to stock market investments, I play the long game. But I bring you a man who can play the short game - better than anyone I have ever met.
I am so proud to also have on my Profit Hunter team...
Apurva Sheth, master chartist and trader
Apurva's genius lies in his ability to see patterns - where others are only guessing about the markets, Apurva is charting out the market's paths.
I always used to say - you can't predict the market. I still can't. I believe your investment should be based solely on your system - no matter what the market does. If you are disciplined - then you make your own opportunity.
But in Apurva's charts, I have to admit, I see the merit in giving the market some due. If you wanna bag profits today, tomorrow... this year? Dip into some of Apurva's chart magic. You can try it out here.
One other person that I am bringing on board to talk to you is Prasheel Vartak, more commonly known as 'the Cryptowallah'.
If you are asking 'why cryptos' then you haven't been paying attention.
Cryptos because they are a new asset class with growth that is unprecedented...
Cryptos because they are based on technology - the block chain - that even the Prime Minister is giving speeches about...
Cryptos because, let's face it, when you see a phenomenon in action, you must pay attention.
Prasheel Vartak is paying attention.
It took me a while, but I now see there is something here... We MUST learn and watch...
Prasheel has created a course and a newsletter sharing insights on what is really going on in the crypto world. Is there real opportunity there?
In fact, I have asked him to bring you his keen insight on my new platform, this purely Profit Hunting newsletter.
Now, usually you can only get his ideas by subscribing to Prasheel's own fantastic newsletter, Crypto Confidential. But, as a personal favour to me, he will write to you here once a week.
And, of course, I bring you my own ideas.
I follow a system. Yes, I am a 'systems guy'.
You might have heard my best service, Microcap Millionaires, can beat the Sense 2x - and has been doing so for almost four years now. How?
By using a brilliant system of course.
My belief in systems is not arbitrary (that would be oxymoronic!).
I believe in systems because I have been trying them - with extraordinary success - in my decade-long career in the stock markets.
I believe that the right system can help you dig out the best opportunity in any market.
Now, you may be wondering why I am changing the name of my newsletter from Rahul Shah's Smart Contrarian, to the Profit Hunter.
I am a contrarian. That is my investing style. But that's not the case with the other members of the profit-hunting team. They paint with a totally different brush.
Therefore, in order to truly capture the essence of the newsletter, I wanted a name that's much broader in its appeal and much wider in scope.
This is where the term Profit Hunter fits the bill perfectly. It truly defines the mission that each one of us on the team is after. The mission to hunt for the best profit-making opportunities out there.
So, that is the market-beating, profit-hunting, squad I have put together for you.
We will write to you every day of the week with the best ideas out there...
So in conclusion: Starting Monday the 26th February you will receive mails from profithunter@equitymaster.com (whitelist this email address now so you don't miss it); under this blue banner...
So see you Monday, with a new profit hunting idea...
Good investing,

Rahul Shah (Research Analyst)
Editor, Profit Hunter
PS: To whitelist the newsletter's new address, just add profithunter@equitymaster.com to your address book and look for us on Monday the 26th February.
Recent Articles