Things to Know Before You Bet on' Disruption'
Oct 18, 2017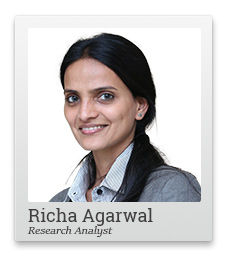 Disruption is the investment theme of the day. But there isn't really anything new about it - it has always been the way of life and businesses. Wasn't it disruptive when man invented the wheel?
So why now, in this moment, is the theme of 'disruption' taking center stage?
Because of its unstoppable momentum. It's making change at lightning speed. Traditional businesses are too big and set in their old ways to adapt to its pace. Some young, excited, engineer in a garage comes up with a disruptive technology and next thing you know it's completely overturned how we live.
But when investing, we have to be careful not to blindly bet on disruptors. Because, believe it or not, most are actually failing to make profits. I would NOT recommend Flipkart if it was a publicly listed company. It does not matter that in barely a decade it has grown to a size most conventional businesses take centuries to get to.
What matters to me: It is still making losses.
Also, the way technology is evolving, most of these disruptors could soon themselves become 'disrupted'. Flipkart is facing fierce competition from Amazon and other ecom companies. Or remember Kodak? Digital cameras manufacturers brought Kodak to its knees. Now they are losing to smart phones.
Lastly, the change is too fast for disruptors' own good. Story-driven stocks could lead you into a deathly trap.
Don't Get the Life Knocked Out of You
Take the case of renewable energy.
According to the International Energy Agency (IEA), renewables accounted for almost two-thirds of net capacity additions in 2016. The additions were up 50% year on year. A lot of it was in the solar segment, led by China and India.
By 2022, the IEA expects India to more than double its current renewable electricity capacity.
That's quite a threat to conventional energy companies. And sounds like a great story for companies in the solar segment.
But that's just half the story.
Because while the solar business has a great future in India, the companies seem to be headed for an eclipse. This anomaly is due to the falling price for solar panels. It has become difficult for manufacturers to make any money. Developers are also facing a different kind of struggle. The competition is so intense, bids are getting aggressive, returns on capital poorer, and financing difficult.
The solar revolution will indeed turn the light out on many companies.
So do keep an eye on disruptors -we will all have to - they are hard to ignore. But know that you may not find the best investment bets there.
Where should you look then?
How about the companies that are excelling at 'regular' business, while also making the most of the disruption opportunity?
These are not the direct agents of disruption - they provide the systems that disruptors need to function. Systems that don't need to change when disruption happens. All they need is to be agile and fundamentally strong to cater to the opportunities from the upcoming changes.
In the case of an electric vehicle boom, for example, these relevant companies could be tyre, seat and auto headlight makers. For the ecom revolution, it could be companies like Blue Dart.
But these days I'm most excited about a company that will stay relevant amid the rise of renewable energy. The company is the largest and lowest cost manufacturer in its segment. It offers a product that's indispensable to energy companies, both traditional and renewable. The best part- in a sector where capital-intensive businesses are a norm, this company has been using an asset light approach to expand. To know more, read my latest Hidden Treasure idea.
Editor's Note: Rahul Shah has added a whole new level to the meaning of 'a winning streak'. Since Diwali 2016 he has closed 13 recommendations - each one a winner! Now's the chance for you to make his genius, your good luck. Sign up for his prized recommendation service and by next Diwali, YOU could be at that whole new level. Click here to learn more.
Good investing,

Richa Agarwal (Research Analyst)
Editor, Hidden Treasure
Brain Food for the Day
An Investor's Survival Guide amid Big Bang Disruption
To make sure you're not knocked over by this new wave of disruption, keep this checklist in mind:
Make a list of industries most prone to disruption. Your best clues could come from your own behaviour and experiences as a consumer or businessman.
Once you have identified the industry, classify the companies into disruptors and potential victims. In rare cases, you may find a disruptor that destroys itself to evolve emerge stronger. e.g. Apple Inc
Look at the fundamentals of the biggest disruptors (loss making ecom firms). Are their business models under threat? You don't want to be betting on solar panel manufacturers when panel prices are falling or on developers when they get aggressive in their bids.
Eliminate the disruptors that only pose a threat, but don't have any moat and are unlikely to make real money themselves in the long run.
If you are still left with disruptors, analyze them on fundamentals and valuations. You may find your next bet at this stage. But the exercise is not over yet.
Identify the players indispensable to potential victims and disruptors (tyre, seat and auto headlight makers in case of electric vehicle revolution). Let's call these players 'Opportunists'.
Find the 'Opportunists' best placed to make the most of the current situation and upcoming changes. These would be the players with low cost, scale advantages, strong managements, asset light model etc
Lastly, never ignore the valuations.

And if you're really worried about survival, I suggest you read my guide on how to secure backdoor profits, even in these crazy times.
Recent Articles