My Take on Tanushree's 'Dilemma'
Oct 27, 2017
Tanushree wrote to her subscribers yesterday about a dilemma she's grappling with. If you're an investor who swears by 'buy and forget' investing, I suggest you check it out.
So many legendary stocks like Infosys, Walmart, and even Warren Buffett's very own Berkshire Hathaway go through multi-year dull phases, that the question she asked seems obvious:
Is there a way to make money from stocks even as you patiently wait for them to deliver long term returns?
A pertinent question, considering the funny ways of Mr Market!
Long Term, High Quality... But No Returns in Sight?
One quality stock that had a dull phase so long and lackluster it almost took the shine off its signature red aluminium cans, is The Coca-Cola Company.
During 1998-2000, Coke touched valuations of almost 100 times price to earnings - taking it to US$44 per share by mid-1998.
Guess how much this fantastic company's stock went up over the nineteen odd years since?
A grand sum of US$2.
Yup, today, the stock is still at US$46... just about where it was in 1998. And only recently has it managed to claw its way back to this level: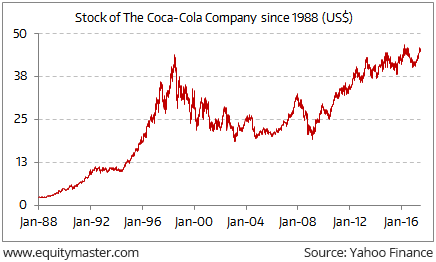 So for long term investors who have held the stock since pre-1998, it has delivered a large pot full of nothingness.
But if you look at the chart you will see that this journey has been anything but a straight line - the stock has been all over the place - which means that there have actually been many opportunities to make money from this stock in the interim.
As I said, the funny ways of Mr Market!
And Tanushree has drawn attention to a very important issue faced by all long term investors.
Unfortunately, a convincing enough answer has proved elusive so far.
But that might be about to change.
My colleague Apurva Seth recently shared with us a trading strategy that could have fetched about 17% returns in Page Industries within just five days. That too in 2015, a year when the stock was largely stagnant.
And this, he's sure, is no one time thing. Apurva has done his homework, and is quick to explain how his strategy makes it possible to profit in a way that most long-term investors just never seem to.
But he hasn't spilled all the beans just yet; Apurva keeps his cards close to his chest.
But I know I can convince him - I'll just use my friendship with him as leverage. 'Dosti ka vaasta' and all that! Go ahead and hold your breath... I promise to have more on this for you soon!
Good investing,

Rahul Shah (Research Analyst)
Editor, Smart Contrarian
Editor's Note: All said and done, you can and should, make money in the short run. But first, and without doubt, make sure you have your long-term wealth strategy in place. Without that - none of this matters. Get that done now - click here.
Recent Articles