You're Lucky You Missed Out on that IPO...
Nov 8, 2017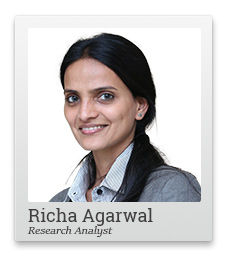 IPOs are flying off the griddle faster than dosas at your local lunch stall, and analysts can barely keep up.
If you are wondering about the mood of the markets, you just need to look at the number of public offers. 2017 has been all about the crazy IPOs at crazier valuations.
Livemint says, Rs 570 billion has already been raised through IPOs so far this year, breaking the 2010 record of Rs 375 billion.
So should you snag a few for yourself? Not before you read this.
Of the 36 IPOs that we analysed in 2010, 22 are in losses today, averaging losses of over 60%. This is despite markets touching lifetime highs. In 2010 the Sensex was at a similar P/E as today, of around 24 times. But only 2 IPOs have offered annualized gains of over 15% - the standard long-term return that one expects of equity markets.
Investors, of course, have short memories and are still chasing them. If you ask me, this year's IPOs are going to suffer the same fate a few years from now.
Don't let the IPO Bubble Burst All Over You
And here is something I bet you didn't know about this year IPOs:
79% of the capital raised in 2017 is through offer for sale. All of it will go to owners or other shareholders of the business, offloading their stake either fully or partially.
This 79% is not getting invested in the business. It is headed straight into the pockets of the people who are dumping their own stake in the businesses, trying to get you to buy them.
So us investors, with little information - a heavy prospectus, management claims, lead bankers' selling pitch and of course the herd mentality - are taking the bait.
The fear of missing out on listing gains, ie short term gains, is only taking the IPO mania to new heights.
If listing gains are what interest you, you should read what Ankit - the Insider at Equitymaster has to say.
But if you want to take the long-term approach, you need to find a better way. And there is a better way...
Let's take the case of recent IPO - Khadim India Ltd.
Khadim - a footwear company present mainly in Eastern India - recently came up with an IPO at 44 times its earnings.
Over 90% of issue was an offer for sale, providing full exit to the private equity player.
It doesn't need an in-depth research to know that for a footwear company, these valuations are ridiculous.
The Indian footwear market is highly competitive with unorganized players commanding nearly 75% of the market. And, it has been facing a slowdown the last few years.
Reasons like GST boost, and that it is still available at a discount to its peers, were unconvincing. That it is planning to expand beyond Eastern India is not a strong argument either. There's stiff competition from players such as Bata, Relaxo Footwears and Liberty Shoes.
And yet analysts everywhere are screaming 'Apply'. I'm appalled, but not surprised.
Do these people spend any time figuring out what's really happening in the market?
Do they really care that the investor is putting his hopes, dreams, blood, sweat in the markets? That people are actually hurt by their careless recommendations?
I mean, check out what Khadim is up against, and even you will see for yourself this IPO makes no sense...
| Name of the Company | Net Sales (Rs, mn) | Net Profits (Rs, mn) | PAT Margins | EPS | P/E* | P/Sales* | ROE |
| --- | --- | --- | --- | --- | --- | --- | --- |
| Khadim India Ltd | 6,255 | 308 | 5% | 17.8 | 43.8 | 2.1 | 17% |
| Bata India Ltd | 25,504 | 1,590 | 6% | 12.4 | 62.9 | 4.0 | 12% |
| Relaxo Footwears Ltd | 17,436 | 1,230 | 7% | 10.2 | 51.2 | 3.5 | 20% |
| Liberty Shoes Ltd | 4,979 | 64 | 1% | 3.8 | 65.7 | 0.8 | 4% |
Source: Khadim IPO Prospectus, Ace Equity
But long-term investors need not be disappointed. Just keep an eye out for story behind the story...
... And that's what I'm here to bring you.
In my view, there is a better play on the recovery of the footwear market than these direct players. I'm talking about a company that supplies raw material to some of the leading footwear companies.
Here is why this supplier is a better play than direct players.
Its fortunes are not limited to one footwear company. It has multiple clients in the footwear industry. Irrespective of who wins or loses, it will gain as long as the industry grows and gets formalized.
It further helps that footwear is just one of its business foci. Its other segments offer even higher margins.
Last but not least, it is priced far more reasonably than any of these struggling footwear makers. Click here to know more about this proxy play.
And when it comes to IPOs, beware.
Good investing,

Richa Agarwal (Research Analyst)
Editor, Hidden Treasure
Editor's Note: It's okay to want short term gains - you just have to be smart about it. In fact, we just released a report that can help you good solid gains in a matter of weeks. Safely. Smartly. Click here to access the report now.
Brain Food for the Day
How to Profit from the IPO Rush
Here are some tips from our recent 'How to Get Rich With IPOs' guide...
Never get blinded by the hoopla around 'listing gains'
Investing in IPOs blinded by the lure of listing gains is like being Cinderella at the ball without a clock in the room. You will not know when the clock strikes 12...and your chariots and horses will turn to pumpkins and mice.
No matter how good a company, always keep an eye on valuations.
No matter how good a company, it cannot be worth an infinite price. There always comes a price beyond which the stock of even a great business can turn into a lousy investment. This is as true for IPOs as it is for your regular market.
Avoid companies still setting up shops.
The frothier the IPO market gets, the worse the IPO quality. One way quality deteriorates is companies that are still setting shop, and have no trace of business yet, come out with IPOs.
Buy IPOs high on profits, not promise.
All intelligent investing comes down to arriving at a fair value for a company and then investing in it when it is selling for below that fair value. In the absence of a meaningful bottomline, all these calculations go out of the window. All in all, such situations are not investments suited for retail investors.
No matter how exciting a new and upcoming sector, remember that trees never grow to sky.
The 'upward trend of earnings' has been the nemesis of many a stock market investor. Remember, history is not always reflective of the future. Avoid drawing over optimistic conclusions based on past performance.
To know more, download 'How to Get Rich With IPOs'.
To discover other ways for short term gains, click here to learn about Profit Hunter Pro.
Recent Articles