Stock for An Antifragile Portfolio
Nov 17, 2017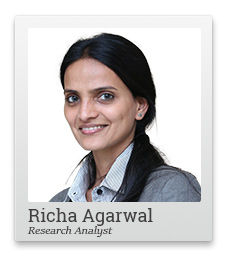 April 14, 1912. The world's biggest ship sank that night.
Only a few days into its maiden voyage, Titanic - the most luxurious oceanliner, specially designed to handle the challenges of the North Atlantic, drowned.
The massive ship took down with it thousands of its passengers.
Multiple theories are afloat about what happened that night.
The government investigations that followed the disaster state that the ship was flawless. An iceberg and the ship's deceased Captain were declared culprits. For years, the case was closed.
Until 1985, when the ship's wreck was found. Two wrecks, because we learn that the ship had broken into two parts before sinking. Its size was not enough to save it. In fact, some say the ship was doomed because of its big size, standing in the way of its nimbleness.
The huge size and mass made it impossible to turn the whole ship fast enough once the iceberg was spotted in the dark sea. It did not help that almost everyone on board the ship - including the crew - were sailing with a false sense of security.
We have lived some terrifying moments from that accident vicariously, thanks to the blockbuster movie 'Titanic'. I'm sure none of us would ever want to be in that position personally.
But accidents, dear reader, are not limited to cruises.
You, as an investor, might already be treading dangerous waters...charting your way through known 'unknowns'. Competition, artificial intelligence, technology, changing consumer preferences, structural and regulatory changes... the list of sharks and icebergs littering the markets runs long.
Just investing in conventional 'moat' companies and big firms may not save you from these lurking dangers.
You need something agile and nimble to sail on. Something that not just averts, but gains from, disruptive shocks.
In the latest Hidden Treasure recommendation, I believe I have found a small cap company that will benefit from the disruption wave. To call it robust does not do it justice.
It belongs to the 'antifragile' class...
Anti-Fragile Stocks: A Lifebuoy for Any Portfolio
Some things benefit from shocks; they thrive and grow when exposed to volatility, randomness, disorder, and stressors and love adventure, risk, and uncertainty. Yet, inspite of the ubiquity of the phenomenon, there is no word for the exact opposite of fragile. Let us call it antifragile...

Antifragility is beyond resilience or robustness. The resilient resists shocks and stays the same; the antifragile gets better. - Nassim Nicholas Taleb.
You see, while some of the biggest players out there are at risk due the fast rise of technology, this small firm is a prime beneficiary of the integration of artificial intelligence in our day to day lives.
Disruption makes this stock stronger, not weaker. That is why I call it an antifragile stock - one I believe will be a lifebuoy for any portfolio.
In an era of high P/Es assigned to story-driven stocks and classical moat companies (which unfortunately are getting narrower by the day), the undemanding valuation for this stock is a cherry on the cake. Click here to know more about this stock...
And when you are navigating the high seas of the stock markets, dear reader, remember to find yourself a good old boat with some antifragile sea legs.
Editor's Note: These are exciting times here at Equitymaster as we all rally to prepare for our favourite time of year, the Equitymaster Annual Conference. Not only are we eager to meet you as always, this year we are also happy for the chance to introduce you to our celebrity investment guru, Dr Mark Faber. Conference seats are now open for booking - reserve yours by clicking here.
Good investing,

Richa Agarwal (Research Analyst)
Editor, Hidden Treasure
Brain Food for the Day
The Gainers from the Disruption in Telecom Industry (It's not a telecom stock)
The telecom sector in India has been in the eye of the disruption storm since last year. All it took was the entry of one new player - Reliance Jio - to shake the foundation of the second largest telecom market in the world.
In September 2016, Reliance Jio entered the telecom space with globally the lowest rate for internet data. As you must know thanks to their over-the-top advertising, a part of their promotional offer was services were offered free for nearly six months since launch. To further corner the market, Jio launched 4G handsets for super cheap.
The entry of Jio has truly been a game changer in the telecom market, paving the way for consolidation and pricing wars in the industry. The incumbent players are forced to offer free services and better offers for customers. Some of the players have raised their capex plans which will impact their returns.
In this disruption, customer is king. All direct stakeholders (including Jio), are losing for now.
However, there are some companies that are getting stronger from this disruption.
A case in point is last month's Hidden Treasure recommendation.
A perfect play on the growth in infrastructure demand - this company is also a supplier to telecom companies - Reliance Jio being one of them. A leader in its niche, this small cap company claims to be the lowest cost producer in the world. In an industry that offers high entry barriers because of its capital-intensive nature, the company has managed to expand business with an asset light approach. This unique approach allows it to earn 3%-4% higher margins over its peers.
All in all, it's a great proxy play capitalizing on the disruption in one of the biggest sectors in the Indian economy. Click here to know more about this company.
If you're really worried about surviving and thriving in these disruptive times, I suggest you read my guide on how to secure backdoor profits.
Recent Articles