Whoever Says Value Investing is Dead is Not Looking Deep Enough
Nov 22, 2017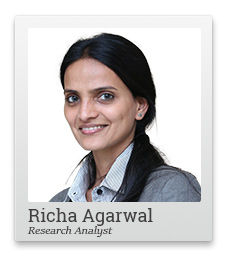 As I write this, Sensex P/E is at 24.7 times.
The last time Sensex touched similar valuations was in January 2008. And just like now, back then the markets were flooded with IPOs. It is déjà vu all over again. However, the similarity ends here.
In 2008, Sensex earnings grew in double digits. This time, there is not much to show for earnings growth.
I'll be honest with you. Low-hanging fruits are absent in the current market...With none even in small caps. The screeners are of little help. Any business with decent numbers is ridiculously overpriced.
However, I have no complaints.
60% in 10 months, over 90% in 9 months, 78% in four months...these are the kind of returns that Hidden Treasure subscribers have earned in the last two years. The latest (yesterday) was over 50% gains in around nine months where we asked subscribers to book partial profits.
Here the commonality was these were cyclical and commoditised businesses, passing through the worst phase of their downcycles, and hence the most hated by the markets. With screeners suggesting losses for some of these businesses, taking a call was challenging and difficult. It required a deeper analysis of balance sheets and cash flows, to see if they could survive a prolonged downcycle. And determine their ability to make the most of the upturn in the cycle. These were all contrarian bets. I would not have mustered the conviction to recommend them had it not been for some of the insightful conversations with the managements of these companies.
The Art of Identifying Mispriced Opportunities
Yes, it is difficult to find the next Page Industries in the current markets (Page Industries has been the best performing stock in Hidden Treasure with over 7,000% gains in over eight years, translating to an average annual return of over 60%). But, this does not bother me because I still see enough 'dollars' trading for '50 cents'. Whoever says value investing is dead is not looking deep enough. If you can keep spotting these businesses one after the other and know when to exit, you can keep compounding returns at over 60% every year on different such stocks. It does not matter if you missed Page Industries.
My latest contrarian bet is a supplier to one of the most crucial sectors of the Indian economy. The company is the undisputed leader in a niche segment with high entry barriers. With most of its assets past the payback period, it can bid at the lowest rates and still earn robust margins. On the top of it, the company is set to benefit from various structural and regulatory tailwinds.
The stock is down over 30% in last five months because of a negative news that markets have not taken well.
While the impact is yet to be seen and the company may emerge unscathed from this negative development, the erosion in the market cap is already more than double the potential hit to the revenues. Even if I price in the worst, the stock offers not just margin of safety, but enough upside in my view. Click here to know more about this bet...
Editor's Note: Dear readers, while the market valuation looks expensive, there lies a great opportunity for formalised sector and listed companies in India. To make the most of this opportunity, you need patience, discipline and a bundle of carefully constructed recommendation services with a combined track record of over 20 years - that last one is easy. You can get it here.
Good investing,

Richa Agarwal (Research Analyst)
Editor, Hidden Treasure
Brain Food for the Day
Chase Value, Not Stock Prices
In these markets, pursuing growth opportunities is highly likely to lead you to chasing the markets, doing little favour to the value of your portfolio in the long term.
Look for value instead. Some of the best mispriced opportunities are in the commodity and cyclical businesses going through a downturn.
It's hardly as easy as it sounds. Most investors attempt to time the commodity cycle and end up losing. Stop attempting this impossible feat. Follow these tips instead to beat the cyclicality and win big in commodity stocks:
Find an industry coming out of a capacity-expansion exercise. This is an industry where capacity utilisation is low and all set to rise. We also know it's likely that further capacity won't be added in a hurry.
Avoid industries where new players are entering the market. They are likely to compete on price to gain market share over incumbents.
Identify well-established companies in this industry that are run by competent managements.
Narrow down your list on those with the healthiest balance sheets. Debt levels should be low (debt to equity < 0.5). The working capital cycle should be stable or improving. Cash should comprise a reasonable part of the balance sheet (say 10%).
As a final filter, screen out companies that haven't paid a dividend lately.
If you find a company satisfying these criteria, run a basic check of the historical fundamentals.
If it qualifies, invest for the long term (3-5 years) to let the capacity utilisation cycle play out.
Remember to not overpay. The important point here is that the trailing twelve-month earnings of such a company is unlikely to look attractive, because of depressed earnings. That's fine. If you follow the above steps, there is a high chance that its best days will follow.
Recent Articles