What They Forgot to Tell You About Sensex at One Lakh
Nov 29, 2017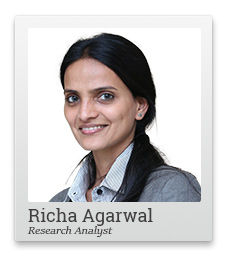 Last week I wrote to you about how there aren't any low hanging fruits in the Indian share markets. In the same week, Moody's upgraded India's rating for the first time in 14 years, backing the Modi government's reform. The bull run got another shot in the arm... And another excuse to go rash.
In less than a year, the forecast for Sensex in the year 2017 has been upgraded from 40,000 to over 100,000.
That's almost a 200% jump from current levels.
With cheap money, positive sentiments and such bullish forecasts sloshing around, Sensex can manage the run without earnings for a few more months I guess. And if earnings recover for India Inc, it could indeed hit the one lakh mark.
But it's hardly as simple as it sounds.
What makes the narrative complicated is that a few years from now the Sensex will not be what it is today. Analysts are busy throwing around these magic numbers. Investors and the media are busy lapping them up. And no one is paying much attention to the possible evolution of Sensex.
The Sensex has had a very strange relationship with economic growth. In the year 2017, the oddity has become more pronounced with GDP growth slowing down and markets touching lifetime highs. Nonetheless, Sensex remains a broad reflection of the Indian economy... And of the structural changes within it.
If history is anything to go by, Sensex has evolved in line with the economy. The chart below reflects the number of companies that have exited Sensex in every five-year interval. For an index with just 30 constituents, this churn is significant.
Historical Churn in the Sensex Components
At present, the Indian economy stands at a turning point. Multiple structural and regulatory changes such as automation, GST, digitization, the renewable energy drive, etc are in play. In this environment, I expect the evolution of Sensex and other indices to be even sharper. When Sensex goes from the odd 33,000 levels to the one lakh mark, or even the 4 lakh mark, it will look very different. A lot of its current constituents may not remain a part of it.
The Bottom-line
Don't just bet on companies that are big and well-known today. They may be nowhere tomorrow. The real gains lie in lesser known firms that have it in them to become future blue chips.
Wondering where to look? I might have the answer.
With a sound process in place, Hidden Treasure - my small cap recommendation service has beaten Sensex by nearly three times. Some of the small caps stocks we recommended - Page Industries, Balkrishna Industries, City Union Bank, V-Guard Industries, PI Industries, Astral Poly Technik, have grown fast and big enough to grow beyond the class of small caps.
Some of these small caps could easily overshadow existing bluechips when it comes to stability and returns. If held for the long term, they could be the companies that dominate the Sensex tomorrow.

Richa Agarwal (Research Analyst)
Editor, Hidden Treasure
Editor's Note: If you want to multiply your wealth enough to offer you an early and wealthy retirement, you have to pay attention to where the markets are going. Fortunately, Richa pays inordinate attention to that and you can just ride her coattails and sail straight into a comfortable financial future. Read her retirement report here.
Brain Food for the Day
5 Key Features to Identify Future Bluechips
Over years of analyzing small cap companies and meeting their managements, my team and I have found the commonalities that make businesses big, and grow into future bluechips.
To be honest, such wealth compounding machines are rare. Not every promising small company will become a multibagger.
But, you don't even need a portfolio full of such winners. Even if you land up with just a handful of them, they would be a game-changer for your wealth.
So here are the five key features that make some companies exceptional wealth creators...
They dominate the niche they operate in

Winning businesses are market leaders in a specific niche. They stay clear of the highly competitive segments dominated by large companies.

They enjoy durable moats

Market share is not a constant. To remain on top, a business needs sustainable competitive advantage. In simple words, it is the ability to remain a market leader without compromising profits and returns on the capital. The moat could stem from strong network, lowest costs, exclusive access to technology, and so on.

They are solid growth engines

That's an inherent advantage that small companies enjoy over large and mature businesses. A low base offers more headroom for sustained growth rates. Over time, the increase in the share price is in line with the growth in earnings.

They tend to avoid too much debt

It's not just enough to bet on growth. You must ask: How is the growth being generated? If the answer is too much debt and working capital, then you have something to worry about.

Last, but not the least...

They are run by visionary managements

Unlike big businesses that have become stable and are on an auto pilot mode, management determines the fortunes for small cap companies. It is, in short, the deal maker or breaker. It is what makes Ambika Cotton Industries Ltd and Page Industries stand out in an average industry like textile.
If the idea of investing in winning small caps excites you, I suggest you start here.
Recent Articles