Beat Fund Managers at Their Own Game with These Stocks
Dec 6, 2017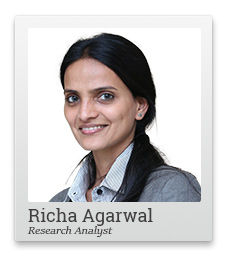 Can you picture what it would be like to be Warren Buffett?
To be a legendary investor, with years of experience, and own Berkshire Hathaway with a portfolio value worth over US$ 170 billion...
To have the media and investors ready to lap up, quote and requote every statement you make...
To be so big that you could make investing mistakes and move on as if nothing happened...
To be revered by some of most influential people in the world...and have CEOs and MDs willing to take your call, discuss their businesses, and even explain their decisions, should you fancy investing in them.
I, for one, envy him for being him.
But I know something that will make you feel better...being big has a major disadvantage.
Here is a confession straight from Buffett:
...Anyone who says that size does not hurt investment performance is selling. The highest rates of return I've ever achieved were in the 1950s. I killed the Dow. You ought to see the numbers. But I was investing peanuts then. It's a huge structural advantage not to have a lot of money. I think I could make you 50% a year on $1 million. No, I know I could. I guarantee that

The universe I can't play in i.e., small companies has become more attractive than the universe I can play in, that of large companies. I have to look for elephants. It may be that the elephants are not as attractive as the mosquitoes. But that is the universe I must live in.
The elephants here are big, stable, well-known businesses. The mosquitoes are small cap stocks.
You see, Buffett regrets having too much money. Even when he spots great businesses in small cap space, he can't make the most of it. Because despite handsome returns, the money so made will not move the needle for him, given his huge capital base.
Not to mention that he can't invest significant money into small businesses and low market cap stocks. Because of their low liquidity, his buying and selling itself will move prices too much - making small caps an unattractive proposition for him.
All the big investors and funds out there, in fact, face this limitation. And miss out on many money-making opportunities for this reason. And because the big guys are not interested, media and financial channels also do not talk about small cap opportunities.
And there lies YOUR edge. Your biggest competitive advantage.
The Road to Big Returns Passes Through Quality Small Caps
A competitive edge that you have ignored for too long watching the talking heads on CNBC. Or following stock tips from big investors, losing an opportunity of beating markets almost three times (Subscription Required).
In case you are wondering where I got that number, those are returns from my small cap recommendation service: 30.1% compound annual growth rate (CAGR) over the last decade almost.
And the first step to getting these results, is to switch off the financial channels.
The second step is to get out there, get your boots on the ground to research and interview different stakeholders, examine business models, question managements, and find out what's working in the small cap space. This is how we discovered some serious small cap gainers like...
Page Industries, that went up over 5,900% in the 9-odd years we've been serving Hidden Treasure subscribers with recommendations, or eClerx that went up 2,500%...
The good news for you is, now that you know this you can get started on your small cap journey. I say start small, with these three stocks that my team and I are bullish on. And keep going from there...
You may not amass thousands of global fans like Warren Buffett with these bets, but, if you do it right, I believe these stocks could secure you an early and wealthy retirement.
Good investing,

Richa Agarwal (Research Analyst)
Editor, Hidden Treasure
Brain Food for the Day
How Small Caps Add to Your Edge over Big Investors
When you invest in the small-cap space, your odds of seizing multibagger stocks go way up.
The high returns are a result of the 'small-firm' effect. It works in three ways:
Unlike big businesses that have already matured, small caps are at an early phase in the business cycle. This makes the growth potential of quality small caps enormous.
Small cap companies are relatively unknown and off-limits for big investors. Less money is chasing them, so they are likely to be cheaper. This makes the small-cap space the best meeting point for a value and growth investor.
As these small businesses grow and prove themselves over time, big investors and funds start paying attention. This offers a re-rating opportunity (valuations going higher), which means huge gains for an astute early-stage investor.
Remember, you could work your entire life and still struggle for financial security...
Or you could keep aside some funds for small-cap stocks and plan an early retirement.
A few good quality small caps in your portfolio are all you need to give a significant boost to your long-term wealth.
Recent Articles