Look Around...The Next Multibagger is Waiting for You
Dec 20, 2017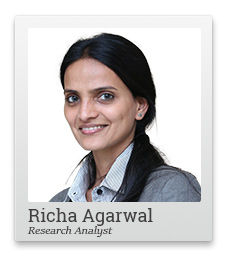 Last week, I wrote to you explaining how you have an edge over fund managers - the privilege to invest in low market cap and low liquidity stocks.
I said that you can invest in companies with low market cap and make a huge difference to your portfolio. For a fund manager with huge capital base, this won't move the needle much.
But that's not the only reason you score over them.
Think of these companies: Hawkins (pressure cooker), Pidilite (Fevicol), Astral Poly Technik (pipes), Page Industries (Jockey), Jyothy Laboratories (Ujala), Ceat Ltd (tyres), VIP Industries (the suitcase).
Long before these stocks became market darlings or even liquid enough for big investors, they were already household names.
The Power of Common Knowledge in Investing
Source : Ace Equity
You did not need to hang around with stock market gurus to get ideas about these multibaggers.
All you needed is the presence of mind to see what is, and could remain popular.
This may sound simplistic. But that's the power of common knowledge. Most fund managers are too bogged down tracking stock prices, explaining their decisions, predicting Sensex levels and chasing the next fancy theme, to really look around and wear a consumer's hat and think 'simple' and smart.
Even Peter Lynch admits that some of his best investing ideas were shopping insights he got from his wife... And not a result of talking to his colleagues in the mutual fund business. A case in point is Hanes Ltd, a multibagger that Lynch recommended to Fidelity's portfolio managers
As Lynch shares in his famous book - One Up On A Wall Street, it was his wife Carolyn who alerted him to the popularity of the L'eggs (a textile brand that she was an ardent fan of) made by the company Hanes. After a customary research, Lynch got interested.
Mind you, the stock never originally figured in his list, despite all his database and research on textile stocks. Had it not been for his wife, Peter Lynch might have missed this consumer company that became a multibagger.
But can spotting potential multibaggers really be so simple?
Sometimes Great Investment Ideas Are Right in Front of Your Eyes
Unfortunately, no. Not every popular product/service offers a great investment opportunity.
For every Hawkins or Page Industries, there is Jet Airways (down 32% in last 10 years) or Just Dial (down 19% since listing in 2013) that makes a lousy investment, irrespective of how popular it is.
What you need then is for these ideas to be backed up with proper research on fundamentals and valuations - or you could end up with a portfolio of popular names but dud investments.
My latest Hidden Treasure recommendation, for example, is just such a household name that makes the cut for a good investment bet. Read more about it here...
As you know when I spot an idea I think has potential, I roll up my sleeves and get on the road to discover what lies beneath it. Only when I see some solidity - like capable management, and room for growth - do I consider the idea as valuable, and worth investing in.
So remember the next multibagger idea could be in your backyard... Or the shopping mall you visit... Or your neighbourhood chemist. Just keep your eyes and ears open.
Good investing,

Richa Agarwal (Research Analyst)
Editor, Hidden Treasure
Brain Food for the Day
How to Nail the Next Multibagger
In investing, common knowledge is powerful, but little knowledge can be a dangerous thing.
While checklists can never be enough, some basic qualifiers can help. Here is what we look for in our small cap recommendations
They're innovative: All great companies are innovators. They change business, and virtually eliminate competition. These continuous innovations have already put many traditional companies out of business.
They're niche giants: The niche could be in the form of a niche product, a niche customer base, a specific geography, and so on. Niche sector along with leading market position can easily distinguish a good company from average companies.
They're releasing a 'disruptive' technology: Disruptive technologies create new industries, and shake-up the way business is done. Some small companies with new patents make it almost impossible for competition to get in on the action for years.
There's a stimulant: A coming event can send a tiny stock through the roof. Imagine owning a tiny pharmaceutical ahead of major drug approval...or a little software company before a major takeover. These future events can make investors ridiculously wealthy.
Hidden value: How much is the company really worth? That's what we're trying to nail down with this metric. My team and I go far beyond simple ratios and dig deep into the company's financials to figure out how it will perform compared to its peers as well as the market at large. Companies that are undervalued are likely to see the share price go only one way... UP! Usually the same thing happens to shareholders profits.
Healthy balance sheet: This implies low leverage and healthy cash flows. With these a company can grow without eroding profitability or increasing risks. Moreover, the company has the money to research and develop products, market itself, hire new staff, and buy new equipment. If the company is a body, then cash is the blood.
They're run by visionary management: While the quality of promoters is important in general for all companies, in the case of small companies, it plays a very central role in determining the fortunes of the business.
Recent Articles