The Currency of the Future?
Dec 27, 2017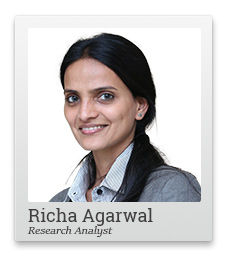 In 2012, long before he became associated with us here at Equitymaster, Prasheel Vartak did a lot of freelance work online.
A large part of his work was focused around security services.
I won't get into the technical details. Suffice it to say that Prasheel could cure your personal computer's virus infection...remotely.
During his work, something interesting happened.
A client paid him in Bitcoin.
One bitcoin was worth US$ 15 back then.
In 2012, Prasheel could not use it as a medium of exchange.
So, he exchanged it for dollars. And then exchanged the dollars for rupees.
Times have changed. And how!
A few days ago, while walking through the cobbled street of Colaba, South Mumbai, I saw a notice stuck to the glass door of a pashmina shawl store:
Bitcoin Accepted Here.
Japan has already legalized bitcoin.
As a dyed-in-the-wool value investor, I don't believe in investing in what I don't know. Every value investor, by definition, is a bitcoin sceptic.
But that has not stopped people from becoming bitcoin millionaires.
So far, bitcoin has proved naysayers wrong with its meteoric rise from US$ 1,000 in 2014 to US$ 16,000 now.
Bitcoin: A Spectacular Journey
Whether that will become mainstream is difficult to say. But it could.
If...and that's a big 'if'... it does, then some of the outrageous predictions about Bitcoins may seem more achievable.
Here's one recent prediction... Bitcoin could possibly go up to US$ 60,000 in 2018 (from around US$16,000 now).
Come to think of it, if you are willing to bet a little money (only what you can afford to lose - assuming the worst case), the ride might be worth it.
So, while I wouldn't tell you whether you should invest in it, I can say with certainty: Ignore it at your own peril.
I, for one, would love to know more about it, and see how the trend plays out
So I turned to Prasheel who has his skin in the game.
He does feel the pinch of opportunity loss. Afterall bitcoin has been a 1,000 bagger in the last five years since he sold.
But he has gained something far more valuable from that transaction - a life-long curiosity of crypto currencies.
His passion and research into cryptos has led him to gain not just knowledge but perspective too.
In fact, he is also keenly tracking the Government's stance on bitcoins, which, for now, appears to be very negative.
And he has once again taken exposure to bitcoin - this time equipped with knowledge and expert counsel.
For this he turns to his bitcoin guru... Tama Churchouse - a leading crypto guru who knows it all - the basics of buying, storing, moving and selling cryptos (yes, bitcoin is just one of the crypto currencies. There are others that could be the future bitcoin!).
No matter what your relationship is with bitcoin, I believe Prasheel can offer you tremendous value. He has promised to bring us the best crypto ideas out there.
Whether you just want to be an active witness to the bitcoin trend or get in on the game... Watch out for more from Prasheel...
Good investing,

Richa Agarwal (Research Analyst)
Editor, Hidden Treasure
Recent Articles