About Jim Rogers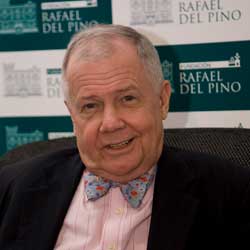 James Beeland Rogers, famously recognized as Jim Rogers, is a Singapore-based business magnate. Apart from being a brilliant investor, he is also an author and financial commentator.
Jim graduated from Yale University and completed BA in philosophy, politics and economics from the University of Oxford in 1960s.
In the latter half of the 1960s, he joined investment bank Arnhold and S Bleichroder. Here, he met his future collaborator, George Soros. Both, Rogers and Soros left the bank 3 years later and founded an investment management company - the Quantum fund.
Jim Rogers is known for his expertise in commodity investment. In 1998, Jim Rogers founded the Roger International Commodity Index.
Over his long and successful career, he has penned down dozens of books, including 'Hot Commodities: How Anyone Can Invest Profitably in the World's Best Market' and 'A Bull in China: Investing Profitably in the World's Greatest Market'.
Rogers also has a knack in teaching, and he has served as a professor of finance at the Columbia University Graduate School of Business.
To know more about how to invest in times of inflation and war, check out, Equitymaster's investor hour podcast with Jim Rogers.
Sep 9, 2022
Rogers had noticed a hidden element in the stocks that no one else did.
Aug 13, 2022
Jim Rogers has a knack for spotting opportunities way ahead of others.
Jul 6, 2012
In this edition of the 5 Minute Wrapup, Equitymaster discusses an alleged land fraud in Mumbai that be India's biggest land scam.
Dec 12, 2009
Equitymaster discusses one big lesson that investors can have from America's tin decade - asset allocation works.
Aug 16, 2022
Can India afford to be at the mercy of US and Russia to defend itself from hostile neighbours?
Aug 8, 2022
Is a new all-time high coming to a stock market?
Sep 5, 2011
In this edition of the 5 Minute Wrapup, Equitymaster discusses how our fondness for gold could be hindering India's growth.