About Marc Faber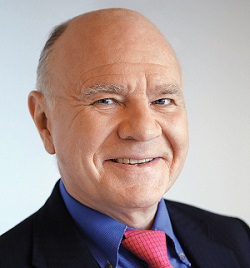 Marc Faber, also known as Dr Doom, is a Swiss investor. He is famous for making gloomy predictions about the global economy.
He is a PhD in Economics from the University of Zurich. He started his career working for White Weld & Company in Hong Kong, Zurich, and New York in the 1970s.
In the latter half of the 1970s, he served as the managing director of Drexel Burnham Lambert.
He became famous for predicting the 1987 crash. He correctly advised his customers to exit the stock market before the disaster.
Marc Faber is known to buy fundamentally strong stocks that also fall in the category of undervalued stocks.
In 1990, Marc Faber ventured out on his own and set up Marc Faber Ltd. He provided investment advisory services to High-Net-worth Individuals (HNIs) on a global scale.
He also a publisher of a monthly newsletter, The Gloom Boom & Doom Report. It is an in-depth economic and financial publication. The report highlights investment opportunities in the world.
He has also penned a book Tomorrow's Gold: Asia's Age of Discovery.
He is also a regular speaker at economics and investment seminars.
Marc has also been a keynote speaker at Equitymaster's Annual Conference in 2018.
We interviewed Marc Faber back in 2020. And he said, India would become one of top 3 countries in the world. Watch the video here.
Here's more the leading investment guru, has to say about investing and asset allocation.
Jul 30, 2022
In this episode we talk about his 50 yr + journey in the investment world, his latest views on Asset allocation and his views on Modi's India.
Jul 23, 2014
Can eliminating the unholy builder-politician nexus rid black money menace in real estate?
Feb 10, 2018
Here's the first roving report from the Equitymaster Conference 2018, with highlights from today's speakers, including: Dr. Marc Faber, Ajit Dayal and more
Mar 18, 2009
In this issue:
Insider scoffs at credit rating agencies
Dr. Doom is pessimistic, but buying stocks
Realtors' mantra for survival
Indian industry grapples with less closures
...and more!