About Sankaran Naren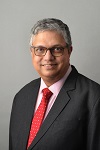 Sankaran Naren is a mutual fund manager and chief investment officer (CIO) at ICICI Prudential mutual fund.
He graduated from the Indian Institute of Technology (IIT) Madras and completed his master's from the Indian Institute of Management (IIM) Kolkata.
He started his career by working at a brokerage house in Chennai in the 1990s. Later he worked with organizations such as Refco Sify Securities India, HDFC Securities, and Yoha Securities.
With a rich experience in the stock markets, he later joined ICIC Prudential mutual fund in 2004 and became the chief investment officer in 2011.
Naren soon became popular because of his unique investment style, investing against the tide in the market by spotting neglected sectors, and identifying niche stocks before they become popular.
S Naren is a seasoned practitioner of contrarian and value investing. His investment style includes stock-picking with a mixture of the top-down and bottom-up approaches.
He learned from his mistakes early on and combined that with teachings of investing gurus like Warren Buffett and Howard Marks.
Other than the recognition for his investment style, he is well known for his views on macro and market features prominently across media.
With his remarkable journey from India's evolution to an economic powerhouse from pre-liberalization to now, he has become a leading investment guru for many Indians.
To know more about his stock-picking style for finding the right stock, check out, Equitymaster's investor hour podcast with S Naren.
Here is more on what Sankaran Naren has to say about investing...
Aug 27, 2022
In this episode we talk about S Naren's investment case for India.
May 30, 2019
As Narendra Modi takes oath as PM once again today, these are the stocks you can bet on for his next term.