About Vivek Kaul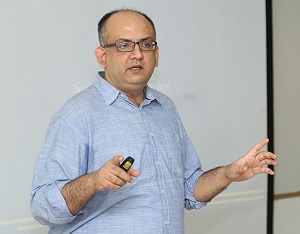 Vivek Kaul is a widely published economic commentator. Some people even regard him as Twitter's favourite economist.
Why?
Maybe because he has a very simple and lucid style of expressing his thoughts on economics and finance.
Or maybe just because he makes investing in stock markets easy for retail investors by providing jargon-free opinions on the broader economy.
Either way, there are few economists like Vivek. His opinions, though at times controversial, are always backed by rock solid logic and data.
Vivek is often seen writing on the broad contours of managing money.
Before working as a freelance writer, Vivek assumed senior positions at leading financial dailies like the Daily News and Analysis (DNA) and The Economic Times.
Vivek has authored five books namely, the 'Easy Money' trilogy, 'Bad Money-Inside the NPA Mess and How It Threatens the Indian Banking System', and 'India's Big Government-The Intrusive State and How It Is Hurting Us'.
To dwell further in Vivek's thoughts, you can read the archive of Vivek Kaul's diary.
Alongside being a bestseller author, Vivek can be heard co-hosting the popular economics podcast - Econ Central.
Vivek was a guest on Equitymaster's Investor Hour Podcast, and has spoken at the Equitymaster annual conference a number of times.
Here's more on Vivek Kaul...
Jun 20, 2022
Vivek Kaul on India, Inflation and the One Thing that Worries Him the Most
Aug 13, 2018
Vivek pens a flashback within a flashback about Ranchi in the early 80s.
Jan 16, 2017
Vivek Kaul's latest book suggests that only an immediate and complete reform of the government can prevent India from potential disaster.
Jul 1, 2016
The real implication of spending billions of rupees of tax payer on bleeding PSUs.
Apr 21, 2016
Stocks have a strong possibility of crushing returns from real estate over the next 3-5 years.
Sep 21, 2018
The one factor that can make PSU stocks a compelling story...
May 24, 2017
The singular trait that that has helped all superinvestors earn returns that are elusive to the rest of the investors.
Dec 17, 2016
At one end, there is a real shortage of smaller denomination notes and at the other end, we have 2,000 rupee note which literally of no use.
Jun 1, 2016
The common thread between most of India's economic problems.