Top Pharma Stocks in India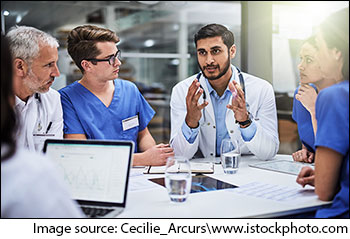 The year was 2005. The innovators, also called 'Big Pharma', started losing patents on most of their blockbuster drugs.
The World Trade Organization's (WTO) agreement on trade-related aspects (TRIPS) came into force in 2005, effectively handing big pharma exclusive patents in all markets.
Ever since then, the Indian pharma industry has seen a major breakthrough and broke the pharmaceutical monopoly.
Growth opportunities exploded in 2005 as when it comes to producing generics for off patent drugs, Indian companies have little competition.
The Indian pharma industry eventually became the world's third-largest pharma market by volume and fourteenth by value.
For over a decade, India has been hailed as the 'Pharmacy of the World'.
India is the largest generic medicine provider, with 20% share in global supply. Indian pharmaceutical sector supplies over 50% of global demand for various vaccines, 40% of generic demand in the US, and 25% of all medicines in the UK.
Globally, India has the lowest manufacturing costs. This ability to manufacture high quality and low-priced medicines, presents a huge business opportunity for the domestic industry. India's cost of production is approximately 33% lower than that of the US. This puts the top pharma companies in India in a sweet spot.
Over the years, domestic pharma manufacturers have experienced a significant increase in R&D spending to be competitive in the world market.
The pandemic may as well turn out to be a blessing in disguise for pharma companies as it pushed them to expedite focus on various pharma segments.
Further, pharma companies' efforts have been supplemented by the government's production-linked incentive (PLI) scheme.
The department of pharmaceuticals has initiated a PLI scheme to promote domestic manufacturing by setting up greenfield plants with a cumulative outlay of Rs 69.4 bn from financial year 2020-21 to financial year 2030-31.
With low-cost trained labour and a well-established manufacturing base, India is poised to play an even larger role in global drug security.
India will remain one of the world's most popular pharmaceutical markets in the coming years.
Porter's Five Forces Analysis of the Pharma Sector in India
Porter's Five Forces is a model that identifies and analyzes five competitive forces that shape every industry.
These are barriers to entry, bargaining power of suppliers, bargaining power of customers, threat of substitutes and competition within the industry.
A change in any of the forces normally requires a company to re-assess the marketplace.
Let us have a look at how these five forces shape the pharma sector -
#1 Barriers to Entry
The most attractive segment is one in which barriers to entry are high as they restrict the threat of new entrants.
Conversely if the barriers are low, the risk of new companies venturing into a given market is high.
In the pharma sector, barriers to entry are high. This is due to economies of scale in manufacturing, R&D, marketing, distribution and capital requirements.
Existing companies have a huge advantage in terms of the costs involved in launching new drugs and formulations.
#2 Bargaining Power of Suppliers
The bargaining power of suppliers is the ability of suppliers to put the firm under pressure. Suppliers may refuse to work with the firm or charge excessively high prices for unique resources.
For the pharma sector, the bargaining power of suppliers is low. The fragmented nature of the industry prevents the suppliers (organic chemical industries and labor force) from having much bargaining power over the manufacturers as the switching cost is low for the manufacturers.
#3 Bargaining Power of Customers
The bargaining power of customers is the ability of customers to put the firm under pressure. It is high if buyers have many alternatives and low if they have few choices.
In the pharma sector, the bargaining power of customers is low, because of the presence of an influencing element, in this case, i.e., the doctor.
However, due to the extremely fragmented nature of the industry and the presence of government policies like Drug Price Control Order (DPCO), 1970 under which the power to control prices is with the National Pharmaceutical Pricing Authority (NPPA), the low power of the buyers does not have much effect on the manufacturers.
Also, except in generic and OTC medicines, the buyer does not normally switch medicines easily.
#4 Competition
For most industries, having an understanding of the competition is vital to successfully marketing a product.
The competition in the pharma industry is high. The pharma sector is extremely fragmented with around 250-300 manufacturing and formulation units in the organized sector which contribute to only 70% of the market share of total sales in the country.
Also, quicker drug approvals have impacted the sector. The US Food and Drug Administration (USFDA) has expedited the pace of approvals, specifically for generics. This has led to a large number of players getting approvals, leading to increased competition.
#5 Threat of Substitutes
A substitute product uses a different technology to try to solve the same economic need.
This is high for the pharma sector. In a developing country like India, traditional medicine plays a major substituting role.
According to industry estimates, around 70% of the Indian population supplements and at times even replaces pharmaceutical medicines with traditional medicines.
Porters Five Forces Analysis of the Pharma Sector in India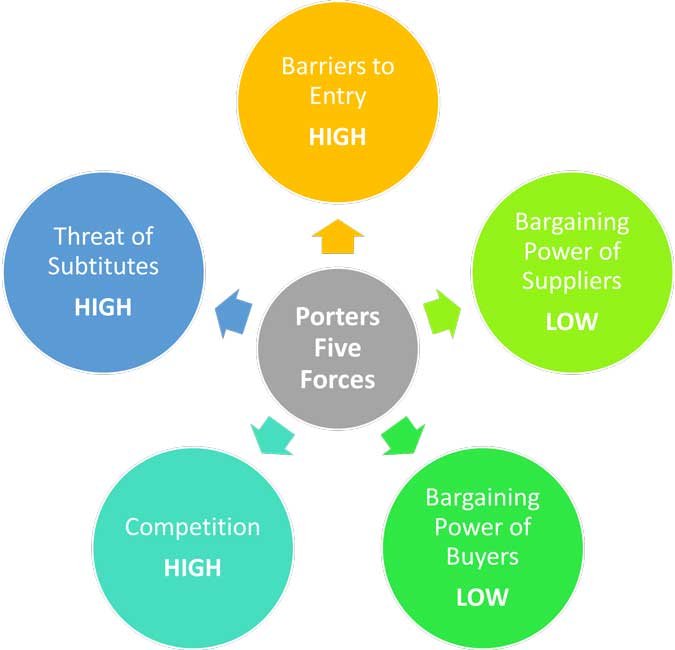 Source: Equitymaster
When to Invest in Pharma Stocks
In the last decade, the pharma sector has been relatively stable through various periods of peaks and troughs compared to the rest of the stock market. It has been a consistent performer.
As there is a constant demand for pharma products, stocks from the pharma sector provide stable earnings regardless of the state of the overall stock market. For this reason, they are often called defensive stocks and can protect your portfolio during bad times.
However, in a sustained bull run, these stocks will underperform the market.
The defensive sector can also get defenseless against headwinds in export markets. In the export markets, price erosion can impact the sector. There has been a consolidation at the buyer level in the US. This has given them increased bargaining power against Indian drug manufacturers, leading to price erosion.
Therefore, the best time to buy pharma stocks is when there is a gloomy picture on the economic front. Since defensive sectors are less prone to the above mentioned risks, they offer lot of value in uncertain times.
Key Points to Keep in Mind While Investing in Pharma Stocks
Here are a few things to keep in mind before investing in pharma stocks.
#1 R&D spends as a percentage of revenues
It's always a good hypothesis to check the pharma company's R&D spends as a percentage of revenues.
For a brighter future, pharma companies must embrace the right opportunities and spend as more as possible on R&D.
The ones investing heavily will stay ahead of the curve and enable the company to have a strong presence in complex products segment.
Here are the top Indian pharma companies spending heavily on R&D.
Data Source: Ace Equity
Data as of March 2022
#2 Drug pipeline
A robust drug pipeline is what separates a good pharma stock from an average one. Having a strong pipeline, offsets any decrease in existing revenue streams.
A pharma company needs to constantly take new development projects if it wants to have a consistent and growing income source.
If you study the annual reports of top Indian pharma companies like Sun Pharma or Biocon, you'll see that they have a pipeline of products in the work and they have been constantly developing a portfolio of niche and complex molecules.
Take a look at the company's new drug applications (NDAs) and abbreviated new drug applications (ANDA).
ANDA contains data which is submitted to the US regulator for review and potential approval of a generic drug product whereas an NDA is the application through which sponsors formally propose the approval of a new pharmaceutical drug.
However, there are chances that the drug candidates may not clear the regulatory approvals. Which brings us to another important factor to look at.
#3 USFDA approvals
Since 2007, the USFDA has transformed itself into a regulator that is nimble and unpredictable. The quality checks on the premises of Indian pharma companies have become more frequent.
There have been instances where USFDA did quality checks on premises and Indian pharma companies saw their plants shutting down for years. This led to them losing big chunk of revenues.
So, there is no risk bigger than the regulatory risk for Indian pharma companies today. Their inability to come clean on the USFDA checks has had a huge impact on their growth certainty. And this has led to the sector becoming one of the most hated amongst investors.
That is why, before investing in a pharma company, see its track record of getting USFDA approvals. A company camouflaged by regulatory challenges is always the first priority for investors.
#4 Profitability of the company
If you are looking for attractive pharma stocks, sales and profit growth is what you look for.
You also need to see the return on capital employed (ROCE) and operating margins. This will help you analyze how much the company is spending to generate sales.
Before you compare the performance of two pharma companies, say for instance, Sun Pharma vs Dr Reddy's Lab, do factor in the operating margins.
Here's a list of top pharma companies in India based on their consolidated net profit.

Data Source: Ace Equity
Data as of March 2022
#5 Valuations
Two commonly used financial ratios used in the valuation of stocks are -
Price to Earnings Ratio (P/E) - It compares the company's stock price with its earnings per share. The higher the P/E ratio, the more expensive the stock.
To find stocks with favorable P/E Ratios, check out our list of stocks according to their P/E Ratios.
Price to Book Value Ratio (P/BV) - It compares a firm's market capitalization to its book value. A high P/BV indicates markets believe the company's assets to be undervalued and vice versa.
To find stocks with favorable P/BV Ratios, check out our list of stocks according to their P/BV Ratios.
#6 Dividend yields
There is no consistent trend of dividends across the pharma industry, with different companies having different dividend policies.
Here's a list of top pharma companies in India that score well on dividend yield and dividend payout.
Data Source: Ace Equity
Top Pharma Stocks in India
Here are the top pharma stocks in India which score well on crucial parameters.
| Company | RoE (Latest, %) | D/E (Curr FY, x) | Sales CAGR (3 yrs, %) | Profit CAGR (3 yrs, %) |
| --- | --- | --- | --- | --- |
| SUN PHARMA | 7.1% | 0.00 | 10.0% | 2.0% |
| DIVIS LABORATORIES | 25.2% | 0.00 | 21.9% | 29.8% |
| CIPLA | 12.3% | 0.00 | 10.0% | 19.2% |
| DR. REDDYS LAB | 11.1% | 0.20 | 11.7% | 3.5% |
| TORRENT PHARMA | 13.1% | 0.70 | 3.5% | 21.2% |
| CADILA HEALTHCARE | 13.7% | 0.20 | 5.1% | 7.9% |
| BIOCON | 11.9% | 0.60 | 14.1% | NM |
Source: Equitymaster Stock Screener
For more details, check out Equitymaster's Powerful Indian stock screener for filtering the best pharma stocks in India.
List of Pharma Stocks in India
The details of listed pharma companies can be found on the NSE and BSE website. However, the overload of financial information on these websites can be overwhelming.
For a more direct and concise view of this information, you can check out our list of pharma stocks which has Indian pharma stocks and MNC pharma stocks.
You can also read our pharma sector report and check the latest pharma sector results.
Best Sources for Information on the Pharma Sector
Indian Brand Equity Foundation Pharma Sector Report - https://www.ibef.org/industry/pharmaceutical-india
Pharmaceuticals Export Promotion Council - https://pharmexcil.com/
Press Information Bureau (PIB) - https://www.pib.gov.in/indexd.aspx
So there you go. Equitymaster's detailed guide on the best pharma stocks in India is simple and easy to understand. At the same time, it offers detailed analysis of both the sector and the top stocks in the sector.
Here's a list of articles and videos on the pharma sector and top pharma stocks in India. This is a great starting point for anyone who is looking to explore more about pharma stocks and the pharma sector.
Disclaimer: This article is for information purposes only. It is not a stock recommendation and should not be treated as such. Learn more about our recommendation services here...
You can also checkout our playlist on Pharma Stocks on Equitymaster's YouTube channel.
<
Nov 16, 2023
Shares of the company hit a new 52-week high after it reported Q2 results. Find out other reasons driving the rally.
Oct 3, 2023
Glenmark Pharma shares surge 10% in a day. What's driving the rally?
Aug 10, 2023
Lupin share price is rising. Let's take a close look at the company's stock price from a technical perspective.
Aug 2, 2023
From grey market premium to price band, here's everything you need to know about the upcoming IPO.
Jul 24, 2023
Shares of Marksans Pharma continue to rise after a 120% surge in the past one year. Here are the key factors driving the rally.
May 30, 2023
This pharma stock is rewarding shareholders with a hefty dividend of Rs 325 per share. Do you own it?
May 19, 2023
Leading API manufacturer Divi's Labs has seen a sharp fall in its share price. What next?
May 11, 2023
The company's shares have plummeted 5% in a month. More details inside.
Apr 28, 2023
Has the pharma sector bottomed out? Find out as I decode the opportunity in the pharma sector.
Apr 25, 2023
Ipca Labs share price hits 52-week low after Unichem deal worth Rs 10 billion. How long before it recovers?
Nov 2, 2023
Going by the management's commentary, Natco Pharma is expecting to clock over Rs 10 bn in annual profit in FY24.
Sep 11, 2023
Pharmaceutical giant Cipla is reportedly exploring a stake sale and contenders are cropping up in an intense competition.
Aug 9, 2023
Shares of Gland Pharma have spiked around 30% in 2 days after declaring Q1 results. What next?
Jul 26, 2023
Shares of Aarti Drugs have spiked a lot after declaring Q1 results. Here are other reasons why the stock is on an uptrend.
Jun 28, 2023
Find out what's driving the rally in this large-cap stock and whether there's more steam left.
May 23, 2023
Find out why Gland Pharma share price is bleeding on the bourses after its Q4 results.
May 12, 2023
Dr Reddy's Lab shares tumbled 5%, even after reporting a ten-fold jump in Q4 net profit. Here's why.
Apr 30, 2023
China plus one, government's PLI scheme, and growing consumption are driving the growth of these five pharma companies.
Apr 26, 2023
This pharma MNC has just launched its global blockbuster vaccine in India. Will it be the turning point for this sleeping giant in 2023?
Apr 24, 2023
Multiple technical factors indicate that investors should avoid pharma stocks in the current market. More details inside...