Green Hydrogen Stocks - All Your Questions Answered
Green Hydrogen Stocks - All Your Questions Answered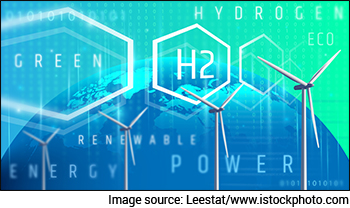 There is a growing consensus that green hydrogen could be the fuel of the future.
The environment friendly fuel has emerged as one of the strongest candidates for helping decarbonize sectors less dependent on electricity, taking us a step closer to carbon neutrality.
While this is still in the nascent stages, it is quickly turning into an investing megatrend. And if you can navigate the green hydrogen landscape well, you are bound to succeed.
But before you go fishing for green hydrogen stocks, there are things you need to know about green hydrogen. This will help you understand the industry from the ground up.
Here are a few frequently asked questions on green hydrogen and the opportunity it holds for investors in the future.
#1 What is green hydrogen? How is it different from other types of hydrogen?
Green hydrogen is clean hydrogen produced via electrolysis. It is not a newly discovered or invented element. It is the same hydrogen in our periodic table, only produced differently.
The primary difference between green and other forms of hydrogen (grey and blue) is that it is produced sustainably, without harming the environment.
You see, 95% of the hydrogen widely used and produced today through a process called "steam methane reforming". But along with hydrogen, it produces massive amounts of carbon monoxide and carbon dioxide. Hence this type is known as "grey" hydrogen.
Blue hydrogen, on the other hand, is just a cleaner version of grey hydrogen. However, there are some controversies around blue hydrogen as it inevitably results in some form of carbon emissions.
Unlike blue and grey hydrogen, green hydrogen is the cleanest form of hydrogen. It produces no carbon emissions.
This makes it the top candidate to meet over 25% of the world's energy needs in the next decade. However, at the moment, less than 0.1% of hydrogen is made this way.
#2 How is green hydrogen produced?
Green hydrogen is produced via electrolysis.
This process entails the use of electrolysers that split water (chemically known as H2O) into hydrogen and oxygen using electricity from renewable sources.
While oxygen is released into the environment, hydrogen is used for consumption.
Electrolysers consume a large amount of energy. However, most of it comes entirely from renewable sources. Therefore, the entire process does not emit any direct pollutants or greenhouse gases. This makes it a versatile and scalable element for use in different applications.
#3 What are the advantages of using green hydrogen?
Green hydrogen, like the rest of the hydrogen, is light-weight, energy dense and easy to store.
It can be transported as a gas by pipelines or in liquid form by ships, much like liquefied natural gas (LNG).
Unlike batteries that can't store large quantities of electricity for extended periods, hydrogen fuelled cells can store hydrogen in large amounts for a long time.
They can also outperform li-ion cells when it comes to higher ranges and speeds. Refuelling them also only takes a few minutes.
Moreover, their manufacturing process does not emit any greenhouse gases, crowning it the sustainable energy fuel source of the future.
#4 How does it compare to other sources of renewable energy?
Green hydrogen, much like solar and wind, is also a clean energy source; meaning it does not emit any carbon emissions.
However, unlike its renewable peer, it is produced using energy from other renewable energy sources.
Solar and wind offer hopes for achieving emission reductions, but they also present some challenges such as daily and seasonal fluctuations in sunlight and wind availability.
Apart from this they also demand considerable energy storage capacity to store any surplus power generated during periods of high wind and solar availability.
Green hydrogen, on the other hand, can be manufactured around the year.
#5 Why is there so much hype around green hydrogen? Is green hydrogen the fuel of the future?
Green hydrogen carries the potential to transform a myriad of industries, competing with fossil fuels on an equal or higher ground.
That is because, pound for pound, hydrogen packs in almost three times as much energy as fossil fuels. This means less amount of hydrogen is needed to do any work.
But for hydrogen to make a significant contribution to clean energy transitions, it needs to be adopted in sectors where it is almost completely absent, such as transport, buildings and power generation.
Green hydrogen can be used to power homes and converted to methane for the feed industry. Green hydrogen can also fuel cars, trucks, ships and even planes.
Companies across the world are experimenting with green hydrogen for vehicles. China, hoping that the technology for hydrogen-powered vehicles will mature, has announced it aims to produce 1 million (m) fuel-cell vehicles by 2030.
#6 What is the estimated demand for green hydrogen in the future?
Demand for hydrogen, which has grown more than threefold since 1975, continues to rise.
However, according to the World Energy Council, the estimated demand for the fuel in 2050 varies significantly from 125 m tonnes at present to 300-600 m tonnes. This is due to differing underlying assumptions regarding decarbonisation ambitions and infrastructure projections.
According to Niti Ayog, hydrogen demand in India could grow more than fourfold by 2050, representing almost 10% of global hydrogen demand.
The initial demand growth is expected to stem from mature markets such as refineries, ammonia, and methanol, which are already using hydrogen as an industrial feedstock and in chemical processes.
In the longer term, steel and heavy-duty trucking are likely to drive the majority of demand growth, accounting for almost 52% of total demand by 2050.
#7 How is the green hydrogen movement unfolding globally?
Around 95% of the hydrogen today produces carbon dioxide (CO2) emissions. This has propelled companies to switch to greener modes of production.
Green hydrogen is currently enjoying unprecedented political and business momentum, with the number of policies and projects around the world expanding rapidly. investors are on the prowl for best green hydrogen stocks in India.
Europe and the US are spearheading these efforts and are the main contributors to this increase, with Europe nearly doubling its expenditure towards green hydrogen.
The EU plans to invest US$ 430 bn in green hydrogen by 2030, while countries such as Chile, Japan, Australia, and Saudi Arabia are all making big investments in technology.
Portugal too has vowed to produce green hydrogen by the end of this year, eventually changing its paradigm to become an energy-exporting country.
India is also in the race to become a green hydrogen exporter.
Apart from these individual national efforts, the countries are coming together to support this movement. In May 2022, the G7 launched a Hydrogen Action Pact to accelerate the ramp-up of low-emission hydrogen, technology development, and the shaping of regulatory frameworks and standards.
#8 Can green hydrogen help India achieve its net zero ambitions?
India has vowed to become carbon neutral by 2070. The use of green hydrogen should help achieve this goal.
India's top refineries have already outlined aggressive plans to invest in green hydrogen.
Adani Enterprises has reported a massive investment of US$70 bn in the green hydrogen space.
IOC, one of the largest hydrogen producers with conventional carbon-intensive methods, wants to convert 5% of its existing hydrogen to green hydrogen by 2028 and 10% by 2030.
Larsen & Toubro and Oil India have already commissioned green hydrogen plants and plan to invest more.
In the steel sector, the JSW group has collaborated with Australia-based Fortescue Future Group to use green hydrogen to decarbonise its operations.
So it is safe to assume that, if implemented well, green hydrogen can be a big piece of the net zero ambitions puzzle for the country.
#9 What steps has the Indian government taken towards the adoption of green hydrogen?
Over 30 countries have released hydrogen roadmaps, more than 200 hydrogen projects, and ambitious investment plans.
The Indian government is not far behind. It is leaving no stone unturned in pushing for this clean energy fuel.
On 15 August 2021, Prime Minister Narendra Modi flagged the launch of a National Hydrogen Mission. He approved an initial outlay of Rs. 197.4 billion (bn), hoping to transform India into a global hub for green hydrogen production and export.
The mission will facilitate demand creation, production, utilisation and export of green hydrogen.
Under the Strategic Interventions for Green Hydrogen Transition Programme (SIGHT), two distinct financial incentive mechanisms - targeting domestic manufacturing of electrolysers and production of green hydrogen - will be provided under the mission.
The mission has targeted a green hydrogen production capacity of at least 5 MMT (Million Metric Tonnes) per annum and an associated renewable energy capacity addition of about 125 GW by 2030.
It envisages an investment of over Rs 8 trillion (tn) and the creation of over 600,000 jobs by 2030.
The Ministry of New and Renewable Energy will be responsible for the overall coordination and implementation of the mission.
#10 Which Indian companies are leading the green hydrogen revolution in the country?
Green hydrogen is shaking up the clean energy world. It has caught the fancy of the largest conglomerates and governments around the world as they try to pivot to a more sustainable source of energy.
Apart from Adani, who aims to become a green hydrogen giant in the country there are stocks leading the green hydrogen revolution.
Reliance, one of the largest generators of grey hydrogen, the impure kind, plans to go green. The conglomerate has ambitious plans to invest Rs 750 bn over the next three years in renewable energy.
It has partnered with Danish company Stiesdal A/S through its subsidiary Reliance New Energy Solar (RNESL) to develop and manufacture hydrogen electrolysers. Analysts estimate that RIL will build a 2.5-gigawatt (GW) electrolyser manufacturing unit.
State-owned GAIL(India) also has ambitious plans with respect to green hydrogen. It is setting up a PEM-based project in Madhya Pradesh designed to produce around 4.3 metric tonnes of hydrogen per day with a purity of about 99.9%.
NTPC is already running a hydrogen pilot project in its Vindhyanchal unit and is working on a green hydrogen fuelling station project in Leh, Ladakh.
The nation's largest fossil fuel retailer, IOC, plans to build a green hydrogen plant at its Mathura refinery another one in Kochi. It has set a target of converting at least 10% of its hydrogen consumption at refineries to green hydrogen soon.
Indian Oil, Larsen & Toubro (L&T), and ReNew Power have formed a JV to focus on developing green hydrogen projects in a time-bound manner to supply green hydrogen at an industrial scale.
Additionally, Indian Oil and L&T have formed a JV to manufacture and sell electrolyzers used in the production of green hydrogen.
#11 What are the challenges ahead for the adoption of green hydrogen?
The adoption of green hydrogen as an everyday fuel faces two key issues: the lack of infrastructure and the cost of production.
The technical issues, such as the development of the infrastructure needed to store and distribute hydrogen on a large scale, are surmountable. However, the element can bank on the existing pipeline infrastructure across the world.
But the high costs of production can be a bigger deterrent.
Hydrogen currently costs three times as much as natural gas in the US. And that is just the conventional hydrogen also referred to as grey hydrogen.
Green hydrogen is far more expensive. International Energy Agency (IEA) puts the current cost of green hydrogen at US$ 3-8/kg, compared to US$ 0.50-1.70/kg for grey hydrogen.
This is partly because the electrolysers used in the process are expensive. Moreover, whether it's made from water and renewable energy or methane, hydrogen requires more energy to produce, compress or liquefy and keep it super chilled than simply using the same electricity to power a battery.
These excess energy costs amounts to 45-75% of the total production cost.
Therefore, there is an urgent need to reach commercialisation for CO2 emission savings by 2030. But for once things seem to be moving in the right direction.
NEL ASA (Norway), the world's largest producer and manufacturer of electrolysers by revenue, believes that green hydrogen production costs can match fossil fuels as early as 2025.
The declining costs for renewable electricity, in particular from solar and wind, can change the dynamics faster than we can imagine.
#12 How can investors benefit from the green hydrogen revolution? Should you include green hydrogen stocks in your portfolio?
Green hydrogen stocks can offer multibagger returns to investors over the long term.
india's burgeoning energy import bill in tandem with the continued coal and oil dependency is forcing the government to shake things up.
This makes clean energy sources such as green hydrogen more of a necessity than a choice in the near future.
Earnest policy reforms such as increasing non-fossil energy capacity to 500 GW by 2030 and meeting 50% of its energy requirements from renewable energy by 2030 have added impetus to the movement.
This has led to some of the top business houses pivoting their capital towards green hydrogen.
There are various ways to cash in on this investing megatrend.
Buy stocks of energy companies that produce green hydrogen or have plans to
Buy stocks of companies that make the equipment for generating green hydrogen, such as electrolysers.
Invest in heavy industries like freight, steel, and energy storage that are likely to support the green hydrogen ecosystem.
This will help you answer any questions on how to invest in green hydrogen stocks.
Green hydrogen energy stocks must be treated with the same amount of caution as other stocks. Despite the positive odds offered by this sector, sustained research must not be compromised.
In conclusion
Green hydrogen has enormous potential. It plays a prominent role in decarbonising heavy industries by replacing natural gas and storing renewable energy.
However, hydrogen is still far from being a commercially viable fuel source. These laudable developments still are below what is needed to get on track with the net zero emissions by 2050 scenario.
The industry needs to reduce costs to match up with fossil fuels and other emerging technologies like battery storage. It also needs to act fast on creating demand for low-emission hydrogen.
So, while hydrogen could become a key element of 100% renewable energy systems, it needs the right policy and regulatory framework to stimulate private investment in hydrogen production in the first place.
Disclaimer: This article is for information purposes only. It is not a stock recommendation and should not be treated as such. Learn more about our recommendation services here...
Sep 13, 2023
The rally in NTPC shares is driven by a lot of factors which don't seem to be going away anytime soon.
Aug 22, 2023
As a part of its drive to diversify into clean energy, NTPC is stitching a grand green-hydrogen roadmap. More details inside.
Jul 15, 2023
A transition from grey to green hydrogen is happening at a faster pace than expected. Find out which companies are contributing to this transition.
May 2, 2023
As the green energy movement grows, Indian companies are on a mission to adopt green hydrogen, the cleanest form of energy in the world.
Jan 11, 2023
Three critical factors can decide if the green hydrogen stocks make money.
Jan 5, 2023
Three critical factors can decide if the green hydrogen stocks make money.
Aug 24, 2022
Big developments are happening in the green hydrogen and clean energy spaces. Find out why India has a lead.
Jul 21, 2022
Take a look at these five firms that plan to start green hydrogen projects in India over the next three years.
Aug 27, 2023
As the government plans to make the use of green hydrogen mandatory, these 5 companies stand to benefit the most.
Aug 10, 2023
In line with its commitment to a sustainable future, L&T is poised to make significant strides in the green hydrogen landscape. More details inside.
May 13, 2023
After rallying non-stop on the back of significant and growing order-book, L&T shares have hit a roadblock. What next?
Feb 16, 2023
Three critical factors can decide if the green hydrogen stocks make money.
Jan 10, 2023
The policy, ecosystem and investors with deep pockets have come together to bring about once in a century disruption in the energy sector. Here are 3 green energy stocks to watch out for.
Nov 25, 2022
Climate change presents a mega investing opportunity in the green hydrogen space for the long-term.
Aug 6, 2022
The government has issued the policy paper for green hydrogen. But will it be a game-changer for these 5 companies?
Dec 20, 2021
This is a chance for India to innovate and cash in on the latent demand for new age fuels.