How AI Will Impact the Auto Sector. Everything You Need to Know...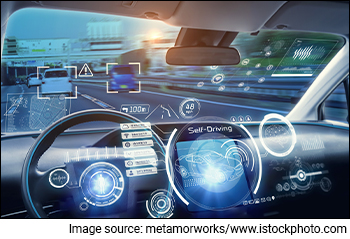 The auto industry has undergone a massive transformation in recent years. From internal combustion engines (ICE) to electric vehicles (EV) to self-driving cars, the industry has evolved rapidly.
Self-driving cars might conjure images of cars zipping around town without drivers. But AI has many more applications than just autonomous vehicles.
It can help keep our roads safe by detecting pedestrians and other hazards. It can improve fuel efficiency by optimising engine performance. It can even make driving more fun by providing personalised music recommendations based on what you like to listen to while on the road!
While the use of AI is still in early stages in the Indian auto industry, it is only a matter of time, that it will be used extensively.
With the inclusion of AI, the industry could see an improvement in efficiency, reduction in costs, and better quality of products and services. Here are some of the areas where, we at Equitymaster, believe that AI could bring significant growth.
#1 Manufacturing
AI can optimise the manufacturing process by analysing data from sensors and machines in real-time, identifying inefficiencies, and reducing downtime.
This can lead to faster production cycles and higher-quality products.
AI-powered robots can learn how to manufacture parts and simultaneously work with humans to assist them in producing automobiles.
Companies can also add and subtract innovative features in car models based on consumers' preferences. This will increase the level of customer satisfaction.
This way, automotive companies use their resources more efficiently with AI and machine learning (ML).
#2 Design
AI can be a significant help in the design process. It can analyse customer feedback, identify trends, and suggest design changes to improve the customer experience.
You see carmakers invest a lot of money to design a car model and more for major re-designs.
A recent paper by MIT Sloan Professor Hauser, states that ML models can not only predict the appeal of new designs but also generate designs that are aesthetically pleasing or innovative.
As is the case with other successful applications of AI, these models aren't meant to replace human designers.
AI will be used as a part of the design process which is like computer-assisted modelling in furniture design, fashion, and other industries where aesthetics plays a prominent role.
#3 Supply Chain
A single vehicle has around 30,000 distinct parts. These arrive from different corners of the world. This makes it difficult to monitor the transportation journey of each part.
This complex nature of importing distinct vehicle parts can make the car-making process a real struggle.
Integrating AI and ML in the supply chains can help manufacturers create a fully automated system to efficiently manage the supply chain system.
AI can help in the supply chain by predicting demand, optimising inventory levels, and reducing transportation costs.
We believe it can result in faster delivery times and lower costs for customers.
#4 Predictive Maintenance
AI uses the power of IoT (internet of things). Thus it can also help the industry with predictive maintenance.
IoT systems assist in tracking the real-time conditions of vehicles. IoT apps can analyse the vast trove of vehicle data from the vehicle in real time. This analysis can help determine when maintenance is required.
As soon as the IoT sensor suspects a potential issue, it can alert the automobile owner to take preventive measures before they become a major concern.
This will reduce the time spent in repair shops by providing an accurate diagnosis at home or in your garage. This results in less downtime as well as fewer trips to the mechanic.
Besides this, AI can also help reduce emissions, optimise fuel efficiency, and improve overall performance.
#5 Driver Assistance
AI-powered driving assistance is already revolutionising the way we drive. With advanced sensors and cameras, these systems can detect potential hazards and provide real-time alerts to drivers to avoid accidents. It makes our roads safer and more efficient.
They can also help with tasks such as lane-keeping, automatic parking, and adaptive cruise control, making driving easier and more enjoyable.
By using machine learning algorithms, AI-powered driving assistance systems can learn how drivers behave. These systems use this learning to adjust their behaviour and provide a more personalised experience.
As the technology continues to evolve, we can expect to see even more advanced driving assistance features. These will make our roads safer and more efficient than ever before.
#6 Self Driving Cars
Self-driving cars are a hot topic in the automotive industry.
They're being developed by major players like Tesla and Google. They have the potential to revolutionise how we get around.
In fact, it's estimated that by 2030 more than 70% of new cars will be equipped with some form of autonomous technology.
If you're not familiar with self-driving cars, here's what you need to know.
They use sensors and cameras to detect their surroundings while driving.
The data collected helps the AI create maps that allow these vehicles to navigate safely without human intervention. Eventually, they will be capable of driving themselves without any human involvement at all.
Keep in mind that 5G technology is rapidly evolving. It's poised to revolutionise the way we use the internet.
With lightning-fast internet speed, higher bandwidth, and better response times, 5G will serve as the backbone for the autonomous vehicles. Think about summoning your 'driverless' car to pick you up from your mobile device.
Indian companies are already on their way to make this a reality. Check out our article on the company that is changing the landscape: This Indian Company is Tapping into the Huge Autonomous Driving Opportunity.
Challenges impeding adoption of AI in the Indian auto industry
The adoption of AI in the automobile industry also raises many concerns that need to be addressed. Here are some of the challenges we believe the industry may face.
#1 Data Privacy and Security
As cars become more connected, they generate and store large amounts of sensitive data such as location data, driving behaviour, and user preferences that can be vulnerable to cyberattacks.
The sharing of data between different companies, such as car manufacturers and third-party providers, can also present risks to data privacy and security.
We believe the auto industry must ensure data is protected and remains secure at all times to maintain consumers' trust.
#2 Ethical concerns
Next on the list are ethical concerns.
AI systems can make decisions based on complex algorithms and may have biases built into them.
They can perpetuate biases and discrimination based on factors such as race, gender, or age, which can lead to unfair and unequal treatment.
As AI systems become more complex, it can also be challenging to understand how they make decisions. Moreover, it can be difficult to assign responsibility in the event of an accident or any other problem.
We, at Equitymaster, believe there should be clear accountability and liability for the decisions made by AI systems.
The industry should also ensure these biases are quickly identified and eliminated to prevent discrimination and ensure fairness.
#3 Job losses
With the integration of AI, there is a possibility that certain jobs in the auto industry, such as driving and maintenance, may become automated, leading to job losses.
The need for human drivers may decrease, leading to job losses in the transportation industry.
As manufacturing processes become more automated, there may also be a lower need for manual labour in the production of vehicles and parts.
To address these challenges, we believe the auto industry must invest in retraining and upskilling programs to help affected workers transition to new roles or industries.
#4 Technical expertise
In addition to all these challenges, the integration of AI will also require specialised technical expertise to develop and maintain these systems.
The industry will need experts in AI development, including machine learning, natural language processing, and computer vision, to develop effective and efficient AI systems.
It will also need experts in cybersecurity to ensure these systems are secure and protected from cyberattacks.
#5 Regulatory challenges
As AI technology continues to evolve, there may be a need for new regulations to ensure these systems are safe, reliable, and ethical.
The industry must ensure AI systems are safe and secure for all drivers and passengers. This may include establishing safety and security standards for various AI systems, conducting regular testing and validation, and implementing strong cybersecurity measures to protect against cyber-attacks.
Ethical considerations and international regulations will also have to be accounted for.
To tackle all these challenges, we believe the auto industry must work closely with regulators and other stakeholders to establish clear standards and guidelines for the development and use of AI systems in vehicles.
Indian auto companies leading the way with early AI adoption
Now that you know about both the opportunities and challenges that AI poses in the auto industry, let's look at the Indian auto companies that are at the forefront of this revolution.
Here are the top three...
#1 Tata Motors
Tata Motors is leveraging Tata Elxsi's technology to reimagine its products.
TETHER Auto, developed by Tata Elxsi has been adopted by Tata Motors and is powering connectivity and data-led services for almost 500,000 on-road vehicles across their range of electric, passenger and commercial vehicles.
TETHER Auto is a cloud-native, hyper-scale IoT (Internet of Things) platform that integrates OEMs with their eco-system partners to provide data aggregation, and governance, as well as enable agile digital services as a connected platform.
It's being used extensively in the company's flagship Nexon EV. The car has successfully incorporated several advanced technologies especially AI.
The EV uses AI-powered regenerative braking which helps to recharge the battery while driving. The system also uses Natural Language Processing (NLP) to understand and respond to voice commands in multiple languages.
Besides this, the vehicle's Advanced Driver Assistance System (ADAS) uses AI to detect potential threats and collisions and inform the driver at the earliest.
The car also uses AI algorithms to optimise the performance and lifespan of its battery. The system monitors the battery's temperature, charge status, and other variables to be certain that the battery is functioning at its best.
#2 Mahindra and Mahindra
Mahindra and Mahindra (M&M) has replaced physical testing of engines with virtual testing utilising AI technology.
The first change was to coordinate all the data on a single platform using HANA and SAP Leonardo IoT administrations.
Second, AI and ML models were applied to this data. The number of tests done are only a few and just the important tests are carried out.
This technology can help M&M with different aspects of assembly such as quality, support, and throughput.
#3 Hero MotoCorp
Just about nine years back, when the adoption of cloud computing was in its early stages, Hero MotoCorp made a cloud-based dealer management framework.
This gave the firm incredible insights into pertinent seller-related information. The company understood the significance of responding quickly to service demands. It also carried out a remote support solution using smart glasses and AI innovation in its plants.
Artificial intelligence has now begun to be a part of everything that is being done at the company.
Much of its innovation driven initiatives such as industrial IoT, predictive maintenance, and so forth use AI in one aspect or another.
The future of AI in the Indian automobile industry
The transformative power of AI in the automotive industry is undeniable. As we have seen, automation has already had a major impact on how cars are built and sold.
And this impact will only continue to grow as time goes on with AI becoming increasingly integrated into every aspect of our lives.
India is one of the world's largest auto markets. With the increasing adoption of AI, there is a huge opportunity for India to become a leader in AI-powered vehicles and mobility solutions.
For instance India has a high rate of road accidents. Autonomous vehicles powered by AI can help to reduce accidents by eliminating human error.
The Indian government has already announced plans to develop and test autonomous vehicles on Indian roads.
We believe this could open up significant opportunities for the auto industry.
Conclusion
The future of AI in the automobile industry is bright.
There is a continuous advancement in AI technology and an ever-increasing demand for more efficient and safer vehicles. Thus AI will play a crucial role in shaping the future of the industry.
However, AI is not a magic solution to all problems. There are still challenges to overcome, such as ensuring safety and security in autonomous vehicles.
We believe with proper regulation, collaboration, and investment, the industry can leverage the potential of AI to make driving safer, more efficient, and enjoyable for everyone.
List of AI Stocks in India
The details of listed AI companies can be found on the NSE and BSE website.
For a more direct and concise view of this information, you can check out our list of AI stocks.
You can also check out Equitymaster's powerful Indian stock screener to filter the best AI stocks in India and the best automobile stocks in India.
Also read our article on the Top 5 Artificial Intelligence Stocks to Add to Your Watchlist.
If you're looking for the top unconventional AI stocks, you can check out Richa Agarwal's video on the same. Richa is the Editor of Hidden Treasure, Equitymaster's smallcap recommendation service.
Nov 28, 2023
The AI megatrend is picking pace with many tech companies starting to name-drop "AI" on their earnings calls.
Sep 19, 2023
A comparison between the AI biggies to understand which one could emerge as a clear winner.
Aug 17, 2023
Look beyond the tech ecosystem to find margin of safety in AI stocks.
Aug 9, 2023
Looking to invest in AI stocks in India? Read this...
Jul 19, 2023
Look beyond the tech ecosystem to find margin of safety in AI stocks.
Jun 21, 2023
Will the success and failure of traders in the stock market be decided by artificial intelligence (AI)? Explore AI's profound impact on traders' lives.
Jun 15, 2023
Investors looking to buy fancy AI stocks may have to shell out a fortune in terms of valuations.
Jun 9, 2023
Making presentations, doing surgeries, driving cars...there is an AI for everything these days. So how can you profit from it?
Jun 5, 2023
Want to cash in on artificial intelligence stocks? Here are five AI stocks paying consistent dividends.
May 31, 2023
While Indian tech stocks have staged a recovery, their global peers are soaring to new highs.
Nov 21, 2023
The AI wars are heating up. Are you paying attention?
Aug 22, 2023
A comparison between the top two AI stocks in India and who could emerge as the clear winner.
Aug 10, 2023
AI has become an invaluable tool for businesses of all sizes and industries. And these two smallcap companies are at the forefront when it comes to implementing AI.
Jul 20, 2023
The Indian artificial intelligence sector could potentially produce the biggest wealth creators in the next few years. These five stocks should be on every investor's radar.
Jul 11, 2023
Making presentations, doing surgeries, driving cars...there is an AI for everything these days. So how can you profit from it?
Jun 17, 2023
Get started with your AI investing journey here.
Jun 11, 2023
Mutual funds due to their active investment strategy are well placed to capitalise on the potential of the AI theme.
Jun 6, 2023
The artificial intelligence megatrend has arrived in the stock market. Are you interested in making money from it?
Jun 5, 2023
Will ChatGPT and other AI models put fund manager's job at risk?
May 17, 2023
Investors looking to buy fancy AI stocks may have to shell out a fortune in terms of valuations.