How to Invest in EV Stocks
Electric vehicles (EVs) are the next big thing.
As the cost and affordability of EVs drops in the coming years, we are not far from when most vehicles will be electric.
In this ongoing EV revolution, it is important that you find good quality companies which are involved in this space because not every EV stock will turn out to be a multibagger.
– There are various ways to play the EV opportunity. You can...
Buy stocks of automobile companies that manufacture electric vehicles.
Buy stocks of EV component makers such as batteries as the rapid penetration of EVs will drive the need for lithium ion batteries.
Invest in EV charging infrastructure providers
Invest in commodities that are widely used in EV battery production such as silver, nickel, copper.
Invest in electric mobility services and financers.
Now let's take a look at some important points you need to keep in mind when buying EV stocks...
Expand your vision and look beyond EV automakers. Shift your focus to the EV supply ecosystem.
The leading names in EVs are probably not going to be the biggest beneficiaries of the EV transition as most of these players still derive majority of their sales from ICE (internal combustion engine) vehicles.
Even if the EV part of the portfolio grows exponentially, the disruption and cannibalisation will lead to shrinking in their legacy portfolio, which will outweigh the growth aspects.
Consider players involved in charging infrastructure, battery swapping operators, EV ancillary manufacturers, companies with expertise in product and EV software designing, battery makers, metal, mining and chemical companies.
Have a look at the chart below for a deeper understanding of the EV ecosystem.
The EV Ecosystem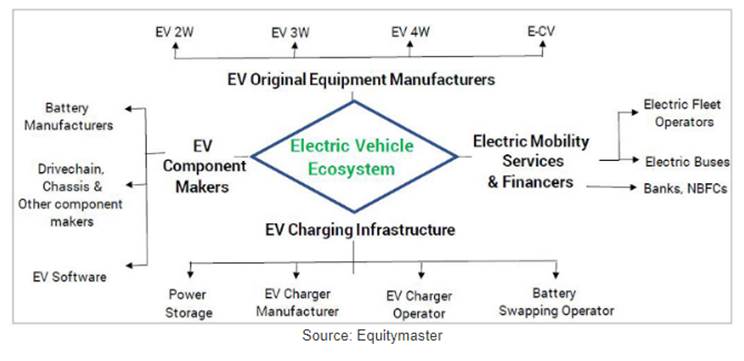 In the listed space, the EV ecosystem includes companies like Amara Raja, Exide Batteries, Minda Industries (sensors and controllers), Minda Corporation (safety, communication systems, lightweigting), KPIT and Tata Elxsi (software, design and architecture) to name a few.
With great fundamentals and attractive valuations, such companies will be relatively safer bets in the EV transition.
Look for companies that benefit from both premiumization plus increased volumes /applications in electric vehicles.
As the EV market develops, players in the entire value chain will be forced to evolve. As a result, companies will look to premiumize their products in a bid to set themselves up for tomorrow.
Companies that will see their share price soar are the ones that will be able to manage this transition smoothly.
Those that manufacture products in increasing volumes and with various applications will also see their share prices skyrocket as higher volumes would result in higher sales and earnings visibility.
Now that we have reviewed some key steps to selecting the right stocks, here's a list of don'ts that could help you avoid dud stocks.
To be on the winning side of the EV bet, it is critical you avoid players where product portfolio is suited to internal combustion engines only.
There are only around 20 moving parts in fully electric car. This compares to 2,000 parts in ICE vehicles.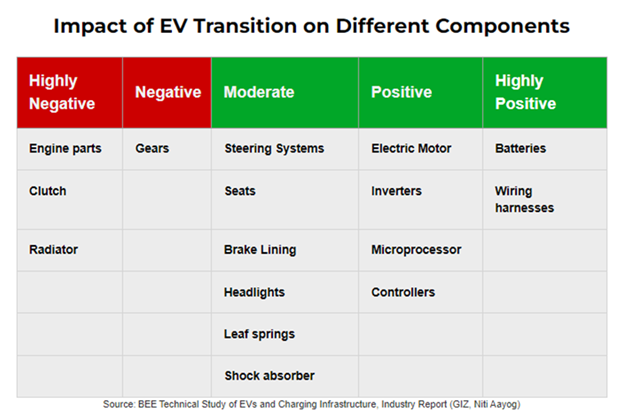 Companieslike ShriRam Pistons and Rings, or UCAL Fuel systems (that makes carburettors and Air Suction Valves) could be on the losing side of this race.
Be cautious about companies betting aggressively on electric vehicles in a way that require huge capital investments, and doing so while taking debt.
This is because the technologies to fuel EV are still evolving rapidly, and what works now may not work in future, and will lead to poor returns.
A promising company must have a low debt-equity ratio, a strong track record of profitability, strong cash flows and a high ROE. It must also have solid backing of its promoters.
You are now on a strong wicket to go out and find the right EV stock for yourself.
If you need some more help, you can check out our list of Electric vehicle stocks here.
You can also check out the playlist on electric vehicles on Equitymaster's YouTube channel.
Jun 8, 2023
Looking for EV stocks that offer big dividends? Check out these top 5.
May 22, 2023
The lesser-known stocks in the market deserve your attention.
May 10, 2023
The traditional approach of stock selection may not work for lithium stocks just as they don't for EV stocks.
May 5, 2023
Megatrends do not always lead to a wealth making opportunities for the front runners. You have to dig deeper to find the real beneficiaries.
Apr 13, 2023
These five stocks have shown that if the fundamentals are strong then the company can survive even during bad and uncertain situations in the long run.
Mar 31, 2023
This company has had 3 rights issues and around 10 bonus shares in the past 35 years. What's more, the dividend payout has only grown over the years.
Mar 10, 2023
After hitting lifetime high of Rs 1,397 in February 2023, shares of M&M have hit a roadblock.
Feb 20, 2023
Bajaj Auto's outlook seems grim but there's light at the end of the tunnel.
Feb 11, 2023
Will these high growth stocks make the most of India's electric vehicle revolution?
Dec 22, 2022
These chemical companies are expected to be strong beneficiaries of vehicle electrification.
May 23, 2023
EV stocks versus EV battery stocks: Which is the better choice for investors?
May 10, 2023
Despite a weak quarter, this EV battery maker is rewarding shareholders with a hefty dividend. Find out more details inside.
May 9, 2023
The pick and shovel plays in the EV battery ecosystem.
Apr 18, 2023
Investors who wish to make big gains from EV revolution will need to expand their vision.
Apr 8, 2023
Here are some of the most important facts about electric vehicle stocks, the catalyst to a green future.
Mar 11, 2023
Tata Technologies has made its first move to go public. The DRHP is out...find out more details inside.
Mar 7, 2023
This smallcap specialty chemical firm recently acquired 100% stake in a lithium-technology startup. More details inside...
Feb 15, 2023
Olectra Greentech shares have been on a downward spiral for quite some time. Investors who believed in the company's booming EV segment are now left with many questions.
Dec 28, 2022
Amara Raja has fallen over 12% in the past few sessions. It has also underperformed in the last three years due to the pandemic and increasing raw material costs.
Dec 13, 2022
This more than a century old true event has important lessons for investors chasing hot trends.
FAQs
Which are the best electric vehicle stocks in India right now?
Where can I find a list of electric vehicle stocks?
What kind of dividend yields do electric vehicle stocks offer?