Ramesh Damani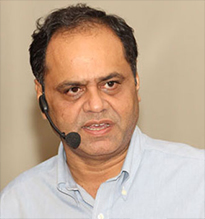 Ramesh Damani is a widely followed Indian investor. His claim to fame is the idea of picking stocks that can give you a big returns over long periods of time. In this context, he has often spoken of accumulating Rs 100 crores in wealth from stocks.
Ramesh's first major investment was when Infosys went public in 1993. He was a coder in the US, so he was aware that Infosys would benefit greatly from outsourcing.
He put in a what was then a whopping Rs 1 m in both Infosys and CMC. By 1999, his investment had skyrocketed a hundredfold.
Damani was bullish on the liquor industry in 2002-03.
His investment thesis was based on the size of the industry in relation to the size of the opportunity. His investment call proved right. He made huge gains in United Spirits.
He also identified and invested in two public sector companies, Bharat Electronics and Bharat Earth Movers. He admits to feeling guilty for not purchasing enough of them.
Damani believes people who have invested in high-quality business, and are bullish about this country, have made a fortune.
He strongly believes in the power of compounding money, which he has also shared in the recent podcast at Equitymaster investor hour, which you can watch here...
With an experience of over 30 years in the stock market, he is definitely one of the leading investment gurus for many Indians.
Ramesh Damani has also spoken at the Equitymaster's Annual Conference in 2018.
Mar 5, 2023
According to publicly available data, Ramesh Damani's portfolio is concentrated in just these 4 stocks. Do you own any of his high conviction bets?
Jan 6, 2022
Ramesh Damani, a well-known investor, buys stake in a multibagger stock that has gained 200% in a year.
Jun 13, 2022
In episode 2 we talk about what could lead the next wave in the stock market, training the next generation for managing the Damani portfolio and why shopping for expensive handbags is not a good idea if you want to get rich with stocks. Here goes...
Feb 23, 2018
This IT Company can be a huge wealth Creator for Smart Money Secret's Subscribers.