Indian Stock Market News February 17, 2017
Sensex Finishes the Week on a Strong Note; HDFC, Sun Pharma Surge
Stock markets in India continued to trade on a positive note in the afternoon session and finished firm for fourth consecutive session. At the closing bell, the BSE Sensex stood higher by 167 points, while the NSE Nifty finished up by 44 points. Meanwhile, the S&P BSE Mid Cap and the S&P BSE Small Cap finished up by 0.5% and 0.4% respectively. Gains were largely seen in pharma stocks, oil & gas stocks and bank stocks.
HDFC Bank share price rose to an all-time high after the Reserve Bank of India removed the foreign institutional investor (FIIs) ban limit on the counter. However, HDFC Bank pared gains (finished up by 3.7%) in the afternoon session after the private sector lender crossed overall limit of 74% of its paid-up capital.
Asian stock markets finished lower today with shares in China leading the region. The Shanghai Composite is down 0.85% while Japan's Nikkei 225 is off 0.58% and Hong Kong's Hang Seng is lower by 0.31%. European markets are lower today with shares in France off the most. The CAC 40 is down 0.85% while Germany's DAX is off 0.35% and London's FTSE 100 is lower by 0.24%.
The rupee was trading at Rs 67.04 against the US$ in the afternoon session. Oil prices were trading at US$ 53.83 at the time of writing.
Claim This Report Now. Hurry!
In this report, we reveal an easy-to-implement four step process that could boost your trading profits.
If you act right now, you can download it FREE.
Go ahead, grab your copy today. This is a limited period opportunity
As soon as you confirm, we will also sign you up for our free newsletter,
Profit Hunter
, which offers regular opinions on how to become a star trader.
Please read our
Terms Of Use
.
According to a leading financial daily, Bharti Airtel has completed the merger of Augere Wireless Broadband India (Augere), a wholly owned subsidiary with itself. Last year in August, the company had signed a definitive agreement to acquire 100% equity stake in Augere. The deal size is estimated to be around Rs 1.5 billion.
Augere is engaged in the business of operating, supplying, managing, dealing and using communication, telecommunication service, telecommunication system etc. as also carrying on the business in the field of providing broadband wireless service, internet service, telecommunication etc.
Augere holds 20 Mhz of spectrum in 2,300 Mhz band in Madhya Pradesh service area, which includes Chhattisgarh, to be used for 4G services. The company had won this spectrum for Rs 1.24 billion in 2010 but has not rolled out services.
Bharti Airtel share price finished the trading day up 0.9% on the BSE.
In another news, Idea Cellular share price plunged 5% before recovering and finished down by 1.7% after it was reported that the company will move out of National Stock Exchange's Nifty 50 index from March 31.
Moving on to news from stocks in pharma sector. Sun Pharmaceuticals share price surged and finished up by 4% in today's trade after it was reported that the company's subsidiary received approval for Tobramycin from the European Medicines Agency.
The approval for the product was received by company's wholly owned subsidiary firm from the European Medicines Agency. The company and its subsidiaries continue to file multiple products across multiple countries on an on-going basis.
Sun Pharma posted a net profit decline of 5% to Rs 14.71 billion in the third quarter ended December as compared to Rs 15.44 billion in the same period previous year.
Sales growth in main markets such as the US and India was slower than expected. Sun Pharma's US market sales in dollar terms rose by 4% over a year ago and declined by 9% sequentially. Growth was expected to suffer as the preceding quarter had one month of exclusivity-period sales of the generic version of cancer drug Gleevec.
Surprisingly, the India business growth at 5% year-on-year too was lower than expected. While notebandi was expected to hit sales growth, its portfolio tilt towards chronic categories would have protected it to an extent. Normalcy has still not returned and the trade's inability to hold inventory (due to the cash shortage) appears to have affected sales growth.
Demonetisation Effect: Defensive Sectors Corrected As Much As Smallcaps
In another development, Lupin share price too finished firm (up 1.2%) after the company received final US Food and Drug Administration (USFDA) approval for ANDA Moxifloxacin Hydrochloride Tablets, 400 mg, generic of Avlox Tablets of Bayer Healthcare Pharmaceuticals, Inc.
The company has recently received final approval for its Triamcinolone Acetonide Cream USP, 0.025%, 0.1% and 0.5% from the USFDA to market a generic equivalent of Mylan Pharmaceuticals Inc.'s.
And here's a note from Profit Hunter...
HDFC Bank surged more than 9% in the initial hours of trading today after Reserve Bank of India (RBI) removed restrictions on foreign institutional investors for the purchase of its shares. This fueled the Bank Nifty Index rally to touch its life high.
The Index opened at 20,918, a 675-point gap up, but it couldn't sustain and dragged down immediately after touching a high of 21,042. This formed a bearish candle for the index on the daily chart.
Currently, the index is trading at its strong horizontal resistance level of 20,555. The RSI indicator is also trading at its overbought level of 73.5.
The red candle on the daily chart near the resistance level coupled with RSI trading in its overbought level is a sign of concern for the bulls. On the other hand, a sustained close above this level might cheer them.
Bank Nifty Index at a Crucial Level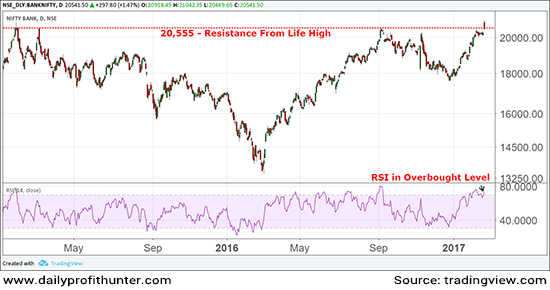 For information on how to pick stocks that have the potential to deliver big returns,
Read the latest Market Commentary
Views on News
Mar 22, 2018
Certain blue chips hold the potential of delivering returns comparable to small-cap stocks. With these stocks, you can get the best of both worlds.
Nov 29, 2017
Stocks that could beat Sensex returns in the long term.
Jun 10, 2017
Forty Indian investing gurus, as worthy of imitation as the legendary Peter Lynch, can help you get rich in the stock market.
May 18, 2018
PersonalFN provides multiple factors to consider before switching from Mutual Fund Regular Plans to Mutual Fund Direct Plans, and how you can switch from the regular plans to the direct plans of mutual funds.
May 18, 2018
I warned you. Blindly following India's super investors can be dangerous to your wealth. Here's why...
More Views on News
Most Popular
May 16, 2018
The markets seem confused. They're neither going up nor down. What should investors do? Consider Safe Stocks. Here's the top 5 Safe Stocks in the market today.
May 17, 2018
A mutual fund regulation could cause small cap prices to tank - If you haven't been paying attention to your small caps - now is the time to catch the opportunities that start pouring in.
May 17, 2018
Home loans continue to grow, despite falling sales. What explains this phenomenon?
May 10, 2018
Can Interglobe Aviation Safely Fly Out of Turbulence?
May 9, 2018
PersonalFN provides detail analysis on HDFC Balanced Advantage Fund (erstwhile HDFC Prudence Fund and HDFC Growth Fund).
More