Indian Stock Market News January 16, 2020
Q3FY20 Results, Positive News for Realty Sector, and Top Cues in Focus Today
Editor's note: Dear reader, we are now on Telegram! Get our latest views on stock markets and more, instantly. Join our Telegram channel here!
---
India share markets ended their day marginally lower yesterday.
Stocks in the banking sector, energy sector and telecom sector witnessed selling pressure, while realty stocks were trading in the green.
At the closing bell yesterday, the BSE Sensex stood lower by 80 points (down 0.2%) and the NSE Nifty stood down by 19 points (down 0.2%).
The BSE Mid Cap index ended up 0.7%, while the BSE Small Cap index ended up by 1%.
Speaking of Indian stock markets, as the new year has kickstarted, there is hardly any cheer among investors despite Sensex touching new highs.
The reason: The rally is driven by a few large caps and has left most of the stocks untouched. The blow was specially felt by small caps, most of which remained untouchables.
--- Advertisement ---
Last 2 Days to Claim Free 12-Month Access to Double Income

For our valued subscribers only - act by 11:59pm, 28th January - and claim free 12-month access to Rahul Shah's Double Income.

Double Income is a way for subscribers like you to potentially double your monthly income in the long run.

Click here for details.
------------------------------
This isn't the first time smallcaps are witnessing correction. And yet, this was once in a decade kind of event.
That's because it was for the first time that the smallcaps remained in the red in two successive years.
The Divergence between Smallcap and Sensex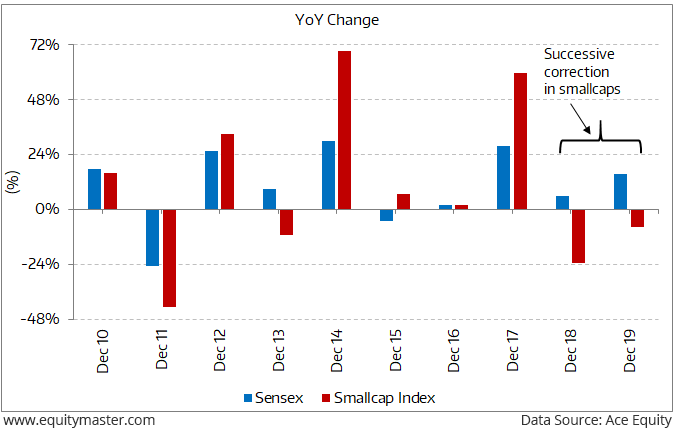 Here's what our smallcap research analyst Richa Agarwal wrote about it in one of the editions of the Profit Hunter...
The mutual fund reclassification, liquidity squeeze, global trade tensions and recent reforms and policy changes kept investors on guard and away from smallcaps. It did not help that the economy growth itself slowed down to six-year low.

But amid all this macro data, a few interesting details are missing.

Ignoring these could deprive you of possibly the best money-making opportunity in 2020.
As the divergence between the Sensex and Small cap index widens, Richa Agarwal answers why small cap rebound is just around the corner and why this could be the right opportunity to buy quality smallcap stocks.
Tune in to know more...
December Quarter Results
From the IT sector, Wipro on Tuesday reported 3.2% year-on-year (YoY) drop in consolidated profit for the December quarter, and forecasted a modest revenue growth in the quarter ending March 31.
The company posted a profit of Rs 24.6 billion for Q3FY20.
Wipro's total revenue increased 2.7% to Rs 154.7 billion during the quarter compared with 150.6 billion in the same period last year.
In its IT services business, the company reported revenues of US$ 2,094.8 million on a constant currency basis, a growth of 1.8% on a quarter-on-quarter basis and 3.3% year on year.
IT services operating margin for the quarter improved to 18.4%.
The company said that it expects revenue from IT services business to be in the range of US$ 2,095 million to US$ 2,137 million in the fourth quarter of current financial year.
To know more about the company, you can read Wipro's Q3FY20 result analysis on our website.
IndusInd Bank posted a 32% year-on-year (YoY) rise in profit at Rs 13 billion for the quarter ended December 31. The growth here was seen on the back of a healthy growth in retail and treasury revenue.
Net interest income grew 34.35% YoY to Rs 30.7 billion, with loan growth of 20%.
Slippages increased significantly to Rs 19.4 billion, from Rs 11 billion in Q2FY20. In fact, slippages were much higher than first half of FY20.
Asset quality of the bank worsened YoY as gross non-performing assets (NPA) more than doubled to Rs 45.7 billion from Rs 19.6 billion. In percentage terms, it went up to 2.18% from 1.13% a year ago. Net NPA edged higher to 1.05% to 0.59%.
Provisions for bad loans jumped as the bank kept aside Rs 10.4 billion in the December quarter this fiscal compared with Rs 6.06 billion in the same quarter a year ago. This translates into a jump of 72%.
It would be interesting to see how these numbers pan out in upcoming quarters. We'll be tracking them and keep you updated on all the news from this space.
To know more, you can read IndusInd Bank's Q3FY20 result analysis on our website.
Mindtree reported 3% YoY rise in consolidated profit at Rs 1.97 billion for the quarter ended December 30. On a sequential basis, the profit figure was up 45.93%.
Consolidated revenue increased 9.96% YoY and 2.66% on quarter-on-quarter to Rs 19.6 billion.
Segment-wise, revenue from retail, BFSI, high technology and travel segments witnessed a rise of 1.61%, 8.17%, 15.71% and 9.91%, respectively.
The company had 320 active clients as of December 31 and it added one client each in US$ 25 million and US$ 10 million categories.
Mindtree reported total headcount at 21,561 as of December 31 with trailing 12 months attrition at 17.2%.
To know more about the company, you can read Mindtree's Q3FY20 result analysis on our website.
Positive Developments in the Real Estate Sector
Real estate developer's body National Real Estate Development Council (NAREDCO) has launched a real estate portal to boost sales and home buyer's sentiment.
This portal will offer only ready-to-move-in properties having occupation certificate or building completion certificate, located anywhere in India to potential home buyers.
According to the industry reports, more than 1 lakh ready-to-move-in homes are available at present in the market and nearly 2.75 lakh new ready-to-move-in homes are expected to be added to the market over the next one year. NAREDCO is expecting over 1,000 projects to get listed on the portal.
In other news, the 23rd Knight Frank-FICCI-NAREDCO Real Estate Sentiment Index Q42019 survey showed that the current sentiments of the real estate stakeholders in India have revived to the optimistic zone of 53 in the October-December quarter of 2019.
The index was in the pessimistic zone (below 50 mark) for two consecutive quarters.
The Real Estate Sentiment Index is based on a quarterly survey of key supply-side stakeholders which include developers, private equity funds, banks and non-banking financial companies (NBFCs).
Shares of Prestige Estates, Oberoi Realty and Indiabulls Real Estate surged in the range of 3-6% yesterday on the back of above news.
Speaking of the real estate sector, note that this is one sector that has tested investor patience over the years. While the sector has seen big moves in the last few years, the downward movement has been equally sharp.
The post demonetisation era has been tough on the sector. Excess inventory, i.e. housing projects stuck for years, has meant homeowners have largely stayed away from any fresh buying in the real estate space.
Also, post the IL&FS crisis, lending to real estate developers has largely dried up. The BSE Realty Index also reflects the same. It was down 31% in 2018.
But is the scenario about to change?
The government recently announced a Rs 250 billion package to bailout stalled housing projects. It's a much-needed relief for homeowners.
The government plans to revive over 1,600 stalled housing projects covering 4.6 lakh units.
Announcing the decision, Finance Minister Nirmala Sitharaman had said the government will put in Rs 100 billion in this alternative investment fund (AIF) while SBI and LIC would provide Rs 150 billion, taking the total size to Rs 250 billion.
What would be more interesting is the pickup in consumption once the real estate sector revives.
Once people get their homes, they are likely to spend on tiles, paints, furniture, electronics, pipes, cables, cement, and many other things.
Watch this space for more!
And to know what's moving the Indian stock markets today, check out the most recent share market updates here.
For information on how to pick stocks that have the potential to deliver big returns,
Read the latest Market Commentary
Stock Market Updates
Jan 27, 2020 03:50 PM
Here's a list of 5 stocks that gained the most in the BSE Mid-Cap Index today. It also includes information on BSE Mid-Cap index and the broader benchmark indices.
Jan 27, 2020 03:20 PM
FORCE MOTORS share price has plunged by 5% and its current market price is Rs 1,450. The BSE AUTO is down by 0.1%. The top gainers in the BSE AUTO Index are CUMMINS INDIA (up 2.0%) and M&M (up 1.9%). The top losers is FORCE MOTORS (down 5.1%).
Jan 27, 2020 03:16 PM
PNB HOUSING FINANCE LTD share price has plunged by 5% and its current market price is Rs 489. The BSE 500 is down by 0.7%. The top gainers in the BSE 500 Index are WOCKHARDT (up 15.3%) and EDELWEISS FINANCIAL (up 10.0%). The top losers are PNB HOUSING FINANCE LTD (down 5.0%) and JINDAL STEEL & POWER (down 5.0%).
Jan 27, 2020 02:42 PM
THYROCARE TECHNOLOGIES share price has surged by 7% and its current market price is Rs 587. The BSE HEALTHCARE is up by 1.8%. The top gainers in the BSE HEALTHCARE Index are THYROCARE TECHNOLOGIES (up 6.6%) and DR. REDDYS LAB (up 5.4%). The top losers are CADILA HEALTHCARE and J.B.CHEMICALS (down 0.3%).
Jan 27, 2020 02:22 PM
JM FINANCIAL share price has plunged by 5% and its current market price is Rs 109. The BSE 500 is down by 0.4%. The top gainers in the BSE 500 Index are WOCKHARDT (up 14.6%) and EDELWEISS FINANCIAL (up 10.0%). The top losers are JM FINANCIAL (down 5.3%) and NAVKAR CORP. (down 5.7%).
Jan 27, 2020 12:30 pm
The BSE Sensex is trading down by 186 points, while the NSE Nifty is trading down by 54 points.
View More Indian Share Market News
Most Popular
Jan 14, 2020
The smallcap rebound finally seems to here... Make sure you aren't too late to make the most of the biggest wealth making opportunity in a decade.
Jan 15, 2020
These stocks can move twice as fast as the Sensex - to take advantage of their money multiplying power get in now as the rally is still just taking shape.. read more to not miss out.
Jan 17, 2020
Don't fall for the safe stocks narrative going around in the stock market these days.
Jan 17, 2020
This is how the biggest trading profits are made.
Jan 15, 2020
If you're interested in the next Infosys, I'll tell you where to look.
More