Indian Stock Market News October 11, 2019
Sensex Ends 246 Points Higher; IT and Metal Stocks Witness Buying
Indian share markets witnessed buying interest during closing hours today and ended their volatile trading session on a positive note.
On the sectoral front, gains were seen in the metal sector and FMCG sector.
At the closing bell, the BSE Sensex stood higher by 246 points (up 0.7%) and the NSE Nifty closed higher by 66 points (up 0.6%).
The BSE Mid Cap index ended up by 0.2%, while the BSE Small Cap index ended the day up by 0.4%.
Asian stock markets finished on a positive note as of the most recent closing prices. The Hang Seng stood up by 2.34% and the Nikkei was trading up by 1.15%, while the Shanghai Composite was trading up by 0.88%.
European markets were also trading on a positive note. The FTSE 100 was up by 0.26%. The DAX was trading up by 1.92%, while the CAC 40 was up by 1.19%.
--- Advertisement ---
This Simple Test Will Tell You If a Stock Has 100X Potential…

The most profitable of stocks tend to have 3 things in common…

It's quite rare to find all three characteristics in a single stock – which is why stocks that fulfill these 3 conditions give investors the chance to make an absolute fortune in the long term.

You'll find a full explanation of the 3 traits that make a stock worthy of 100X potential, in this note…

We've recently discovered a small Indian company that fulfills all 3 conditions, and has the potential to generate huge potential wealth in the long term.

Richa Agarwal calls it her No. 1 Small Cap Stock for 2020.

Read on for details...
------------------------------
The rupee was trading at 71.04 to the US$ at the time of writing.
Speaking of the volatility witnessed in Indian share market lately, if you look at the stock market returns over the years, you will see that the markets have never moved in a linear fashion.
What do I mean by that?
It has never been a one-way street - only up or down.
Stock markets have always moved in cycles.
The Time to Buy Stocks is Now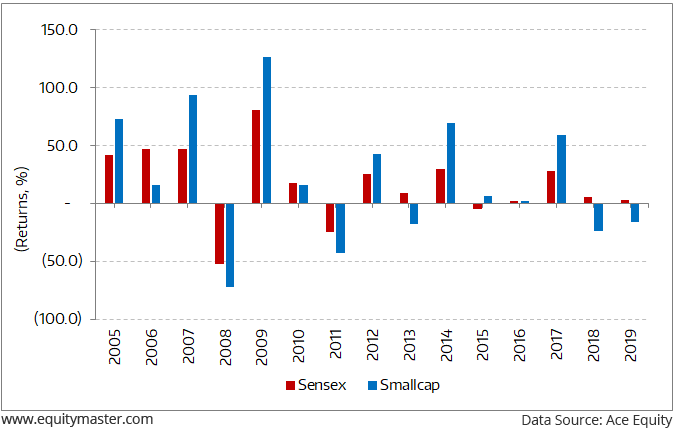 Here's what Radhika Pandit wrote about this in a recent edition of The 5 Minute WrapUp...
If you would have bought stocks when either the Sensex or the Smallcap index was in a downturn, you would have made big returns once the cycle turned and the bulls took over.

Sarvajeet and I believe we are seeing a similar situation currently.

The economic slowdown does not herald the end of the world or for that matter the end of India. It's a phase and like all phases - This too shall pass.
So, the real question is - Are you taking advantage of these price declines to buy quality stocks?
Also, amid such volatile times in stock markets, Richa Agarwal reveals her investing strategy in the video below.
She also talks about the type of small cap stocks she is looking at during such times.
Tune in...
In the news from the banking sector, Yes Bank share price was in focus today as the bank's single-largest shareholder and co-promoter, Shagun Gogia extended full support to the new management and said the issues of governance and transparency are fully dealt with now.
Gogia, who was recently inducted to the board of the troubled private sector lender, also said her family was fine with lowering their shareholding below the present 8.33% in case a big investor comes on board at the end of the ongoing capital-raising exercise.
Gogia told that regulatory compliance, risk management and governance functions are fully streamlined at present at the bank and she is 100% confident that governance and transparency issues are also behind us.
Commenting on the bank's journey ahead she added that she's also confident that the bank will shed its past and transform into the future as it looks to on-board new investors that may include a global tech giant.
On this, she said the bank is at an "advanced stage" of getting an investor and will be keeping the regulator in loop as the talks progress.
The bank, among the newest in the industry, has been in trouble for over a year now, after the Reserve Bank of India (RBI) turned down the re-appointment of co-promoter Rana Kapoor as chief executive and managing director, on worries over corporate governance and risk management, among others.
The present management is led by chief executive Ravneet Gill who took charge in March after Kapoor was asked to leave by January 31 by the monetary authority in August 2018.
On Wednesday, the stock of Yes Bank was in focus after the lender denied reports suggesting active talks between the bank and Microsoft Corporation and two other tech firms for a possible stake acquisition.
The private lender clarified that it continues to explore various means of raising capital and funds through the issuance of securities to a diverse set of investors, in order to meet its business regulatory requirements.
We will keep you updated on all the news from this space. Stay tuned.
Speaking of the banking sector, the recent Punjab and Maharashtra Co-operative bank fiasco has put small savers in the limelight yet again.
These banks have poor lending practices. Depositors have had to pay the price time and again.
In the short run, this has an adverse effect on microfinance lending as well. Micro finance institutions (MFIs) are skeptical about lending to even genuine borrowers in an uncertain environment.
But this is actually a blessing in disguise for MFIs with strong business practices.
After all, last mile connectivity in lending is still a huge opportunity.
Here's what Tanushree Banerjee wrote about this in a recent edition of The 5 Minute WrapUp...
The average ticket size of a microfinance borrower in India is around Rs 38,000 which is much lower than the global average (Rs 65,000).

The sector itself has grown at an average annual rate of 27% for the last 4 years.

Still states like Uttar Pradesh, Bihar, and Madhya Pradesh with a large rural population are highly under-penetrated even today.
A private bank that is part of Tanushree's 7 stocks to buy list has already taken a step in this direction.
It will be a big beneficiary when the microfinance boom plays out in India.
From the pharma space, market participants were tracking Cipla share price today after Equirius said its Goa unit will require extensive changes to meet the USFDA guidelines. According to Equirius, the unit received Form 483 with 12 observation that runs through 38 pages. The company stated that these observations are largely related to procedure and SOP lapses.The unit caters to about one-third of the US businesses. The facility will require very extensive changes in SOPs procedures and processes.
As per Equirius, it could take a bit longer to the company to resolve issues. It also sees a strong likelihood of OAI (official action indicated) classification and thus a warning letter. How this pans out remains to be seen. Meanwhile, we will keep you updated on all the developments from this space.
Moving on to other news, the board of Indiabulls Ventures approved a proposal to buyback Rs 10 billion worth of shares via tender offer route at Rs 150 apiece today.
The announced buyback price is at 50.60% premium to Thursday's closing price of Rs 99.60 on BSE. The company said it will buy back up to 6,66,66,666 fully paid-up equity shares of the company, representing 12.61% of its total existing fully paid-up equity capital. At present promoters hold 35.53% stake in the company.
The company announced that its board has constituted a buyback committee and delegated powers to it to oversee and implement the buyback and to do all such acts, deeds, matters and things, including fixation of record date, as it may, in its absolute discretion, deem necessary, expedient in connection with the buyback.
It added that the buyback size is more than 10% of the company's paid-up equity capital and free reserves and thus subject to approval of shareholders by way of a special resolution, through a postal ballot and is proposed to be made from all eligible existing holders of the equity shares, on a proportionate basis, as on the record date, to be decided at a later date.
To know what's moving the Indian stock markets today, check out the most recent share market updates here.
For information on how to pick stocks that have the potential to deliver big returns,
Read the latest Market Commentary
Stock Market Updates
Oct 14, 2019 03:32 PM
ENGINEERS INDIA share price has plunged by 5% and its current market price is Rs 112. The BSE CAPITAL GOODS is down by 0.2%. The top gainers in the BSE CAPITAL GOODS Index are BHARAT ELECTRONICS (up 3.6%) and SUZLON ENERGY (up 3.0%). The top losers is ENGINEERS INDIA (down 5.0%).
Oct 14, 2019 03:26 PM
INDIA TOURISM DEV. share price has surged by 11% and its current market price is Rs 269. The BSE 500 is up by 0.2%. The top gainers in the BSE 500 Index is INDIA TOURISM DEV. (up 11.2%). The top losers are GODREJ CONSUMER and TTK PRESTIGE .
Oct 14, 2019 03:10 PM
REPCO HOME share price has plunged by 6% and its current market price is Rs 300. The BSE 500 is up by 0.6%. The top gainers in the BSE 500 Index are PC JEWELLER (up 9.5%) and MOTILAL OSWAL (up 8.9%). The top losers are REPCO HOME (down 6.2%) and PNB HOUSING FINANCE LTD (down 5.7%).
Oct 14, 2019 02:58 PM
RELIANCE CAPITAL share price has plunged by 10% and its current market price is Rs 17. The BSE 500 is up by 0.7%. The top gainers in the BSE 500 Index are PC JEWELLER (up 11.2%) and INDIA TOURISM DEV. (up 8.9%). The top losers is RELIANCE CAPITAL (down 10.0%).
Oct 14, 2019 01:54 PM
BAJAJ CONSUMER CARE share price has plunged by 5% and its current market price is Rs 243. The BSE FMCG is up by 0.4%. The top gainers in the BSE FMCG Index are P&G HYGIENE (up 3.1%) and GODFREY PHILLIPS (up 2.3%). The top losers is BAJAJ CONSUMER CARE (down 5.1%).
Oct 14, 2019 12:30 pm
The BSE Sensex is trading up by 218 points, while the NSE Nifty is trading up by 57 points.
View More Indian Share Market News
Most Popular
Oct 7, 2019
Here's what every individual investor must know about Yes Bank...
Oct 1, 2019
How long should you wait for fallen blue chips like Yes Bank and Indiabulls Housing Finance to rebound?
Oct 4, 2019
The secret to multibagger is not big businesses, but great managements... Here's how to find them to make the most of once in a decade rebound opportunity.
Oct 10, 2019
There are rare periods in markets when you get good quality stocks at attractive valuations. Is this one such period?
Oct 4, 2019
Around Rs 75 billion poured into the Indian stock market in the month of September.
More