Indian Stock Market News November 11, 2019
Markets will remain closed on 21st February, 2020 on account of Mahashivratri.
Sensex Opens Flat; IT and Automobiles Stocks Lag
Asian share markets are lower today as Chinese and Hong Kong shares fall. The Shanghai Composite is off 1.1% while the Hang Seng is down 2.2%. The Nikkei 225 is trading down by 0.2%. The three major US stock indices posted record closing highs and the S&P 500 registered a fifth straight week of gains on Friday as investors brushed aside worries over the progress of US-China trade talks and as Walt Disney shares rose.
Back home, India share markets opened flat. The BSE Sensex is trading down by 54 points while the NSE Nifty is trading down by 25 points. Both, the BSE Mid Cap index and BSE Small Cap index opened down by 0.1%.
Sectoral indices have opened the day on a mixed note with telecom stocks and consumer durables stocks witnessing buying interest. IT stocks and automobiles stocks are trading in red.
The rupee is currently trading at 71.35 against the US$.
In the news from automobile sector. Lack of demand for passenger vehicles in the country has forced India's largest manufacturer, Maruti Suzuki to cut its production for the 8th consecutive month.
The company's total vehicle production last month stood at 119,337 units against 150,497 in October last year.
The production of passenger vehicles was down 117,383 units from 148,318 in October last year, while Van produced slipped nearly by half from 13,817 in October 2018 to 7,661 last month.
--- Advertisement ---

India's Tesla Play

We believe there's one specific way to ride the coming electric vehicle (EV) boom that has the potential to generate a lot of money for early movers.

It involves taking a small stake in a company which I believe could be at the forefront of this 'irreversible' shift to EVs. In fact, I would even say that it has the potential to dominate it.

Interested to know more?

Well, all we ask of you is to join us on February 25, at 10am, for a MEGA Summit where we will reveal details about this stock.

Click here to join our FREE MEGA Summit...
------------------------------
The manufacturing of vehicles in the mini segment came down to 20,985 units last month from 34,295 units in the corresponding month last year.
In the compact segment, the number of units produced last month was 64,079 from 74,167 in the corresponding month last year.
However, in terms of sale, the company did show signs of recovery owing to the festival season demand.
Maruti sold a total of 1,44,277 units (inclusive of OEM sales) during October 2019 in the domestic market recording a 4.5% growth over the same month a year ago.
Maruti Suzuki share price opened the day down by 0.6%.
Note that multiple factors have affected the auto sector of late. The liquidity crisis faced by NBFCs, regulatory changes leading to increased costs, new emission norms...they have all taken their toll.
The industry's sales and production levels have plunged, leading to job losses. In August, all major OEMs consisting of passenger, commercial, two and three-wheeler manufacturers have reported a massive decline in domestic sales.
As per Society of Indian Automobile Manufacturers' (SIAM) August sales figures, the overall sectoral offtake in the domestic market has plunged 23.6% to 1,821,490 units, from 2,382,436 units sold during the corresponding month of the previous year.
On 20 September, the government had reduced corporate tax rates from 30% to 22% to boost consumer demand and increase spending by private companies. The effective tax to be paid by the companies, including surcharge and cess, will be 25.17%.
However, in the euphoria of the government's tax rate cuts, an important announcement went unnoticed.
The road transport and highways ministry has proposed a huge increase in re-registration of vehicles which are more than 15 years old.
The proposed hike will be implemented from July 2020. The policy change is aimed at reducing pollution by scrapping older vehicles on the road.
As per Co-head of Research, Tanushree Banerjee, this might come as a welcome relief for automakers who have seen severe fall in sales over the past 1 year.
Signs of Revival in the Auto Sector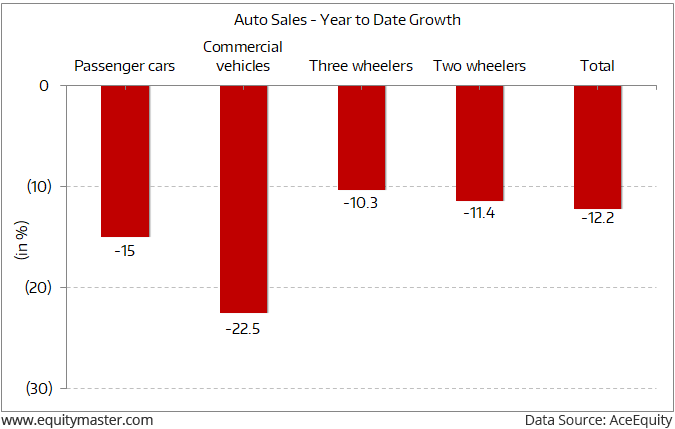 Here's what she wrote about it in one of the editions of The 5 Minute WrapUp...
The upcoming festive season and the recent policy measures might just be the trigger needed to revive the sector.

A leading auto player makes it to my list of 7 stocks to buy.

I believe, rising disposable incomes and aspirations of India's youth, will be the key trends benefiting this market leader in the long run.
As per Tanushree, these are just some of the trends that will play a big part in the Sensex 1,00,000 journey.
Moving on to the news from the pharma sector. As per an article in a leading financial daily, Glenmark Pharma is recalling close to 2.2 lakh cartons of Estradiol Vaginal inserts in the US market due to faulty delivery system.
The company's US-based arm is recalling the lots of the product used for providing relief from menopause symptom.
According to the latest Enforcement Report by the US Food and Drug Administration (USFDA), Glenmark Pharmaceuticals Inc USA is recalling the product in various strengths which was manufactured at company's Goa manufacturing facility.
The ongoing voluntary class II recall is on account of defective delivery system with complaints for difficulty in pushing the plunger of the applicator.
The recall is nationwide within the United States, the USFDA stated.
As per USFDA, a class II recall is initiated in a situation in which use of or exposure to a violative product may cause temporary or medically reversible adverse health consequences or where the probability of serious adverse health consequences is remote.
Similarly, the US-based arm of Aurobindo Pharma is recalling one lot of Ranitidine Tablets (150mg) at the retail level and 37 lots of Ranitidine Capsules (150mg), Ranitidine Capsules (300mg) and Ranitidine Syrup (15mg/mL) at the consumer level due to detection of NDMA (Nitrosodimethylamine) impurity in the finished product.
NDMA, a substance that occurs naturally in certain foods, drinking water, air pollution, and industrial processes, has been classified as a probable human carcinogen as per the International Agency for Research on Cancer (IARC).
To date, Aurobindo Pharma USA, Inc. has not received any reports of adverse events related to this recall, the US health regulator said.
Ranitidine is used to decrease the amount of acid created by the stomach and relieves heartburn associated with acid indigestion and sore stomach.
Glenmark Pharma and Aurobindo Pharma opened down by 0.7% and 0.2% respectively.
To know what's moving the Indian stock markets today, check out the most recent share market updates here.
For information on how to pick stocks that have the potential to deliver big returns,
Read the latest Market Commentary
Stock Market Updates
Feb 20, 2020 Closing
The BSE Sensex ended the day down by 152 points, while the NSE Nifty stood down by 45 points.
Feb 20, 2020 03:33 PM
ADANI TRANSMISSION share price has surged by 5% and its current market price is Rs 332. The BSE POWER is up by 0.6%. The top gainers in the BSE POWER Index are ADANI TRANSMISSION (up 5.3%) and SUZLON ENERGY (up 9.7%). The top losers are NTPC (down 0.3%) and THERMAX (down 0.6%).
Feb 20, 2020 03:28 PM
PARAG MILK FOODS LTD share price has plunged by 5% and its current market price is Rs 115. The BSE 500 is down by 0.1%. The top gainers in the BSE 500 Index are INDIABULLS HOU. FIN. (up 10.3%) and AJANTA PHARMA (up 10.2%). The top losers are PARAG MILK FOODS LTD (down 5.0%) and FORBES & CO. LTD. (down 6.3%).
Feb 20, 2020 03:24 PM
AJANTA PHARMA share price has surged by 13% and its current market price is Rs 1,485. The BSE HEALTHCARE is up by 0.3%. The top gainers in the BSE HEALTHCARE Index is AJANTA PHARMA (up 12.9%). The top losers are TORRENT PHARMA (down 0.2%) and SYNGENE INTERNATIONAL (down 0.2%).
Feb 20, 2020 03:08 PM
HERITAGE FOOD share price has plunged by 5% and its current market price is Rs 408. The BSE 500 is down by 0.2%. The top gainers in the BSE 500 Index are INDIABULLS HOU. FIN. (up 11.5%) and JAIPRAKASH ASSO. (up 9.8%). The top losers are HERITAGE FOOD (down 5.1%) and FORBES & CO. LTD. (down 6.4%).
Feb 20, 2020 02:40 PM
TRIDENT share price has surged by 10% and its current market price is Rs 6. The BSE 500 is up by 0.2%. The top gainers in the BSE 500 Index are TRIDENT (up 10.0%) and INDIABULLS HOU. FIN. (up 13.3%). The top losers are BAYER CROPSCIENCE and GAIL .
View More Indian Share Market News
Most Popular
Feb 19, 2020
While I have been writing about the rebound in smallcaps for quite some time now... I have shied from the question - When exactly is the smallcap rebound happening. Well, the answer is now.
Feb 11, 2020
A blueprint to latch on to the next 'Crorepati' stock - and an event I hope you won't miss on any account.
Feb 14, 2020
This proven strategy can give big returns in quick time.
Feb 11, 2020
How to fight back against algo trading systems.
Feb 12, 2020
Recent events have put climate change into the spotlight. Here's how you should play this megatrend...
More