Indian Stock Market News February 14, 2019
Sensex Opens Marginally Lower; Telecom and Energy Stocks Witness Selling
Asian shares are trading on a mixed note today. The Nikkei 225 is up 0.1% while the Hang Seng is down 0.6%. The Shanghai Composite is trading down by 0.3%.
Back home, India share markets opened the day marginally lower. The BSE Sensex is trading down by 50 points (down 0.1%), while the NSE Nifty is trading down by 15 points (down 0.1%). The BSE Mid Cap index is trading down by 0.3%, while the BSE Small Cap index has opened the day down by 0.2%.
Sectoral indices have opened the day on a mixed note with telecom stocks and energy stocks witnessing maximum selling pressure.
The rupee is trading at 70.95 to the US dollar.
Market participants will be tracking Ashok Leyland share price, ONGC share price, Jet Airways share price, Voltas share price, and GSK Pharma share price today as these are among companies which are scheduled to report their quarterly earnings today.
You can also read our recently released Q3FY19 results of other companies here: Reliance Industries, Infosys, TCS, Trident, HDFC bank, Maruti Suzuki, Tata Motors, Tata Steel, Aurobindo Pharma, MRF, Gillette.
In the news from the commodity space, crude oil continued its momentum seen yesterday and went on to trade higher.
--- Advertisement ---


First-ever 'Power Profits' Summit to Go Live on Feb 26th

The stock market is an unfair world for many investors.

There are those who don't make much or even lose money even after staying invested for years...

And then there are a select few who pocket MASSIVE, fast fortunes in just a few years.

Today I want to invite you to find out how you could be a part of the latter.

With a system that cuts through the "noise" of the stock market and identifies the true worth of a stock...

One that zeros in on stocks that have the highest probability of handing one a shot at double & triple-digit windfalls.

We're sharing everything about one such breakthrough system on our February 26th Summit. It has been in the making for the last 15 years.

This is a free summit (one of its kind) and it will go LIVE at 5pm.

I can almost guarantee you've never seen anything like this...

And unless you're prepared to forfeit your chance at building a fortune in the next 1-2 years, I recommend you sign up for the Power Profits Summit.

**Click here to Register for free!**
------------------------------
Note that crude oil prices inched up 1.5% yesterday as the Organization of the Petroleum Exporting Countries (OPEC) said it had deeply cut supply in January.
Gains were also seen as US sanctions hit Venezuela's oil exports.
Saudi Arabia, the world's top exporter and de facto leader of OPEC, said on Tuesday that it would reduce oil production to nearly 9.8 million barrels per day (bpd) in March, about half a million bpd more than it originally pledged.
Also at the radar are hopes expressed by US and Chinese officials that a new round of talks, which began in Beijing on Monday, would bring them closer to easing their months-long trade war.
It will be interesting to see how this pans out. Meanwhile, we will keep you updated on the latest news from this space.
Moving on, as per a leading financial daily, Dewan Housing Finance Corporation Ltd (DHFL) share price will be in focus today as the company said its Chief Executive Harshil Mehta has resigned.
However, the company said in its regulatory filing that Harshil Mehta would continue to be associated with the company and shall hold the designation of Executive President - Retail Business with effect from February 14, 2019.
Besides, the board has recommended appointment of Sunjoy Joshi as an Independent Director and Srinath Sridharan as a Non-Executive Director.
Note that the stock of the company has been witnessing sharp selling pressure lately after Cobrapost said that DHFL diverted funds to shell companies to buy assets, and that firms linked to DHFL's controlling shareholders - the Wadhawan group made political donations beyond mandated levels.
DHFL is also facing questions about its financial health after the IL&FS default pushed up the cost of funds for the mortgage lender and made borrowing difficult.
Rating company Care ratings today downgraded ratings on the company's debt worth over Rs 1.2 lakh crore issued by DHFL.
As per an article in The Economic Times, the company revised the rating grade of AAA to AA+ for nonconvertible debentures and long-term bank loans. Commercial papers, short-term debt securities rated as A1+ have been put under credit watch.
The company has decided to divest its stake in Aadhar Housing Finance to Blackstone.
Private equity major Blackstone agreed to buy nearly 80% of affordable homes-focused Aadhar Housing Finance from the financially stretched Wadhawan group.
The group's holding company Wadhawan Global Capital (WGC) will be selling its 70% stake in the company, while DHFL will also be exiting its investment, which is reported to be around 9%.
Besides, with DHFL group companies' debt mess coming under lens, global brokerage Credit Suisse warned that it could trigger a second wave of risk aversion in India's debt mutual fund industry.
A report from the global brokerage stated that DHFL is among the largest borrowers from mutual funds and the aggregate exposure of debt mutual funds to the home financier's securities is Rs 85 billion.
This amounts to about 0.7% of debt mutual funds' assets under management (AUM) as of December 2018.
Furthermore, the exposure for some fund houses is larger, at 2-10% of total debt AUM, with some schemes having up to 30% of their AUM invested in Dewan securities.
How this all pans out and what effect it might have on the debt mutual funds remains to be seen. Stay tuned to get all the updates from this space.
Data available with NSE showed foreign portfolio investors (FPIs) sold Rs 6.7 billion worth of domestic stocks yesterday.
On the other hand, domestic institutional investors (DIIs) were net buyers to the tune of Rs 7.1 billion.
Speaking of FII data, 2018 was a turbulent year for the Indian stock markets. Foreign investors dumped Indian equities worth Rs 33,014 crore and debt instruments worth Rs 47,795 crore. In fact, they have continued to be net sellers in Indian stocks even in 2019. So far in January 2019, they have sold equities worth Rs 2,675 crore.
Had it not been for the solid participation from domestic investors, the Indian markets would have witnessed a much steeper fall.
The chart below puts things in perspective.
The Rapid Growth of the Indian Mutual Fund Industry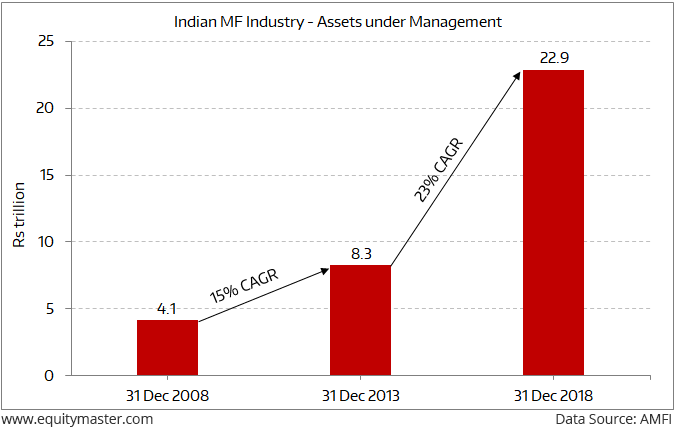 Ankit Shah shares an interesting observation in the rapid growth of MF Industry.
Here's what he wrote in one of the editions of The 5 Minute WrapUp...
Ten years ago, the total assets under management (AUM of the Indian mutual fund industry were Rs 4.13 trillion (1 trillion equals 1 lakh crore) as on 31 December 2008.

Over the subsequent five years, the industry grew at a compound annual growth rate (CAGR) of 15% to take the total AUM to Rs 8.2 trillion as on 31 December 2013.

Thereafter, the Indian mutual fund industry took off like never before, compounding at 23% CAGR, and taking the total AUM as on 31 December 2018 to Rs 22.86 trillion.

In just 10 years, the AUM of the Indian MF Industry has multiplied 5.5 times, compounding at 19% CAGR.

The total number of mutual fund folios as on 31 December 2018 stood at 8.03 crore (80.3 million).
For information on how to pick stocks that have the potential to deliver big returns,
Read the latest Market Commentary
Stock Market Updates
Feb 21, 2019 03:34 PM
JUST DIAL share price has surged by 11% and its current market price is Rs 538. The BSE 500 is up by 0.6%. The top gainers in the BSE 500 Index are JUST DIAL (up 11.4%) and INDIABULLS VENTURES (up 11.0%). The top losers are ABBOTT INDIA and CADILA HEALTHCARE .
Feb 21, 2019 03:34 PM
TECH MAHINDRA share price has hit an all time high at Rs 840 (up 1.1%). The BSE IT Index is down by 0.3%. Among the top gainers in the BSE IT Index today are TECH MAHINDRA (up 1.1%) and L&T TECHONOLOGY SERVICES (up 2.0%). The top losers include HCL TECH. (down 0.1%) and BIRLASOFT (down 0.2%).
Feb 21, 2019 03:26 PM
WELSPUN INDIA share price has surged by 10% and its current market price is Rs 53. The BSE 500 is up by 0.6%. The top gainers in the BSE 500 Index are WELSPUN INDIA (up 10.2%) and JUST DIAL (up 12.8%). The top losers are ABBOTT INDIA and COROMANDEL INTERN. .
Feb 21, 2019 03:26 PM
RELIANCE COMMUNICATIONS share price has surged by 10% and its current market price is Rs 6. The BSE 500 is up by 0.6%. The top gainers in the BSE 500 Index are RELIANCE COMMUNICATIONS (up 10.0%) and JUST DIAL (up 12.8%). The top losers are ABBOTT INDIA and COROMANDEL INTERN. .
Feb 21, 2019 03:20 PM
CHENNAI PETROLEUM share price has surged by 5% and its current market price is Rs 217. The BSE OIL & GAS is up by 0.6%. The top gainers in the BSE OIL & GAS Index is CHENNAI PETROLEUM (up 5.2%). The top losers are INDRAPRASTHA GAS (down 0.3%) and BPCL (down 2.2%).
Feb 21, 2019 12:30 pm
The BSE Sensex is trading up by 85 points, while the NSE Nifty is trading up by 26 points.
View More Indian Share Market News
Most Popular
Feb 13, 2019
The real estate sector is ready to make a comeback. This is the stock to consider buying.
Feb 14, 2019
During this tough period in the market, a contrarian approach holds huge potential upside for this Smart Money Secrets stock.
Feb 8, 2019
This is the trick to following super investors and not losing money.
Feb 14, 2019
Don't let the dark clouds hovering over small caps scare you into hiding; it will rain gold as sentiments recover. Indeed, there is a blood bath. And if you are a first time investor, the correction is deep enough to scare you out of markets.
Feb 15, 2019
Why its great news that prices for small caps over the last few days have been falling like there's no tomorrow.
More