Indian Stock Market News May 17, 2019
Sensex Opens in Green; Telecom and Metal Stocks Lead
Asian share markets are lower today as Chinese and Hong Kong shares fall. The Shanghai Composite is off 1.3% while the Hang Seng is down 0.7%. The Nikkei 225 is trading up by 1.6%. Wall Street closed higher on Thursday as upbeat earnings and strong economic data put investors in a buying mood, with technology companies leading the charge.
Back home, India share markets opened marginally higher. The BSE Sensex is trading up by 76 points while the NSE Nifty is trading up by 15 points. Both, the BSE Mid Cap index and BSE Small Cap index opened on a flat note.
Sectoral indices have opened the day on a mixed note with automobiles and FMCG stocks witnessing maximum buying interest. Telecom and metal stocks have opened the day in red.
The rupee is currently trading at 70.22 against the US$.
In the news from the economy. As per an article in a leading financial daily, America's year-long trade war with China is pushing US companies to source more from GSP beneficiary countries such as India, Thailand, Cambodia, Indonesia and Turkey.
--- Advertisement ---


What's Common Between Four of the World's Top Five Companies?

If you look at the four of the world's top five companies by market capitalisation - Apple, Alphabet (Google), Amazon, and Microsoft, you'll find something amazing.

They are using one powerful strategy to scale their business all over the world, without any major costs involved.

Even Nike, Uber and Netflix are using the same strategy to kill their competitors mercilessly.

Want to know which Indian companies are using this strategy?

Click here and see yourself...
------------------------------
The Coalition for GSP, a group of American companies and trade associations, in a report said the latest official trade figures show that the Generalised System of Preference or GSP saved American companies US$105 million in March, an increase of US$28 million (36%) from March 2018 and the second-highest level on record.
In the first quarter of 2019, the GSP saved American companies US$285 million, which is US$63 million more than the first quarter of 2018.
The GSP is the largest and oldest US trade preference programme and is designed to promote economic development by allowing duty-free entry for thousands of products from designated beneficiary countries.
On March 4, President Donald Trump announced that the US intends to terminate India as a beneficiary developing country under the GSP programme. The 60-day notice period ended on May 3.
Noting that imports from China, subject to new tariffs, are down significantly, the coalition said imports of products from other GSP beneficiaries have increased the most in the first quarter of 2019.
According to the reports, India benefits the most from this.
For India, 97% of increased 2019 GSP imports are on the China Section 301 lists. GSP imports on Section 301 lists increased by US$193 million (18%), while imports of everything else increased by just US$7 million (2%).
In another report, the coalition said cancelling the GSP for India would benefit China.
Referring to the results of a recent survey, the coalition said 30% of companies would look to source more from China if GSP benefits are done away with.
Now how this pans out going forward remains to be seen.
Moving on to another news. Larsen and Toubro Ltd (L&T) on Thursday purchased 880,000 shares of Mindtree, raising its stake in the IT services firm from 25.94% to 26.48%.
Reportedly, L&T bought the shares at Rs 979.8 on a day when Mindtree's stock closed 0.5% higher at Rs 980.3 on BSE. With its stake crossing 26%, L&T is in a position to demand a board representation in Mindtree.
The engineering behemoth is in the process of taking over Mindtree, with a plan to buy up to 66.3% shares of the company for up to Rs 107 billion, in the first hostile takeover in India's IT industry.
As per the reports, L&T, after buying a 20.3% stake jointly held by Cafe Coffee Day founder V.G. Siddhartha and two of CCD's associate firms, had said that it intended to buy an additional 15% from the open market and another 31% through an open offer at Rs 980 per share.
The open offer was originally proposed to open on 14 May and close on 27 May.
However, L&T was compelled to postpone its open offer by at least a fortnight after the markets regulator sent the draft offer letter back to L&T with a set of queries on the proposed takeover. On 10 May, L&T submitted its response to the regulator.
Irrespective of the open offer, L&T will continue to purchase Mindtree shares from the public during trading hours until it finishes buying the planned 15% from the open market.
As per the reports, the combination of the two companies will help create an entity with a higher turnover of close to Rs 120 billion, closer to larger rivals such as Wipro and TCS.
The Mindtree management, however, thinks differently.
Creating Synergies?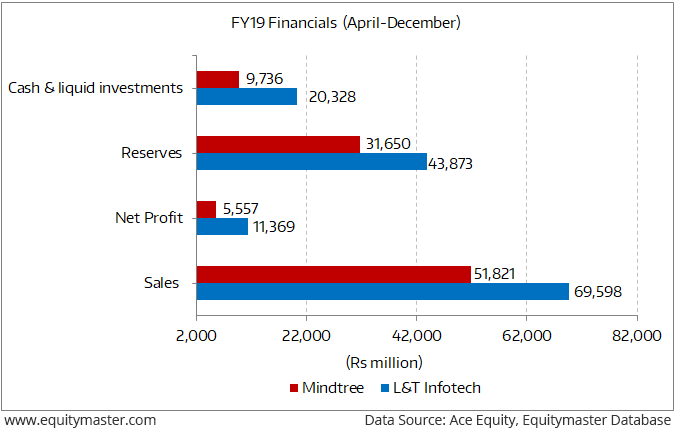 Given that the takeover has just been launched, it would be too early to make any predictions regarding the outcome.
While the L&T-Mindtree saga will one day disappear into the history books, the lessons will not.
One thing that we must bear in mind is that most companies in India are managed by promoters.
Hence, they are bound to protect their interest and will not relinquish control without a fight.
This means that the company launching such an attack needs to be very clear as to why it wants to go down this route.
Here's snippet from the article on hostile takeovers that Tanushree Banerjee, co-head of research wrote:
"In mergers and acquisitions, in general, the acquiring company has to make sure that it pays a reasonable price for the target company. It needs to gauge the synergies that are likely to flow in on making the acquisition such that the payback period is not too long. Many a time, when competition for a particular target heats up, valuations soar. As a result, the company which has finally made the acquisition ends up paying a very high price."
This applies to hostile takeovers as well.
L&T share price and Mindtree share price opened the day up by 0.2% and 0.8% respectively.
To know what's moving the Indian stock markets today, check out the most recent share market updates here.
For information on how to pick stocks that have the potential to deliver big returns,
Read the latest Market Commentary
What else is happening in the markets today? Dig in...
Stock Market Updates
Jun 4, 2020 09:29 AM
SOUTH IND.BANK share price has surged by 11% and its current market price is Rs 8. The BSE BANKEX is up by 0.5%. The top gainers in the BSE BANKEX Index is SOUTH IND.BANK (up 11.4%). The top losers are CITY UNION BANK (down 0.9%) and KOTAK MAHINDRA BANK (down 1.7%).
Jun 4, 2020 09:19 AM
TATA METALIK share price has surged by 9% and its current market price is Rs 491. The BSE METAL is up by 0.5%. The top gainers in the BSE METAL Index is TATA METALIK (up 8.6%). The top losers are COAL INDIA and TATA STEEL (down 0.3%).
Jun 4, 2020 09:19 AM
SOUTH IND.BANK share price has surged by 7% and its current market price is Rs 7. The BSE BANKEX is down by 0.1%. The top gainers in the BSE BANKEX Index is SOUTH IND.BANK (up 7.2%). The top losers are ICICI BANK (down 0.3%) and CITY UNION BANK (down 0.3%).
View More Indian Share Market News
Most Popular
May 26, 2020
Six charts showing how Indian financial markets have performed in 2020 so far...
May 28, 2020
Covid-19 has made it a survival of the fittest race for many companies. The ones that can adapt will thrive in a post crisis world.
May 25, 2020
The RBI governor has cut the repo rate to 4%. What does this mean for options traders? Find out in this video.
May 25, 2020
Will the mutlibagger blue chips of the past decade continue to rule the bourses?
More