Indian Stock Market News July 12, 2019
Indian Stock Markets Open Flat; Telecom and Metal Stocks Lag
Asian share markets are higher today as Japanese and Hong Kong shares show gains. The Nikkei 225 is flat while the Hang Seng is up 0.4%. The Shanghai Composite is trading up by 0.5%. The Dow and S&P 500 rose on Thursday to close at record highs as health insurers gained after the Trump administration scrapped a plan designed to rein in prescription drug prices, while financial shares climbed with bond yields.
Back home, India share markets opened the day on a flat note. The BSE Sensex is trading up by 28 points while the NSE Nifty is trading down by 2 points. Both, the BSE Mid Cap index and BSE Small Cap index opened up by 0.1%.
Sectoral indices have opened the day on a mixed note with power stocks and oil & gas stocks leading the pack of gainers. Telecom stocks and metal stocks have opened the day in red.
The rupee is currently trading at 68.52 against the US$.
The rupee darted up 14 paise to finish at 68.44 against the US dollar July 11 after dovish comments by US Federal Reserve chair Jerome Powell boosted emerging market currencies.
---

Advertisement

---

The Secret Behind the Mind Numbing Success of Wipro, MRF and Titan

Wipro, MRF, and Titan are all well-known Indian companies from very different sectors.

But there is something about these companies that makes them very similar as well…

And we are not talking about the fact that they made their investors very rich.

We are going one step back…

You see, these companies share THREE UNIQUE TRAITS that are the true reason behind their massive success.

The reason why they converted ordinary investors into Crorepatis.

And we believe that looking for these same three unique traits in companies could help identify the next Wipro or MRF or Titan.

We know even the thought of finding such a company is extremely exciting.

Now, what if we told you, that you could find details of one such company right now?

Yes, after years of research, we are ready to reveal details of a company that shares the same unique traits as Wipro, MRF and Titan…

Now we know you are very interested…

Just click here to read all about these unique traits and the stock…
------------------------------
However, firming oil prices capped the gains, the reports noted.
At the interbank foreign exchange market, the local unit opened on a firm footing at 68.31 and shuttled between a high of 68.30 and a low of 68.48 during the day.
The rupee finally closed at 68.44, down 14 paise over its previous close.
The rupee had declined by 7 paise to close at 68.58 against the greenback Wednesday, pressured by persistent foreign fund outflows and firming crude oil prices.
World stocks rose, and emerging market currencies appreciated after US Federal Reserve Chairman Jerome Powell told a Congressional committee that the central bank is ready to "act as appropriate" to boost growth amid multiple headwinds, bolstering hopes of a rate cut as early as this month.
The dollar index, which gauges the greenback's strength against a basket of six currencies, dropped 0.2% to 96.87.
Speaking of currencies, Vijay Bhambwani, editor of Weekly Cash Alerts, tells you the main reasons why not to trade commodities and currencies the same way you would trade equities. Here's an excerpt of what he wrote...
Currencies are traded in pairs and the most liquid is the USDINR. Currencies are traded in four decimal points just as bonds are. The international derivative trader's association has indicated that forex may be traded in 6 decimals in the coming few years.

It takes months sometimes for the currency pair to pass the next round figure, say from 70 to 71.

Can you really trade commodities and currencies alike or for that matter, equities and currencies alike? Definitely not!
To know more, you can read Vijay's entire article here: Is Trading in Equities, Commodities, and Currencies the Same?
Moving on to the news from the economy. In the Union Budget 2019, affordable housing got a further fillip with an increase in Income Tax deduction of Rs 1.5 lakh on home loans.
Finance Minister Nirmala Sitharaman said the interest paid on housing loans is currently allowed as a deduction to the extent of Rs 2 lakh under Section 24.
To provide further impetus to affordable housing, an additional deduction of Rs 1.5 lakh will be given on interest paid on loans borrowed up to 31 March 2020 for purchase of house up to Rs 45 lakh.
Therefore, a person purchasing an affordable house will now get an enhanced interest deduction up to Rs 3.5 lakh. This will translate into a benefit of around Rs 7 lakh to the middle-class home-buyers over their loan period of 15 years, Sitharaman had said.
The government has proposed to insert a new section 80EEA in the Act so as to provide a deduction Rs 1.50 lakh additional income tax deductions on loan taken for residential house/property up to Rs 45 lakh from any financial institution.
To align the definition of affordable housing under the Income Tax Act with GST Acts, Sitharaman had proposed to increase the limit of carpet area from 30 square metre to 60 square metre in metropolitan regions and from 60 square metre to 90 square metre in non-metropolitan areas.
The cost of the affordable house has been fixed at Rs 45 lakh and below.
Note that, the real estate sector in India has been facing a lot of obstacles lately.
Due to all the headwinds, the number of developers has reduced, and this has created consolidation in the market.
The chart below shows a sharp decline in the number of developers in major Indian cities.
Supply-Side Consolidation in the Real Estate Industry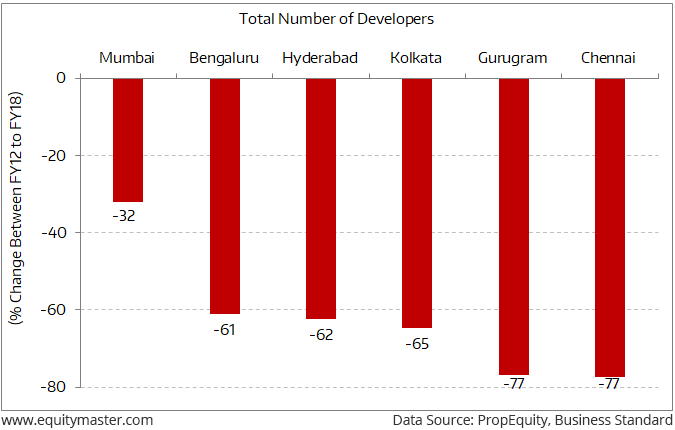 Typically, such a reduction in investment in an industry, i.e. contraction of supply, paves the way for a recovery of profits.
From a supply perspective, the competitive intensity has reduced due to leveraged balance sheets of many developers.
This, in turn, has resulted in subdued launches and stalling of existing projects, thus overall reducing inventory and consolidation in the sector.
With this, the share of organised market players is expected to go up in the medium to long term.
This is a huge opportunity for long term serious players in the sector.
Research analyst, Sarvajeet Bodas talks about how Modi's push towards affordable housing can revive the real estate sector and accelerate the economic activity in the video below.
To know what's moving the Indian stock markets today, check out the most recent share market updates here.
For information on how to pick stocks that have the potential to deliver big returns,
Read the latest Market Commentary
Stock Market Updates
Jul 19, 2019 Closing
The BSE Sensex ended the day down by 560 points, while the NSE Nifty closed down by 177 points.
Jul 19, 2019 03:34 PM
TUBE INVESTMENTS OF INDIA LTD share price has plunged by 6% and its current market price is Rs 428. The BSE CAPITAL GOODS is down by 1.2%. The top gainers in the BSE CAPITAL GOODS Index are CG POWER & INDUSTRIAL (up 3.0%) and SUZLON ENERGY (up 2.3%). The top losers are TUBE INVESTMENTS OF INDIA LTD (down 5.7%) and HEG (down 9.4%).
Jul 19, 2019 03:34 PM
L&T FINANCE HOLDINGS share price has plunged by 6% and its current market price is Rs 118. The BSE 500 is down by 1.5%. The top gainers in the BSE 500 Index are KAVERI SEED (up 7.5%) and RELIANCE COMMUNICATIONS (up 4.7%). The top losers are L&T FINANCE HOLDINGS (down 5.5%) and HEG (down 9.4%).
Jul 19, 2019 03:34 PM
The BSE AUTO Index Down at 16,914 (down 3.1%). Among the top losers in the BSE AUTO Index today are EXIDE INDUSTRIES, MOTHERSON SUMI and M&M. Meanwhile, the BSE Sensex has plunged 1.3% to 39,059.
Jul 19, 2019 03:32 PM
The BSE BANKEX Index Down at 34,342 (down 2.0%). Among the top losers in the BSE BANKEX Index today are YES BANK, INDUSIND BANK and BANK OF BARODA. Meanwhile, the BSE Sensex has plunged 1.4% to 39,059.
Jul 19, 2019 03:32 PM
COFFEE DAY ENTER. share price has plunged by 5% and its current market price is Rs 215. The BSE 500 is down by 1.5%. The top gainers in the BSE 500 Index are KAVERI SEED (up 7.8%) and RELIANCE COMMUNICATIONS (up 4.7%). The top losers are COFFEE DAY ENTER. (down 5.4%) and HEG (down 9.4%).
View More Indian Share Market News
Most Popular
Jul 9, 2019
As the sense of normalcy returns to the markets, the rebound in the quality smallcaps could be huge.
Jul 12, 2019
Despite the current fear prevailing in the markets, both these stocks have the potential to deliver in 4-5 years.
Jul 8, 2019
A new 'definition' of the stock universe that triggered the smallcap sell-off is back with the latest list...
Jul 15, 2019
While big auto makers are finding the transition difficult and crying foul, this small cap company is already leading and benefitting from the electric vehicle disruption in the auto sector.
Jul 10, 2019
Affordable housing is one of the most straightforward growth stories in India. This will help the real estate sector to come out of the slump.
More