Indian Stock Market News July 9, 2020
SGX Nifty Up 36 Points, FPI Selling in July, HUL vs Emami Case, and Top Buzzing Stocks Today
Indian share markets witnessed selling pressure in the last hour of trading and ended their session on a negative note yesterday.
At the closing bell yesterday, the BSE Sensex snapped its 5-day winning streak and stood lower by 345 points (down 0.9%).
The NSE Nifty closed lower by 93 points (down 0.9%).
Both, the BSE Mid Cap index and the BSE Small Cap index ended down by 0.4%.
On the sectoral front, losses were largely seen in the realty sector, IT sector, and auto sector.
Metal stocks, on the other hand, witnessed buying interest.
At 8:00 am today, the SGX Nifty was trading up by 36 points, or 0.34% higher at 10,720 levels. Indian share markets are headed for a positive opening today following the positive trend on SGX Nifty.
--- Advertisement ---
Happy Independence Day (Gift Below)

Are you taking advantage of our Independence Day Sale?

Right now, we're offering our readers a chance to Claim 1 FREE YEAR of Hidden Treasure - our most trusted smallcap service.

This means you can Get Our Best Smallcap Picks - FREE for A Year!

Yes, this might be your best chance to Build Potentially LIFE-CHANGING WEALTH.

But the Offer Goes Away in Less Than 72 Hours.

See How to Claim Your FREE YEAR Right Now.
------------------------------
Top Stocks in Focus Today
Mphasis will be among the top buzzing stocks today after the company signed a multi-year deal with Royal Bank of Scotland (RBS).
Reportedly, Mphasis will work with RBS to deliver advanced transformation to testing services through its Testing Centre for Excellence (TCoE).
The collaboration will see Mphasis co-invest and co-create speed to market solutions.
Market participants will be tracking chemical stocks today.
Shares of companies in the chemicals, commodities and specialty chemicals space witnessed buying interest yesterday amid reports that the government is planning to offer tax incentives to promote 'Make in India' for the chemical sector.
Shares of Tamilnadu Petroproducts, IG Petrochemicals, Thirumalai Chemicals, Sudarshan Chemical Industries, Himadri Speciality Chemical, National Peroxide, GHCL and Nocil were trading up in the range of 5-15%.
IndusInd Bank share price will also be in focus today.
--- Advertisement ---
3 Tech Stocks to Boost Your Wealth

Technology. That's where the growth is.

That's why we believe, it's time to load up on 3 specific tech stocks.

We've spent years to vet these stocks.

And our research says... these 3 cutting edge tech stocks could potentially create a wave of Indian millionaires.

Click here for the full details...
------------------------------
The stock of the lender witnessed buying interest yesterday after media reports suggested that US-based hedge fund Route One Investment Company has initiated talks to increase its stake in the private lender.
Reports stated that Route One Investment Company had initiated talks to increase its stake in the Hinduja Group-backed lender, which is exploring multiple options to strengthen its Balance Sheet and raise capital. It also claimed that the Reserve Bank of India (RBI) has already approved Route One Investment plans.
The fund currently holds 5.41% in the company and plans to raise its stake to 9.9% via a preferential allotment of shares.
Promoters of the company had said last month that they would increase stake in the lender and subsequently bought shares from the open market. A back of envelope calculation shows that they grabbed over 19 lakh shares of the company in June.
FPIs Pull Out Rs 37.4 Billion in Three Trading Sessions in July
Foreign portfolio investors (FPIs) have pulled out Rs 37.4 billion from the Indian markets in just three trading sessions of July.
FPIs withdrew a net sum of Rs 39.6 billion from the equities but invested a net Rs 2.2 billion in debt segment between July 1-3.
This translated into a total net withdrawal of Rs 37.4 billion during the period under review.
The latest withdrawal has come after investment of Rs 240.5 billion by FPIs in domestic markets in June. FPIs turned net buyers after remaining net sellers for three consecutive months.
Market participants attributed this to profit booking and appreciation in the rupee over the last few weeks.
It will be interesting to see how this trend pans out in coming days. We will keep you updated on all the developments from this space. Stay tuned.
Speaking of the current stock market scenario, have a look at the chart below which shows how the BSE Sensex and the smallcap index have moved over the past one year: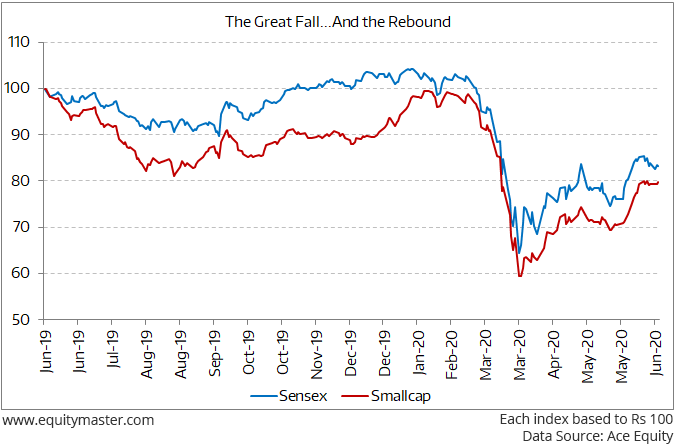 The markets are coming out of the deep fall. An important driver of this rally is the increasing inflow from foreign institutional investors now that the global economies have opened the liquidity tap.
In her latest video, Richa Agarwal, editor of our premium smallcap service Hidden Treasure, shares her thoughts on what this could mean for the rebound in smallcaps and how to make the most of it.
Tune in to find out more...
Meanwhile, here's an interesting market data reported by Economic Times recently.
Nearly,1.2 million new demat accounts were opened in the month of March and April during the lockdown.
Most people are drawn to trading because of the availability of free time during the lockdown. It doesn't take much of an effort to enter the markets. But it would take hell of an effort to survive and profit from the market.
If you are one of those new to trading, and if you want to learn more about using technical analysis and charts to improve your trading, then read this free article here: The Secret to Success in Intra-Day Trading.
Bombay HC Grants Interim Relief to HUL
FMCG major HUL has got a temporary relief from the Bombay High Court after Emami was told to give HUL seven days of advance notice before initiating legal proceedings on its trademark "Glow and Handsome".
HUL moved the court after Emami said it would take legal action against the company as it already owns "Emami Fair and Glow" brand.
HUL had recently dropped the word "fair" from its skin cream, replacing it with "Glow" Glow & Lovely for women and Glow & Handsome for men.
Justice BP Colabwalla, while hearing the HUL application filed under the Trade Marks Act, said that it appeared prima facie that HUL had applied for the trademark application in September 2018 and later on June 20 this year.
HUL in its application said the defendant should give it at least seven days prior written notice before initiating any legal proceedings in any court or claiming any interim relief against HUL as threatened in the statements made by Emami.
The court directed Emami to grant seven days to HUL before starting legal proceedings. The matter was further scheduled to July 27.
Earlier this month on July 2, Emami held a press conference accusing HUL for violating the trademark law. The company also said it would take legal action against HUL as it already owns "Emami Glow and Handsome" skincare brand.
Note that this isn't the first the time the two companies are at loggerheads over their men's personal care portfolio.
Last year, HUL filed a petition against Emami for disparaging its Fair & Lovely cream in a television commercial.
In a 2018 injunction order against HUL, Emami sought to restrain HUL from publishing a TVC for the Fair & Lovely Men's brand over claims that it intends to "demean, disparage or denigrate Emami's product, Fair and Handsome Fairness Cream for Men, thus, interfering into the direct goodwill and business loss for the company".
How this pans out remains to be seen. Meanwhile, we will keep you updated on the latest developments from this space.
To know what's moving the Indian stock markets today, check out the most recent share market updates here.
For information on how to pick stocks that have the potential to deliver big returns,
Read the latest Market Commentary
What else is happening in the markets today? Dig in...
Stock Market Updates
Aug 14, 2020 03:34 PM
VAIBHAV GLOBAL share price is trading down by 5% and its current market price is Rs 1,843. The BSE 500 is down by 1.0%. The top gainers in the BSE 500 Index are LUPIN (up 9.2%) and HEIDELBERG CEMENT (up 8.4%). The top losers are VAIBHAV GLOBAL (down 5.1%) and EICHER MOTOR (down 7.2%).
Aug 14, 2020 03:26 PM
TATA MOTORS share price is trading down by 5% and its current market price is Rs 133. The BSE AUTO is down by 2.5%. The top gainers in the BSE AUTO Index are CUMMINS INDIA (up 2.6%) and ASHOK LEYLAND (up 1.0%). The top losers are TATA MOTORS (down 5.2%) and EICHER MOTOR (down 7.2%).
Aug 14, 2020 03:26 PM
VARROC ENGINEERING share price is trading down by 5% and its current market price is Rs 231. The BSE CAPITAL GOODS is down by 0.5%. The top gainers in the BSE CAPITAL GOODS Index are NBCC (INDIA) LTD (up 3.1%) and SIEMENS (up 2.8%). The top losers is VARROC ENGINEERING (down 5.4%)..
Aug 14, 2020 03:18 PM
BOSCH share price is trading down by 5% and its current market price is Rs 14,400. The BSE 500 is down by 1.1%. The top gainers in the BSE 500 Index are ECLERX SERVICES (up 9.6%) and LUPIN (up 9.2%). The top losers are BOSCH (down 5.2%) and EICHER MOTOR (down 6.9%).
Aug 14, 2020 03:06 PM
BAJAJ ELECTRICALS share price has hit a 52-week high. It is presently trading at Rs 470. BSE 500 Index is down by 1.0% at 14,874. Within the BSE 500, BAJAJ ELECTRICALS (up 7.0%) and REDINGTON (up 15.4%) are among the top gainers, while top losers are EICHER MOTOR and DISH TV.
Aug 14, 2020 02:30 pm
Indian share markets slip into the red on signs of escalating US-China tensions.
View More Indian Share Market News
Most Popular
Aug 5, 2020
Kenneth Andrade tells us why stocks will bounce back strongly and what he's bullish on.
Aug 10, 2020
Gold and silver have delivered phenomenal returns this year. Is it time to take some money of the table?
Aug 6, 2020
Stocks from the essential small cap space are likely to be outperformers over the next 1 or 2 years.
Aug 11, 2020
The rebound ratio suggests that smallcaps are set for big gains but this time it will be limited to a few stocks. Make sure you choose wisely.
Aug 14, 2020
Ajit Dayal on the need of socially responsible governance.
More