Indian Stock Market News September 13, 2019
Sensex Opens Flat; Automobiles and Consumer Durables Stocks Gain
Asian share markets are higher today as Japanese and Hong Kong shares show gains. The Nikkei 225 is up 0.9% while the Hang Seng is up 0.2%. The Shanghai Composite is trading up by 0.8%. Wall Street advanced on Thursday, and the S&P 500 ended the session within striking distance of its all-time closing high, buoyed by positive developments on the US-China trade front and a promise of continued stimulus from the European Central Bank.
Back home, India share markets opened the day on a flat note. The BSE Sensex is trading down by 14 points while the NSE Nifty is trading up by 31 points. The BSE Mid Cap index and BSE Small Cap index opened up by 0.1% and 0.3% respectively.
Except bank stocks, healthcare and telecom stocks, all sectoral indices have opened the day on a positive note with automobiles stocks and consumer durables stocks witnessing maximum buying interest.
The rupee is currently trading at 70.89 against the US$.
--- Advertisement ---
To Readers Who Plan on Quitting Work Someday…

Please read this only if you want to quit your regular jobs someday…and be independent of your income.

If that's not you – please ignore the rest of this message.

Because we have a simple goal in mind…to guide readers towards using the Double Income strategy.

A strategy that, over time, has the potential to bring in as much, or even more than one's regular income, every month.

And if you're interested, Rahul Shah is hosting 4 video classes between 17th and 24th September – to teach his readers how to use this strategy.

Sign up here.

Oh, and one more thing – these classes are completely free for Equitymaster readers.

But we have limited seats available – if you're interested please sign up as soon as possible.

Once your seat is blocked – you won't run the risk of missing out, and you can decide whether to attend or not.

Click here to sign up – it is completely free, and there are no forms to fill up.
------------------------------
In the news from the economy. India's consumer Price Index-based retail inflation reached 3.21% in August, as opposed to 3.15% in the previous month.
This is the highest level recorded in the past ten months since October 2018. Retail inflation during August 2018 stood at 3.69%. During August, inflation in rural areas was at 2.18%, whereas it was 4.49% in the urban areas.
This is the thirteenth month that retail inflation has stayed under the target of 4% set by the Reserve Bank of India. The central bank factors in CPI-based retail inflation while planning its monetary policy.
Overall inflation in the food basket, measured on the basis of consumer food price index (CFPI), rose to 2.99% in August 2019, in comparison to 2.36% in July 2019.
Note that, India has been battling an economic slowdown, with most macroeconomic parameters showing signs of decline.
The GDP growth rate during the April-June quarter fell to a 6-year low of 5%. Over the past few weeks, the government has announced a host of measures to revive the Indian economy. Even RBI has handed over Rs 1.76 trillion from its reserves to help the government achieve its fiscal target.
The Double Income Project: Free Registration
With inflation in check, RBI could focus its monetary policy to rejuvenate the economy. The central bank has reduced the repo rate by 110 basis points over the last four bi-monthly monetary policy meets in a row. The reduction leads to cheaper EMIs on loans granted by banks.
Meanwhile, India's factory output growth, measured by the Index of Industrial Production, grew 4.3% in July 2019 as compared to the level in the month of July 2018. Factory output had grown 6.53% in the year-ago period.
The slowdown in industrial output was primarily due to slump in the manufacturing sector, which grew at 4.2% in July 2019 as compared to 7% a year ago.
Moving on to the news from the . As per an article in a leading financial daily, Biocon signed a license and supply agreement with a subsidiary of China Medical System Holdings (CMS) for three generic formulation products in Greater China.
Under the terms of the agreement, Biocon will be responsible for the development, manufacturing and supply of the products while CMS will be responsible for registration and commercialisation of the products in China.
The initial term of the agreement shall be for 10 years from the date of commercialisation, extendable by two years on a product basis by mutual consent.
This collaboration can be extended to a broader portfolio in future, the company stated.
The total addressable market size for these three products in Mainland China is about US$800 million, as per recent IQVIA data.
--- Advertisement ---
Rs 4 Trillion Opportunity?

In this One Stock Crorepati Video, Richa Agarwal, Research Analyst and Senior Editor, reveals details of a 'crorepati' stock.

In short, it's a little-known Indian company, which is now tapping into a Rs 4 trillion industry.

You see, right now, few people are aware of this 'crorepati' stock's involvement in a massive Rs 4 trillion industry.

But word will soon spread and it might not remain a secret for long…

After that, you may have to pay a much higher price for this very same stock.

That's why we urge you to watch this video right now where Richa Agarwal reveals the details of this stock.

This video could be pulled out anytime…So don't delay it for any reason and make sure you watch it right now.

Click here to know the details of the Crorepati stock…
------------------------------
This development is in line with Biocon's long term generic formulations strategy and expands our generic formulations business footprint to the Chinese pharmaceuticals market, which is the second largest pharmaceutical market in the world.
Note that, Indian companies are lining up partnerships with local Chinese firms to launch products in that market, as drug regulator there speeds up approvals, especially for drugs approved by USFDA.
Earlier, Sun Pharma entered into a similar deal with CMS to commercialise eight products in China.
Biocon share price opened up by 0.4%.
In another development, Dr. Reddy's Laboratories received establishment inspection report from the US health regulator for its Visakhapatnam facility in Andhra Pradesh.
Reportedly, the inspection of the two facilities were completed by the USFDA on June 21 this year.
The USFDA gives EIR on closure of inspection of an establishment that is the subject of an USFDA-contracted inspection.
Dr. Reddy's share price opened up by 0.5%.
Here's an interesting data on Dr. Reddy's Lab, investing just Rs 100,000 in Dr. Reddy's Labs in 1992, it would have given a whopping Rs 4.89 crores in 2014!
Profit Opportunities in the Rebirth of India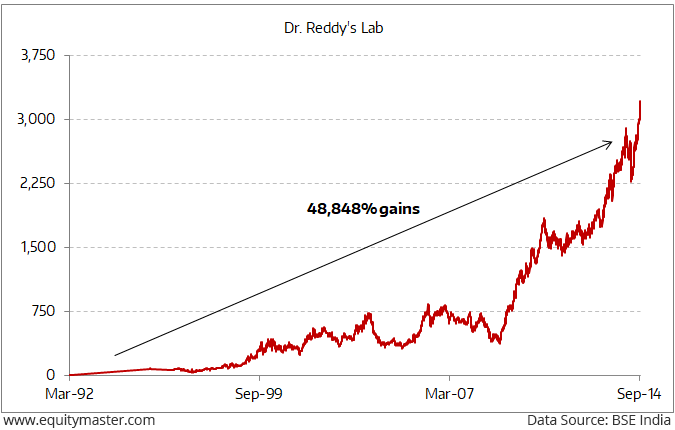 Co-head of Research, Tanushree Banerjee believes, the opportunities in the Rebirth of India are not only more profitable than the ones in 1991 but the gains could come faster too.
Tanushree has explained this historic opportunity in detail at the Rebirth of India summit.
To know what's moving the Indian stock markets today, check out the most recent share market updates here.
For information on how to pick stocks that have the potential to deliver big returns,
Read the latest Market Commentary
Stock Market Updates
Sep 18, 2019 12:13 PM
MMTC LTD share price has plunged by 5% and its current market price is Rs 21. The BSE 500 is up by 0.2%. The top gainers in the BSE 500 Index are PRESTIGE ESTATES (up 7.5%) and ITI LTD (up 5.2%). The top losers are MMTC LTD (down 5.3%) and INDIA TOURISM DEV. (down 6.7%).
Sep 18, 2019 11:15 AM
HEXAWARE TECHNOLOGIES share price has surged by 5% and its current market price is Rs 394. The BSE IT is up by 0.2%. The top gainers in the BSE IT Index is HEXAWARE TECHNOLOGIES (up 5.3%). The top losers are CYIENT (down 0.1%) and WIPRO (down 0.1%).
Sep 18, 2019 10:05 AM
HEG share price has plunged by 5% and its current market price is Rs 1,295. The BSE CAPITAL GOODS is up by 0.2%. The top gainers in the BSE CAPITAL GOODS Index are AIA ENGINEERING (up 1.1%) and ELGI EQUIPMENTS (up 1.0%). The top losers is HEG (down 5.3%)..
Sep 18, 2019 10:03 AM
PRESTIGE ESTATES share price has surged by 5% and its current market price is Rs 290. The BSE REALTY is up by 0.3%. The top gainers in the BSE REALTY Index is PRESTIGE ESTATES (up 5.1%). The top losers are OMAXE LTD (down 0.1%) and INDIABULLS REAL EST (down 0.4%).
Sep 18, 2019 09:55 AM
JAMNA AUTO share price has plunged by 6% and its current market price is Rs 38. The BSE 500 is up by 0.1%. The top gainers in the BSE 500 Index are ITI LTD (up 5.3%) and JINDAL SAW LTD (up 5.1%). The top losers are JAMNA AUTO (down 5.9%) and V-MART RETAIL (down 5.3%).
View More Indian Share Market News
Most Popular
Sep 12, 2019
News headlines predict gloom and doom for India these days. You should ignore them.
Sep 10, 2019
Usually, the typical horizon period for my smallcap recommendations is 3 to 5 years. But if you ask me, this could be one business that you could own and pass on to future generations.
Sep 11, 2019
How financial inclusion provides a big runway for this stock recommendation.
Sep 16, 2019
The stock market today is throwing up a great opportunity to pile on quality stocks.
Sep 13, 2019
These 10 auto stocks should be in your watchlist for the next 32 months. Paste them on your workstation NOW.
More