Indian Stock Market News March 14, 2019
Indian Indices End on a Flat Note; Realty Stocks Witness Buying
Closing
Indian share markets traded range-bound throughout the day and ended their session on a flat note. Sectoral indices ended on a mixed note with stocks in the healthcare sector, realty sector and metal sector witnessing buying interest while IT stocks and automobile stocks witnessed selling pressure.
At the closing bell, the BSE Sensex stood higher by 3 points and the NSE Nifty closed up by 2 points. The BSE Mid Cap index ended the day down by 0.3% and the BSE Small Cap index ended up by 0.1%.
Asian stock markets finished on a mixed note. As of the most recent closing prices, the Hang Seng was up by 0.2% and the Shanghai Composite was down by 1.2%. The Nikkei 225 was down 0.1%.
The rupee is trading at 69.55 against the US$.
Blue Star share price was in focus today after it was reported that the company has launched 75 new air conditioner models to celebrate its 75th Anniversary.
The range includes inverter ACs with 30% extra cooling and significant power savings.
HCL Technologies share price was also in focus today after the company announced the acquisition of Strong-Bridge Envision (SBE), a digital transformation consulting firm with offices in Seattle, Denver, Atlanta, and New York City.
With the above acquisition, SBE will become part of HCL's global Digital and Analytics business.
Strong-Bridge Envision is a digital consulting firm specializing in customer experience strategy, business transformation, and change management. Serving Fortune 1000 clients since its founding, Strong-Bridge Consulting merged with Envision in 2017 to extend its consultancy and digital transformation capabilities and further establish its footprint across North America, transforming itself into a market leading digital transformation consultancy.
As per the company, the above collaboration will bring SBE's customer experience legacy and 200 experienced SBE employees from across various industries and top-tier consulting firms to the HCL family.
In the news from mutual funds space, as per a leading financial daily, the Essel Group has put its mutual fund business on the block in order to monetize the company's non-media business.
As per the news, Srei Mutual Fund Asset Management, Avendus Capital and Lodha Ventures Holdings are currently in the race to acquire Essel Mutual Fund, which has Assets Under Management (AUM) worth about Rs 14.2 billion. The deal is estimated to be valued at around Rs 1 billion.
The decision to sell the stake comes as the Essel Group is figuring ways to repay its debt.
At the group level, Essel has total debt of Rs 171.7 billion and out of this, Rs 114.6 billion is the infra-related debt. This infra-related debt covers three major verticals which are power transmission, solar and roads (toll and annuity).
As per the news, promoters of Essel Group are already in talks with multiple companies, including Sony Pictures and Comcast, to sell up to 50% of their holding in Zee Entertainment Enterprises. The Subhash Chandra-promoted group has also started working on a plan to monetise its non-media businesses in order to pare debt.
Apart from repaying its infrastructure-related debt, the company is also planning to use the funds raised through asset monetisation to reduce the pledged portion of the promoter shares in Zee Entertainment Enterprises.
Note that promoters had pledged their 59% stake in Zee Entertainment to raise money that served as equity funding for the group's infrastructure related businesses.
How this all pans out remains to be seen. Meanwhile, we will keep you updated on all the developments from this space.
Also, speaking of mutual funds, it is worth noting that inflows into equity mutual funds stand at 25-month low.
Inflows into Equity Mutual Funds at 25-Month Low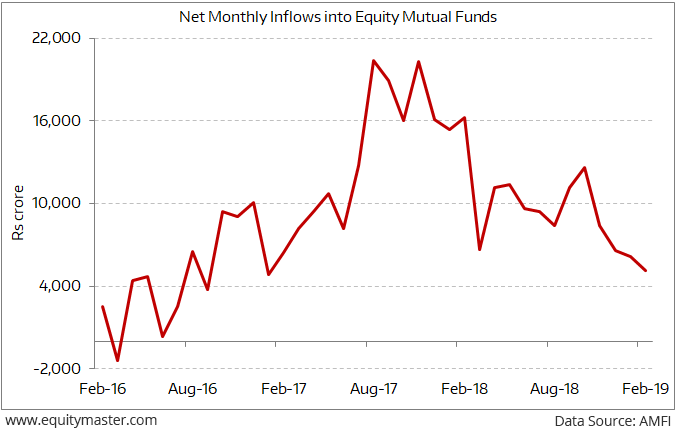 Here's what Ankit Shah wrote about this in a recent edition of The 5 Minute WrapUp...
You can see the net monthly inflows rising through 2016 and surging to unprecedented highs in 2017. But the inflows slowed in 2018. After October 2018, the inflows into equity mutual funds have been dropping every consecutive month. In fact, in February 2019, the net inflows into equities, including those linked to savings scheme funds, declined to Rs 5,122 crore. That's a 17% drop from January 2019, and a steep 69% plunge from a year ago.
To know what's moving the Indian stock markets today, check out the most recent share market updates here
---
Sensex Trades Flat; FMCG & Power Stocks Drag
12:30 pm
Share markets in India are presently trading on a flat note. Sectoral indices are trading mixed with stocks in the power sector and FMCG sector witnessing selling pressure while telecom stocks, healthcare stocks and finance stocks are witnessing buying interest.
The BSE Sensex is trading down by 7 points, while the NSE Nifty is trading down by 10 points. The BSE Mid Cap index is trading down by 0.3% and the BSE Small Cap index is trading down by 0.1%.
The rupee is trading at Rs 69.64 against the US$.
The domestic currency fell by 24 paise to 69.78 against the US dollar in opening trade today on increased demand for the greenback from importers and bank. A continuous rise in global crude oil prices also kept rupee under some pressure, restricting its gains.
The rise in oil prices has been supported by planned cuts to Saudi exports and a reduced forecast for US crude output.
On Wednesday, the Indian rupee registered its third straight session gains, to close at a fresh two-month high of 69.54 on sustained foreign fund flows.
In the latest developments from the IPO space, the initial public offering (IPO) of government-owned MSTC was subscribed 5% on the first day. As per an article in a leading financial daily, the issue received bids for 8,10,180 shares against 17 million shares on offer.
The government has proposed to offload 25%, of total paid-up equity in the largest B2B e-commerce company in India. The issue by the Kolkata-headquartered firm will be closed on March 15.
The company's three main business verticals are e-commerce, trading, and recycling.
With over 1,90,000 auctions serving over 1,10,000 users as of 31 December 2018, the company is the preferred service provider for various governments and government-controlled entities. The trading firm has conducted 28,600 auctions/events during 2017-18 and 30,500 auctions/event for nine months ended 31 December 2018.
To know more about the company, you can read our IPO analysis of MSTC (requires subscription).
Speaking of PSU companies, it's election time and PSU stocks are back in vogue.
The last election saw a short-term outperformance of the PSU Index compared to the Sensex.
Will history repeat itself? Have a look at the chart below to see how PSUs have performed the overall markets in the long run:
PSU Stocks - Perpetual Value Traps?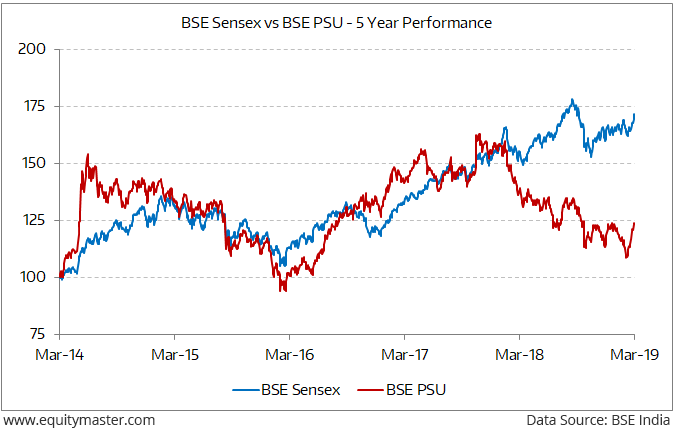 Here's what Tanushree Banerjee, Co-head of research at Equitymaster, wrote about it in today's edition of The 5 Minute WrapUp...
What we have seen from history, is that PSUs have underperformed the overall markets in the long run.

Non-performing assets (NPA) in the banking space and rising crude oil prices impacting oil marketing companies have all taken a toll in recent years.

On top of that, when the government is in desperate need of money, they turn to PSUs. This usually leaves minority shareholders shortchanged.

Not all companies in the sector can be ignored. But most of them turn out to be value traps.
She believes, a better alternative is to look at quality companies which are not restricted by regulatory hurdles.
Moving on to the news from the finance sector, DHFL share price is witnessing buying interest today on reports that National Housing Bank (NHB) has concluded its inspection of books for DHFL's alleged misappropriation of loans.
As per an article in The Economic Times, the four-member committee of the housing regulator checked the company's books of accounts in offices in New Delhi, Nagpur and Mumbai and is expected to submit its report in the next few weeks.
Here's an excerpt from the article:
A consortium of 33 lenders, led by Union Bank of India, is said to have given clean chit to DHFL after they heard TP Ostwal & Associates, the auditor, which cleared the company of allegations of wrongdoing.

Although the inspection is more of a routine job by NHB, this assumed significance as the housing regulator wanted to investigate the allegations levelled against the company.

NHB is said not to have identified any major deviation, but the final report is likely to be submitted soon.
In January, investigative portal Cobrapost accused DHFL's promoters of drawing off Rs 310 billion through shell companies, raising concerns among lenders and shareholders.
TP Ostwal examined the allegations and submitted its report, clearing the company of all such allegations. However, it spotted certain lapses and departures from standard operating procedures and policies laid down by the company.
Note that DHFL is also facing questions about its financial health after the IL&FS default pushed up the cost of funds for the mortgage lender and made borrowing difficult.
DHFL share price is presently trading up by 2.7%.
Speaking of non-banking financial companies (NBFCs), it is interesting to note that their credit growth has seen robust growth in recent years.
From 2013-2017, NBFCs grew by 13% as compared to 5.4% for banks. A major reason for this is the gain in market share from public sector banks (PSBs). The recent NPA woes of the PSBs has seen them tighten up their credit lines.
The NBFCs have stepped in, along with private sector banks, to fill this gap. But the recent liquidity crisis at IL&FS has raised concerns over how long this growth will continue.
It would be interesting to see how this all pans out. Meanwhile, we will keep you updated on the latest developments from this space.
---
Sensex Opens Higher; IT and Metal Stocks Lead
09:30 am
Asian stock markets are higher today as Chinese and Hong Kong shares show gains. The Shanghai Composite is up 0.7% while the Hang Seng is up 0.2%. The Nikkei 225 is trading up by 0.7%. The US stocks rose on Wednesday, led by gains in healthcare shares, and Boeing edged upward even as the United States joined other nations in grounding the company's 737 MAX jets.
Back home, India share markets opened on a positive note. The BSE Sensex is trading up by 132 points while the NSE Nifty is trading up by 33 points. Both, the BSE Mid Cap index and BSE Small Cap index opened up by 0.1%.
Except FMCG stocks and power stocks, all sectoral indices have opened in green with IT stocks and metal stocks witnessing maximum buying interest.
The rupee is currently trading at Rs 69.54 against the US$.
Speaking of Indian share markets in general, how do things look on the valuations front?
The Sensex price to earnings ratio has moved over the last five years. It has mostly been in a rising trend, except some intermittent declines.
But the Sensex tells a very a selective, skewed story of just the 30 largest companies.
So, it would be worth seeing the valuation trend of a much broader index.
Ankit Shah just did that and picked the NSE 500 for his latest study.
What he found was the NSE 500 index was trading cheap before the BJP came to power at the Centre in 2014. Since then, the price to earnings ratio of the index has been trending higher, like the Sensex.
It is interesting to note that the NSE 500 index has almost doubled between February 2014 and now. The price to earnings multiple of the index has gone up almost 70% during the same period, as can be seen from the chart below.
Market Valuations - 2014 to 2019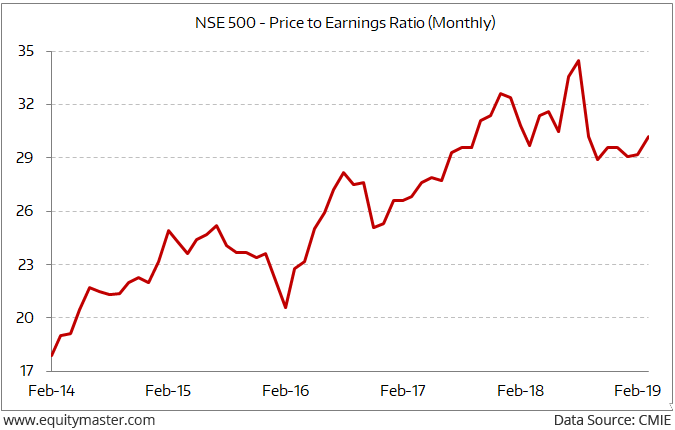 What does all of this mean?
Here's what Ankit wrote about it in one of the edition of The 5 Minute WrapUp...
What this means is that the gains have mostly come from valuation multiple expansion and only about 30% from earnings growth.

While the NSE 500 P/E ratio is down 12% from its August 2018 high of 34.5, it's still quite on the higher side.

As such, I believe the key to the next bull run would be a good growth in earnings of listed Indian companies.
Whether this growth comes in, and how, remains to be seen. We will keep you updated on developments from this space.
In the news from the economy. The Reserve Bank of India (RBI) has decided to inject rupee liquidity into the system through long-term foreign exchange buy/sell swap, which is a first-of-its-kind instrument used for liquidity management.
The RBI would conduct dollar-rupee buy/sell swap auction of US$5 billion for a three-year tenor on March 26.
The swap will be in the nature of a simple buy/sell foreign exchange swap from the Reserve Bank side.
Under the swap, a bank would sell US dollars to the RBI and simultaneously agree to buy the same amount of US dollars at the end of the swap period.
Reportedly, the US dollar amount mobilised through this auction would also reflect in RBI's foreign exchange reserves for the tenor of the swap while also reflecting in RBI's forward liabilities.
The market participants, it said, would be required to place their bids in terms of the premium that they are willing to pay to the RBI for the tenor of the swap, expressed in paisa terms up to two decimal places.
Under the swap auction, minimum bid size would be US$25 million and in multiples of US$1 million thereafter.
Moving on to the news from pharma sector. As per an article in a leading financial daily, the US regulator barred Lupin's Mandideep, Madhya Pradesh facility from getting new approvals for exporting to the US its largest market, on the back of manufacturing practices concerns.
The company has received a letter from the US Food and Drug Administration (USFDA) classifying the inspection conducted at its Mandideep (Unit 1) facility in December 2018 as Official Action Indicated (OAI).
Lupin said there are no new drug master file and abbreviated new drug applications pending review or approval from the Mandideep (unit-1) facility. The company also doesn't expect this classification to disrupt supplies or existing revenue from operations of this facility.
In December last year, the USFDA had issued a total of 22 observations after inspecting the Mandideep facility.
This is Lupin's third plant that faced adverse USFDA actions. It's still in the process of resolving warning letters on Goa and Indore plants, received in November 2017.
To know more about the company, you can access to Lupin's Q3FY19 result analysis and Lupin's 2017-18 Annual Report Analysis on our website.
Lupin share price opened the day up by 0.4%.
And to know what's moving the Indian stock markets today, check out the most recent share market updates here.
---
Indian Indices End Higher, CPI Inflation Rises in February, and Top Cues in Focus Today
Pre-Open
Indian share markets continued their momentum during closing hours yesterday and ended on a positive note. Gains were largely seen in the telecom sector and realty sector.
At the closing bell yesterday, the BSE Sensex stood higher by 216 points (up 0.6%) and the NSE Nifty closed higher by 40 points (up 0.4%). The BSE Mid Cap index closed down by 0.4%, while the BSE Small Cap index ended the day down by 0.3%.
Top Stocks in Focus Today
From the aviation space, SpiceJet share price will be in focus today. The stock of the company witnessed selling pressure yesterday on fears that grounding of Boeing 737 MAX aircraft will hurt the airline's revenue and profitability.
As per an article in The Economic Times, India has grounded Boeing 737 MAX being operated by airlines in the country after about 15 countries banned the aircraft following two deadly accidents within a span of five months.
Shares of the company fell around 8% in early trade today after the Directorate General of Civil Aviation (DGCA), India's aviation regulator, grounded Boeing 737 MAX planes following the fatal crash of a plane of the same model in Ethiopia.
Jet Airways share price will also be in focus as it was reported that the airline has grounded another four of its aircraft due to non-payment of lease rentals.
In the news from the pharma space, Cadila Healthcare share price will be in focus today as Zydus Cadila said it has received final approval from the US health regulator to market Potassium Chloride extended-release capsules, used to treat or prevent low amounts of potassium in the blood.
CPI Inflation Rises to 2.57% in February
In the news from the macroeconomic space, food prices registered their fifth successive monthly decline in February.
This comes as annual growth in India's benchmark inflation measure Consumer Price Index (CPI) was reported to be 2.57% for February 2019 against 1.97% in January.
However, food and beverage prices, which have a 46% weight in the total CPI basket, registered a fall.
This is the longest spell of a fall in food prices for the period covered by the new CPI series.
Reportedly, the fall is bound to put pressure on farm incomes, heightening the agrarian crisis that could play an important role in the upcoming Lok Sabha elections.
To be sure, the pace of fall in food prices has reduced in the past couple of months.
The growth in food and beverages component of CPI has increased by 122 basis points between January 2019 and February 2019.
There is also a rural-urban divide in the behaviour of food prices. While urban food inflation has been in positive territory for both January and February 2019, rural food inflation continues to be negative.
The recovery in urban food prices was also reflected in the Wholesale Price Index (WPI) for primary food articles, a useful proxy for farm-gate prices, which registered positive growth in January 2019. It had been falling continuously between August 2018 and December 2018.
WPI data for February is yet to be released.
A detailed breakup of CPI food basket also shows that the price crash in the headline food inflation number is because of fall in prices of fruits and vegetables, pulses and sugar.
In fact, inflation for vegetables, pulses and sugar has been in negative territory for the entire period between April 2018 and February 2019. Cereals, which are procured by the government at Minimum Support Prices (MSPs) have not faced a disinflation throughout this period.
The food inflation trends might have mixed political implications.
How this pans out remains to be seen. Meanwhile, we will keep you updated on all the developments from this space.
DLF Planning to Raise Around Rs 30 Billion
Moving on to the news from the realty sector, DLF share price will be in focus today as the company plans to raise an estimated Rs 30 billion by June through the sale of equity shares to qualified institutional investors.
Aiming to become a debt-free company, DLF had last year announced plans to issue up to 173 million shares through qualified institutional placement (QIP) to raise funds pre-pay loans.
Speaking of realty sector, note that The BSE Realty index has been volatile in the last five years.
Here's what Sarvajeet Bodas wrote about it in one of the recent editions of The 5 Minute WrapUp...
In 2017, the BSE Realty index was the best performer with a massive gain of 98%. In the next year, the index was the worst performer with a decline of 31%.

In 2018, the realty sector took a beating on the back of concerns of higher interest rates and accounting changes (from percentage of completion method to completion method). The NBFC crisis added to the woes.

Interestingly, 2018 also witnessed some improvement in real estate sales.

2019 hasn't been good so far with the index down about 3%.

However, the recent budgetary support and interest rate reduction by the RBI could help to revive demand.

Buying the right real estate stock today is the way to go.
He believes, this could be the turning point for the real estate sector.