Indian Stock Market News April 10, 2019
Indian Indices Fall Amid Weak Global Cues; Sensex Ends Over 350 Points Lower
Closing
Indian share markets traded on a negative note throughout the day and witnessed maximum selling pressure during closing hours to end the day deep in red.
Sectoral indices ended on a mixed note with telecom stocks, finance stocks, and metal stocks losing the most while realty stocks and healthcare stocks witnessed buying interest.
At the closing bell, the BSE Sensex stood lower by 354 points (down 0.9%) and the NSE Nifty closed down by 88 points (down 0.8%). The BSE Mid Cap index closed lower by 0.3% and the BSE Small Cap index ended the day down by 0.1%.
Asian stock markets finished on a mixed note as of the most recent closing prices. The Hang Seng was up 0.1% and the Nikkei was trading down by 0.5%. The Shanghai Composite stood higher by 0.1%.
Speaking of the general mood surrounding stock markets, note that since March 2019, the Indian markets have rallied sharply.
This is seen as a welcome breather after the correction seen in 2018.
Small and mid-cap stocks were the first ones in the line of fire, and also the worst hit in 2018.
The benchmark indices, however, managed to hold on longer. The Sensex even went on to hit an all-time high around the end of August. But the Indian markets fell sharply during September, triggered by the unfolding of the IL&FS crisis. The market correction got worse in October as the US-China trade-war tensions and liquidity tightness in the domestic NBFC sector severely dented market sentiment.
In November 2018, the markets attempted a short-lived turnaround, but it wasn't enough to bring back the bulls.
Subsequently, the markets treaded in an indecisive zone.
But there's a pick-up in market sentiments now.
The BSE Sensex is back to making new highs every day. It is just a few points away from the 40,000-mark.
Mid and small cap indices have also started rallying and are up quite a bit from their recent lows.
As a result, India managed to outperform most of the other major economies during the second half of the financial year 2018-19 (H2: 2018-19).
In a recent edition of The 5 Minute WrapUp, Ankit Shah presented a chart showing the performance of the some of the major world economies during H2: 2018-19 in dollar terms. Here it is:
Indian Stock Markets Outperform Most Peers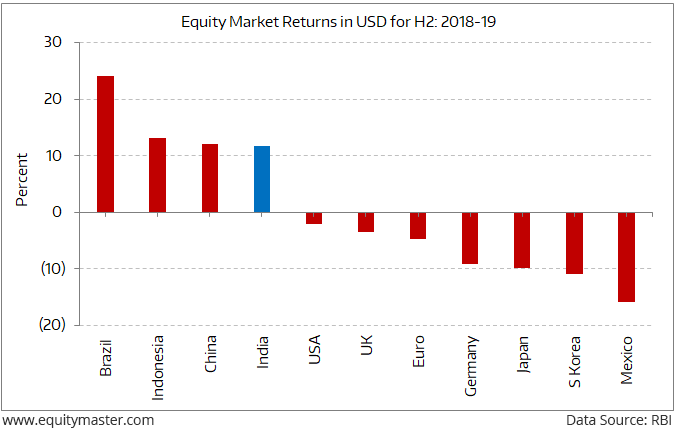 As we can see, from October 2018 to March 2019, the BSE Sensex increased by 6.8% in rupee terms and 11.7% in dollar terms.
Brazil, Indonesia and China are the only other major economies that did better than India during this period.
Will the trend continue going forward?
Let's wait and watch...
In the news from the currency space, the rupee has erased early gains and is currently trading at Rs 69.30 against the US$.
On Tuesday, the domestic currency ended 37 paise higher to close at 69.30 against the US dollar on sustained foreign fund inflows.
Rupee rose against the US dollar and snapped its four-day losing streak following suspected fund inflows in the debt segment.
Market participants were cautious today ahead of the important global events lined up ahead. Inflation and industrial production numbers will be released later this week.
Yesterday, International Monetary Fund (IMF) released its growth forecast report wherein it has trimmed growth figures for India as well as for other major nations.
In the news from the engineering sector, Praj Industries share price witnessed buying interest today after the company announced it has signed a Construction License Agreement (CLA) with US - based Gevo Inc.
Reportedly, this agreement will commercialise the technology to produce Isobutanol using sugar-based feedstocks, such as juice, syrup, and molasses.
As per a leading financial daily, the company also signed a Memorandum of Understanding (MoU) with Gevo to commercialise the latter's renewable hydrocarbon products.
Here's an excerpt from the article:
Pursuant to the CLA, Praj will provide Engineering Procurement and Construction (EPC) services to 3rd parties using a process design package developed by Praj.

This package uses Gevo's proprietary Isobutanol biocatalyst on sugary-based feedstock. Isobutanol derived from said proprietary process is high energy renewable intermediate product that finds application in aviation and racing cars.
As on December 31, 2018, the company had consolidated order backlog of Rs 9.9 billion, which comprised 76% from domestic orders and 24% international orders.
Praj Industries share price ended the day up by 6.4%.
Moving on, market participants were tracking Lupin share price. The company said it has launched generic antidepressant Fluoxetine tablets in the American market.
The company has launched its Fluoxetine tablets USP in the strength of 60mg after receiving an approval from the United States Food and Drug Administration (USFDA).
The product is the generic version of Alvogen Group Holdings 3 LLC's Fluoxetine tablets in the same strength. Fluoxetine tablets 60mg had annual sales of around US$ 41 million in the US.
The tablets are indicated for treatment of major depressive disorder, obsessive compulsive disorder, bulimia nervosa and panic disorder with or without agoraphobia.
Lupin share price ended the day down by 0.6%.
---
Sensex Trades 100 Points Lower; Tata Motors Hits 6-Month High
12:30 pm
Share markets in India are presently trading on a negative note. Sectoral indices are trading mixed with stocks in the finance sector and consumer durable sector witnessing selling pressure while realty stocks and healthcare stocks are witnessing buying interest.
The BSE Sensex is trading down by 94 points (down 0.2%), while the NSE Nifty is trading down by 19 points (down 0.2%). The BSE Mid Cap index is trading up by 0.1%, while the BSE Small Cap index is trading up by 0.4%.
The rupee is currently trading at Rs 69.18 against the US$.
With the elections fast approaching, what can market participants look forward to now?
Note that stock markets have remained volatile in the pre-election period.
It has certainly turned out that way again.
Good Times Ahead for Indian Stock Markets?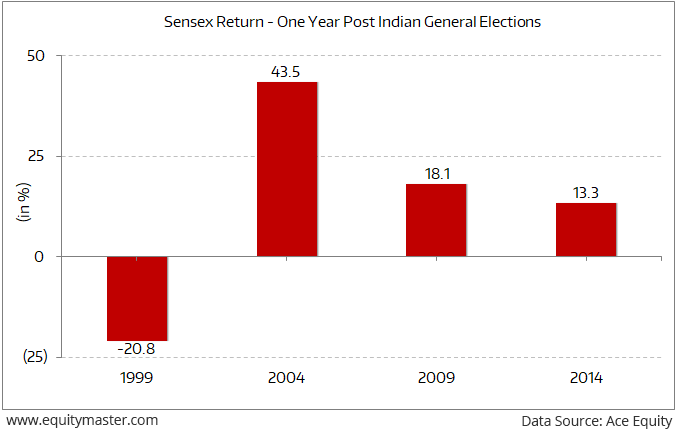 It started with the long-term capital gains tax.
Then corporate governance issues at various companies followed.
Then we had the IL&FS impact.
All this has ensured a rough ride for Indian investors.
History of the past few elections paints a rosy picture.
Despite governments changing hands in 2004 and 2014, the Sensex gave returns of 44% and 13% in a year respectively.
Even in 2009, when the same government retained power, Sensex was up by 18% in a year.
So, do you think there are good times ahead for Indian stock markets? We will keep you updated on the developments.
Meanwhile, look out for the stocks that will rise fast when the tide of the market turns up.
In the news from the IT sector, Tata Consultancy Services (TCS) is in advanced talks to settle discrimination suits filed by some former employees in the US.
As per a leading financial daily, lawyers representing TCS, as well as those filing the suit, have made a joint filing with the US District Court, Northern District of California, stating that they are in talks for a settlement.
Reportedly, this could resolve three pending cases and settle a slew of other charges made against the company.
TCS share price is presently trading down by 1.5%.
In other news, Wipro is set to announce its largest share buyback ever. The company has received approval from the markets regulator to buy back shares worth US$ 1.7 billion.
This would be Wipro's third buyback. The company had bought back Rs 25 billion worth of shares in 2016 and Rs 110 billion worth in December 2017.
As per an article in The Economic Times, the shares are expected to be bought back at Rs 320 apiece. Here's an excerpt from the article:
There was lack of clarity on whether a buyback could be launched while a scheme of amalgamation was pending before the National Company Law Tribunal (NCLT). The latter is looking at Wipro's proposal to merge four subsidiaries - Wipro Technologies Austria, Wipro Information Technology Austria, New Logic Technologies SARL and Appirio India Cloud Solutions - with itself.

Wipro argued that there could be delay in the NCLT process because of a backlog of cases. The company said its shareholders expect a buyback because it is an integral part of its approach to returning surplus cash to them and they would have planned their investments accordingly.
Wipro share price is presently trading up by 2.7%.
Moving on to the news from the automobiles sector, Tata Motors share price is witnessing buying interest today on expectations of margin expansion due to an improvement in Jaguar Land Rover (JLR) businesses.
Shares of the company are trading at their highest level since October 2018. In the past three weeks, shares of the company have rallied 25%.
Last month, the company's wholly owned subsidiary JLR said it expects improved financial results for the quarter ended March 2019 (Q4FY19). JLR is also planning to launch its electrified products in India.
In line with Jaguar Land Rover's global commitment to introduce electrified options on its entire product portfolio by 2020, Jaguar Land Rover India proposes to offer multiple products, ranging from Hybrid vehicles to Battery Electric Vehicles (BEV) over the next few years, starting from 2019.
Reports state that towards the end of 2019, Jaguar Land Rover will introduce its first Hybrid Vehicles from Land Rover. In second half of 2020, Jaguar Land Rover India plans to launch its first Battery Electric Vehicle, the Jaguar I-PACE.
Last week, Tata Motors reported 1% decline in total sales at 68,709 units in March as compared to 69,409 units in the same month last year.
The company's passenger vehicle sales in the domestic market declined by 12% to 17,810 units last month, compared with 20,266 units in March 2018.
For FY19, Tata Motors reported sales of 6,78,486 units, a growth of 16% over 5,86,507 units in FY18.
Speaking of automobiles sector, one thing we must keep in mind is that not all auto companies will make money over time. And also, you shouldn't stay away from auto stocks altogether.
Even Tanushree Banerjee, Co-head of research at Equitymaster believes that there are businesses in this sector that you cannot ignore. She is particularly talking about the blue-chip auto stocks.
Here's Tanushree:
One out of every three household in India is a buyer of their products. They own some of the cult brands in Indian automobile space. They have formidable R&D teams. They have been through several economic cycles over decades. Few have even visited near-bankruptcy in the past and come out successful.

Yet, some of the biggest passenger car, commercial vehicle, and two-wheeler companies in India have seen a huge dent in valuations in recent times.

This could be the opportunity long term investors were waiting for.
---
Sensex Opens Marginally Lower; TCS and Hero MotoCorp Top Losers
09:30 am
Asian share markets slipped today as the International Monetary Fund (IMF) lowered its global growth outlook and as tensions over tariffs between the United States and Europe escalated. The Nikkei 225 is down 0.6% while the Hang Seng is down 0.4%. The Shanghai Composite is trading down by 0.3%.
Back home, India share markets have opened the day on a negative note. The BSE Sensex is trading down by 49 points while the NSE Nifty is trading down by 6 points. The BSE Mid Cap index and BSE Small Cap index both opened the day on a positive note.
Sectoral indices have opened the day on a mixed note with realty stocks and energy stocks witnessing maximum buying interest. While, IT stocks have opened the day in red.
The rupee is trading at Rs 69.16 against the US$.
The domestic currency opened flat at 69.28 against the previous close of 69.29.
On Tuesday, the rupee ended 37 paise higher to close at 69.30 against the US dollar on sustained foreign fund inflows. Snapping its four-day losing streak, the rupee rose following suspected fund inflows in the debt segment.
In the news from the banking sector, HDFC bank share price is in focus today as media reports suggest there could be a block deal worth Rs 25 billion in the stock.
Reports state that an undisclosed entity is likely to sell 11 million shares of the bank through a block deal.
The deal will reportedly be done in the price range of Rs 2,219-2,287 per share. This represents to a 3% discount to the closing price of the bank's share on April 9, at the lower end of the price range.
HDFC Bank share price has opened the day down by 0.8%.
Moving on to the news from the aviation space, Jet Airways' founder Naresh Goyal told lenders seeking to rescue the carrier that he will pledge the rest of his shares to them on condition they release the promised interim loan funding of Rs 15 billion without delay. Goyal owns 51% in the airline but has pledged 31.2% with lenders.
As per an article in The Economic Times, the pledging of Goyal's remaining shares is critical to the plan by the banks to sell a controlling stake in the airline to a new investor.
Here's an excerpt from the article:
Interim funds are equally critical for Jet, which has grounded most of its planes, defaulted on vendor payments and delayed salaries. The Jet management has estimated it won't survive beyond this month without an urgent release of the promised loans.

Goyal sought interim funds via a signed letter on the advice of the airline's chief financial officer Amit Agarwal. Additionally, he met the airline's lenders along with two Jet directors Ashok Chawla and Nasim Zaidi, former aviation secretary and ex-director general of civil aviation (DGCA), respectively.
Meanwhile, Etihad Airways which is Jet's second largest shareholder, is planning a board meeting to discuss the revival plan proposed by the lenders led by State Bank of India (SBI).
Reportedly, Etihad has stuck to the demand that it should be exempted from the takeover norm that requires investors to make an open offer for a further 20% stake if they exceed a 25% threshold.
Jet's lenders have been holding talks with Etihad and reached out to private equity investor TPG and government-backed National Investment and Infrastructure Fund (NIIF).
The debt laden airline's CEO told employees that the airline is working to secure interim funding to get more planes flying.
A lawyer representing the airline's pilots wrote to the CEO, saying they would be forced to "resort to all constitutional and legal methods" if the outstanding salaries weren't cleared by April 14 and future salaries by the 1st of each month.
Jet Airways share price has opened the day down by 1.5%.
Speaking of airlines, while looking at the current demand-supply scenario in the aviation industry, it is important to look at how air passenger traffic is growing.
Have a look at the chart below that shows the air passenger growth for the past six months:
Air Passenger Growth is Tapering off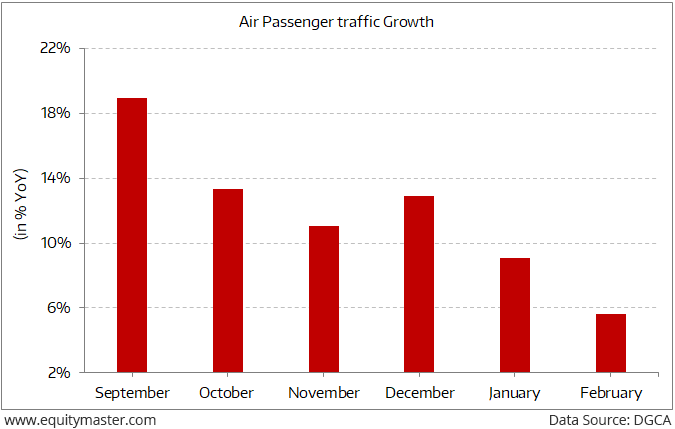 In February, domestic air passenger traffic reported its lowest monthly passenger traffic growth since January 2015. It registered a marginal annual growth of 5.6%.
Similarly, in January, the number of passengers flown by domestic airlines grew at 9.1% YoY, while in December, it increased by 13% YoY. This is way lower than the historical growth rate of 20% between 2014-2018 period.
As per Research Analyst Sarvajeet Bodas, a slowdown in passenger growth is due to several factors. These include frequent flight cancellations due to grounding of fund-starved Jet Airways' aircraft, pilot shortages faced by IndiGo, NOTAMs (notice to airmen) at various airports, and a rise in airfare etc.
In the last 5 years, we saw a surge of middle-class travelling by plane. But when the ticket price goes up, many of them prefer an alternate mode of transportation.
---
Indian Indices End Higher, Updates from the IPO Space, and Top Stocks in Action Today
Pre-Open
On Tuesday, share markets in India witnessed buying interest during closing hours and ended higher.
The BSE Sensex closed higher by 239 points to end the day at 38,939. Yes bank and Tata Motors were among the top gainers.
While the broader NSE Nifty ended up by 67 points to end at 11,672.
Among BSE sectoral indices, realty stocks gained the most by 1.4%, followed by automobile stocks and banking stocks.
Top Stocks in Action Today
Tech Mahindra share price will be in focus today as the company received approval for proposal to acquire 18.1% equity shares each of Infotek Software and Systems and Vitaran Electronics.
Ashok Leyland share price will be in focus today as the company is aiming to set up more assembly plants overseas, including the CIS region and African countries, as part of plans to scale up its global operations.
The company is banking on its new range of medium and heavy commercial vehicles (M&HCV) and light commercial vehicles (LCVs) to help it enter new regions beyond its traditional stronghold such as the Middle East, SAARC countries and pockets of Africa.
Market participants will also track Tata Steel share price.
Reportedly, the company's subsidiary - Tata Sponge Iron is likely to take over the operations of Usha Martin's (UML) steel unit in Jamshedpur. The money from the deal will be kept in an escrow account of State Bank of India (SBI) and will be utilised to repay UMLs debt.
From the IPO Space...
In the latest developments from the IPO space, Polycab India's Rs 13.5 billion initial public offering (IPO) on Tuesday received bids for over 33 times on day 3 of the bidding process.
As of 3 pm yesterday, the issue received bids for 83,12,15,331 shares against the total size of 1,76,37,777 shares.
As per an article in The Economic Times, this has made it the first issue of 2019 to see subscription of 10 times or more. The IPO is the biggest hit since HDFC AMC IPO which received a staggering 83 times bids in July last year.
On the block are fresh issue of equity shares, aggregating up to Rs 4 billion, and offer for sale (OFS) of 17,582,000 shares. The company has raised Rs 4 billion from 25 anchor investors. The price band for the issue has been fixed at Rs 533-538.
Polycab India is engaged in the business of manufacturing and selling wires and cables and fast-moving electrical goods (FMEG) under the "POLYCAB" brand.
According to CRISIL Research, Polycab India is the largest manufacturer in the wires and cables industry in India, in terms of revenue from the wires and cables segment and provides one of the most extensive range of wires and cables in India.
During the financial year 2017-18 (FY18), the company had a market share of approximately 18% of the organized wires and cables industry, and approximately 12% of the total wires and cables industry in India, estimated at Rs 525 billion based on manufacturers realization.
Polycab India manufactures and sells a diverse range of wires and cables such as power cables, control cables, instrumentation cables, solar cables, building wires, flexible cables, flexible/single multi core cables, communication cables and others including welding cables, submersible flat and round cables, rubber cables, overhead conductors, railway signaling cables, specialty cables and green wires.
To get a detailed view of the IPO, you can read Ankit Shah's latest note in the Equitymaster Insider: Polycab India IPO: All You Need to Know.
Oil Hits 5-Month High
Oil prices hit a five-month high above US$ 71 a barrel on Tuesday, supported by concern that violence in Libya could further tighten supply.
Supply curbs led by the Organization of the Petroleum Exporting Countries (OPEC) have underpinned a more than 30% rally this year for Brent crude, despite downward pressure from fears of an economic slowdown and weaker demand.
Russia signaled on Monday it wanted to raise output when it meets with OPEC because of falling stockpiles.
On Tuesday, Energy Minister Alexander Novak said there would be no need to extend the supply-curbing deal if the market was expected to be balanced in the second half of the year.
US sanctions on Iran and Venezuela have deepened the OPEC supply cut and concern has grown this week about the stability of Libyan output. The OPEC member pumps around 1.1 million barrels per day (bpd), just over 1%of global supply.
Stay tuned for more updates from this space.