Indian Stock Market News May 2, 2019
Sensex Ends Marginally Lower; IT and Consumer Durables Stocks Witness Selling
Closing
Indian share markets traded on a mixed note during the day and ended their session marginally lower.
Sectoral indices ended on a mixed note with stocks in the IT sector and consumer durables sector witnessing selling pressure while telecom stocks witnessed buying interest.
At the closing bell, the BSE Sensex stood lower by 50 points (down 0.1%) and the NSE Nifty closed down by 23 points (down 0.2%). The BSE Mid Cap index ended lower by 0.6% and the BSE Small Cap index ended the day down by 0.2%.
Asian stock markets finished on a mixed note. As of the most recent closing prices, the Hang Seng was up by 0.8% and the Shanghai Composite was up by 0.5%. The Nikkei 225 was down 0.2%.
The rupee was trading at 69.39 against the US$.
Speaking of Indian stock markets, note that the Sensex, BSE Midcap index and BSE Smallcap index have had differing degrees of volatility over past fifteen years.
But the returns from the three different indices are mostly in line since 2004. Rs 100 invested in any of these indices in 2004 would have yielded about Rs 700 by March 2019.
In fact, as we can see in the chart below, the gap in the compounded annual return of the Sensex and Smallcap index is less than 1%.
Difference in 15 year CAGR of Sensex and BSE Smallcap Index is Less than 1%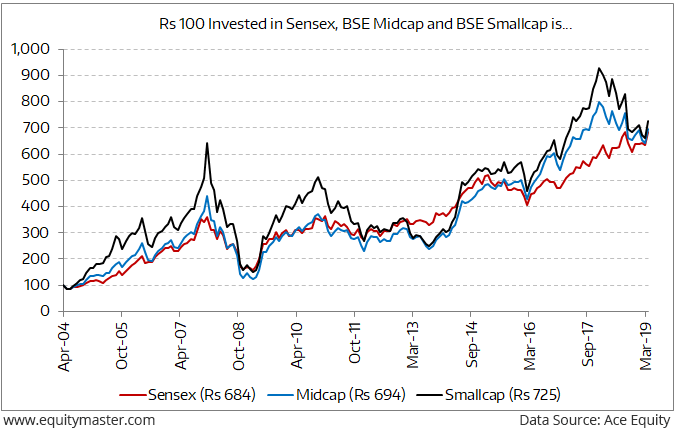 This shows that while small caps are a good place to look for big returns, blue chips can also offer you big returns over long time frames.
In fact, as per Tanushree, the best contrarian bets on such safe stocks could even offer you handsome three and digit returns.
In the news from the banking space, Bandhan Bank share price was in focus today as the lender reported a 67.8% year-on-year (YoY) increase in its March quarter net profit.
The rise here was seen on the back of higher net interest and non-interest income. Net profit for the quarter stood at Rs 6.5 billion.
Net interest income (NII), or the core income a bank earns by giving loans, was up 45.60% to Rs 12.5 billion as against Rs 8.6 billion last year.
Non-interest income was at Rs 3.8 billion, up 91.1% YoY.
Provisions and contingencies for the bank surged 41.3% YoY to Rs 1.9 billion during the quarter.
As a percentage of total loans, gross non-performing assets (NPAs) stood at 2.04% as compared to 2.4% in the previous quarter and 1.25% in the same quarter a year ago.
Net NPAs were at 0.58% in the March quarter compared to 0.7% in the previous quarter and 0.58% in the same quarter last year.
Deposits rose 27.6% YoY to Rs 432.3 billion while advances increased 38.4% YoY to Rs 447.7 billion.
The management of the bank said that the year 2018-19 has been a challenging year for the banking industry and that Bandhan Bank closed the financial year on a positive note with visibility of growth and improvement in asset quality and liability profile.
In the news from the airlines sector, Jet Airways share price was in focus today. Shares of the company witnessed selling pressure and plunged over 20% in today's trade as bidders for the debt-ridden airline showed no interest following up on their expressions of interest.
As per the news, three of the four qualified bidders - Etihad Airways, Indigo Partners, and TPG Capital - have not signed nondisclosure agreements, a must for conducting due diligence, even as just ten days are left for final submission of bids.
Last week, high-risk investors were putting up tactical bets on revival prospects of the airline.
As per an article in The Economic Times, investors for the debt laden carrier - Etihad Airways, TPG Capital and Indigo Partners are having second thoughts on whether to bid for it, as questions about the bidding procedure remain unanswered.
Here's an excerpt from the article...
The stock has got into a zone where risk-reward has become favourable for high-risk investors. These high-risk investors had earlier burnt their fingers with similar bets on companies like JP Associates and Reliance Communications.
In other news, lenders to Jet Airways have approached the government to secure its international landing slots. The lenders are said to have moved the Ministry of Civil Aviation to guard the international slots and the airline's overseas flying rights.
Domestic slots have been distributed among its rivals including IndiGo and SpiceJet by the Directorate General of Civil Aviation (DGCA) for three months. Jet Airways had 280 slots at the Mumbai airport and 180 in Delhi. The airline can have these slots back if a new buyer comes on board.
Note that, Jet Airways used to be a frontrunner once.
So, what went wrong?
Well, one of the many reasons was the challenge from the entry of budget carriers. This led to dropping of fares by Jet Airways. Some tickets were sold even below the breakeven cost.
Then, provincial taxes of as much as 30% on jet fuel were added to its expenses. Further, the rise in oil prices was a death blow to their earnings.
On a consolidated level, the company has bled in nine of the last eleven fiscals. In other words, it has kept its bottom-line in the black in only two out of the last eleven years.
The airline needs Rs 85 billion to restart operations. So far, it isn't clear whether Jet Airways will find a buyer to fly again, or if lenders will take it to a bankruptcy court.
How this all pans out ahead remains to be seen. Meanwhile, we will keep you updated from the latest developments from this space.
---
Sensex Trades Higher; Yes Bank and Bharti Airtel Top Gainers
12:30 pm
Stock markets in India are presently witnessing buying interest. The BSE Sensex is trading up by 100 points and the NSE Nifty is trading up by 18 points. Meanwhile, the BSE Mid Cap index and the BSE Small Cap index are trading up by 0.2% and 0.3% respectively.
Among the sectoral indices, IT stocks and consumer durables stocks are witnessing selling pressure, while telecom stocks and capital goods stocks are leading the pack of gainers.
After the dream bull market of 2017, 2018 turned out to be a wet blanket.
But since March 2019, the Indian markets have rallied sharply. As a result, India managed to outperform most of the other major economies during the second half of the financial year 2018-19 (H2: 2018-19).
The chart below shows the performance of the some of the major world economies during H2: 2018-19 in dollar terms.
Indian Stock Markets Outperform Most Peers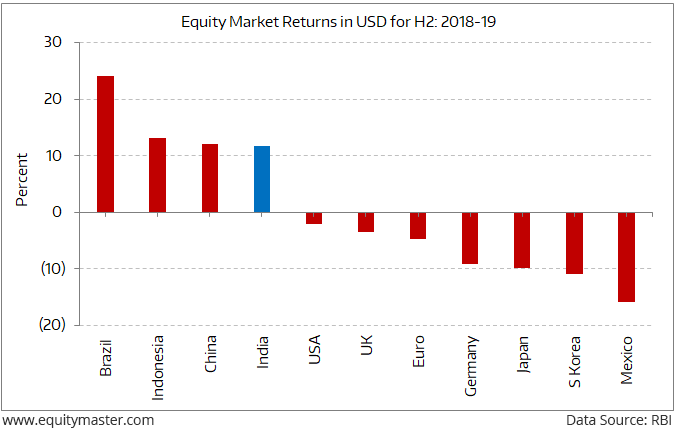 From October 2018 to March 2019, the BSE Sensex increased by 6.8% in rupee terms and 11.7% in dollar terms.
Brazil, Indonesia and China are the only other major economies that did better than India during this period.
Will the trend continue going forward? Let's wait and watch...
In the news from the global economy. The Federal Reserve announced May 1 that it is holding the benchmark interest rate steady at a target range of 2.25% to 2.5%, noting that inflation is "running below" its stated target of 2%.
In a technical change, the Fed also reduced the interest it pays on excess reserves parked at the central bank as part of an effort to stop effective interest rates from breaking outside of its current target range.
The Fed's decision not to change rates affirmed the March meeting's economic projections signaling no rate changes for the rest of 2019.
In that meeting, the Fed said low measures of inflation, concern over global growth, and tightening financial conditions warranted pausing on interest rate hikes while policymakers reassess the data.
The decision also comes as President Donald Trump calls for the Fed to cut rates by as much as 100 basis points.
The central bank's statement walked back its March view that the economy had slowed from the end of last 2018, noting that recent developments show that economic activity rose at a solid rate.
An impressive GDP print released Friday showed the US economy expanding by 3.2% in the first quarter.
The Fed, however, said household spending and business fixed investment slowed in the first quarter.
On employment, the committee repeated its March language describing the labor market as strong with job gains remaining solid.
Moving on to the news from the automobile sector. Bajaj Auto registered a marginal rise of 2% in total sales to 423,315 units in April 2019 against 415,168 units in April 2018.
The company's total exports out of the above stood at 191,211 units, registering a marginal gain of 3% as compared to 185,704 units sold in the corresponding month last year.
The sales of the motorcycles increased by 5% and stood at 366,268 units in April 2019 under review against 349,617 units in April 2018.
The company reported 13% fall in commercial vehicles sales, which stood at 57,047 units as compared to 65,551 units in month of April 2018.
Meanwhile, Atul Auto reported sale of 3,346 units, with a rise of 22.21% for the month of April 2019 as compared to 2,738 units sold in April 2018.
The company had reported sale of 4,612 units, with a rise of 15.21% for the month of March 2019 as compared to 4,003 units sold in March 2018.
At the time of writing, Bajaj Auto share price and Atul Auto share price were trading up by 0.6% and 3.4% respectively.
To know what's moving the Indian stock markets today, check out the most recent share market updates here.
---
Sensex Opens Flat; Automobiles and IT Stocks Drag
09:30 am
Asian stocks marked time on Thursday with two major centers, Japan and China shut for holidays, while shares in Hong Kong are higher today as the Hang Seng gains 0.5%. US stocks ended lower on Wednesday and the S&P 500 snapped a three-day streak of record high closes as comments from Federal Reserve Chairman Jerome Powell appeared to dampen hopes the central bank could move later this year to cut interest rates.
Back home, India share markets opened on a flat note with a negative bias. The BSE Sensex is trading down by 49 points while the NSE Nifty is trading down by 26 points. Both, the BSE Mid Cap index and BSE Small Cap index opened up by 0.2%.
Sectoral indices have opened the day on a mixed note with telecom and FMCG stocks trading in green. Automobiles stocks and IT stocks are witnessing maximum selling pressure.
The rupee is currently trading at 69.52 against the US$.
In the news from the automobiles sector. Maruti Suzuki India on Wednesday reported a slump of 17.2% in sales for the month of April 2019.
The total sales volume stood at 1,43,245 units in April 2019. The company had sold 1,72,986 units in April last year.
Maruti recorded a decline of 19% in domestic sales (PV plus LCV) in April 2019, selling 133,704 units against 164,978 units in the same month last year.
Total domestic passenger vehicle sales also dropped from 163,434 units to 131,385 or 19.6%.
Reportedly, its export sales rose 14.6% from 8,008 vehicles in April 2018 to 9,177 vehicles this year.
The entry-level segment has witnessed a decline of 39.8% in April. Maruti sold 22,766 units of the Alto 800 and previous generation WagonR against a base of 37,794 units.
The company's compact vehicle segment, which sells the new-generation WagonR, Alto K10, Swift, Ignis, Baleno, Celerio, Dzire and the TourS recorded a decline of 13.9% selling 72,146 units against a base of 83, 834 units, which were sold in the same period last year.
The sales of its mid-size sedan, the Ciaz took a heavy dip of 45.5% selling 2,789 units against 5,116 units which were sold in the corresponding month last year.
Moreover, sales numbers are expected to fall in the next year as well, as Maruti Suzuki has said that it will stop selling diesel cars in its portfolio from April 2020, when the new BS VI fuel economy norms kick in, which will make diesel vehicles significantly more expensive.
Note that, all the components of BSE Auto index have fallen in 2018. Tata Motors crashed over 60% and Motherson Sumi Systems plunged over 40% in past one year. While, Bharat Forge, Ashok Leyland and Maruti Suzuki fell over 30% during the same period.
But, one thing we must keep in mind is that not all auto companies will make money over time. And also, you shouldn't stay away from auto stocks altogether.
Even Tanushree Banerjee, Co-head of research at Equitymaster believes that there are businesses in this sector that you cannot ignore. She is particularly talking about the blue-chip auto stocks.
Here's Tanushree:
One out of every three household in India is a buyer of their products. They own some of the cult brands in Indian automobile space. They have formidable R&D teams. They have been through several economic cycles over decades. Few have even visited near-bankruptcy in the past and come out successful.

Yet, some of the biggest passenger car, commercial vehicle, and two-wheeler companies in India have seen a huge dent in valuations in recent times.

This could be the opportunity long term investors were waiting for.
Bluechip Auto Are Stocks Way Off Their Valuation Peaks
Maruti Suzuki share price opened down by 1.6%.
Moving on to the news from pharma sector. As per an article in a leading financial daily, Lupin in alliance with Natco Pharma has received approval for Bosentan Tablets, 62.5 mg and 125 mg, from the US Food and Drug Administration (USFDA) to market a generic version of Actelion Pharmaceuticals Limited's Tracleer Tablets, 62.5 mg and 125 mg.
Lupin and Natco's Bosentan Tablets are the generic version of Actelion Pharmaceuticals Limited's Tracleer Tablets, the reports noted.
It is indicated for the treatment of pulmonary arterial hypertension in adults to improve exercise ability and to decrease clinical worsening.
According to IQVIA MAT data released in March 2019, Bosentan Tablets, 62.5 mg and 125 mg had annual sales of approximately US$84.8 million.
To know more about the company, you can access to Lupin's Q3FY19 result analysis and Lupin's 2017-18 Annual Report Analysis on our website.
Lupin share price opened the day up by 0.2%.
And to know what's moving the Indian stock markets today, check out the most recent share market updates here.
---
Oil Prices, Q4FY19 Results, and Top Stocks in Action Today
Pre-Open
On Tuesday, share markets in India recovered most of their losses during closing hours and ended marginally lower after a volatile day of trading.
The BSE Sensex closed lower by 36 points to end the day at 39,032. IndusInd Bank and Yes Bank were among the top losers.
While the broader NSE Nifty ended down by 7 points to end at 11,748.
Among BSE sectoral indices, telecom stocks fell the most by 2.2%, followed by automobile stocks and realty stocks.
Top Stocks in Action Today
Tata Motors share price will be in focus today as the company has partnered with Nirma University to provide B. Tech degree to its employees working at the Sanand Plant in Gujarat.
Wipro share price will also be in focus today as its subsidiary - Wipro Consumer Care and Lighting (WCCL) has signed a definitive agreement to acquire Philippine-based personal care company Splash Corporation. This will be Wipro Consumer care's 11th acquisition.
Market participants will also track Sunteck Realty share price, MRF share price, and Dabur share price as these companies will announce their March quarter results later today.
Results Corner
Kotak Mahindra Bank share price reported a 25.2% year-on-year (YoY) rise in standalone profit at Rs 14.1 billion for the March quarter as provisions fell sharply. Provisions and contingencies declined 44% YoY to Rs 1.7 billion during the quarter under review.
The lender had posted a net profit of Rs 11.2 billion in the corresponding quarter last year. The board of the company also recommended a dividend of Rs 0.80 per equity share for the year ended March 31.
TVS Motor share price has reported a fall of 19.2% in its net profit at Rs 1.3 billion for the quarter ended March 31, 2019 as compared to Rs 1.7 billion for the same quarter in the previous year.
L&T Finance Holdings share price has reported a fall of 29.4% in its net profit at Rs 2.3 billion for the quarter ended March 31, 2019 as compared to Rs 3.2 billion for the same quarter in the previous year. Total income of the company decreased by 22.8% at Rs 3.1 billion for quarter under review as compared to Rs 4.1 billion for the quarter ended March 31, 2018.
Castrol share price has reported a marginal rise of 1.8% in its net profit at Rs 1.9 billion for the quarter ended March 31, 2019 as compared to Rs 1.8 billion for the same quarter in the previous year.
You can also read our recently released Q4FY19 results: Axis Bank, Rallis, Cyient, Persistent Systems.
From the Currency Space...
The Indian rupee was trading at day's high level at the time of writing. It gained 31 paise at Rs 69.70 per dollar against Friday's close Rs 70.01.
On Tuesday, the domestic currency consolidated in a narrow range ahead of the important US GDP number and after global crude oil prices witnessed some retracement from higher levels.
In the recent past, crude oil prices rallied but expectation of increased supply output from OPEC capped major gains for the commodity.
Rising Oil Prices
Oil prices rose 1% on Tuesday after Saudi Arabia said a deal between producers to withhold output could be extended beyond June to cover all of 2019.
The comments by Saudi Energy Minister Khalid al-Falih came despite pressure from US President Donald Trump to raise output to make up for a supply shortfall expected from tightening US sanctions against Iran.
Brent hit a six-month high above US$ 75 last week because of tightening global markets amid US sanctions on Iran and Venezuela coupled with Russian oil export problems stemming from a contaminated pipeline.
Note that, despite the shaking global economy, oil has surged almost 40% since January, lifted by supply cuts led by the Organization of the Petroleum Exporting Countries.
US exports exceeded 3 million bpd for the first time in early 2019 amid a more than 2 million bpd production surge over the past year, to a record of more than 12 million bpd.
As you know, rising crude oil prices have a big impact on the country's economy as India imports over 70% of its energy needs.
Rise in crude oil increases input costs for dependent firms. It also means rising inflation. Rising inflation means rising interest rates.
It also puts pressure on the government to cut excise duty, thereby impacting its revenues. We have already seen that happening.
Research Analyst Richa Agarwal believes that this has the potential to bring down sentiments in the domestic markets. She further believes that, if oil prices continue their upward march in a tight global environment, a broader correction in the sentiment fueled domestic market cannot be ruled out.
Now how this pans out going forward remains to be seen.