Indian Stock Market News May 31, 2018
Sensex Surges 400 Points; HDFC Bank Gains 4.5%
Closing
After opening the day in green, share markets in India witnessed positive trading activity throughout the day and ended the day on a positive note. Sectoral indices traded on a mixed note, with stocks in the oil and gas sector and stocks in the banking sector, leading the gains.
At the closing bell, the BSE Sensex stood higher by 416 points (up 1.2%) and the NSE Nifty closed up by 122 points (up 1.2%). The BSE Mid Cap index ended the day down 0.2%, while the BSE Small Cap index ended the day down by 0.6%.
The rupee was trading at Rs 67.49 against the US$ in the afternoon session. Oil prices were trading at US$ 77.37 at the time of writing.
Asian stock markets finished in green. As of the most recent closing prices, the Hang Seng was up by 1.3% and the Shanghai Composite was up by 1.8%. The Nikkei 225 was up by 0.8%. Meanwhile, European markets, too were trading mixed. The FTSE 100 was up by 0.1%, The DAX, was down by 0.5 while the CAC 40 was up by 0.1%
HDFC Bank was among the top gainers in the markets today as interest surged ahead of the Foreign Institutional Investors (FII) buying window for the stock opening up on June 1.
In news about the economy, the government is set to release the GDP numbers for the quarter, and full year today. Ahead of the official numbers, global ratings agency, Moody's downgraded its forecast for the country. India's GDP is set to grow by 7.3% in 2018, according to a Moody's report, a cut from its previous forecast of 7.5%. However, it maintained its 7.5% growth forecast for 2019.
--- Advertisement ---


This Invitation Expires in Exactly Few Hours

Your invitation to become a member of Equitymaster Insider expires at midnight tonight.

Remember, with this invitation, you get full details on research analyst, Ankit Shah's newest 5 investment ideas.

Which is why you shouldn't waste any time...

Click here to redeem your invitation.
------------------------------
According to the global ratings major, despite the moderation in March, industrial production growth averaged 6.2% in the January-March period, up from 5.9% in the previous quarter.
The report states that growth should benefit from an acceleration in rural consumption, supported by higher minimum support prices and a normal monsoon.
The private investment cycle will continue to make a gradual recovery, as twin balance-sheet issues -- impaired assets at banks and corporates -- slowly get addressed through deleveraging and the application of the Insolvency and Bankruptcy Code.
However, Moody's showed concern over government's tight fiscal condition.
According to official data, industrial output growth fell to a five-month low of 4.4% in March due to decline in capital goods production and deceleration in mining activity and power generation.
Industrial growth as measured by the Index of Industrial Production (IIP) in 2017-18 too decelerated to 4.3% from 4.6% in the previous fiscal.
The Indian economy grew 6.6% in the last fiscal as it battled the lingering effects of demonetisation in 2016. Teething issues related to implementation of GST, which hampered operations of small and medium sized enterprises and exporters, also contributed to growth moderation.
GDP Growth Getting Back on Track
Moody's growth forecast for this period is in line with that of the Reserve Bank and the International Monetary Fund (IMF) which projected India to grow 7.4%, and Asian Development Bank and Fitch which estimated growth at 7.3% over the financial year.
If the internal bottlenecks are not alleviated, subdued private investment would put downside pressures on India's potential growth.
India's GDP grew by 7.2% in Q3 FY18. Cement, electricity, coal, and steel, the bedrock of the economy, all witnessed robust growth.
India also surpassed China as the world's fastest growing economy.
With the official numbers being released today, we'll be sure to keep a close eye on the trend.
Moving on to news from stocks in the auto sector. Mahindra & Mahindra (M&M) share price, was among the stocks in focus today after the auto major signed memorandum of understandings (MOUs) with the Maharashtra government, for electric vehicles (EVs).
M&M signed two MOUs with the government of Maharashtra to further commit additional investment Rs 5 billion in the manufacturing of electric vehicle components at its Chakan Plant and deploy 1000 electric vehicles in the state in the next one year.
The company will make efforts to become fully electric ready by further investing in its Chakan plant for manufacture of EVs, e-motor, controller, battery pack and other electric vehicle components for multiple mobility applications related to battery pack assembly of EVs.
Currently, electric vehicle sales are low in India, rising 37.5% to 22,000 units in the year ended 31 March 2016 from 16,000 in 2014-15. Only 2,000 of these were cars and other four-wheelers, according to automobile lobby group Society of Indian Automobile Manufacturers (Siam).
The government wants to see 6 million electric and hybrid vehicles on Indian roads by 2020 under the National Electric Mobility Mission Plan 2020.
The government is targeting to have all cars propelled by electric engine by 2030. The target is more daunting than in many advanced countries.
According to the industry, the 2030 target would require eight to ten times the global stock of such vehicles. India would need to sell more than 10 million electric cars in 2030, compared to 5,000 electric vehicles India had on the road in 2016.
As you can see from the chart above, India is barely visible compared to other developed countries when it comes to battery cars.
As an article in Business Standard suggests, such a big jump in scale for the auto industry in 13 years seems difficult. The basic infrastructure is missing. There are not enough charging stations. For this massive shift, the charging stations will need to be as ubiquitous as petrol pumps.
Another issue is the price of the lithium ion battery, which constitutes 30% to 40% of the cost of the car. For this plan to succeed, the price of the battery needs to come down.
The auto industry is already facing regulatory headwinds. The shift from BS-IV emission norms to BS-VI has been two years ahead of schedule without an intermediate stage. The government, if it is serious about such ambitious targets, should offer the necessary infrastructure support and do its bit for a smooth transition.
And here's a note from Profit Hunter:
HDFC Bank is the top gainer in the Nifty 50 Index - up 5%. Let's have a look at its chart.
After the stock bottomed out at 1,158 in November 2016, it traded in a smooth uptrend to touch a high of 1,868 in September 2017. It then consolidated in a range of 1,780 - 1,875. It broke out of this range on the upside in January 2018 to touch a fresh life-time high of 2,015 in February 2018.
It corrected for a while to find support near the upper end of 1,780-1,875 range. It resumed its up move and today, the stock rallied 4% to touch a fresh life-time high of 2,160 with strong volumes. The rally was seen after the market regulator allowed a special window to be opened for Foreign Institutional Investors (FIIs) on June 1.
Now will the stock continue with the momentum or will it find some selling at its life-time high? Let's keep a track of it...
HDFC Bank Hits a New Life-time High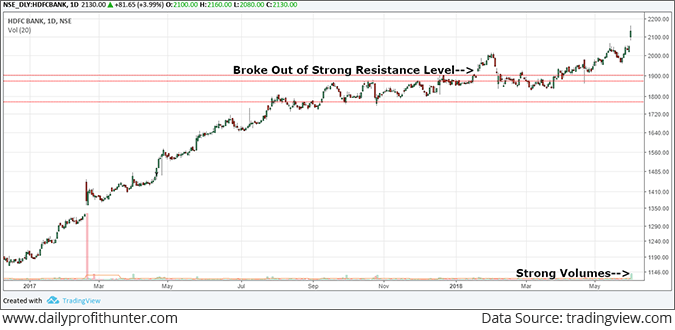 ---
Sensex Remains Positive; Energy & IT Stocks Gain
12:30 pm
Stock markets in India continue to trade in green following Asian stocks that rebounded from a two-month trough. Market participants will also focus on GDP data to be released later in the day today. Sectoral indices are trading mixed with stocks in the power sector and realty sector witnessing maximum selling pressure. Gains are largely seen in energy sector and IT sector.
The BSE Sensex is trading up by 157 points and the NSE Nifty is trading up by 46 points. Meanwhile, the BSE Mid Cap index is trading down by 0.2% while, the BSE Small Cap index is trading down by 0.3%. The rupee is trading at 67.63 to the US$.
In the news from the pharma sector. As per an article in a leading financial daily, Lupin has launched Solosec (secnidazole) 2g oral granules in the US market. The company had received an approval from the United States Food and Drug Administration (USFDA) earlier.
The company's Solosec (secnidazole) 2g oral granules is a 5-nitroimidazole antimicrobial agent indicated for the treatment of bacterial vaginosis (BV) in adult women.
Solosec, the first new oral antibiotic to treat BV in more than a decade, is designed to deliver a full course of therapy in a single 2g oral dose and is the first and only single-dose oral therapy for BV.
--- Advertisement ---


This Invitation Expires in Exactly Few Hours

Your invitation to become a member of Equitymaster Insider expires at midnight tonight.

Remember, with this invitation, you get full details on research analyst, Ankit Shah's newest 5 investment ideas.

Which is why you shouldn't waste any time...

Click here to redeem your invitation.
------------------------------
It is the most common vaginal infection in the US among women of childbearing age.
To know more about the company, you can access to Lupin's latest result analysis and Lupin stock analysis on our website.
Did you know the BSE Healthcare Index is down 20% over the past three years? During the same period, the BSE Sensex is up 21%.
The BSE Healthcare Index has underperformed the Sensex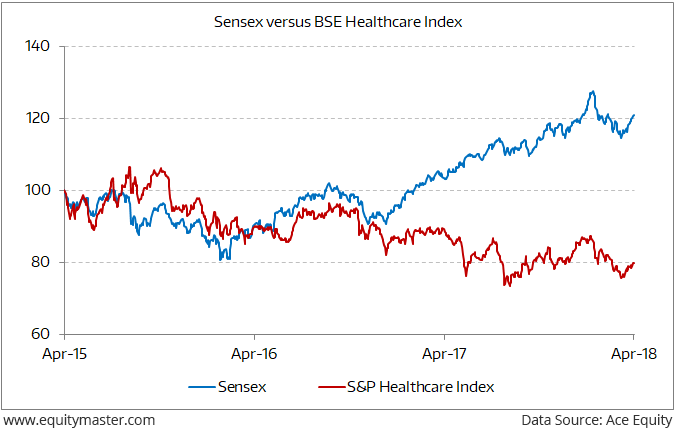 And this was a sector they called 'evergreen'.
Have Investors boarded a plane that's about to crash? Or is it just turbulence on the way to a smooth and safe landing?
It's important to understand the core issues. Regulatory problems for pharma companies have increased over the past few years. The frequency of visits as well as quality expectations have increased a lot.
The intensity of competition has also increased. Faster approvals of drugs have led to price erosion for generic players.
While we expect the pain to continue in the short-term, the long-term picture still looks bright.
Stricter norms and pricing pressure will ensure only quality players remain. Companies with strong R&D facilities and quality compliant plants will have an edge over the others.
Those are the only pharma stocks you should be looking at.
And even among those, only three of them offer enough margin of safety today.
Get access to the safe stocks here.
Lupin share price was trading down by 0.5% at the time of writing.
Moving on to the news from the economy. Credit rating agency, ICRA in its latest report has said that cement production in India registered a growth of 6.3% at 298 million tonne (MT) in the financial year 2018, as compared to 280 MT in FY17, with the bulk of production growth was reported in the second half of FY18.
It noted that the growth in output was mainly because of better demand in the key markets and the base effect of the demonetisation-driven low demand during the corresponding period of last year.
Rating agency has stated that going by the prevalent trend, the growth momentum is expected to continue in FY19 and the industry is likely to witness a growth of around 6%. It pointed out that this is primarily on the back of pick-up in the affordable and rural housing segments and infrastructure - primarily road and irrigation projects.
Besides, it said that the FY19 budget also provides support in this direction with higher rural credit, increased allocation for rural, agricultural and allied sectors along with continued focus on the PMAY and infrastructure investments.
The report further indicated that the cement production increased by 10.6% and 18.2% respectively in the December and March quarters of 2017-18.
It said that the trend was supported by demand in Andhra Pradesh and Telangana, driven by irrigation, low-cost housing and infrastructure projects.
Besides, it noted that in April 2018, rising demand resulted in an increase in cement prices in the Ahmedabad and Hyderabad markets respectively by Rs 20/a bag and Rs 10/a bag, respectively. However, it said that rising supplies resulted in prices remaining range-bound in the Kolkata market.
---
Sensex Opens Firm; Coal India & HDFC Bank Top Gainers
09:30 am
Asian share markets are broadly higher today with shares in China leading the region. The Shanghai Composite is up 1.1% while Hong Kong's Hang Seng is up 0.6% and Japan's Nikkei 225 is up 0.4%. US stocks ended higher on Wednesday, and the S&P 500 and Dow registered their biggest daily percentage gains since 4 May, on signs of easing political turmoil in Italy and as a surge in oil prices boosted energy stocks.
Back home, India share markets opened the day on a firm note. The BSE Sensex is trading up by 132 points while the NSE Nifty is trading up by 38 points. The BSE Mid Cap index opened up by 0.5% while BSE Small Cap index opened up by 0.4%.
Barring IT stocks and energy stocks, all sectoral indices have opened the day in green with metal stocks and consumer durables stocks witnessing maximum buying interest. The rupee is trading at 67.63 to the US$.
In stock markets, do valuations play an important role in the returns that you get from stocks?
We, at Equitymaster believe so. Sarvajeet Bodas, Research Analyst at Equitymaster did a decade long comparison of the Sensex versus the its price to earnings ratio...and it certainly seems to suggest so.
We will see how earnings drove the returns of the Sensex.
Price to Earnings (PE) is basically the price that you pay for earnings. A higher PE implies expensive valuations. We found that the Sensex has fallen sharply whenever its PE moved above 20.
Conversely, PE levels below 15 have led to a sharp subsequent rally.
Sensex Falls When PE Rises Above 20
Such strong co-relation also proves that ultimately, it's valuations that drive future returns in the stock market.
You would thus be well served by focusing on fundamentals and valuations while ignoring the noise of the market. Tanushree Banerjee, editor of The 5 Minute WrapUp, can guide you in this endeavor.
--- Advertisement ---


This Invitation Expires in Exactly Few Hours

Your invitation to become a member of Equitymaster Insider expires at midnight tonight.

Remember, with this invitation, you get full details on research analyst, Ankit Shah's newest 5 investment ideas.

Which is why you shouldn't waste any time...

Click here to redeem your invitation.
------------------------------
Coal India share price gained over 3.5% in the morning trade as investors reacted to the results for March quarter posted by the firm, which included a one-time gratuity payout.
Power stocks opened the day on a mixed note with Tata Motors & Force Motors leading the losses. As per an article in a leading financial daily, with an aim to leverage its tower infrastructure, state-run Power Grid Corporation of India (PGCIL) is planning to offer at least 10-20% of its 1.5 lakh tower assets to telecom operators.
The company has already approached the Central Electricity Regulatory Commission (CERC) for approval on the same.
Since the government has emphasized on reducing consumption of diesel to reduce pollution, the telecom operators will have a good option in power grid's towers.
Telecom regulator Trai has recommended 40% reduction in carbon emission in the telecom network by 2022-23, with base year being 2011-12.
The regulator has also suggested that the government should pass all the benefits granted under various schemes for using renewable energy technologies to telecom operators.
Power Grid has set a capex of Rs 250 billion for the current financial year and plans to raise around 70% of it through debt, especially domestic bonds.
For its future business, the state-owned electric utilities company is also looking at opportunities in electric vehicle charging stations, battery storage, railway electrification and telecommunication works with Railtel, the reports noted.
Meanwhile, Power Grid recently reported a consolidated net profit of Rs 81.98 billion in FY18, a 10% increase over Rs 74.5 billion in FY17. Its total income stood at Rs 304.3 billion, up from Rs 262.8 billion in FY17.
To know more about the company, you can access to Power Grid's latest result analysis and Power Grid stock analysis on our website.
And to get more updates on share market, click here.
Power Grid Corporation's share price fell 0.1% in the opening session.
Moving on to the news from the cement sector. Lenders of Binani Cement Ltd. approved the resolution plan submitted by UltraTech Cement Ltd., as part of the insolvency resolution process.
The Kumar Mangalam Birla-backed company beat a rival consortium that included Dalmia Bharat Ltd. and a Bain Capital-backed fund. The resolution plan is now subject to approval by the National Company Law Tribunal.
Reportedly, financial creditors led by Edelweiss Asset Reconstruction Company Ltd. voted to accept UltraTech's Rs 79.5 billion offer as the highest bid.
If approved, the acquisition will boost UltraTech's capacity to 116.15 million tonnes per annum. It will also give the Aditya Birla Group company access to Binani Cement's large reserves of high quality limestone, the reports noted.
The announcement comes after the NCLT had asked lenders to reconsider UltraTech Cement's bid after they had rejected it earlier. UltraTech Cement was not allowed to revise its bid for Binani Cement since lenders had agreed to not entertain the second highest bidder in the case. UltraTech Cement tried multiple times to revise its bid for Binani Cement, however, the creditors did not consider it.
Thereafter, in a parallel deal, UltraTech signed an agreement with Binani Industries Ltd. to buy its cement assets for Rs 72.7 billion and said it will seek termination of the insolvency process. This decision was subject to lenders agreeing to withdraw from the NCLT. However, this agreement did not go anywhere since lenders declined to settle out of court.
In its 2 May order, the NCLT said that the decision of the creditors' panel to deny UltraTech an opportunity to be heard once its resolution plan was rejected is unfair, unjust and against the very objective of the IBC.
It stated that the resolution professional and the CoC are duty bound to ensure value maximisation for shareholders of Binani Cement. The lenders' argument that UltraTech had sent an offer on email and did not adhere to the timelines and process is not substantive, the NCLT ruled.
Ultratech Cement share price opened the day on a flat note.
---
Of Surge in PSU Bank Stocks and Key Stocks in Action Today
Pre-Open
The NSE PSU Bank index has gained 3.5% from the beginning of May 2018. Having said that, these gains is nowhere close to the 30% surge in the index as witnessed on 25th October 2017-the date when bank recapitalization of Rs 2.1 trillion was announced. God bless the investors who bought the public-sector banks on this date. Fast forward to 30th May and investors would have lost massive net worth in these stocks.
Loss in Market Capitalization of PSU Banks from 26th October 2017 to 30th May 2018
Source: ACE Equity
The healthy correction has led to these banks trading at attractive valuations. All the banks as mentioned in this table are trading below their ten-year median price/book value.
--- Advertisement ---


A Couple of Good Small Cap Stocks Could Transform Your Life

Small caps are capable of giving BIG returns in the long run. And you need just a couple of them to take off to completely transform your life.

But for that, you need to invest in the 'right' small cap stocks.

To know how you could find the right small cap stocks, just click here…
------------------------------
Now, there is a term in investing called Value Traps. Value traps are stocks that are trading at very cheap valuations. These stocks can trade cheap forever and never really recover in terms of stock price performance. There is a reason for this. And the reason is related to structural problems with the company.
The structural problem with public sector banks is the credit appraisal policy. In the greed of balance sheet growth and pressure from government, these banks have lent to stressed sectors such as power and iron & steel. The result- Gross Non-Performing Assets (GNPA's) of public sector bank have shot up to 11.03% in FY17 as compared to 4.97% in FY15.
Unless such structural problems are resolved it is highly likely that some of these banks act as a value trap and continue to deliver miserable stock returns in the long run.
Top Stocks in Action Today
The stock of Manpasand Bevarages, Vedanta, Indian Oil Corporation, Everready Industries are expected to be in the news today.