Indian Stock Market News April 16, 2019
Sensex Ends 370 Points Higher; Consumer Durables and Banking Stocks Witness Buying
Closing
Indian share markets traded on a positive note throughout the day and ended their trading session on a strong note. Gains were largely seen in the banking sector, consumer durables sector and telecom sector, while realty stocks witnessed selling pressure.
At the closing bell, the BSE Sensex stood higher by 370 points (up 1%) and the NSE Nifty closed higher by 97 points (up 0.8%). The BSE Mid Cap index ended the day up 0.1% and the BSE Small Cap index ended the day up by 0.4%.
Asian stock markets finished on a positive note. As of the most recent closing prices, the Hang Seng was up by 1.1% and the Shanghai Composite was up by 2.4%. The Nikkei 225 was up 0.2%.
The rupee was trading at 69.62 against the US$.
In the news from the aviation space, Jet Airways share price was in focus today after reports suggested the airline may shut down its operations temporarily. Reports also suggested that founder Naresh Goyal has withdrawn from the bidding process.
Shares of the company fell around 19% today on back of the above news.
It was reported earlier that Jet Airways was headed towards a total grounding and a decision could be taken as early as Tuesday after a meeting of its board of directors.
Meanwhile, SpiceJet share price and IndiGo share price gained as much as 13% on the expectation of higher yield due to the capacity reduction of Jet Airways.
SpiceJet and IndiGo will add close to 50 aircraft over the next few months to fill up the capacity shortage caused by the crisis in Jet Airways as well as the grounding of Boeing 737 Max planes.
Buying interest was also seen as SpiceJet said it will add five 90-seater Q400 aircraft taking its Bombardier fleet size to 32. Three of these planes will join SpiceJet's fleet in the next 10 days while the remaining two will be inducted by June.
In the past one week, SpiceJet and IndiGo have gained 33% & 8% while Jet Airways was down 6% during the period.
Speaking of airlines, while looking at the current demand-supply scenario in the aviation industry, it is important to look at how air passenger traffic is growing.
Have a look at the chart below that shows the air passenger growth for the past six months:
Air Passenger Growth is Tapering off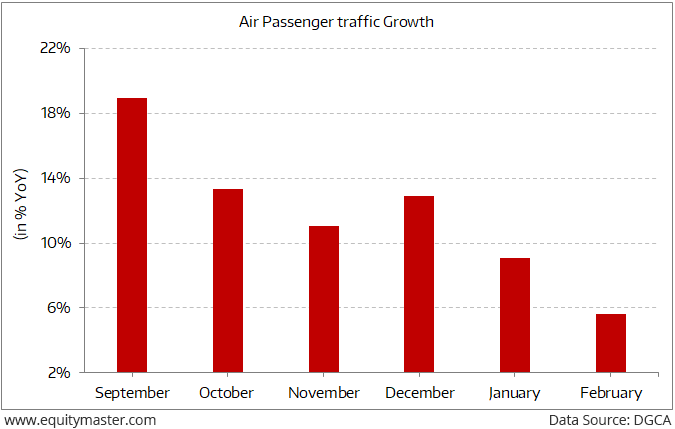 In February, domestic air passenger traffic reported its lowest monthly passenger traffic growth since January 2015. It registered a marginal annual growth of 5.6%.
Similarly, in January, the number of passengers flown by domestic airlines grew at 9.1% YoY, while in December, it increased by 13% YoY. This is way lower than the historical growth rate of 20% between 2014-2018 period.
As per Research Analyst Sarvajeet Bodas, a slowdown in passenger growth is due to several factors. These include frequent flight cancellations due to grounding of fund-starved Jet Airways' aircraft, pilot shortages faced by IndiGo, NOTAMs (notice to airmen) at various airports, and a rise in airfare etc.
In the last 5 years, we saw a surge of middle-class travelling by plane. But when the ticket price goes up, many of them prefer an alternate mode of transportation.
Moving on to the news from the IT sector, Tata Consultancy Services (TCS) share price witnessed buying interest today on reports that the company entered into partnership with Israel's Finance Ministry to make technology affordable for small banks in the country.
Last week, the IT major reported a 17.7% year-on-year growth in its consolidated net profit at Rs 81.3 billion in January-March period.
Revenue for the quarter climbed 18.5% to Rs 380.1 billion from Rs 320.8 billion in the corresponding period last fiscal. The board also recommended a final dividend of Rs 18 per equity share of Rs 1 each.
You can read TCS's Q4FY19 Result Analysis on our website.
In other news, Cyient share price also witnessed buying interest on launching a portfolio of services and solutions that help Communication Service Providers (CSPs) expedite 5G network rollouts globally.
Reportedly, the services will help in defining the migration roadmap towards the 5G NSA standard, but also help in planning smarter and faster rollouts, including site verification and benchmarking in post deployment operations.
For the 5G planning phase, the company's surveying services and drone-based mobile 3D survey capabilities will help in efficient identification of areas for 5G rollout.
---
Indian Indices Hit Fresh Record High; ICICI Bank & TCS Top Gainers
12:30 pm
Share markets in India are presently trading on a positive note. Barring realty sector, all sectoral indices are trading on a positive note with stocks in the banking sector, consumer durables sector and FMCG sector witnessing maximum buying interest.
The BSE Sensex is trading up by 302 points (up 0.8%), while the NSE Nifty is trading up by 84 points (up 0.7%). The BSE Mid Cap index is trading up by 0.2% and the BSE Small Cap index is trading up by 0.4%.
The rupee is trading at Rs 69.60 against the US$.
The recent surge in the Indian stock markets can be attributed to the strong foreign investor inflows into Indian equities.
The chart reveals the monthly trend in foreign investor flows into Indian equities over the last five years. The period almost coincides with the term of the Modi government.
Are Foreign Investors Coming Back to Indian Equities?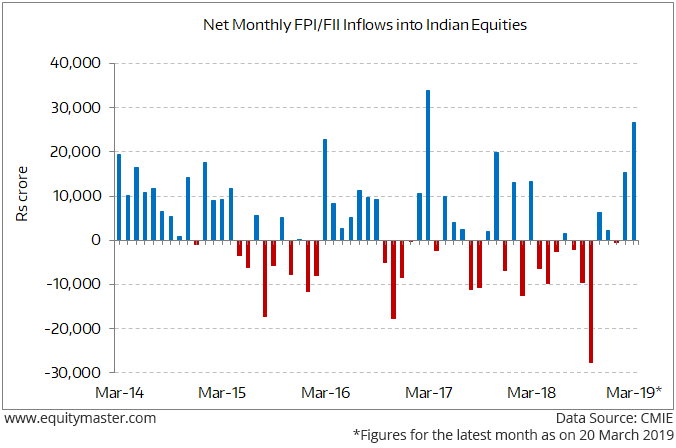 During this period, you can see that foreign investor participation in Indian equities shrank.
Over the last five years, foreign investors were net sellers in 24 months. Effectively, foreign investors were net sellers 40% of the time.
The chart shows that the highest monthly net foreign investor inflow over the last five years was recorded in March 2017 at Rs 337.8 billion.
However, foreign investor flows are influenced by a myriad of global factors and are susceptible to change course anytime.
Moving on, market participants are tracking Wipro share price and Mastek share price as these companies are set to announce their Q4FY19 results later today.
You can also read our recently released Q4FY19 results: Infosys, TCS, Bajaj Consumer Care.
In the news from the automobiles sector, Tata Motors share price is in focus today on reports that the auto major is planning to expand its electric vehicles (EV) segment in the passenger vehicle space by widening its portfolio.
The company will add Altroz EV, a premium hatchback, and H2X, a small SUV which will be in league with Tiago and Tigor EV.
Yesterday, shares of the company ended 7.5% higher, to hit a fresh six month high of Rs 230 on expectation of improved outlook.
Shares of the company have rallied 62% from their February 8, 2019, low of Rs 142, after the company's promoter, Tata Sons bought shares worth over Rs 5 billion in the company through open market.
Reportedly, between February 11 and February 26, Tata Sons had purchased 31.7 million shares worth of Rs 5.3 billion from open market, according to disclosure made by the company to stock exchanges. Post-transaction, Tata Sons' holding in Tata Motors increased to 34.4% from 33.6%.
Last month, the company's wholly owned subsidiary Jaguar Land Rover (JLR) said it expects improved financial results for the quarter ended March 2019 (Q4FY19). JLR is also planning to launch its electrified products in India.
Speaking of automobiles sector, one thing we must keep in mind is that not all auto companies will make money over time. And also, you shouldn't stay away from auto stocks altogether.
Even Tanushree Banerjee, Co-head of research at Equitymaster believes that there are businesses in this sector that you cannot ignore. She is particularly talking about the blue-chip auto stocks.
She believes, This could be the opportunity long term investors were waiting for.
Moving on to the news from the aviation space, lenders to Jet Airways have demanded more pledged shares of founder Naresh Goyal and planes owned by the airline as collateral for advancing further loans.
As per an article in The Economic Times, the delay in releasing funds has left the debt-laden airline to total stoppage of operations.
Here's an excerpt from the article:
The interim funding hasn't been forthcoming thus far, CEO Vinay Dube said in a communication to Jet's employees on Monday, while informing them about the scheduled board meeting on Tuesday.

The Jet management will inform the board about the current state of finances and operations. It has decided to extend suspension of international operations till Thursday and stick to its current seven-plane operations.
Reportedly, ICICI Bank Yes Bank and PNB objected to any release of emergency money while State Bank of India (SBI), Canara Bank and Bank of India did not have a problem.
Lenders will also select the qualified bidders from the companies that have expressed interest in investing in the airline.
Goyal has agreed to pledge 41.1% of Jet's shares but hasn't formally done so yet. He has sought to retain 9.9% shares unencumbered.
The cash-strapped airline was expecting emergency funding of at least Rs 15 billion to be released by the lenders to meet its operational requirements after Goyal pledged his shares.
Jet owns 17 planes which include Boeing 777s and Airbus A330s, while the rest are leased. It had a fleet of 124 planes as of December 2018. But the owned planes have already been collateralised against funds that were raised to finance their purchase.
Jet has defaulted on loan payments, grounded almost all planes, stopped paying its employees and laid off many of them. The airline's second biggest shareholder Etihad Airways has expressed an interest in investing a second time in it though with a condition that its stake be capped at 24%.
Other bidders include TPG Capital, Indigo Capital and Think Equity-Redcliffe Capital. The state-run National Investment and Infrastructure Fund will bid directly.
Yesterday in a statement, SBI said the bidders are currently being vetted by the legal team of SBI Caps.
How this pans out remains to be seen. Meanwhile, we will keep you updated on all the developments from this space.
Jet Airways share price is presently trading down by 3.6%.
---
Sensex Opens Strong; Metal and Bank Stocks Lead
09:30 am
Asian stock markets are higher today as Chinese and Hong Kong shares show gains. The Shanghai Composite and the Hang Seng are trading flat. The Nikkei 225 is trading up by 0.2%. Meanwhile, Wall Street lost ground on Monday, dragged down by financials as underwhelming bank earnings curbed investor enthusiasm. But while all three major US stock indices edged lower, the S&P 500 remained within a percent of its record high.
Back home, India share markets opened on a strong note. The BSE Sensex is trading up by 214 points while the NSE Nifty is trading up by 49 points. The BSE Mid Cap index and BSE Small Cap index opened up by 0.2% and 0.1% respectively.
Except IT stocks, all sectoral indices have opened the day in green with metal stocks and bank stocks leading the pack of gainers.
The rupee is currently trading at 69.41 against the US$.
Speaking of Indian share markets in general, how do things look on the valuations front?
The Sensex price to earnings ratio has moved over the last five years. It has mostly been in a rising trend, except some intermittent declines.
But the Sensex tells a very a selective, skewed story of just the 30 largest companies.
So, it would be worth seeing the valuation trend of a much broader index.
Ankit Shah just did that and picked the NSE 500 for his latest study.
What he found was the NSE 500 index was trading cheap before the BJP came to power at the Centre in 2014. Since then, the price to earnings ratio of the index has been trending higher, like the Sensex.
It is interesting to note that the NSE 500 index has almost doubled between February 2014 and now. The price to earnings multiple of the index has gone up almost 70% during the same period, as can be seen from the chart below.
Market Valuations - 2014 to 2019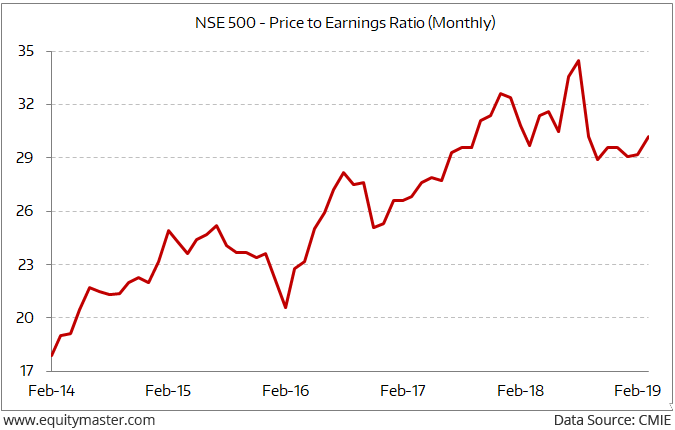 What does all of this mean?
Here's what Ankit wrote about it in today's edition of The 5 Minute WrapUp...
What this means is that the gains have mostly come from valuation multiple expansion and only about 30% from earnings growth.

While the NSE 500 P/E ratio is down 12% from its August 2018 high of 34.5, it's still quite on the higher side.

As such, I believe the key to the next bull run would be a good growth in earnings of listed Indian companies.
Whether this growth comes in, and how, remains to be seen. We will keep you updated on developments from this space.
In the news from the IPO space. Wires and cables manufacturer Polycab India will make a debut on bourses today after an overwhelming response to its public issue last week.
The final issue price is fixed at the higher end of the price band of Rs 533-538 per share.
The Rs 13.5-billion public issue saw a massive subscription of 52 times during April 5-9.
The reserved portion for qualified institutional buyers was oversubscribed 92 times and non-institutional investors 110 times while retail investors' category saw subscription of 4.7 times.
According to CRISIL Research, Polycab India is the largest manufacturer in the wires and cables industry in India, in terms of revenue from the wires and cables segment and provides one of the most extensive range of wires and cables in India.
During FY18, the company had a market share of approximately 18% of the organized wires and cables industry, and approximately 12% of the total wires and cables industry in India, estimated at Rs 525 billion based on manufacturers realization.
Polycab India manufactures and sells a diverse range of wires and cables such as power cables, control cables, instrumentation cables, solar cables, building wires, flexible cables, flexible/single multi core cables, communication cables and others including welding cables, submersible flat and round cables, rubber cables, overhead conductors, railway signaling cables, specialty cables and green wires.
To get a detailed view of the IPO, you can read Ankit Shah's latest note in the Equitymaster Insider: Polycab India IPO: All You Need to Know.
Speaking of IPOs, we at Equitymaster believe a merit-based selection, primarily including valuation, business, and management quality, is the logical way to go about investing in IPOs.
If it means going against the herd, so be it. And going by recent past, this strategy has been proven to be successful more often.
Moving on to the news from pharma sector. As per an article in a leading financial daily, Cipla has inked a pact with Pulmatrix Inc to co-develop a formulation for the treatment of allergic bronchopulmonary aspergillosis (ABPA) in patients with asthma.
Reportedly, Cipla Technologies LLC, a subsidiary of the company, and Pulmatrix Inc have inked definitive agreement for the co-development and commercialisation of Pulmazole.
Pulmazole is an inhaled formulation of the antifungal drug itraconazole for the treatment of ABPA in patients with asthma.
As per the pact, Cipla Technologies will make an upfront payment of US$22 million to Pulmatrix in exchange for assignment of all rights for Pulmazole in relation to pulmonary indications.
Thereafter, both parties will equally share costs related to the future development and commercialisation of Pulmazole, and equally share worldwide free cash flow from future sales of Pulmazole, the reports noted.
Pulmatrix will remain primarily responsible for the execution of the clinical development of Pulmazole, and Cipla Technologies will be responsible for the commercialisation of the product.
Pulmazole will be Cipla's entry into the branded respiratory space and will serve a vital unmet medical need for the treatment of ABPA, a condition that possibly impacts over 2 million patients worldwide but has no labelled drug, the reports noted.
To know more about the company, you can access to Cipla's Q3FY19 result analysis and Cipla's Stock Analysis on our website.
Cipla share price opened the day up by 0.5%.
And to know what's moving the Indian stock markets today, check out the most recent share market updates here.
---
Sensex Trades in Green, Inflation in Focus, and Top Stocks in Action
Pre-Open
On Monday, the Indian share markets settled in the positive territory helped by buying in bluechips such as Tata Motors, TCS, and Coal India rose.
The BSE Sensex rose 139 points to settle at 38,906. Tata Motors emerged as the top gainer on the index with over 7% gains while Infosys ended as the biggest loser.
The Nifty50 index settled at 11,690, up 47 points.
Among BSE sectoral indices, metal stocks rose the most by 2.2%, followed by realty stocks at 1.6%. Tata Motors and TCS were among the top gainers.
Top Stocks in Action Today
Infosys and TCS share prices will likely be in focus today after the IT majors reported their quarterly earnings.
IT behemoths Tata Consultancy Services (TCS) and Infosys reported strong growth for the March quarter, clocking 2.4% and 2.1% sequential rises, respectively, in constant-currency revenue.
The performance underscores strong execution and strong order inflows. Infosys signed large deals of US$1.6 billion, taking the cumulative size of deals won to US$6.3 billion for the full year. This is twice that of FY18.
TCS also did well, bagging contracts of US$6.2 billion last quarter, higher than the US$5.9 billion of deals it secured in the December quarter.
Wholesale Inflation Trending Upwards
According to government data wholesale price-based inflation rose for the second consecutive month to 3.18% in March on costlier food and fuel.
The Wholesale Price Index (WPI) based inflation was at 2.93% in February. It was 2.74% in March 2018.
As per the data, Inflation in food articles hardened with steep rise in prices of vegetables during March 2019.
Vegetables inflation was at 28.13% in March, up from 6.82% in the previous month.
However, inflation in potato cooled substantially to 1.30%, from 23.40% in February.
Inflation in food articles basket was 5.68% during March.
Inflation in 'Fuel and power' category also spiked to 5.41%, from 2.23% in February.
Note that the Reserve Bank of India (RBI) has projected retail inflation at 2.9-3%, mainly due to lower food and fuel prices as well as expectation of a normal monsoon for April-September period.
In its latest monetary policy meet, the RBI announced a 25 basis points cut in the short-term lending rate, also known as repo or repurchase rate, in its first bi-monthly rate review of financial year 2019-20.
In 2016, the RBI had adopted an inflation target of 4% (+/-2%) for next five years under the monetary policy framework.
However, since August last year, inflation has stayed below RBI's target of 4%.
Here's what Sarvajeet wrote about it in one of the editions of The 5 Minute WrapUp...
In December, CPI-based retail inflation declined to an 18-month low of 2.2%.

Currently, the RBI's policy stance was 'calibrated tightening'.

But with the recent inflation data, the MPC may change its monetary stance to 'neutral', even if it does not cut the repo rate.