How the US Presidential Cycle Will Affect Your Trades
Feb 17, 2020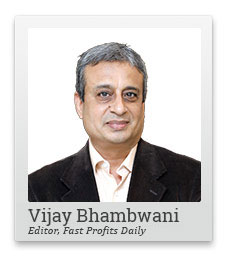 Hi, this is Vijay back again in the Fast Profits Daily.
I will never tire of reminding you about the importance of the US Presidential cycle.
I wrote an article about it a few months ago. You can read it here - Profiting from the United States Presidential Cycle.
Today, I want to share my view on how the most important market cycle of the year will play out.
Actually, this cycle has already begun and you should focus on developments on this front. I certainly will.
Let's dive right in...
Hi, this is Vijay Bhambwani and I am back with you again to talk about the US Presidential cycle.
In my videos in the past, I have advocated that the markets have predetermined cycles which you can actually use to take money out of the other guy's pocket through your trading terminal and put it in your pocket. The biggest such cycle is the US Presidential cycle and we are witnessing history as it is in the making.
On third of November 2020, the US will go to polls and we have already seen the stage being set for that by the incumbent president, Donald Trump, clearing the hurdle of his impeachment trial.
What's ahead next? What can you expect and for an Indian portfolio investor and a trader, what lies ahead?
We take a step by step look.
I have advocated in my past videos that oil prices will be made to fall or will be kept subdued. Note what's happening around you. Oil prices are down. This keeps inflation in the US mainland under control, which is good news for the US President.
Gas prices are also subdued because the world is in a state of oversupply and therefore heating costs, transport costs, etc, will again be kept under check, which is again positive for the US economy and for the global economy because oil prices and other prices like natural gas, kerosene, jet fuel, etc, are multiplier effects.
If these prices rise, everything from wheat, grains, pulses, meats, eggs, milk, medicines, etc tend to become more expensive. So good news for the global economy there.
I expect the US-China deal to be a major positive for the US. As a matter of fact, the Chinese have already rolled back import duties on a huge number of US products thanks to the pressure exerted by the Coronavirus in China.
As a matter of fact, the entire unfortunate pandemic of the Coronavirus, is likely to have a beneficiary effect on the US economy because there will be a flight to safety. Money will fly into the US economy, particularly the US dollar, thereby making the US dollar stronger.
Which brings me to the next point.
The US dollar is getting stronger. Yes, I've continuously advocated that the dollar index or the 'Dixie', will continue to rise and in this week, as we speak, I am recording this video on seventh of February 2020, I am seeing the Dixie had already crossed 98.30 last night.
Where do I expect the Dixie?
I would not really be surprised to see the Dixie cross the 100 magic mark before the US elections in November 2020.
So the stronger is the dollar, the better the US can manage its external debt, both in principal and in interest payments.
Going by the way factory orders and employment data is improving, it's not really surprising. Hey, it's an election year. You have to give a feel-good factor to the civilian population, so they can come out and vote for the incumbent President. So it's all going as per plan and the feel-good factor in the gravy train continues to chug along.
What does it mean in India?
The US is a power house and the biggest guiding force for global assets of all types, whether it is bonds currencies, commodities, or equities.
So a strong US market continues to give a feel-good factor to India and barring any unforeseen circumstances which are not in man's control, I would expect this positive optimism to rub off on India also.
As things stand barring unforeseen circumstances I repeat, I would expect the Indian market to witness a very optimistic Diwali.
Which means I know I'm giving out a long call. It's a long-term call but remember, the US elections are in November and if the US Fed is keeping the US market propped up and cheerful, I don't see any reason why an average Indian investor will have a bad Diwali in 2020.
So good news ahead of us. Stay invested. Continue to trade and before I sign off from this video today, let me remind you to click like on this video.
By all means, share this informative video with your family and friends and in the comments section, please do let me know what you think about this video and what other videos you would like me to record for you in my forthcoming sessions.
Vijay Bhambwani signing off for now. Do take very good care of your trades than investments.
Thank you.
I hope you found the video informative and useful.
Let me know your thoughts in the comments section below.
I'll be back again tomorrow with another video in the Fast Profits Daily.
Have a profitable trading day!
Warm regards,

Vijay L Bhambwani
Editor, Fast Profits Daily
Equitymaster Agora Research Private Limited (Research Analyst)
Recent Articles