Recent & Current IPOs - List of IPOs in India which have opened for Subscription in the last 30 days
Here's a list of IPOs in India from the last 30 days with indepth analysis. Also find out the list of upcoming IPOs.
Data Sourced from: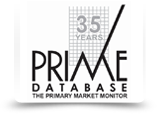 primedatabase.com is India's first and still the only database dedicated to the primary capital market. Started in 1989, Prime
continues to be the single source of comprehensive information on all capital market offerings.
IPO Desk:
Equitymaster discusses why the world over investments in IPOs have very rarely made money for investors and the alternative full form of the acronym could denote this.
A check list investors must go through before investing in an equity issue.
Equitymaster discusses why investor in IPOs should be very careful about the valuations so that they do not overpay.
Equitymaster discusses whether some unique IPOs have the potential to elicit any investor interest.
Today's Market
Bulls marked a strong comeback today as Indian share markets ended nearly 3% higher. After opening the day higher, equity markets extended gains as the session progressed and ended near the day's high.
Related Views on News
May 21, 2022
A simple exercise could give you a great lead in picking the most promising stocks.
May 20, 2022
This is why I think the silver bull market will continue.
May 20, 2022
Going with IDCW Option does not mean you will earn a regular source of income.
May 20, 2022
While everyone is assuming the worse case scenario for inflation, will it surprise on the upside?
May 19, 2022
In this video I'll explain why India needs higher interest rates.
More Views on News
Most Popular
Mar 2, 2022
We are just two months into 2022 and several penny stocks that we track have already surged 5x.
Mar 16, 2022
Debt free penny stocks are vital when it's a question of portfolio diversification in a volatile market. They can potentially offer good profitability in the long run.
Apr 6, 2022
A step-by-step method to pick the best penny stocks for the long term.
Apr 13, 2022
These penny stocks can become future multibaggers. Watch out for them.
Feb 28, 2022
Rising electricity consumption provides a lot of scope for growth. Which company has a better chance at capturing it?
More
PLEASE NOTE:
The information in the web site has been compiled from sources we believe to to be reliable, but we do not hold ourselves responsible for its completeness or accuracy. This is not an offer to sell or a solicitation to buy any securities. Investors are advised to read the offer document before making an investment decision.