Why the Market Fell Yesterday
Apr 6, 2021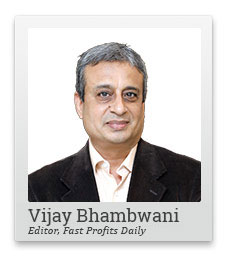 The Nifty fell over 200 points yesterday. It was down below 14,500 in the first half of the day.
This has unnerved many traders.
Those who were bullish a few days ago are turning bearish.
But is this the right way to think about trading? How should you react to this?
The answers are in today's video. I tell you about the two big reasons why the market fell and how you should react to such volatility.
Watch the video and let me know your thoughts. I love to hear from you.
Hello, friends, this is Vijay Bhambwani and in this video, I want to talk about why the market is falling on Monday to the extent that it is falling.
You see, I am recording this video at a close to noon, and the market is still falling on Monday, the fifth of April 2021. Even though the video will be uploaded on Tuesday, I can see 400 point or decline on the Nifty and the Bank Nifty, of course, has taken it on the chin. It's fallen relatively higher because of what's happening in the markets.
Now let's basically get down to the brass tacks of why what is happening. You see it has been my experience and I've been trading in these markets for 35 years, 28 of which are as CEO and founder, promoter of a company that trades for a living.
I can tell you that bad news seldom comes at one shot and does not go away all that fast. Which means it comes slowly, lingers on before it actually leaves us. The news that I am talking about is both on domestic as well as foreign triggers.
Get Details: We are Bullish on These 3 Little-known Stocks
Let's take the international trigger first, Bill Hwang's troubles seem to be accelerating. Now, here is this family owned investment vehicle that was reputedly in the week before last, supposed to have lost US$ 10 billion. Later on, it was escalated to US$ 20 billion and in the recent weekend data put out by some news flashes seem to have indicated that he has lost as much as US$ 110 billion.
Now that's a staggering amount. Do not that US$ 1 billion is roughly Rs 7,200 crores. Now calculate US$ 110 billion. Now this is the kind of leverage that he had deployed. Some people are talking about leverage of 500 times.
Now that's a lot. If you have a buck, you're taking exposure of 50 bucks, which means that a little bit of an adverse price move and your portfolio flies out of the window. That's precisely what happened, and Bill Hwang's investments have started to unravel.
If history is any judge or if history is any indication rather, I can tell you for sure that this figure appears to be watered down. Which means that by the time the ultimate analysis and the audit is done, you will find that the losses are bigger and currently, they are hidden in the balance sheets and trades of a lot of other clearing agents, banks, etcetera, etcetera.
You see, the reason why Nomura and Credit Suisse's stocks fell was because many of Bill Hwang's trades were carried in the books of these two bankers, and they were hidden as swaps. I am sure, Bill Hwang has these masqueraded trades in many other entities as well, and the full impact of this will be felt over a period of time.
Do remember that all international agencies tend to soften the blow to the market by releasing bad news in bits and pieces. This is the nature of the market, and it happens on over the world. Typically speaking, you'll hear bad news coming after the market shuts over the weekend, just as Bill Wang's on a data came.
On the domestic front, we have seen a resurgence in covid. We have seen lockdowns being implemented in many parts of the country, not only the country but many parts of the world. The industrial output has fallen to its lowest after August 2020 as the lockdown begins to impact the production process.
Now this is something that we traders or statistically minded traders called clustering. Clustering would mean coming together of various data points and bad news has a way of clustering. Is the bad news coming coincidently at the same time? I don't think so. It's not necessarily so.
It is just that this band news existed, but the feel good factor was so high in the market that people tended to ignore all this bad news and in spite of me, in my recent videos, been warning you that the markets might just correct, people, I noticed were hell bent on remaining bullish. Now, this is called in behavioural technical analysis or behavioural science rather, this is called auto suggestion.
You suggest to yourself that all is well, all is well, all is well like Amir Khan and Three Idiots and you turn yourself into an idiot who actually believes that all as well and ignore all bad news that is looking you in the eyes and you choose to disregard it.
Now does it mean that the long term prospect of the markets or the targets that are being thrown around like darts on a dart board of 30,000 Nifty, 50,000 Nifty, 100,000 Nifty will not come? I don't think so. I'm not saying that at all.
See, first of all, when I talk to you through these videos, I'm not talking to you like a research analyst, even though I'm registered with SEBI as a research analyst. I am first foremost and always a CEO of a trading company, a prop trading company that deploys its money in the market for trading for a living.
So consider yourself as proxy board members of my company and we are having across the table conversation, a chit chat, if you will, and those of you who are not minded like directors of a limited company will feel free to disagree with my advice. The comment section is open to you for voicing your opinion.
Now what I'm merely saying in this is that the Nifty at 30,000, 50,000 or 100,000 over a period of time over the long run is going to happen but as the Wall Street saying goes, In the long run, we're all dead.
When my dad gifted me a car, when I started going to college, I used to pay, if my memory serves me right, Rs 5.42 for a litre of petrol. Petrol is now kissed Rs 100 and come down slightly. So over a period of time, everything appreciates.
The first car that I bought was for Rs 32,000. It was a Premier Padmini, a fiat. Can you really buy a brand new car for that money? No. The value of the rupee erodes because the rupee depreciates 3.5 to 5% per annum against the dollar and that inflation means that everything costs more, including shares, including the PE multiples of indices, including the valuation of many commodities and prices including bullion, base metals, and everything else under the sun.
So all these levels will come but ask yourself the question, if Nifty is 15,000 today and you are investing in the Nifty at 15,000 with a view that you will sell this once Nifty doubles, no matter how many years it takes, if it goes to 30,000, you're going to sell but before 30,000 comes, if Nifty was to go to 13,000, I will bet for sure that majority of these so called long term bulls will be heading to the chemist to buy adult diapers.
This is the nature of human behaviour. This is nothing but basic common behavioural traits which we as behavioural traders understand. So a 2000 point decline in the Nifty will suddenly see a lot of negative comments and negative sentiments emerging into the markets and where positivity was existing, negativity will replace the positivity.
This is a routine business in the market. So first, while people who were extremely bullish will now make the mistake of being extremely bearish and both the times, they would have been proved wrong. It is you, as a rational trader who needs to exist, survive, and last through these crisis, so that you can reach the 30,000 levels.
It is precisely with this kind of an event in mind that I recently recorded a video - This is What I Will Do if the Market Falls. Thank you for all your love and affection and the comments that you gave in these in that particular video. This was really my game plan. This is really my game plan and I would stand by it. I think what will happen in the absolute near term is that excessive greed, which was fuelling the rally, will be, for the absolute short term, be replaced by excessive fear.
Fear and greed both are illogical and completely emotional responses in financial markets. They are bereft of any logic. There is no logic in both fear and greed. Where there was unnecessary buying taking place earlier, there will be unnecessary selling which will take place now and therefore in the short term statistical beta or pure price volatility will shoot through the roof.
Now these are aspects that I put out on Equitymaster's Telegram channel every evening, late in the evening. I would strongly suggest you join this telegram channel which goes by the handle Equitymaster Official, because this is very simple statistical data, but it will put you ahead of many players in the market.
This is something that you need to think of as cool minded individuals and not get carried away either on the bullish side or on the bearish side. Many, many years ago, at a media event, I met a fund manager from Japan and he told me, Vijay san, the definition of stupidity in financial markets is doing the same thing over and over again and expecting different results.
Let us all learn from our mistakes and don't repeat the same mistakes over and over again so that the only way the markets, by the way rewards you or rather punishes you for your mistakes is give you a loss. So as we learn from our mistakes of the past and we don't commit them time and time again, we will ultimately come into profits.
That is what we are here for. To grow, to evolve and metamorphosise as better investors and traders and I hope I am going to achieve that through these videos, and you're going to find this a good value add.
Friends, I take your leave in this video, not before reminding you to click like on this video if you liked what you saw. Subscribe to my YouTube channel if you haven't already done so. Click on the bell icon so that you receive alerts about fresh videos being put about here. In the comments section, do let me know what you think of this video. Good, bad, ugly. I welcome all comments and help me reach out to fellow like-minded investors and traders by referring my video to your family and friends.
I wish you have a very profitable day ahead. Vijay Bhambwani signing off for now. Thank you for watching. Take care.
Warm regards,

Vijay L Bhambwani
Editor, Fast Profits Daily
Equitymaster Agora Research Private Limited (Research Analyst
Recent Articles