Time to Buy Sugar Stocks?
May 4, 2021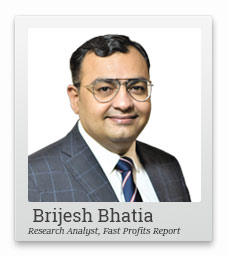 Do you hold sugar stocks in your portfolio. I think you should.
These stocks are looking positive. As per my charts, they are breaking out and could potentially deliver huge returns.
In this video, I'll show you exactly why these stocks are ready to soar higher.
Watch the video and let me know your thoughts. I would like to hear from you.
Hello viewers. Welcome to the Fast Profits Daily video series. Myself Brijesh Bhatia. In this video, I'll show you one chart which you should look at before selling your sugar stocks.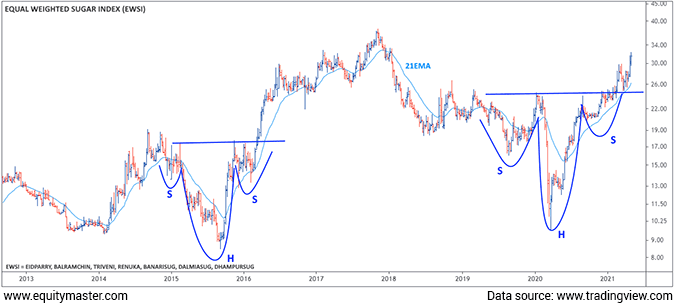 Well, this is the equal weighted sugar index created by us. So the criteria over here is that first, we have taken the market cap of minimum of 1,500 crores for the stock selection as per the closing of 30 April 2021.
So the stocks which we have included in our equal weighted index is EID Parry, Balrampur Chini, Triveni Bannari Amman Sugar, Dalmia, these are the stocks which we have taken for creating our equal weighted sugar index.
WATCH NOW: Full Replay of Our Urgent Broadcast on India's Revival
If you look at the chart over here in the 2016, in the left side of the chart pattern which it had broken out of from a bullish inverted head and shoulder, and in 2016, March 2016, for merely around 85 weeks, 85-86 weeks, it has taken a bullish momentum and nearly doubled. This equal weighted index has nearly doubled giving around 110% returns in the next 86 weeks.
If you look at the similar structure, which it has broken out of in 2021, in April it retested those breakout levels and again it's resuming its bullish momentum. This week we have started with the bullish momentum in sugar stocks.
So the break out, re-test over here the bullish head and shoulder, is a similar history repeating itself. The momentum is again resuming on the bullish side.
So we believe that if you are holding on the sugar stocks, definitely keep holding on to your sugar stocks in case you haven't entered, we still believe that there is a good opportunity for another 12-15 months where sugar stocks can see a huge uptick.
So we should definitely look into it as an investment in the sugar stocks. Remember sugar stocks are slightly volatile, 10-15% plus or minus dips can be expected. So in case you are planning to invest look at a 25-50% investment at current levels buy on every dip.
We believe that sugar still has a huge upside when it comes to an investment for next 12 15 months. So stay long on the sugar stocks in case you have bought and wish to pyramid, definitely look for pyramiding.
I would stick on the stocks, which have been outperforming for quite long and that's the reason that we have included 1,500 crore as the market cap base and above those into this equal weighted index. So stay long on the sugar stocks. We believe that in the next 12 months you might make a big wealth creation. Thank you.
Warm regards,

Brijesh Bhatia
Research Analyst, Fast Profit Report
Equitymaster Agora Research Private Limited (Research Analyst)
Recent Articles