Why Oil Won't Go to US$100
May 26, 2021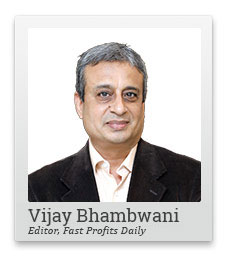 I'm sure you've heard of the US$100 price target for crude oil.
Looking at the price of petrol in India, you might be inclined to believe it.
But I think the idea is farfetched.
I think the crude oil price is being artificially help up and the bull market in energy won't last.
In this video, I'll show you why.
Watch the video and let me know your thoughts. I love to hear from you.
Hello, friends. This is Vijay Bhambwani. I hope you're doing great in the markets and the markets are giving you super profits.
A couple of weeks ago, I was on CNBC after a very long gap of maybe 10 years on a commodity show where I put forth my view that the market expectation US$100 a barrel on crude oil was far-fetched.
Of course, even on the Equitymaster YouTube channel, I have put forth this many a times that my Weekly Cash Alert subscribers and even the non-subscribers who happened to basically subscribe to the playlist will benefit if they don't get carried away by such reports and they should find plum prices at which they can go short on energy, both on natural gas and crude oil.
Announcement: Discover Richa's Top 3 Stock Picks for 2023...
Recently, Goldman Sachs has come out with report wherein they are now opining that crude oil might just be able to scale the US$80 a barrel mark. So, as you can see, the goalpost has shifted low.
Those of you who have asked me about why I am talking about crude oil coming down after going marginally higher and who know me that I would rather talk with reasons in my own by now very well-known 360 degree worldview, this video is especially for you.
I'm gonna say you reasons for why I am seeing what and I hope the gods of the markets are kind to everybody, and we all make good deal of profits here. That is what my videos are for. To make sense and sensibility out of issues which you find confusing and confounding. Dumb it down, simplify it in layman's language, so that at the end of the day, you can take money home.
Now here is my logic for why I think crude oil may not be able to go to US$100. A caveat here. Can I go wrong? Of course I can. Nobody is God and the markets might just prove me wrong. Will my hypothesis still remain valid that one should find plum prices to go short? Yes, I will. I will and I'm going to share my vision why.
Okay, so first of all, let me share with you the information of how many newly commissioned oil wells are being added to the already overcrowded oil export market.
Guiana has started exporting oil. Now this is a new entrant as a country in the oil export market.
On the border of Saudi Arabia and Kuwait, there are two oil wells which were disputed both by Kuwait and Saudi Arabia as their own. The dispute has been resolved and both are now in a production sharing agreement and therefore the development and commissioning of these oil wells is now on track. I am talking about the Wafra and Khafji oil wells. Now they will add to the supply in the market.
In Norway, we're close to the Gudrun oil well is another field which has been recently found which the market fondly calls the Gudrun Wildcat, officially still to be named.
ADNOC, the Abu Dhabi National Oil Company has announced that it will basically be harvesting oil, drilling for oil from three new oil wells for which it has already given developmental contract to a company. Now these oil wells are Belbazem, Umm Al Salsal and Umm Al Dholou. Now these oil wells will basically take Abu Dhabi's output from 400,000 barrels a day to 500,000, which is half a million barrels a day in five years.
Now Turkey has already announced last year that it has found oil and gas reserves in its territory, which it will be putting in the market in three years, which means another two years.
But hey, you can basically take Turkey's claims with a pinch full of salt or a fistful of salt as you like it because I've often commented on my social media pages that the Turkish premier Mr Recep Erdogan is a man in a hurry. He wants to basically establish himself as a focal point in the European and Middle East policy and geopolitics. So one can basically discount this disclaim somewhat, but though not completely outright.
Now, in addition to these new oilfields, there is the process of expansion of existing oil fields where the capacity is going to be raised.
Now Norway has a supergiant oil field called Yohan Sverdrup. It is going to be basically expanded and output from this oil well is likely to be raised.
Abu Dhabi National Oil Company has oil wells in the deserts, which is going to basically ramp up output.
Libyan oil wells of Al Sharara. Now this Al Sharara oil well is huge. It's a giant oil well. Here again, the Libyans are going to basically ramp up output. The Elephant field or the Elephant oil well is again going to ramp up output from the existing levels.
The Russians are eager to expand output to raise export revenues from oil because of the sanctions imposed by the Americans after the Russians have entered Ukraine although Russia is now a part of OPEC plus which is OPEC and select non OPEC countries which are now cubing output to artificially make oil prices rally.
Remember the rally is artificially achieved by cutting output. It's not the consuming countries who are banging on the door steps of the selling countries and saying and pleading rather, please give me more oil.
Then recently we saw conflict in the Gaza Strip between the Palestinians and the Israeli defence forces, which has failed to basically a send oil and gas prices significantly higher. Although prices went up temporarily in gas, they came down again. So even though there is a mini war going on out there, oil prices refused to go up significantly.
Now, in addition to oil, ADNOC or Abu Dhabi National Oil Company, Saudi Aramco and Oman's OQ company are spear heading their foray into green hydrogen.
Hydrogen is now being touted as the fuel of the future, which will power everything from automobiles to maybe even industry. The Saudis, the Abu Dhabi producing companies and Oman are reading the writing on the wall, and they are changing in time.
Also remember, many countries are likely to phase out automobiles which burn oil and diesel or even gas by 2030. It might seem very far away, but it's just nine years away.
Add to that the pressure added by electric vehicles, solar power, wind power, and emission norms which are basically restricting companies from releasing toxic gases into the atmosphere so as to not deplete the ozone layer and basically not cause a hole in the stratosphere. You will have excessive amount of ultraviolet rays coming in and creating havoc.
You've basically seen the polar vortex being triggered off in the end of 2020 and early 2021. How northern parts of Europe and America suffered crippling amounts of cold because a lot of ice detached itself from the Arctic cap due to a global warming and floated into the North American and North European waters.
So we are cutting emissions, which means automatically cut down on fossil fuels, coal etcetera, which means oil prices going to US$100 seemed a farfetched possibility.
What would I do? I'm a doer of deeds and I believe in action rather than basically putting out hypothesis.
On the third of June, my company celebrates its 28th founder's day. We have to start the ball rolling on our in house hedge fund. So what I would do as and when this becomes a reality is find plum price levels where the probability of a loss is far lower than the probability of a profit and go short. Even if it means waiting for a while before I can earn a profit, so be it.
But then, hey, that's just me.
The waiting period, the amount of money that you wish to deploy, the amount of mark to market that somebody can bear is an individual proposition. To each is own but this is what I would do. Feel free to agree to disagree.
On this note, I bid goodbye to you in this video not before a mining you to click like on this video if you agree with what you saw. Subscribe to my YouTube channel if you haven't already done so and click on the bell icon to receive instant notifications about fresh videos being put up out here.
In the comments section, do let me know what you think about this video. Good, bad, ugly love, hate, I welcome everything.
Also help me reach out to fellow like-minded investors and traders by referring my video to your family and friends. Take very good care of your health, your investments, your trades, your friends, and family.
Thank you for your patience. Have a very profitable day ahead. Thank you for watching my video. Take care. Bye.
Warm regards,

Vijay L Bhambwani
Editor, Fast Profits Daily
Equitymaster Agora Research Private Limited (Research Analyst
Recent Articles