Profit from the Next Leg of the Metals Rally
Jun 14, 2021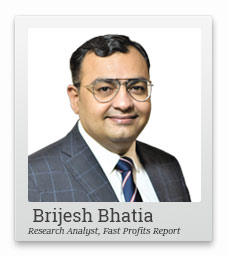 Metal stocks have been on fire this year.
At the start of 2021, I recorded a video in which I called it the best sector of the year.
So far so good...but I think there's more gains to come.
I believe metal stocks are all set to kick off the next leg of their rally.
In this video, I'll show you why I'm so bullish.
Watch the video and let me know what you think of metal stocks.
Hello viewers. Welcome to the Fast Profits Daily. Myself Brijesh Bhatia.
Well, if we look at the start of 2021, it all started with metal stocks. Metals has been on a roll since January to probably April or May. We have seen a huge rally coming into the metals.
Then it started with IT stocks in the second leg of the rally started probably in February or March. It was followed by pharma stocks which is again now gaining a strong momentum and if you look at the last week, IT and pharma took the lead, especially in the last week.
EXPOSED: The Shocking Truth Behind Today's Hottest Investment Opportunity
If you remember in February, banking had taken the lead ahead of the budget and it rallied like anything. Since then, it's been muted.
In this video, we will be discussing about metals and we believe that metals is not yet over. The next leg of the rally is about to resume and you should not miss this opportunity.
Well, first, as usual, we start with Nifty. The Nifty, we have been aggressively pitching since it broke out at around 14,800 that 16,000 is on the cards and we are at 15,800.
So straight four weeks of bulls comeback if you look at the last four weeks. It has been on a bull's roll and now we are still holding our targets of 16,000 and higher.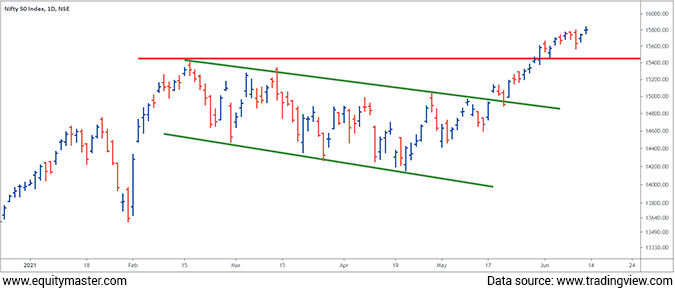 Well, if I just look at the chart over here, and if you remember, probably in April, mid-April, we highlighted this channel, the green channel over here.
We have mentioned this in those videos as well. In case you have missed those videos, you can go to the videos section and find those videos
If I just look at that channel break out since it is happened at 14,900, once it retested those levels, and then it was no look back for Nifty and we are here at 15,800.
Now the red line, if you look at the previous high of 15,431, it will now act is a major support zone. So if we are holding above those levels or are we just a half a percent down, we believe the 15,320-15,350 support zone is not broken, we are continuing with the bullishness.
So short-term support or I would say the trend channel level is placed till we close below 15,329 and till that, the bulls should continue to enjoy his journey and every day you should be looking for an opportunity to go long.
Now the sector which we were discussing is metals. The first here I want to show you is the cooper chart.
If you remember, my video on first of January, probably first or second of January, I have suggested that this year is the year of metals. Why?
If you watch the video, I highlighted that copper and other base metals were forming the base, and they were exploding like anything. So generally, when the copper and the other metals within the commodities, rally, this sector tends to give a good upside momentum.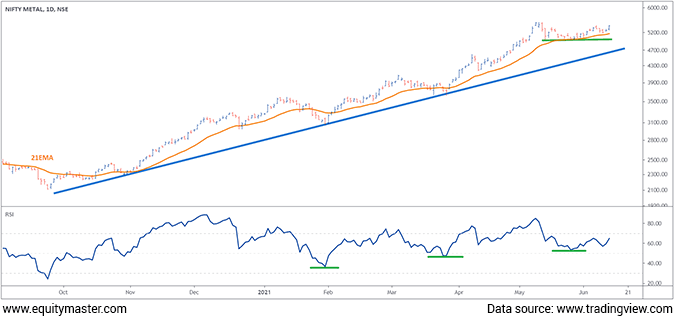 So again, if you look at the copper over here, this is the copper HG, it's the COMEX cooper we followed and we being Indians, and the other countries also followed this copper price.
If I look at this chart over here, three or four stuffs which is very much promising for me that the bulls are continuing with their bullish trend.
First look at the blue line which is the rising trend line or I would say support line.
Second, if you look at the orange line over there, which is again 50 days average, which is again a short-term average, which is playing a strong support zone in this bullish momentum.
Third, look at the green horizontal parallel lines, they are basically demand zone. So previous resistance, which was there, will now access the major support zone and generally act as a huge demand zone as of now. The price consolidated and tested over there and again the bullish momentum last week has resumed.
Plus, if you look at the red over here, the retracement, so 50% retracement. Generally Fibonacci retracements plays a key role, as supports, when the moves are on the higher side. So this is also playing a key support zone.
So this is mega confluence of supports at the demands zone. We believe that the bulls are still in control of copper.
Let's look at the lower panel over here, which is the RSI. I generally term it as the stamina of the bulls or bears.
So if you look at the bullish momentum, it has taken on demand zone roughly around 40-42 mark and again resuming. If you look at the slope, it has again turned northward, which is again the strength of the bullish scenario.
So copper is very promising for me if you look at the short to medium term or probably even from a long term point of view. I think that copper is still very, very strong commodity as of now, and if the copper is stronger, metal stocks will continue to rally.
So let's look at the next chart which is again the CNX or Nifty metal index and again the higher highs and lows structure, which as per dow theory is a really bullish structure. It is holding very, very strong over here.
Again the rising trend line in blue, the short-term moving allege of 21 exponential playing a key support zone, the price has consolidated.
If you look at the green line on the price, it consolidated formed the major basing and generally when a basing is formed, the basing takes time, the next leg of the rally is very fast and furious.
So last week if you look at the last candle, it again resumed the bullish momentum and it has nearly broke the previous highs
Plus if you look at the lower panel, the RSI, which is again forming a higher base. The green line mark is forming the higher base, again, a sign of big, big bullish momentum.
So copper is showing a sign of strength. Nifty, metal index is again beginning its bullish journey. I believe that again the next leg of metals in on the cards and you should not miss this rally. If you missed the last rally, you should not miss this time and yes, we might see a 25-30% uptick into those stocks. There are plenty of stocks which you can explore.
So continue with the outperformers of JSW Steel, Jindal Steel, and Tata Steel. Even if you look at Hindalco, it's catching up.
So you should not miss this money-making opportunity into the metals space and I believe yes, there is a huge trend coming up into the metals again.
So before signing off click on the like button. Do comment. How do you like our videos? If you missed my video of the sector for the year which is metals posted in early January, do watch that video and also comment how you liked that video.
Signing off. Brijesh Bhatia.
Warm regards,

Brijesh Bhatia
Research Analyst, Fast Profit Report
Equitymaster Agora Research Private Limited (Research Analyst)
Recent Articles